1976 United States Grand Prix West race report
Regazzoni wins the street fight
Long Beach, California, March 27th
After all the controversy and discussion over safety facilities at Barcelona and Monte Carlo, and opinions expressed in high places that motor racing on public roads had no future in the overall "order of things", the Grand Prix circus pitched its big-top in the unlikely location of Long Beach, California and proceeded to put on the show that anyone can buy as long as they've got somewhere to run it and 265,000 dollars, or whatever, to pay the performers' fees. The United States Grand Prix West, ably organised and promoted by the enterprising "Long Beach Grand Prix Corporation" took place over 80 laps of a 2.02-mile circuit laid out round the streets of this Californian coast city. With a long start/ finish straight on the imposingly titled Ocean Boulevard joined to the rest of the tight little circuit by two very steep hills, Long Beach promised to be hard on driveshafts and suspension, so a really reliable Grand Prix car was just what was required.
Race
In the event the result proved all too familiar—or did it? Leading from start to finish, setting the fastest lap in the process and having started from pole position was the customary sight of a Ferrari 312B3(T). The only difference from usual was that its distinctive striped cold airbox carried the number "2" instead of number "1". Number "1" was there all right, but by the time the race was over it had fallen to well over forty seconds behind its team-mate. Explaining it all away proved a little difficult, several of Ferrari's rivals remarking wickedly "So Rega had the 3 1/2-litre engine this time" to which others replied "Or was it a 4.4-litre Berlinetta Boxer engine?". But the fact of the matter was that the Swiss qualified his Ferrari for pole position and World Champion Niki Lauda could manage no better than fourth place after his car broke a driveshaft in the final, crucial, timed practice session.
With James Hunt's McLaren M23 third fastest the grid would have looked even more familiar if one had started with the second row, the athletic Englishman having beaten Lauda on the grid at both Brazil and South Africa as well. Unfortunately (for them) on this occasion there were two cars in front of them, Patrick Depailler's Tyrrell 007 sharing the front row of the grid with Regazzoni's Ferrari. For the fourth successive Grand Prix, Depailler proved to be the fastest Tyrrell driver in practice, lapping quicker than Jody Scheckter. Unfortunately the Frenchman became involved in an incident which subsequently became blown up out of all proportion in the daily press back in Britain when he collided with Hunt on the fourth lap of the race. Hunt had been running in third place at the end of the opening lap, having lost second place to Depailler as the cars accelerated out onto the back straight. He subsequently decided to try and pass the blue Tyrrell on lap four on the inside as he came down to the tight right-hand hairpin which leads onto that back straight. Depailler "closed the door" on him—quite legitimately as Hunt later admitted—so the McLaren driver tried to go round the outside under braking. The next thing he knew was that Depailler had "nerfed" him into the barrier and a very irate Hunt climbed out of the car and stalked sadly back to the pits, punctuating his lone walk by walking out onto the circuit and shaking his fist at the Frenchman.
By the time the news reached England it was "front page" material and one evening paper had the whole affair blown up to an unimaginable extent. Back in the paddock later on there was a fair amount of acrimonious discussion on the subject, Hunt insistent that Patrick had been quite beastly about the whole affair and Depailler looking all innocent and claiming his brakes had been snatching without exactly going to the extent of saying "what McLaren?". Many people felt that Hunt had "tried it on" and failed to judge just what his rival might do under the circumstances. Others felt that the Frenchman had been getting a little erratic just recently and ought to watch it, a feeling perhaps now shared by the Alpine-Renault management after Depailler contrived to eliminate both their turbocharged sports cars on the second corner of the Nurburgring sports car race one week after Long Beach!
One way or another, the Depailler/Hunt incident could not be described as unique. Before they had tangled on the fourth lap, there were already several cars out of the United States Grand Prix West. March driver Vittorio Brambilla obviously felt claustrophobic running between concrete barriers and high mesh fences (perhaps he thought he was in a cage?) and "lost his cool" almost before the race had started. The "Gorilla" collided with Carlos Reutemann's Brabham-Alfa Romeo within three hundred yards of the start, the orange Beta March arriving at the first corner bouncing all over the Argentinian's car. Having had a lot of difficulty getting out of Argentina for the race, a military coup taking place at the time, Reutemann must have been wondering why he ever bothered to come.
In that connection Frank Williams must have been seething with disappointment. His second driver Michael Leclere was 21st qualifier for a 20-car grid and was all strapped into the cockpit of Williams FW05/2 waiting to see whether there would be any last-minute non-starters. As the dark blue Williams was pushed away into the pit lane, it must have been galling in the extreme to see the flurry of yellow flags at the first corner before the dust had even settled over the grid positions. In fact Williams must have been the most disappointed man in the Long Beach paddock for Jacky Ickx had failed to qualify the Hesketh-Williams 308 which meant neither of his cars appeared in the race nor got a slice of the "F1 Association pie". Ickx's dramas started on the first day of practice when he completed just a single lap before an oil leak from the gearbox necessitated a gearbox change. That was not completed in time for him to take part in the second session and a driveshaft failed in the first session on the second day, leaving him just an hour to get to know the circuit and set his car up. Nevertheless, one would have expected him at least to qualify, and one can only look back to 1975 and wonder just what James Hunt would have done with the car originally built for him and the Hesketh team.
Others eliminated or delayed by collisions included Stuck's March 761 which tangled with Fittipaldi's FD04 and John Watson who ran his Penske into the back of the Ligier-Matra when Laffite stopped a little quicker than he expected. Team Lotus were once again in the wars with Nilsson damaging his car during the first day's practice and Evans suffering an engine failure, only the Swede eventually scraping in alongside Alan Jones' Surtees TS19 on the back row of the grid. The whole business might have appeared a bit bleak at first sight, but one had to remember that there were seven non-qualifiers and if Nilsson and Jones had managed this performance at a circuit where everyone was allowed to start they would have looked quite respectable.
Unfortunately Nilsson's race only lasted half a lap, something breaking in the rear suspension of his Lotus 77 as he accelerated down the fast straight at the back of the circuit. The car turned into the concrete wall at high speed, badly damaging itself as it slid to rest but not injuring its driver beyond jerking his neck rather violently. It was a shame Evans failed to start the race for his 77 had been rebuilt with revised front suspension complete with outboard-mounted disc brakes replacing the original arrangement, for testing at Hethel had suggested this alteration improved the car's handling considerably.
One small indication of progress was evident in the Copersucar team for Emerson Fittipaldi brought the Fittipaldi FD04 into sixth place to score the marque's first Championship point, a steady performance during which the Brazilian picked up Several places as other drivers encountered various mechanical problems. Fittipaldi's young teammate Ingo Hoffman had a brand new car (FD04/2) at his disposal for the first time, failing to qualify by two places at Long Beach. In fact the whole question of non-qualification proved a fairly competitive business, never mind the contest for grid positions proper, and the role a "tail-end Charlie" finally fell to Brett Lunger in his Surtees TS19. But it was quite a contest, and the American was only .004 sec. slower than Harald Ertl's old Hesketh 308 at the end of Saturday afternoon. The other non-qualifier we haven't mentioned so far was Arturo Merzario, the little Italian who had found himself a sponsor to pay for a drive in yet another March 761.
Once the race was under way, and the early jostling and bumping had died down the Shadow team looked well-placed in the leading half dozen with both Pryce and Jarier keeping Lauda's second place Ferrari well in sight. Regazzoni had "cleared off" while Lauda sat watching the Depailler/Hunt fracas and by the time the reigning World Champion got into second place his team-mate was over 7 sec. in front. More to the point, he was out of sight and that meant that Lauda was at a distinct psychological advantage. It's Much easier to work away at a rival's advantage if you can actually see the car in front of you but it appears to be another thing altogether if you've actually lost sight of the car you are chasing. Despite pulling away from his immediate pursuers, Lauda gradually lost ground on Regazzoni until he was over 14 sec. adrift. He Managed to pull back a couple of seconds in the middle of the race but eventually conceded the battle, preferring to ease back over the last few laps and finish in a safe second place, particularly as he was experiencing some difficulty selecting gears and was concerned about unsettling noises coming from the Ferrari's transmission.
Mechanical fragility claimed Pryce's Shadow when a driveshaft failed on the 32nd lap of this gruelling street race and Jody Scheckter's Tyrrell suffered a front wishbone failure under braking for the tight right-hand corner immediately after the start/finish straight. Scheckter quickly made up for his lowly grid position once the race got under way, shooting up into third place behind Regazzoni and Depailler with four laps of the Grand Prix completed. Unfortunately he gradually became conscious that his backside was itching badly, but the itch turned to an irritation and the irritation into sheer pain as the race wore on. Once he began to smell petrol fumes beneath his all-enveloping helmet he fully realised that his Tyrrell was leaking petrol into the cockpit. He soldiered gallantly on, despite the pain, but had mentally made up his mind to stop at exactly the same moment as the suspension broke and he was out of the race whether he liked it or not.
Jarier in the second Shadow fared little better, for although he finished the race he failed to score any Championship points and was in dire gearbox trouble by the end. He briefly held fourth place after Pryce's retirement, but he ended up unable to select second, third and fourth gears in his Howland gearbox, trailing round using first and fifth only. As they were the only two gears he could have survived without on a circuit like Long Beach, Jarier had no choice but to slip back to seventh place, Fittipaldi's Copersucar passing him only two laps from the finish.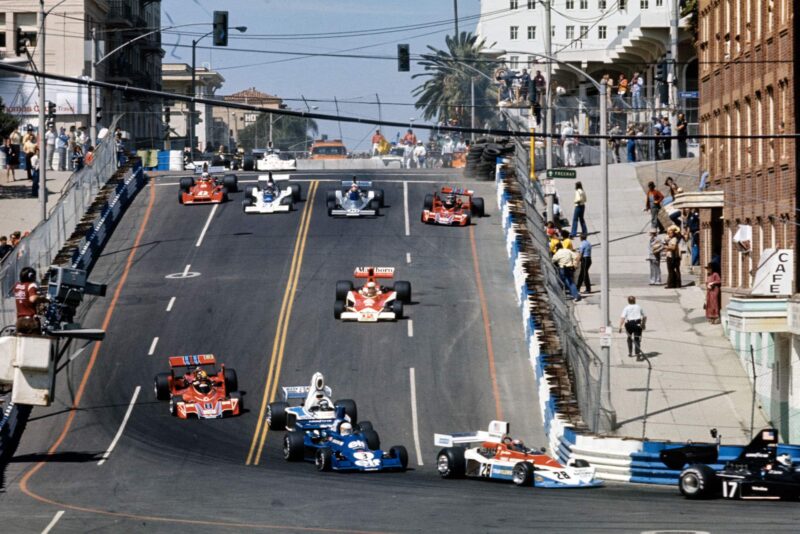 By the end of the race there were plenty of smiles to be seen in the Ligier-Matra pit, the dumpy-looking French car driven by Jacques Laffite not having simply lasted the distance on a rough circuit but also passed a good number of cars on its way to fourth position. After its wheel breakage in practice at Interlagos and its suspension failure during testing at Kyalami, perhaps the Ligier was the car least expected to finish at Long Beach. But the team is obviously making forward progress and the Matra V12 now seems fully competitive with the Cosworth DFV units. Laffite doesn't lack anything in the way of tenacity either, and the way he dealt with both Mass and Jarier during their fight for fourth place indicates that he doesn't have much respect for reputations. Incidentally, the Matra didn't run out of petrol as some expected, and showed appreciably more speed than it ever did installed in a Shadow chassis. Now that French money is paying for the project, could it be that Matra are taking things a little more seriously than they were when supplying engines to the British-based team?
March Engineering seem to be getting back to their 1970 situation when they ran cars for "all and sundry" in Formula One. First we had Brambilla and Stuck, then Peterson came on the scene from Lotus and at Long Beach Merzario arrived with a big fistful of lire to purchase his drive. The two "constructors" Marches—that's to say the ones that score points for the purposes of FICA membership benefits, free travel and such like—were driven by Peterson and Stuck (would you give them to anyone else?) and carried hieroglyphics all over them to indicate they were sponsored for the race by Teddy Yip's Hong Kong-based Theodore Racing organisation. It's pretty obvious that these two Marches, operated by Robin Herd, get rather more intense attention than those driven by Stuck and Merzario (operated by Max Mosley). Peterson at least rewarded their efforts by being the fastest March driver in practice (as he should well be) and running sixth in the early stages of the race before a master cylinder leak forced him into the pits to top-up with extra brake fluid.
Finally, the Brabham team brought along a brand new Brabham-Alfa Romeo (BT45/3) for their drivers to try. Built up round a completely new and much lighter monocoque, weight saving was the prime purpose behind its construction. Unfortunately it was not possible to come to any definite conclusions about its potential and Carlos Pace drove his normal car in the race. He was another who had a miserable time, the BT45 wearing its brakes so heavily that it had to stop to have a sticking brake balance bar freed before the end of the race. Three laps behind at the finish, Pace was classified in ninth place behind Amon in the old Ensign MN02.
Morris Nunn still hadn't completed his new 1976 chassis and was relying on the old car yet again to compete at Long Beach, albeit with a red paint job and sponsorship from Norris Industries. Despite a pit stop to check a broken exhaust, Amon finished two laps behind the leaders in eighth place. Long Beach was one of those races where to keep going to the finish seemed to be an achievement in itself.—A.H.
In memoriam
The GPDA
The Grand Prix Drivers' Association (GPDA) is dead and buried and many people, including some drivers, will breathe a sigh of relief. What started out as a well-meaning advisory group, to help themselves and others, degenerated at times into nothing more than a militant workers union. Restricted to practising Formula One drivers this small group suffered from a lack of unity throughout its life, a few members working diligently while the rest were apathetic, and on major issues there was seldom total agreement. The true racing driver has to be an individualist and an extrovert, so it was no surprise that there was a lack of unity within the GPDA. The remarkable thing was the way certain people lived in hopes of brainwashing all drivers to think the same.
In Joakim Bonnier they had a good leader and diplomat, but his followers were not strong, and in Jackie Stewart they had a strong leader but apathetic followers. Since Stewart retired most drivers were reluctant to take over leadership and the whole thing has now fizzled out and been absorbed by the Formula One Constructors Association (FICA). A handful of drivers now represent the defunct GPDA at constructors' meetings which involve drivers.
In 1972 the GPDA tried hard to establish itself as a powerful organisation with headquarters in Switzerland (just below Jackie Stewart's home, naturally) and in order to swell their ranks they opened membership to anyone holding an International Competition Licence. As I had such a licence at the time, (though unused for many years!) I was eligible to join and became GPDA member number 26. There was not much of a rush to join, even from budding Formula Three aces looking to a future in Formula One, and within a year the whole idea of expansion was dropped. However, it did give me the opportunity to attend some GPDA meetings and see for myself that it was a three, or four-man band, with little future in front of it and little hope for survival, particularly as most of the members were of such a variety of nationalities. Like trying to make a League of Nations work.
The Formula One Constructors Association is a different kettle of fish, for it is composed almost entirely of British people, or British derivatives and is strong and unified as they are all hard-headed operators. That they have taken the GPDA under their wing is no bad thing and it will undoubtedly save a lot of time, previously wasted on waffling. —D.S.J.