1988 Brazilian Grand Prix race report
Victory interface
Ron Dennis' uncompromising commitment to the pursuit of success might rub some people up the wrong way, but even his critics came away from the Autodromo Nelson Piquet after the Brazilian Grand Prix with grudging admiration for the manner in which, yet again, his team had won first time out with a brand new car.
Before the weekend, neither Alain Prost's nor Ayrton Senna's race-cars had so much as turned a wheel, while the spare–earmarked this time for Senna but to be shared equally through the season –had only 300 miles on it from its maiden test outing at Imola two weeks earlier. Yet after the first untimed session on the Friday they headed the timesheets, the advantage with Prost, and thereafter no other manufacturer got even a sniff of victory.
Honda Marlboro McLaren's pill had a bitter-sweet coating. There was Senna's brilliant pole-lap followed by Prost's eventual triumph, but that was balanced by the former champion's qualifying gremlins, an uncharacteristic structural defect when the front wings collapsed on the Frenchman's race-car on Saturday, Senna's raceday gear-linkage problem and then his subsequent disqualification for swapping to a different chassis after the warming-up lap–which suggested the team had forgotten the lesson of Monza 1986 when the same fate befell Prost.
For all that, it was another impressive performance. The name of the game is winning, and in Rio only McLaren ever looked likely to do that. That it ran into some problems was to be expected with cars so new, but it was scant consolation to rivals left choking in the abounding trackside dust.
As one might have expected, Ferrari got closest to the McLarens, thanks to the grittiness off Gerhard Berger's driving. At the 50-lap mark, just after his second stop for tyres, it actually seemed as if the Austrian was genuinely closing on the little Frenchman in car 11. There was a flurry of excitement as the gap was slashed from 15 to 9 seconds in four laps but, in a race in which he had made his sole tyre-stop without even surrendering the lead, Prost was the easy master.
He was merely conserving Shell and Goodyears, and broke Berger's challenge with his own fastest lap on the 57th of 60 tours. That it stood him only third fastest overall behind Berger and the latter's team-mate Alboreto served simply to illustrate how hard the Ferraris had to run in their vain pursuit, and its lateness endorsed just what strong condition the Steve Nichols-designed McLaren MP4/4 was in right to the end.
Towards the close of 1987 there were valid indications that the Italian team had found a slight performance edge over Williams-Honda and McLaren-TAG, even though Berger was the first to admit his fortune in Japan when Mansell non-started and Prost was delayed by a puncture.
With the revised 2.5-bar boost regulations, however, it is clear Honda has responded faster and more effectively; and now that Honda's RA168-E engine has been so neatly packaged in the McLaren, the wheel is turning full circle. 1988 could be 1984 all over again as far as McLaren is concerned, and nobody is more aware of that than Berger.
"Our chassis is as good as anything". He insists, for which, as far as Rio was concerned, read McLaren, Williams and Benetton, "but compared to the Honda our engine is only eighty per cent. It's time for Maranello to wake up on engine development.
The new pop-off valve, predictably, has become something of a bogey man to turbo teams, with its characteristic of dumping boost to around 2.2-bar the moment 2.48 is exceeded, and then taking a long time (in racing terms) to build back up. Development has thus centred on trying to control turbo waste gates electronically, to ensure maximum boost is not exceeded.
Clearly, Maranello has not yet mastered the trick, if Alboreto's printable comments after qualifying and the race were any guide. Unable to run above 2.35–the figure to which his engineers had set his valve–he even had trouble passing Phillipe Streiff's normally-aspirated AGS on one occasion.
If Ferrari shares something in common with McLaren, chassis efficiency apart, it is reliability–and that is what Williams is still seeking to hone into its otherwise highly-attractive FW12-Judd package.
Those who expected Nigel Mansell to spend a year in the wilderness without Honda turbo power have reckoned without the resourcefulness of Williams engineers Patrick Head and Frank Dernie, not to mention Mansell's own inimitable brand of determination. The team believes it is playing with 575 bhp against 630 for Honda and Ferrari (the figures differ depending on the source but the basic deficit is generally agreed to be 60-70). While the FW12's straight-line speed was appalling in comparison even with other normally-aspirated runners (and as near as dammit 20mph slower than the McLarens), the manner in which it gobbled ground through corners was testament to its basic efficiency.
After pre-season testing in Brazil had indicated a tendency to overheating, modifications were made, but still the FW12s were not happy. Patrese's boiled itself on the warm-up, and lasted only seven race laps before expiring going on to the main straight. Mansell was obliged to run another warm-up to avoid the same fate, as Senna had very deliberately indulged in the gamesmanship of a very slow lap.
The Englishman lead briefly off the line before Prost surged through, was displaced by Berger, and had then narrowed the gap to the Ferrari to a challenging 1.1 seconds when he made his scheduled tyre stop on lap 18. The Judd was running hot in the Ferrari's wake, and when it was lowered form its jacks the engine cut. At first it was believed it was simply too hot to restart, but later investigation revealed that the electrical loom had failed.
No points then, for Didcot, but anyone who lulls himself into thinking this team will not pose a major threat all year is not playing with a full deck.
Formula One may be going through another of its periodic upheavals, but the top guns are still the top guns and the pretenders still have not quite bridged the gap.
As has so often been the case, Benetton flattered only to deceive, with Alessandro Nannini's excellent third-fastest qualifying lap on Friday negated on Saturday for two reasons. One was that neither B188 driver could evacuate his cockpit within FISA's five-second safety stipulation (Boutsen took 18 seconds against Philippe Alliot's 1.5!) and thus time had to be wasted in the second session modifying the steering-wheel mountings to comply. Then, when the team new-boy did get out his engine's electrics took a dump.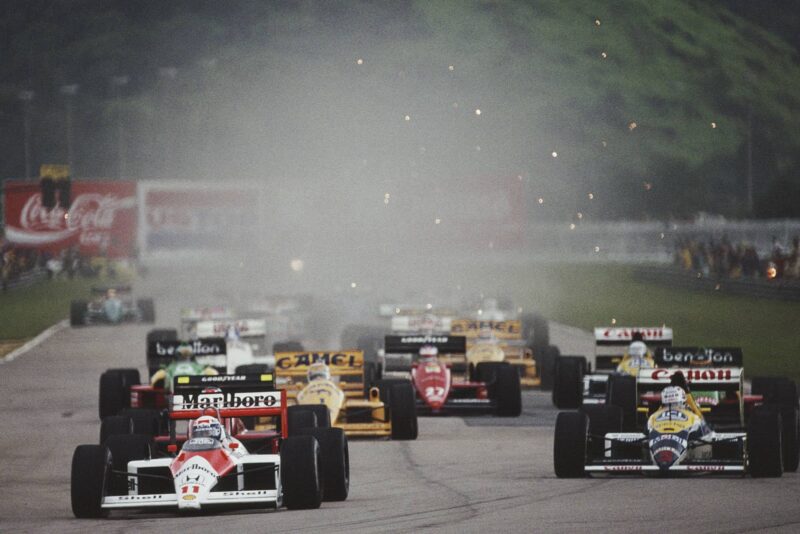 After his undertray had worked loose and created oversteer which killed his chances the previous day, Boutsen rose to the occasion and the duo was second and third quickest in team order in the Sunday warm-up. But the race brought all too familiar disappointment. Both cars had sticking throttles initially, and Nannini was out when high oil-temperature intervened after only eight laps.
Boutsen looked aggressive, and likely to progress, in the early stages, and was delighted with his car's balance. Then the water temperature began rising and his race became a matter of survival. Form third on lap 42 he fell back into the clutches of Piquet and Warwick, and was then jumped right at the end by Satoru Nakajima to finish just out of the top six.
Somehow, designer Rory Byrne always seems able to produce the same excellent handling manners from the new packages which changes in chassis-regulations and engine-supplier oblige him to make every season, but the very need to build too many new cars could well be the root of Benetton's frequently fruitless search for total reliability. One supposes that some necks may be on the block if things do not improve this year, but circumstances often dictate that the crew members fight with one arm tied behind their backs. Every year Benetton gathers momentum by the end of the season, only to have to revert to square one. One can but hope it avoids the fate in 1988.
Reliability was not Lotus' problem in Rio, but an outspoken driver certainly was. Gerard Ducarouge's 100T netted solid third and sixth places on hits race debut, on paper enough to satisfy most team managers outside McLaren, Ferrari or Williams, but the World Champion's drive was so low-profile it was easy to overlook him altogether until the results sheet was published.
Satoru Nakajima certainly has his act together better on fast circuits these days, as he should now that he is returning to familiar ground, but I doubt strongly that he is really only the 1.2 seconds slower than Piquet that his qualifying performance suggested. The gap between the Japanese and Ayrton Senna last year was an average four to five seconds, and already one or two team insiders are bemoaning the loss of a driver "who could always be relied on to try a hundred per cent".
Fair comment, or foul? Time will tell, but the World Champion's home race will better be remembered for the furore surrounding his published remarks about Nigel and Rosanne Mansell in the current Brazilian edition of Playboy than for anything really scintillating on track. He had qualifying problems with a cracked plenum chamber and a virtually untested spare car, and admitted he did not use his Saturday tyres as best he might, but somehow he just never seemed to rise to the occasion as one might have expected on home ground and at a track bearing his name.
The fact that he and Nakajima set their fastest race laps within three laps of one another, and that Nelson's was only three tenths faster, speaks volumes, and is only partly explained by his complaints about his race pop-off valve. Maybe Satoru really has made a breakthrough and will surprise us all this year. But there again, maybe not . . .
To see Piquet blasting by Derek Warwick's Arrows A10B on the straight induced a moment's speculation as to how the gritty Englishman might have done in the Camel Lotus, had he after all joined the team back in 1986. On his Brazilian form, the answer would have been an awful lot better.
All year he has been raving about the progress Arrows has made during winter testing, especially since former BMW engineer Gerhard Schuman began working on the Megatron engines. Thus it was a shame to see the team losing its direction in Brazil. Warwick had been happy with his basic set-up after the Rio test, but just could not figure out why the cars came back to the race still set up the way team-mate Eddie Cheever had them in Imola!
Neither driver was happy with the performance of his pop-off valve, feeling, as did the Ferrari drivers, that their engines were not achieving peak power. Nevertheless, Warwick drove a finely judged race to pip Alboreto, eking out two sets of Goodyears to the Italian's three, even though his car looked pretty precarious on the rubber debris left in the first corner in the closing stages.
Cheever also got to the flag, indicating that the Milton Keynes team is making some solid progress on reliability, but his waste gate was malfunctioning so much that by the end his pop-off valve was covered in sooty deposits. They pumped a fair amount of fuel out of both cars afterwards but, though that appears to suggest good economy, neither had full power so the situation was slightly misleading.
Of the other contenders, by far the most impressive was Leyton House March Racing Team, to give the long-winded official title to the equipe run for Robin Herd by former journalist Ian Phillips. He is clearly in his element, and the March team is one of the friendliest in the business as it radiates an air of enthusiasm for its task.
1987 was purely a learning year, and on its first appearance the prototype 87P did not make the race in Rio after consuming one of its Cosworth DFZs. This year one 881 did not make the first corner, and the other burst a water hose on the grid and was hastily replaced by the spare which only lasted seven laps. Behind such bald facts, however, lies tremendous promise.
Adrian Newey's design has drawn favourable comment from pretty much everyone, and naturally draws very heavily on his further aerodynamic experience gained last year on Mario Andretti's CART programme. In Rio the cars were marginal on Judd cooling, so ran without their sleek airboxes, but the real Achilles heel is the March-built gearbox which has a tendency to overheat internally. That in turn expands the magnesium casing and lets the gear clusters ease out of alignment. The drivers know exactly what is happening, as the gearshift becomes progressively tighter . . .
Mauricio Gugelmin made a very good impression in his first Grand Prix–not so much for qualifying 13th, but for doing so in the face of fourth-gear selection difficulties which ruined his best lap, and for his choice of chassis settings. Still regarded more as an artist and less of a racer, he nonetheless had those 881s very well sorted by the end of qualifying, which was all the more impressive since he barely got any time in the car during its recent Imola test outing.
Team-mate Ivan Capelli did not try to minimise the Brazilian's contribution, and was himself delighted to quality ninth even though he missed a lot of the final session with a fuel-pump problem. Reliability is a weak point here, but the promise is certainly there, and it would be no surprise to see this team take on Benetton or even Williams as the strongest normally-aspirated challenger on certain tracks.
The Rial was the other non-turbocharged car to make its mark. The team comprises only seven hands, but designer Gustav Brunner has come up with a highly attractive machine which bears a very strong resemblance to Maranello's F187 which, of course, he designed. Indeed, it is known now as the "Blue Ferrari". On his return to the GP arena, Rial wheel-manufacturer Gunther Schmidt showed little of the mercurial nature from his ATS days which once saw him settling an argument with Jan Lammers over front wings by stamping on the set the Dutchman had hoped to use!
This year's driver Andrea de Cesaris remained calm for much of qualifying, but spun twice on Saturday afternoon and put out the suspension geometry sufficiently to qualify lower then he should have; his race was dynamic as he hounded Alboreto. Sadly a wheel was fitted incorrectly at his tyre stop, necessitating another change, whereafter he lost his cool and over-revved the DFZ after missing a gear change. Once the Williams last longer and the Benettons and Marches are better sorted, I would not bet on the Rial again to set fastest normally-aspirated, lap, but it deserved to in Rio.
The rest, frankly, did not amount to much. The new Tyrrell is a disaster of epic proportions, which gave Jonathan Palmer and new-boy Julian Bailey nightmare handling as it lurched into ragged oversteer. It may be very quick in a straight line, but it corners like a turkey.
Uncle Ken's team kept a brave face after the front wings vibrated badly on the car's shakedown at Silverstone, and again when it proved an animal at Imola, but the writing is on the wall: it is going to take a lot of work to get the 017 sorted, and Tyrrell himself admitted he would need every day of the month between Rio and San Marino.
The Larrousse-Calmels Lolas ran quite strongly in tandem until Yannick Dalmas ran into electronics trouble and Philipe Alliot's suspension broke–a similar fate befalling fellow countryman Philippe Streiff in the March 85B (F3000)-look-a-like AGS. The Minardis both broke rear-wing posts and did not look like running even midfield, while Gabriele Tarquini and the Coloni currently comprises a good combination seeking a good team to run it.
The new EuroBruns had undistinguished outing which squandered the talent of Stefano Modena, while an even crueller waste was that of Alex Caffi, who could not even pre-qualify the F3000 Dallara which Scuderia Italia had been obliged to take along to satisfy FISA's requirement that constructors enter every Grand Prix on the calendar. Its new car was launched the Thursday after the race, no doubt to Caffi's relief . . .
The team in the greatest trouble in Brazil, however, was Ligier. The fuel-tank layout of the Michel Tetu-designed JS31 has already aroused criticism–there are cells either side of the cockpit, like something from the early Seventies, as well as another located behind the engine–but it was appalling handling which really taxed drivers René Arnoux and Stefan Johansson. The latter at least managed to finish, albeit three laps in arrears, but it is hard to believe this was the team which once held the F1 world in the palm of its hand at the beginning of 1979 and again in 1980 . . .
The 1988 Brazilian GP answered some of the pre-season questions but posed as many more. The new equivalency formula looks as if it will be fair, although the signs are already evident that turbos such as the McLarens and Ferraris may have a slight edge on fast circuits. Mansell's qualifying performance in the Williams gave all non-turbo teams hope, and after a slower start than either Prost or Berger –the Williams was carrying some 190 litres of fuel to the turbos' 150–he began to close in on the Italian car. This time we were denied a decisive outcome to the battle, but at this stage do not discount the chances of at least a couple of normally-aspirated victories, or even of Mansell winning the title as Keke Rosberg did in 1982.
Throughout the weekend the oft-criticised Englishman remained calm and ignored Nelson Piquet's derogatory remarks about himself and his wife, earning universal praise for his self-control. The World Champion, however, did himself few favours, as his remarks followed so close on the heels of similar clashes with fellow-countryman Senna in the weeks leading up to the start of the season.
Throughout it all, Alain Prost remained aloof. He was unhappy in qualifying, but took his misfortune with customary good grace. And when the race began he was gone. It was his fifth Brazilian victory in seven years – his 29th Grand Prix win overall –and upheld the legend of the debut wins enjoyed by McLaren's MP4/2 and MP4/3 designs. For a variety of reasons, it might have been better to have renamed the circuit after him. DJT