Mark Skewis saw Damon Hill take home maximum points from South America after two flawless drives
Michael Schumacher left South America with a dog, wife Corinna having taken pity on a stray she found in the Interlagos paddock. The World Champion merely gave a smile of exasperation when asked about the new addition to the family. In truth, he'd probably had enough of dogs by then. After all, he'd been driving one for the past two weeks.
The German had another unexpected companion in Brazil, Ferrari having resurrected the rear-end of the car it ditched at the end of the '95 season. It was an attempt to ensure some reliability, while the F310's complex new gearbox was tested extensively back at Maranello. It did its job, for he finished third around Interlagos, but Schumacher had to drive his heart out to extract any performance from his hybrid machine over bumps so vicious that one driver described them as "sleeping policemen".
Back in 1989, the Scuderia's 640 underwent a similarly troubled gestation period, only to win its maiden race in the hands of Nigel Mansell. If Schumacher had hoped for a similar miracle, he never let on. And he never got one.
'II Leone' plays a still greater role in the history of Williams, where Damon Hill hopes to emulate his title feat, than he does Ferrari. But where Mansell was forever driving the hardest race of his career, his best race, his most exhausting race, Hill is content to understate his feat in winning the first three Grands Prix of the current season.
"I honestly felt I've had occasions where I've had to dig deeper to get the result," he reflects of two races he led from start to finish. "I was very satisfied with the results, but they weren't anything less than I wanted to achieve. In Brazil I felt very in control over the whole weekend, very on top of the situation, so it was pleasing that I got the job done with no dramas.
"Argentina was a different kind of race, with different pressures. For two days I wasn't able to eat anything because anything that went in, came out again very quickly! I was pleased to make it through the race without any ill effects."
He had felt washed out, too, at Interlagos, but the sensation owed nothing to ill-health. Instead, he defied a sudden thunderstorm so bad that the cars struggled even to get out of the pits, never mind race. To that point, he had dominated the event. Suddenly, a straightforward task had been turned on its head. So how, sitting on the grid, did he deal with his disappointment?
You have to make a decision whether you're going to go forward or backward, really," he explains. "That's the only decision you make: do you attack the situation, or do you come back from that edge? If you come back, it's very difficult to drive not pushing the limits, because then you really don't know where the limit is. In a way its almost easier to go flat out into the unknown. You just drive until something happens, then try to correct it so that you stay on the road. It's very, very difficult to judge, but as long as it's not dangerously wet, I don't mind it."
Attack he did, with the result that he took two seconds a lap out of his opposition. The move was a crucial one, for its reward gave him a buffer when the track began to dry out and the rain tyres had less purchase. A lot of drivers can eventually set quick lap times in a wet race. The mark of a great driver, some say, is that they are immediately able to find the limit, as did Senna, and as does Schumacher. Damon was down to 1m 43s before the rest of the field was out of the 1m 46s bracket; he was in the 1m 41s when the others had only just broken into the 1m 43s.
That was due, in part, to the fact that whilst Hill set his sights on victory, his pursuers lost in a cloud of spray had virtually no sight at all. The role of pathfinder is a double-edged one. "As the first guy to go round, you do get far better visibility than the rest," he accepts. "The down side is that none of the water is dispersed and the car is aquaplaning everywhere. But I used to love the wet when I raced bikes. It's well-fun riding a bike in the wet, I can tell you! You haven't experienced aquaplaning until you've experienced it on a bike…
Perhaps the most impressive aspect of his performance was that he and the team overcame precisely the sort of obstacles which have caught them out before: who can forget Alain Prost's wet weather disaster at Donington Park in 1993, or Hill's nightmare sequence of stops at Spa last year? Williams Technical Director Patrick Head readily admitted after Brazil that the risks of tripping up had been high. "There was plenty of opportunity to make mistakes," he said, "and Damon didn't make any of them".
Hill confesses that given the bitter experience of last season, when anything that could happen did happen, he wasn't that surprised when the heavens opened. "I sort of half-expected something like that to happen, because everything had gone so well to that point I thought. 'That's pretty much par for the course for Formula One'.
There are always things thrown in your path which, on the face of it, are put there to trip you up. That's always the challenge – how you can cope with the next problem that arises. In a way I was relieved. I thought, 'Well, that's the thing, rather than something else! If it's only rain, I can cope with that."
He coped with the tactical demands of the race too. Although he wasn't the first driver to switch to slick tyres – David Coulthard took that accolade he was the first to switch and stay on the track. If anything, you could argue that he was a little too conservative, for his first lap after his pit stop was some seven seconds quicker than the previous best lap of the race. But as the man in front, he could afford to call the tune. Meanwhile, it was indicative of the struggle Schumacher was having with his Ferrari that he elected not to risk a change to dry tyres at his first stop.
In Brazil, as in Argentina one week later, Schumacher initially attempted to out-manoeuvre the Williams duo by making more pit stops and running faster in between. The general perception is that last year, when he applied similar logic, Benetton's tactics swayed the title struggle its way.
Damon bridles at the suggestion.
"Last year a lot of times we actually got the strategy perfectly right but, for one reason or another, it didn't go our way," he argues. "At Spa, quite honestly, you couldn't predict what the weather would do. In Nurburgring [where he was in contention until a clash with Alesi] we were on the right strategy from the word go, because we were on one less stop than Michael. But we didn't know that until after the race. I didn't know until I got home and watched the television. I would have won that race, even if I had just chugged along. He didn't get it right, but he won that race.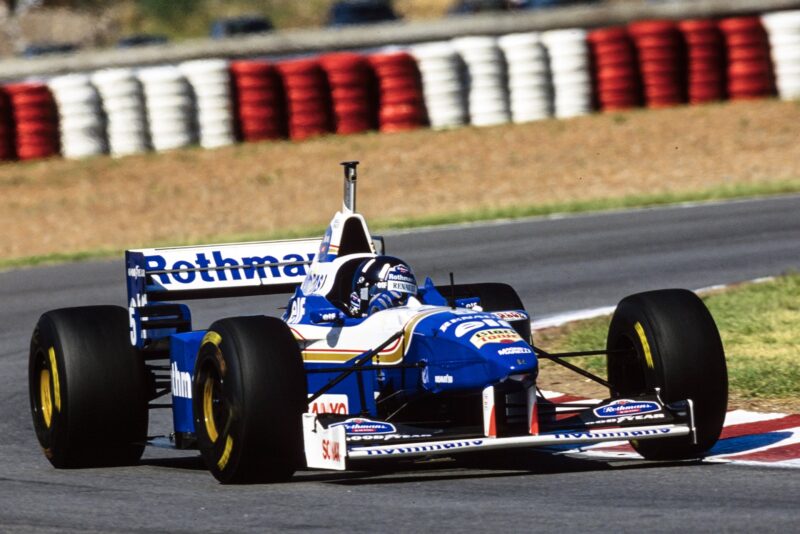 'From time to time we were right on the money and it didn't come off. You can easily take one result and make too much of it. Generally what happens is that people look at the race result and say, 'Didn't the guy who won it do a brilliant job by getting everything right?' Sometimes it's true. Sometimes it's not."
Whether the team's strategy was flawed or not, Williams has made a conscious attempt to start 1996 with a fresh attitude. Its lead driver mirrors that change.
"I have made it my job to let everybody know that I am enjoying what I am doing, and I am enjoying working with the team," he explains. "A lot of the things I went through last year were a result of my intensity, and my desire to do well. But that ignored the fun factor which is really very important to everybody. Formula One is not just a job to most people, it's a way of life. And it has to be a fun way of life. I kind of forgot that last year and focused too much on my job.
"We've got a job to do, in a professional way, but at the same time it's bloody good fun driving a racing car. Especially a Formula One car, and the competition is fun."
It may be fun but, with the exception of his team-mate in Melbourne, the competition has also been pretty much non-existent in the opening month of the season. Such dominance inevitably tends to cloud the issue when people try to evaluate Hill's performance.
"Mostly the driver who wins the championship is in the best car," points out an exasperated Head. "Damon's got the equipment, had the opportunity, and made the best of it. What do you want to do? Shoot him?"