Jacques Laffite: Cavalier aptitude
Jacques Laffite was a throwback to a more relaxed age. He enjoyed his motor racing, as long as he could mix in a bit of fishing and some golf. But his natural talent was enough to take him a prominent player in one of F1's great eras.
Heard the one about Laffite at Dallas in 1984? In protest at the early hour of first practice, he turned up in his pyjamas. At Montreal one year, he arrived at his hotel, carefully removed his fishing tackle and golf clubs from the taxi and strolled into the lobby — only to drop them all and run back to the cab, yelling for it to stop. He had forgotten his helmet and overalls.
Charming stories of a charming man. But they tend to cloud judgement when it comes to analysing him as a driver.
Burning ambition certainly didn't trigger his racing career: "I had been working for a Monsieur Giraud at Le Mans on Jean-Pierre Jabouille's F3 car. As a reward, Giraud paid for me to go to the Winfield Racing Driver School — and I won their award in 1968."
Success was a while coming, but in 1972 he won Formule France. The following year he took the French F3 title, and then BP France's funding eased his elevation to F2 for 1974, driving a March-BMW. An impressive debutant, he won at the superfast Salzburgring.
"Then I got a phone call from Frank [Williams] asking me to drive his F1 car," says Jacques. "In testing, I was very close to regular driver Arturo Merzario's lap times, so I decided to do the Nürburgring with Frank."
Bearing in mind the venue, Jacques' lack of F1 experience, and a Williams FW02 which was far from cutting-edge, qualifying 21st from a large entry of 32 was very respectable, and although he retired on lap three, he proved to be more than a match for Merzario in subsequent GPs.
"I thought Jacques looked very promising on the evidence of those few races," says Sir Frank. "I didn't even consider switching to anyone else for 1975. Not only was he very skilful, he loved his racing enormously, and that really impressed me."
Team-owner and driver looked to the future with much hope. But surprisingly, the latter's priority was not making his name in GPs: "I was completely working towards winning the F2 championship. F1 was just a good opportunity to learn to drive at the very top." How times change.
When combined with an Alpine sportscar campaign, Jacques was racing almost every weekend that season, and was rewarded with the F2 title he craved. In F1 terms, he trod water —with one startling exception. At the Nürburgring, he finished second, from 15th on the grid, as faster runners fell foul of punctures.
It was Jacques' F2 results that prompted Guy Ligier, on the verge of entering Formula One, to summon him to Paul Ricard for what turned out to be a head-to-head with Gitanes' contracted driver, Jean-Pierre Beltoise.
"People in France said afterwards that I shafted Beltoise," says Laffite, "but in fact, Guy told me I was the only driver in France who didn't call him to ask for the drive! Then, when I was quicker, they said I was given a better engine. I was just asked to drive the car and I drove it as best I could."
The Laffite/Ligier combo would last nine seasons, albeit interrupted. Jacques became as synonymous with the French blue cars as Jim Clark had been with a green-and-yellow Lotus. Unlike the Scot, however, the French partnership would attain spasmodic success, despite an excellent start.
"Gérard Ducarouge had designed a good car, and the Matra V12 was good enough. We took pole at Monza — I think only because it rained in the session. But I think also that the car's aerodynamics were good. In Austria, where I finished second, the Matra was better suited to for the higher altitude and lost less power than the V8s. With more experience, I could have got even better results."
An average grid position of ninth, and seventh in the championship, were excellent for a rookie team. And that 'tricky second year' just didn't happen for Ligier. In 1977, Jacques was a podium contender at most races and, at Anderstorp, he was on the top step.
"I was surprised, yes. After qualifying, I had told Ducarouge to burn the car. But in Sunday warm-up, it had great balance, just from changing the tyres. I wouldn't have won without Mario's fuel pump problem, not from eighth, but if I had started closer to him, I think I could have won anyway.
"Sometimes the JS7 worked just because Gérard was brilliant at finding solutions. At tracks like Zandvoort, Jarama, Österreichring, it was me who was quick. Don't know why. But in 1978, our engine was too unreliable. Matra thought I was over-revving; then, after six months they discovered it was because of faulty valve springs. At Jarama, I fought the Lotuses a bit and finished third. But their downforce just made them so quick."
Fortunately, Ducarouge knew why and penned JS11 around the DFV, with brilliant results — initially. Laffite was worried about Ligier's decision to run two cars for the first time. But after six races, he had four poles, two wins and a second to his name. Team-mate Patrick Depailler had also won, at Jarama, and Ligier appeared to be sitting pretty.
"Then Patrick broke his legs hang-gliding, and the car lost pace because we couldn't find the right solution for the aerodynamics, the sidepods and the front wings." Having hitherto only been rivalled by the consistency of Ferrari's 312T4s and the brilliance of their drivers, from midseason, Jacques found himself fighting the stunning Williams FW07s, too. No contest. In the last eight GPs of the year, Ligier scored just 15 points, and Jacques sank to fourth in the championship.
Ligier always started a new season with much optimism, and though this was sometimes misplaced, with new French sensation Didier Pironi joining Laffite for 1980, they looked set for their best year yet. It didn't turn out that way, of course; updating last year's car worked out superbly for Williams, less so for Les Bleues. The JS 11/15 was only occasionally a match for the FW07B, but there was no lack of effort from the French drivers.
"Didier and I fought too much," states Jacques. "In France, I took pole and he qualified third. A week before that, he tested wider front tyres and told me they were okay but made no difference. Then, on the grid at Paul Ricard, I saw he had chosen the bigger tyres and so had Williams. In the race, they all had less understeer. Because Didier and I didn't speak to each other or to each other's engineers, we messed up."
Just as people tend to forget that Jabouille often had the measure of charger René Arnoux in their time together at Renault, so Laffite doesn't get credit for frequently outpacing Pironi. They ended '80 with a win apiece, and in qualifying it was eight-seven in the youngster's favour, if you count (as FISA didn't) the non-championship event at Jarama, where Jacques was on pole. There were days when Didier's pace would have left all but Gilles Villeneuve struggling, but there were weekends, too — Hockenheim, Österreichring, Kyalami and Zandvoort — where the experience of Laffite gave Pironi's raw ambition a good spanking.
That ambition, though, drove Didier to Ferrari, while Jacques stayed with Ligier. He enjoyed 1981, when partnered by Jabouille, his now-brother-in-law, who was making a comeback after breaking a leg at Montreal. J-P was way off the pace and quit midseason to become an advisor, but his technical know-how was of immense benefit to Jacques. The JS17, powered by Matra's V12, eventually proved a fine car, once Ducarouge had been persuaded to follow the English teams by 'cheating' the ride-height regulations with imaginative springing.
Pole at Jarama was wasted when, to prevent the car rolling, Laffite hit the brakes as the lights went green. He clawed back to second, but was one of the many stuck behind Villeneuve's Ferrari. Then, at Österreichring, he won: "Jean-Pierre decided to put me on a different compound, against Michelin's wishes. He said it was the only way to beat the turbos. And he was right. After Ducarouge had left the team in July, it was difficult for everybody, but this win helped the atmosphere within the team."
Michelins were also a deciding factor in the win at rainswept Montreal, the penultimate race of the season. Laffite didn't like wet-weather driving, but when he had to, he could do it well. It even allowed him to go to the season finale with a mathematical tilt at the title.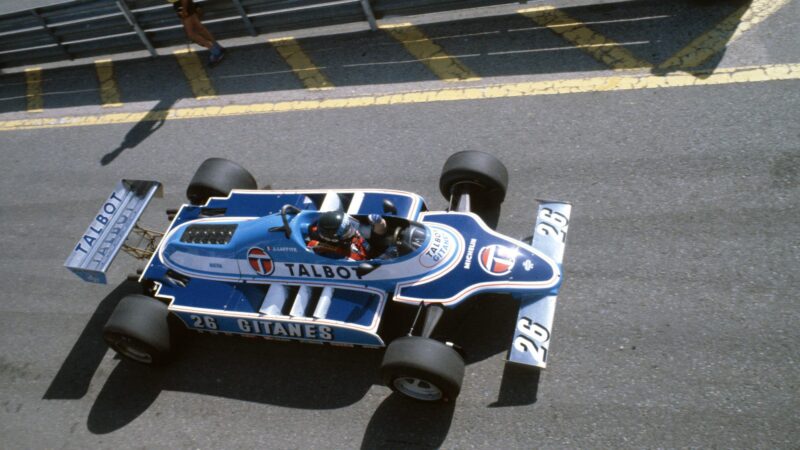 Yet that Canadian victory would prove his last. 1982 proved a marathon test session for Jacques as he developed the Jabouille/Michel Beaujon-penned JS19 in preparation for a new turbo engine from Matra and Peugeot-Talbot. Jacques' famously happy visage slipped when the engine didn't materialise.
"I had to leave Ligier because they had no idea what engine they would use for 1983. Frank Williams had made me an offer. I knew that he was working with Honda, and that I had the chance to have a better car."
If Jacques, heading for his 40th birthday, was hoping the move would be a new beginning, he was sadly mistaken. Over the next two seasons, his confidence, and the team's faith in him, would be eroded.
"There was no sentiment in our decision to sign Jacques," says Williams. "It was based on the fact that he was experienced, and a proven winner." Sheridan Thynne, then manager at Williams, gives the decision a different twist: "Jacques was a very good race driver who was slightly left over from an era where the physical, mental and time commitment had been less. He didn't regard F1 as the beginning and ending of life as you rather need to today. He was talented, but by then, you needed so much more than just talent".
For his part, Laffite feels he got a rough deal at Williams, and thinks it may have had its roots in his first race for them, at Rio. He had woefully underperformed in qualifying due to bronchitis, so when he got to Long Beach and qualified fourth, alongside team-mate Keke Rosberg, he felt obliged to go along with the reigning world champion's choice of tyres.
"I was sure the harder compound would be better, but I knew if I made the wrong decision and lost the race, the team would do for me.
"The tyres went off and I finished fourth. On the A-compound, I think I would have won without a problem."
Laffite suffered a 50 per cent pay cut for 1984, and continued to be blown away by his team-mate. To this day, he maintains he had different spec Hondas to those of Rosberg.
"In the turbo era, on qualifying tyres, it was difficult for me"
Whatever the truth, he returned to his spiritual home. Ligier, too, had had two dispiriting seasons, but with their talisman back on board, things looked up. Jacques scored neat, sensible third places at Nurburgring and Silverstone; in stark contrast, team-mate Andrea de Cesaris' wild overdriving frequently led to accidents of varying intensity. After a particularly spectacular effort at the Österreichring, Andrea was sacked and replaced by Philippe Streiff. He, too, brought Guy Ligier's blood to boiling point by colliding with Jacques on the last lap of the last race as they cruised to a surprise 2-3 finish in Adelaide. They survived, but Streiffs contract did not.
Drafted in to replace him for 1986 was the mercurial Arnoux, still one of the quickest drivers of the day, but up for grabs since his sacking by Ferrari in early '85. Many predicted he would blow away 42-year-old Laffite and, in qualifying, he had a clear edge. But there was no mystery behind this, as Jacques admits.
"In the turbo era, on qualifying tyres that only lasted a lap, it was difficult for me. One more flying lap, and I would have been okay. But René could go quick straight away, like Didier. Also, he was fast even if the car was shit; I needed more confidence in mine. So I spent a lot of practice getting a good set-up for Sundays."
And then on race-day, in a Pirelli-shod, Renault-powered JS27, Jacques was still proving he was in the top dozen drivers on the grid. He finished third in the first race, ahead of Arnoux, out-qualified and outraced him at Monaco to take sixth, finished fifth at Spa and, at Detroit, nearly won. "During the race, René was leading, and then I overtook him. But when I stopped to change tyres, the team gave me the wrong compound and Ayrton passed me. I was angry about it: I could have won in front of Senna and Prost"
Still, second rather vindicated his decision to carry on in F1.
"Exactly! I was fighting against young men who had raced karts since they were eight Even by 1986, Ayrton may have done more races in his life than me. I only started racing at 25, and only got to F1 when I was 31. So in '86, I still felt young and fit, and I thought maybe I had another two or three years."
Alas, two races after that Motown performance, on the day he equalled Graham Hill's record for the most GP starts, all his plans came to a bone-crunching halt against the Brands Hatch concrete.
"At the first corner, I saw Boutsen's car hit the guard rail and ripping the hoarding away. Stefan Johansson saw this shadow coming towards him, thought it was a car and suddenly turned right. I was alongside him.
What could I do? I went straight towards the wall, closed my eyes and said to myself, 'Oh well, we'll see'."
Broken legs and a fractured pelvis put Jacques through the pains of hell.
"I wasn't able to walk for eight or nine months, but Dr Trammell operated on my bones all at the same time — for 17 hours — and this helped me recover very quickly. If he hadn't done this, it could've taken one or two years, doing one leg, then the other.
"At first, I was thinking I will never race again. I am 43, big accident, and I have a family. Three months later, I think, 'Yes, definitely, I will race again!' But Guy Ligier said, `If you want to drive, you don't drive with me.' Then he asked Alfa to give me a drive in touring cars. I worked out I could make enough money and do all that I wanted, like ice racing."
The marked downturn in Ligier's fortunes after Laffite's crash is no coincidence: to the very last, Jacques was a quality driver. There have been many with less natural talent who have achieved far more in Grand Prix racing. Still, what few regrets he had about his F1 career don't cross his mind at all now. And nor did they keep him from sleep at the time.
Yes, that charming insouciance is perhaps what prevented him from becoming world champion. But who would want to change him? Not I.