Considering that he specialised in airframes during his early training at de Havilland, you might have expected Hart to become a chassis expert, but it was engines that fascinated him. "I had always fiddled with them," he says. "I built my own 1172 engine as homework". That went into the Lotus Seven he raced in 1958, before he and Len Terry built the first Terrier, with which Hart collected 18 wins in '59.
Trips to the new firm of Cosworth to buy parts for his racer soon led to evening jobs there, and before long he became part of the team. Brian was responsible for engine testing as the young firm began to make an impact, and not only on the dyno. Cosworth entered its own development cars and experimental engines in various formulae, with both Costin and Hart driving. "We didn't really need our own car," says Costin. "It was a perk. But it allowed us to engineer the installations ourselves. And it was always well prepared, so it was pretty quick". So were both drivers, but while Costin had no ambitions for F1 stardom, Hart still had not committed himself between grid and workshop. In 1962, he tasted F1 in a non-championship race at Crystal Palace, coming fifth, as well as scoring a stack of Libre victories. He also drove for Ron Harris in F2, winning at Enna in '64 after a hard dice with Frank Gardner and Paul Hawkins, and for Peter Sellers.
By 1966, as well as his Cosworth tasks, he had set up a small firm doing contract design work and was also racing most weekends. He built and drove Frank Costin's futuristic Protos in '67, but was now facing a decision.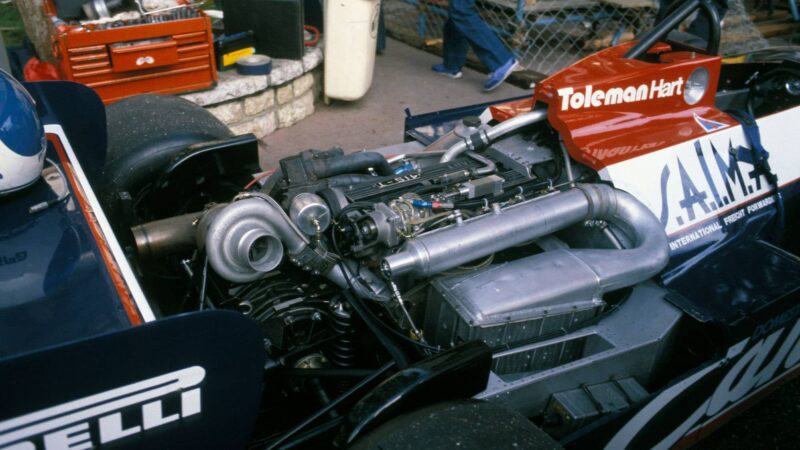 "I had already realised I wasn't going to be a star. At Mallory, in Cosworth's Lotus 22, I was on the front row with Jimmy Clark, and I was leading into Gerards, absolutely flat out, when Jimmy came round the outside. And he looked across and gave me a little wave!" The memory of that friendly sign clinched it: Hart stopped racing, and in 1969 Brian Hart Ltd was born.
There was plenty of tuning work, including building and modifying Cosworth's new twin-cam BDA engine for the works Ford Escorts. "Cosworth didn't have the capacity to build enough engines, and I knew Peter Ashcroft (Ford's engine man) from working with him at Peter Sellers Racing, so we got the job. It opened doors for us; if we wanted anything, we got Ford to ring up and it would be done." But after a bad 1971 season, Ashcroft was anxious to stretch the BDA from 1.6 to a full two litres so the Escort could go for outright wins in race and rally form.