Lunch with... Keith Greene & Chris Craft
One was a popular saloon and sports car racer, the other a highly respected team manager. And as friends from their teens, their careers often wove together
I'm in a village pub, listening to two old friends reminisce about spending their entire working lives in and around motor sport. One raced his own marque of Formula 1 car, then spent 35 years as a top team manager in endurance racing. The other, after a quarter-century as a highly versatile campaigner in sports and saloon cars, marketed the nearest thing in its day to a pure racing car for the road.
Keith Greene and Chris Craft have known each other since their teens, when Keith was already racing for his father's Gilby Engineering concern and Chris, two years younger, was terrorising the burghers of Woodford in his Austin 7 Special. Both are Essex boys, although Keith retired a few years ago to the Isle of Wight. So we meet at one of Chris' favourite watering-holes, the Queen's Head at Fyfield. Smoked haddock with poached egg, followed by sea bream, are washed down with a glass of no-nonsense white for Chris, a glass of honest rosé for Keith.
Keith's story has to start with his father, the remarkable Syd Greene. In the 1920s Syd, aged 16, was a delivery boy, riding one of those precarious bicycles with a small front wheel under a big carrier. He skidded on wet cobbles, put out his left arm to save himself — and a London bus, with the solid tyres they had in those days, ran over it. What little remained of the arm had to be amputated. "He got one of the dreadful prosthetics of that period, all straps and leather harness, but that went in the cellar after a week. He managed perfectly well with one arm, holding a box of matches under his stump so he could strike a match to light his fag. He became a technical draughtsman, bought into a small company called Gilby Engineering, and built it up until he had a 53,000 sq ft factory in Barking with 220 employees and double-shift working 364 days a year. He raced, too, holding his supercharged MG TA's wheel with his knees while he stretched his only arm across to change gear. Then some snooty bastard at Brooklands complained that he couldn't control his car, complete crap of course, and he lost his racing licence. But he still did sprints and hillclimbs."
After the war Syd ran a Frazer-Nash Le Mans Replica, and Stirling Moss scored a great victory for him in the 1951 British Empire Trophy on the Isle of Man. Next came a Maserati A6GCS which, with Roy Salvadori at the wheel, fought great battles in 2-litre sports car racing with Archie Scott Brown's Lister-Bristol. "Dad used to drive it to races on the road and I, as wheel-polisher and pit signaller, went with him. Leave Essex for Oulton Park at dawn, stop halfway for eggs and bacon, and no speed limits." In 1954 Syd wangled Board of Trade permission to import a Maserati 250F Grand Prix car, before even Alfred Moss and Ken Gregory had swung the permit to get one for Stirling. Factory price was £4000, and as much again for import duty and purchase tax. The British Racing Green Gilby 250F was raced with success by Salvadori, mainly in Britain but with the odd European foray.
Keith was now old enough for a licence, and Syd bought him a bobtail Cooper-Climax. He even, at 18, got to race the 250F at Snetterton. "I'd never driven it before, and queuing up for practice oil started pouring out of the gearbox. The lads took it to bits, rushed into Norwich, knocked up an engineering shop to mend it, and got back just before the race. I lined up at the back of a big motley formule libre grid. I had no idea what revs to use off the line, so I asked Archie what he thought. Max revs was about seven-two, so he said, 'Try six'. When the flag fell I swallowed about eight cars before I even realised I'd started. What a fantastic car. You could go through the old Coram Curve without any effort in a perfect four-wheel drift, thinking you were Fangio. You weren't, of course. But the brakes weren't up to much. At the end of the Norwich Straight I was standing up in the seat on the brake pedal, with the bank and the spectators rushing up, going down the box to slow it for the hairpin." He finished fourth. "In the end Dad sold the 250F to Cliff Davis, who flogged old American cars from a yard in Shepherds Bush. Complete with spare engine, spare wheels and coach transporter, Cliff gave him £1200, and then dealt it on to Australia."
Keith raced his own Lotus 11, and did Le Mans in a works 750cc 17 with Alan Stacey, their sights set on the Index of Performance. "Winning that was worth big money. The French Panhards regarded it as their personal property, but we were leading by miles on Sunday morning when the water temperature started to go up. You weren't allowed to add oil and water within a set number of laps, which was controlled in the pits by a plombeur who sealed the fillers. I went slower, trying to make it last, but eventually it seized.
"Stacey was a lovely bloke, and quick. We were good friends until the Spa tragedy: a bird hit him in the face, stunning him, and he went into the trees and was killed. He had a tin leg, from an old motorbike accident, so he always had a twist-grip throttle fitted to the gear-lever to blip the engine on down-changes, because he couldn't heel-and-toe. Chris Bristow was killed that same day at Spa. A complete nutter. I remember battling for the lead with Mike Taylor in a sports car race at Goodwood, and well after we'd both got on the brakes for Woodcote Chris came howling past both of us, still hard on it, and went straight into the bank. But if he'd grown up and matured he'd have really gone somewhere. Another tragedy."
Next Keith got a Lotus 17 "which was a piece of garbage. So Dad asked Len Terry to design me an 1100cc sports car. Jack Knight did the chassis, Williams and Pritchard did the body, and that was the first Gilby-Climax. It was a sweet little car, went really well." Keith also raced a succession of Coopers in British national events. "I had Bruce McLaren's 1959 F1 car, then Roy Salvadori's Tommy Atkins 2.5-litre Cooper-Maserati. The engine was heavier than the Climax, and it was a dog — which is why Tommy sold it to Dad. Then the 1500cc F1 came in, and we built the Gilby single-seater." Len Terry was again the designer, but the shark-nosed Climax-powered machine never got the development it needed. "We did the British GP at Aintree, then for 1962 Dad lined up a V8 BRM engine for it. The anorak websites say we built a second Gilby single-seater, but we didn't: we modified the first one, made it two inches narrower and an inch lower. In the German GP I was running ahead of Siffert and Vaccarella until the front suspension broke, and I went through a hedge. But it was gutless: the customer BRM engines had nothing like the power of the works ones. We should have stuck with the four-pot Climax. We sold it on to Ian Raby, and it ended up sandracing in Jersey with an American V8."
Other cars in the Greene stable included a 2-litre four-cam Porsche 356 Carrera. "I did a four-hour race at Rouen in that, two two-hour heats with a break in between for a cup of tea. And the Goodwood Tourist Trophy. I ended up with a Lotus 23B, had a couple of wins with that. By now I was working for Armstrongs as Competitions Manager. I was going to all the Grands Prix, carrying in the back of my Cortina the shock absorbers for every team except Ferrari and Honda, who used Konis. I did all the settings for the different cars and circuits."
Meanwhile Chris, the tearaway in the Austin 7 Special, had become an employee of Ford. "Unlike Keith I had no family connections with racing. My father worked in the City office of Barclays Bank. But I was always mad about cars: my bedroom walls were covered with racing pictures. At public school I failed every exam, and they only let me stay on because I was captain of boxing. My first job was as a packer in a ladies' underwear warehouse. I thought it was the best job in the world, but my father didn't agree. He got me a Commercial Apprenticeship at Ford. Basically I was just a postboy, but I wangled a job in the competitions department, helping on rally recces and running errands to Cosworth's in Barnet. In 1961 I bought an Anglia out of the press fleet and started racing it, until I wrote it off. Then we made some Group 5 Anglias for Ford France with lighter shells, so I stuck another one down the line. I built it up as a 1340cc club racer, and had some great David and Goliath battles with the big Jaguars.
"Walter Hayes, who'd joined Ford from Fleet Street as the big boss, strode into the office one day and said, 'This chap Craft who's beating up the Jaguars in an orange Anglia, he's not our Craft, is he?' Yes he is, sir, and he's sitting right behind you.' He lent me a Cortina GT which I gave to Willment to build up, and the first time I got into it, at Brands, the rear A-bracket broke and I rolled it five times. A clip of the shunt went into the title sequence for Play of the Week on the telly, so every seven days everyone was reminded of it. Then I had a good season with a Lotus-Cortina which Walter also fixed for me, and we even raced in America at Elkhart Lake. In 1964 Alan Mann got me doing ice notes for the Falcons he was running in the Monte Carlo Rally. That was a great trip: Roy Pierpoint and me in one Falcon, John Whitmore and Tony Hegbourne in another, even Pete Arundell was driving the tyre truck.
"By 1966 I was doing the British Saloon Championship in one of the Superspeed 1300 Anglias. Now I have to own up to something I'll always regret. I caused Peter Proctor's accident at the Easter Monday Goodwood. I'd made a bad start, and was coming up the field. Peter was in a 1-litre Broadspeed Anglia. At St Mary's I dived up the inside, and in my usual way of passing people I was trying to get to the apex first. I just touched his rear wing, which was enough, and he went off. In those days there were no rules covering fuel tanks. The car rolled and exploded, and he was horribly burned. I had no idea: my car was undamaged, I raced on and won the class. When they told me after the race I was shocked. Peter went through hell, but he's never held it against me. He's wonderful, and so is his wife Shirley.
"It was time to try single-seaters, so I bought an F3 Merlyn, borrowed a V4 Corsair from Ford and towed it to Monza. I forget how I did, but the next race was in Portugal at Vila Real. Driving overnight, I stopped off at Juan les Pins to see a girl I knew there. I unhitched the trailer and went to pick her up, but outside the Eden Roc Hotel I fell asleep, and went head-on into a lady who'd been given a brand new Mercedes as her birthday present. I never got to Vila Real.
"My friend Boley Pittard, who'd been hot stuff in an Anglia and then gone on to race in Italian F3 for BWA, told me he was moving to Tecno, and his drive was going begging. So in 1967 I did an incredibly hard season in Italy, racing the works BWA virtually every weekend and living in Milan.
"They were good days, but In Italian F3 the problem was just to survive. Every weekend, it seemed, someone got killed. Poor Boley died in June: by then he'd fallen out with Tecno and was in a private Lola which wasn't very well prepared. At Monza, as the cars moved off the dummy grid, the Lola went on fire. Boley drove it off the grid out of everyone's way, but was very badly burned in the process. I was on the front row with Manfred Mohr and Giancarlo Baghetti, and never saw it. At Monza — no chicanes then — you came past the pits on the huge wide straight, your little F3 car screaming its heart out at 145mph, and then funnelled down between the Armco that ran up to the banking and the little section leading onto the pista junior. We're all diving flat-out into this narrow bit, letting each other filter in, but `Geki' Russo shuts me out. I go nose first into the Armco, pole-vault, fly for 200 yards and land in a shower of bits, still holding the steering wheel.
"Apart from a few loose teeth I was OK, but as I walked back to the pits I learned about Boley's accident. I stayed with him in hospital, but he died the following Saturday. The race the weekend after that was at Caserta, a fast street circuit in the south. Three more drivers were killed there: my Monza rival `Geki' Russo, the Swiss Beat Fehr, and 'Tiger', whose real name was Romano Perdomi. After that BWA gave up racing, but Luciano and Giancarlo, the Pederzani brothers who ran Tecno, lent me a chassis so I could carry on. Then I went back to England, more saloons with Superspeed, and for 1968 I moved to Broadspeed."
Meanwhile Keith Greene had left Armstrongs to join Alan Mann Racing as team manager. "In 1967 we were running Frank Gardner in the Falcon, a pretty stunning car by the time we'd sorted it. Frank was fantastic, always the clean white socks, always the dead-pan Aussie humour. And brilliant at sorting the car. During practice he'd come in: 'It's like a sack of shit around Paddock, KG. What've you done to the castor angles?' So we'd play with things a bit, adjust this, adjust that, he'd go out again, and we'd be on pole by a second and a half. We walked the British Saloon Championship.
"Mind you, I saw a different side of Frank at Le Mans in 1969. When John Woolfe was killed on Lap 1 Frank, driving the GT40 we'd built up for Malcolm Guthrie, was right behind Woolfe's Porsche 917 and Chris Amon's Ferrari. It was an immense accident. Frank came into the pits, got out and was wandering around in shock saying, 'I can't do this.' You wouldn't think it of Frank, would you? Alan Mann got him by the shoulders and said, 'You're contracted to drive this car. Get in and drive it.' Frank got back in, drove out of the pits, and at once his lap times were back on the programme."
In 1969 Keith joined Broadspeed, and found himself managing Chris for the first time. Chris' Escort was second overall in the British Championship, winning the 1300cc category. And now Chris met someone else with whom he was destined to spend a lot of time. "I was driving the Techspeed Chevron B8 in the Niirburgring 1000Kms with Chris Meek — although Chris put it on its roof, so I never drove it in the race. Sharing our pit was a longhaired bloke with a great-coat down to his ankles and a purple Ferrari Dino 206. He was permanently lying underneath it trying to get it to run, and when we left on Monday morning he was still underneath it. He was evidently a Brit, although he had a French name. The next time I saw him I was racing Sid Taylor's Lola T70 at Innsbruck. His Dino only managed two laps of the race, and the organisers didn't want to pay him his start money. Huge row. Finally they gave him the Austrian currency he was due, and he tore it up and threw the pieces in their faces: 'That's what I think of your start money.' As another long-haired Brit, I was starting to become aware of Alain de Cadenet.
"He told me he was buying a Porsche 908, which I didn't take too seriously until he phoned me and said, 'My 908's arrived. Do you and Pipes want to do Vila Real?' It was a six hour race, and David Piper and I won, beating Frank Gardner's Lola T70 by two laps. Alain called the team Ecurie Evergreen. His next wheeze was to put a Cosworth DFV F1 engine in the back of a Can-Am McLaren M8C. Keith supervised the installation at Broadspeed, and it worked fantastically well. It didn't have the straight-line speed of the big Chevy McLarens, but the handling and the brakes were just great. The 1970 Swedish GP at Karlskoga was for sports cars: Ronnie Peterson and Niki Lauda in 908s, Reine Wisell in a Lola T70, Gijs van Lennep in the Porsche 917 that had come second at Le Mans. We beat them all and won. It was a gloomy day, though, because in the saloon race a car went into the crowd. Five spectators were killed and 27 injured. After that they didn't use Karlskoga for many years."
In 1971 David Weir, a wealthy American friend of de Cadenet's, thought he might like to do Le Mans, and ordered a brand new Ferrari 512M. Chris was drafted in as co-driver, and Keith was the obvious choice as team manager, but at first he was unconvinced: "David was heir to a Pittsburgh steel fortune, a big bloke, seriously into partying and drinking and other stuff. Always still in bed at lunchtime, and the only exercise he got was walking from one pub to another. In February I said to him, 'Are you just the entrant, or do you want to drive it? If you're driving, the only way I'll manage the car is if you come with me to the gym every day from now until June.'
"Well, he was good as gold, gym every day, and we did a strict regime for the race. Chris did a bit more of the driving, but not a lot more. David did exactly what I told him to do. To start with he was 6sec a lap slower than Chris; by the end he was 3sec a lap slower. That 512 had a strong engine, and as it wore in during the race it made 700rpm more. During the night we were pulling 230mph on the Mulsanne. The screen cracked early on and as the cracks spread they filled up with oil, until it looked like a road map of France. We finished behind two 917s and a NART Ferrari. Fourth overall. And once the race was over, David went straight back on the booze and the parties."
Also in 1971, Ecurie Evergreen bought a full-house 7.6-litre Can-Am McLaren M8E which Chris drove: "We went to the Norisring Interserie race, and Pedro Rodriguez was entered in one of Herbie Muller's Ferrari 512s. What a fantastic driver: if I had a hero it'd probably be Pedro. I led him to start with, then he came by, and Leo Kinnunen's Porsche 917 Spyder got past me too. The three of us came rushing up to a back-marker, Pedro went one way, and the back-marker jumped the same way." Rodriguez hit the Armco and the car instantly became a fireball, with him trapped inside. The race was stopped and the fire extinguished, but it took several minutes to extricate Rodriguez, and he died in hospital a few hours later. The race was restarted, and Chris scored a joyless win from the McLarens of Peter Gethin and Jo Bonnier.
"When we got home Alain read in The Times that Rodriguez had died 'in a minor race in Germany' — which was true, but there were 100,000 spectators there, and Alain really took umbrage. 'To hell with it,' he said, `I'm going to sell the McLaren and buy you an F1 car. What do you reckon?' I said, 'Fine, let's give it a go.' I didn't realise the budget would be so tight that we'd only have one set of brake pads…
"So Alain bought Jack Brabham's 1970 BT33 from Ron Tauranac. It still had a dented front wishbone from when Jack had gone off on the last lap at Monaco. Five weeks after Norisring we ran it in the Oulton Park Gold Cup. I finished fifth there, and then we took it to the Canadian Grand Prix. When we turned up we were rubbished by the entire pitlane — another wanker comes to F1 — until Jackie Stewart, who'd already clinched his third world title, strolled up. I'd shared some Ford touring car drives with Jackie, so we knew each other. 'Anything I can do to help, Chris?' I loved that, it was really nice of him. But we never made the start, broke a cam on the warm-up lap. Two weeks later we were at Watkins Glen for the US GP. Soon after the start the electrics cut out. I pushed it back to the pits, they changed the battery, I went out again, and kept going for 30 laps until the rear suspension broke. It had been vibrating at the back for a while, and in the pits Tauranac said, 'Why didn't you bring it straight in when you felt that?' I said, 'In sports cars you don't stop just because you've got a vibration. You keep going until it hits the ground."
Ecclestone was now moving onto the F1 scene. Keith takes up the story: "Bernie rang me and said, 'I've just bought Brabham', like he was talking about buying a packet of fags. 'You fancy running it? Come and see me at 10 o'clock tomorrow.' I tell you, Bernie was tough in those days. Today he's a pussycat by comparison. He slept a maximum of four hours a night, ate like a sparrow — but always three star Michelin sparrow food, of course. In his office he had a desk you could have played football on, but there was never anything on it. He'd be on four phones at once around the world, checking up on everybody. His brain was incredible, and he never, ever, forgot anything anybody said or did. You had to remember everything you'd talked to him about, and a lot more you hadn't, because he'd phone you up at 4am and quiz you about it.
"Our drivers were Graham Hill, Carlos Reutemann and Wilson Fittipaldi. We had 15 DFVs, five per driver, and Graham complained that he wasn't getting the best engines. The first GP we went to was Buenos Aires. We were just getting everything unpacked when there's a yell from the back of the pit: 'Greene, here!' Bernie's with Graham, Carlos and Wilson. 'Got a coin?' I produce a peso. 'Right, I'll tell you who's having which engines for the year. Hill, heads tails? Heads. Right, Hill, engine number 932. Write it down, Greene.' I tossed the coin 15 times, wrote down 15 numbers, and Bernie said: 'That's the engines everybody has for the season. And I don't want another f""ing word about good and bad engines.' Strides off, gone.
"That year Graham did nearly 6000 miles of testing, Carlos 4500, Wilson 4300. We had eight mechanics in total, and they were doing 100 hours a week. So was I. I stayed for the season, then I moved on. But you can never quite escape Bernie. A few years later at Spa, running Gordy Spice's Capris for the Martin brothers in the Belgian GP support race, I'm summoned to the Brabham motorhome. They were sponsored by Parmalat then. 'I've got to leave quick after the race. Watch the boys take the cars through post-race scrutineering, will you? You like Parma ham?' He calls to that little Italian guy who ran errands for him. 'Give Greeney a pile of that Parma stuff."
De Cadenet soon realised that Ecurie Evergreen wasn't going to take F1 by storm. But British glory at Le Mans was his other ambition, and he had the ingenious idea of using the BT33's running gear to build an endurance racer. He persuaded Brabham's Gordon Murray to draw the monocoque, Grand Prix Metalcraft built it, and Alain talked Duckhams into sponsoring it. Chris describes that first Le Mans foray in 1972: "Two hours to go, and we were battling for fourth place with the de Adamich/Vaccarella Alfa T33. Then suddenly it rained. De Adamich lost it, spun without hitting anything, carried on. I lost it, caught a wooden post, damaged the steering. It was repaired, but the stewards wouldn't let us out again until the last lap, so we only got 12th place. I felt dreadful about that."
Chris also raced David Piper's Porsche 917: "Not a frightening car, despite its reputation. I loved it. Unfortunately I crashed it, twice. At the Norisring I was working to stay ahead of a couple of 917/10s. I had about 670 horsepower, they had over 1000 each. Trying to get it stopped for the hairpin, I stuffed it into first and it turned sharp right into the barriers. The two lengths of Armco opened up, and my feet went though the gap. My fault, so I paid Pipes for the damage. The other time was at the Nürburgring, going down the Foxhole, and the left-hand front wheel suddenly appeared through the bodywork. The wishbone joint had pulled out of the upright. You're doing 170mph there."
In F5000 Chris raced several chassis, starting with the unsuccessful Leda. "Not one of Len Terry's best efforts. It was awful. Later I drove a Team VDS Chevron alongside Teddy Pilette, who won the championship in 1973. But I never felt comfortable in F5000. The cars seemed unbalanced to me." Also in '73 Chris campaigned a Lola T292 for Martin Birrane's Crowne Racing team, winning the European Sports Car title — managed, as ever, by Keith. At Le Mans that year the de Cadenet was out soon after half-distance with broken suspension. "We couldn't get the straight-line speed out of the car," says Chris, "and I said to Alain, 'We're wasting our time. I'm not going back if we can't get more than 205mph.' So various mods were made, which we needed to try. We decided to run it down the M4 at night, but the headlights weren't fitted at this point, so we had to wait until dawn was breaking. We unloaded the car on the roundabout over Junction 16, and sent the van 13 miles down to Junction 17. Then off I went. I pulled 7200rpm, which I knew was 213mph, so that was all right. I peeled off at Junction 17, the van was waiting on the roundabout, and we stuffed the car in quick and went back to London. Unfortunately at full chat I'd had to go between two lorries, one was pulling out to pass the other and I couldn't lift off. So it got reported to the police. But we never heard anything more. Of course, in 1964 when Jack Sears did 185mph on the M1 in the Le Mans Cobra, it was all perfectly legal…"
For 1974 the de Cadenet was now painted patriotic dark green, but Alain was a spectator with a broken collar bone after falling off his scooter. Chris shared the car with John Nicholson, and they were lying third at midnight before a succession of suspension breakages put them out. In '75, with a Lola T385-based car, Chris and Alain finished a lowly 14th after various dramas; but Chris was credited with fastest lap, quicker than the winning Ickx/Bell Mirage. The best Le Mans year was '76. They took a superb third place, Keith directing operations as always: "With Alain we were always on a marginal budget, but what was good about him was he never pretended to be better than he was. It was his kit, but he always did as he was told. To finish at Le Mans you have to be mechanically sympathetic, disciplined with rev limits. We had one of the oldest DFVs in existence, and that same old engine did the race year after year. And always gentle with the gearbox: get the changes right, neat and deliberate so you don't wear out the transmission."
De Cadenet/Craft were fifth in the 1977 race, and 15th in '78 after two mid-race transmission rebuilds. Then Alain told Chris he wasn't going to do Le Mans in '79. "After seven years that seemed to be that, so I signed with the Japanese Dome team, who were entering for the first time with a big two-car operation. Ten days later Alain told me he was going after all: by then I was committed. I did the race three times for Dome, but we always had problems. A strange car: very narrow, so it would do 226mph, but heavy, no downforce, no mechanical grip. And terrible brakes. Plus the tyres kept coming off the rims at high speed…"
Keith has managed so many cars, teams and drivers in his long career that we can't talk about them all. An F1 Brabham for Hexagon of Highgate and John Watson. John Fitzpatrick Porsches, with victory in the Brands Hatch 1000Kms for Fitz and Derek Warwick. Richard Lloyd's GTi Engineering, with second place at Le Mans in 1985 for Palmer, Weaver and Lloyd. The works March-Nissans, and then the Toyota World Sports Car programme for three seasons in Japan and at Le Mans. The BTCC BMWs of Vic Lee Motorsport: Tim Harvey won the 1992 title despite, as Keith drily points out, the team's boss being jailed for smuggling drugs in the transporter. The BTCC Renault Dealer team for two seasons, with Alain Menu finishing runner-up in 1994. Callaway Corvettes in sports cars for Rocky Agusta and Almo Capelli. Then he ran Jonathan Palmer's Bruntingthorpe operation.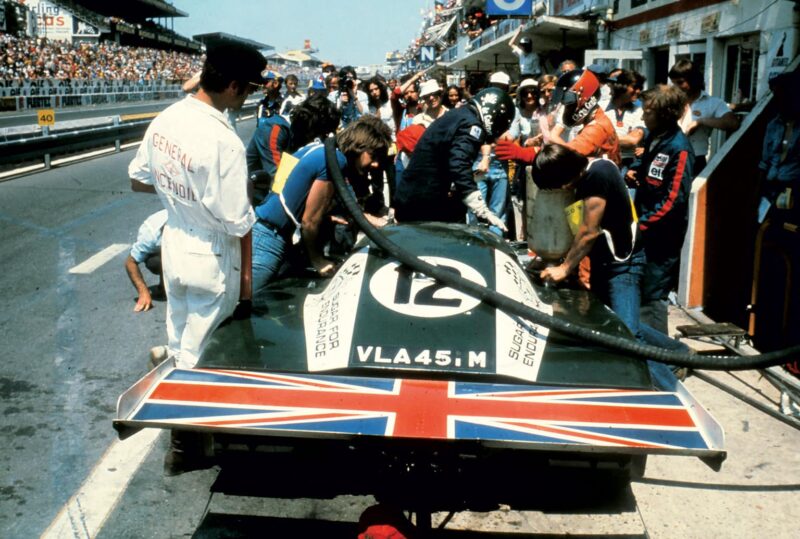 I've watched the discipline of a Greene-run team at work in the Le Mans pitlane, Keith controlling everything and still timing every lap himself. But he says, "Being a good team manager isn't about being tough on people. I always had infinite patience with mechanics and drivers. You need to understand what they're saying and thinking, and translate that into a better performance. Having been a driver yourself helps a lot." After Keith ran the private Spice/Martin/Martin Rondeau to third place at Le Mans in 1980, Jean Rondeau brought him in to manage his mammoth works operation for the '81 24 Hours. "A logistical nightmare. We had five cars and 125 French mechanics, and my French isn't great. I did it by keeping a separate book for each car, and we brought two of them home second and third behind the Ickx/Bell works Porsche. I had another French spell in '96, running Courage-Porsches. Both cars ran in the top six, but on Sunday morning Philippe Alliot crashed at Tertre Rouge, and Mario Andretti went off at Indianapolis. So he, Warwick and Lammers only finished 13th."
Chris, as his racing career wound down, farmed sheep and planted trees, and launched the Light Car Company to build the Rocket, Gordon Murray's design for a racing car for road use. Looking like an open-wheel single-seater — although it had tyre-hugging mudguards and a tandem passenger seat — it boasted 145bhp of Yamaha motorcycle power to propel less than 400kgs. "Every component was purpose-made. We sold them for £28,400, and lost money on every one. I'm still in touch with most of the owners, they're like family."
Chris' latest project is to restore the only remaining World War I airfield. Keith now enjoys riding his Honda CB1000R and sailing, both full-size craft and radio-controlled models with eight-foot-tall masts. "I stopped competing as a driver because, racing against Moss and Clark and Gurney, I knew I wasn't good enough. Getting a group of guys to pull together, coaxing a victory out of all of them, that gave me a true feeling of achievement."
Final word from Chris: "Racing in our day was a wonderful life. It was dangerous, but nobody made us do it. I reckon we're very, very lucky to have done it when we did."