Lunch with... Steve Nichols
It's many years since he worked in Formula 1, but his time there was fruitful: McLaren and Ferrari; Senna, Prost and Lauda… How could it have been otherwise?
For a young boy growing up close to the Rocky Mountains, Formula 1 seemed impossibly remote. "In Salt Lake City we didn't have a proper circuit locally," says Steve Nichols. "When I began competing in Formula Ford, the nearest track was probably 500 miles away and a return trip to Seattle was more than 1600. Everything was a long way off."
Distance, though, couldn't dilute the ambition fired by a 1962 copy of Road & Track. "It was headlined 'Chapman's tubeless wonder' and was all about the new Lotus 25. Based purely on that, I decided I wanted to be an F1 designer." To hear how he got there, we repair to The Red Lion in Horsell, Surrey (it's owned by racer Anthony Hancock, father of acclaimed historic drivers Sam and Ollie), where Steve orders grilled fillet of sea bream, served with herb potato cake and smothered in parsley and caper cream sauce, before rewinding to his Utah roots.

"Lots of engineers don't mind what they work on or design," he says, "but I was the opposite. It started when I was at school – some kids had Vespa or Lambretta scooters, but I wanted a kart. My parents bought me one to use at a small track nearby and thought I'd just potter around, but I really enjoyed it and did quite well. Because the karts were miniature road racers, it fired my interest in that side of the sport rather than NASCAR or drag racing, which my friends preferred. To me that meant Formula 1, so I set my goals accordingly and pursued a degree in mechanical engineering. I graduated in 1972, when F1 teams were still quite small. I didn't think anyone would hire a young, green engineer, so I found a job with Hercules, designing rocket motors for the Trident submarine missile system. I spent four years there and it was highly technical, lots of finite element analysis and composite materials – and at that time carbon was almost unknown outside aerospace.

"A friend then pointed out an advertisement in Autoweek – Gabriel was looking for an engineer to design racing dampers and hired me. I worked there for four years, initially on Indycars, then later on NASCAR and off-roaders. When I started, a mechanic said to me, 'You've got the easiest job here, because dampers don't do anything.' I wasn't so sure about that… and teams soon discovered otherwise. At Indianapolis once, when you'd be there the whole month, running all day almost every day, Al Unser had a problem because his car was unstable on turn-in. I kept saying, 'Look, I've got these special dampers I think might be useful.' I'd made a set with a lot more low-speed damping in bump and rebound and they finally said, 'Well, I guess we might as well try them.' They transformed things. The transient instability had gone and the car now gently melted into the corner – a nice, smooth experience and Al was immediately 10-15mph quicker. Suddenly, everyone became interested in dampers."
It was during this time that he first met John Barnard.
"He'd designed Indycars for Parnelli Jones Racing before moving to Chaparral, and I designed the dampers for both. When he later moved back to England to work with Ron Dennis's Project Four on a new F1 car, I phoned to see whether he'd be interested in hiring me. He was, so I took one month's leave and arrived in the UK to join him and Alan Jenkins – it was just the three of us, cheek by jowl in a tiny little drawing office just off Cherry Street, Woking.
"It was the ground-effect era, which meant narrow monocoques with long sidepods and a large underbody. The monocoques were quite flexible and John was interested in using new materials, to improve stiffness. He was thinking about carbon fibre – but couldn't find anybodyin England to do the job, because it was considered too complicated. So I put him in touch with my former colleagues at Hercules, who wanted to expand their market beyond aerospace. It struck me that F1's global reach would be perfect – and they thought so, too."
The only thing still missing was finance, but that was resolved when Dennis struck a deal for Project Four to take over McLaren – complete with its Marlboro backing – and in October 1980 Nichols returned to the UK on a full-time basis. "I had much to learn in terms of mechanical design," he says, "but a lot of my previous experience transferred: composite materials, stress analysis, finite element analysis… my education stood me in good stead.
"For a kid from the sticks to arrive in England… I thought it was just fantastic. John felt it was important for Alan and I to go to a few races each year, to get hands-on experience of what the car was actually like on the circuit. So here I was going off to Monza, Zandvoort and so on. When I worked on Indycars there would sometimes be a TV set in the paddock, showing an F1 race, and I was always thinking, 'I gotta be there,' so it really was a dream come true."
With its carbon chassis, the McLaren MP4/1 set an F1 structural template that holds to this day. In John Watson's hands, the car recorded its maiden victory on home turf, in the 1981 British GP at Silverstone. "The pressure for John was immense," Nichols says. "He dragged Alan and I away from the pits to watch from the infield. It was almost a hide-behind-the-sofa moment, the fear that something was going to break. That was quite a day, but I don't recall there being any big parties. We'd have been too busy stripping the cars down and thinking about Germany in a couple of weeks.
"Back then the cars got one hell of a lot of attention – not like now, with curfews and all that stuff. During race weekends they were stripped to more or less a bare monocoque almost every night, then crack-tested and screwed back together. Plus we'd have a test between almost every race. You'd go to Paul Ricard, start at 9am and still be running as it was starting to get dark. You'd cover about 600km in a day, take the car apart, rebuild it, go to bed at perhaps 1am then start again at nine. It was tiring, but I never tired of doing it."
Watson would be a title contender in '82, but the Cosworth DFV was running out of steam as a contemporary force and it wasn't until 1984 – the team's first complete campaign with the Porsche-designed TAG V6 Turbo – that the full force of Dennis-era McLaren was first felt.
"Bar one or two minor run-ins, I always got on well with Ron," Nichols says. "He's a complex person and I know he can be difficult, but he was always very good with me. I'd say to him, 'What about money?' and he'd reply, 'I'll deal with that. You just make the car go fast. If I can't keep up I'll let you know.' He never did. Anything I wanted, he'd find a way to do it. I once put in a purchase order for gear ratios to the tune of £250,000 and he asked, 'Do we really need these?' I told him we did, so he signed it off and that was it.
"I think he took F1 to a new level. He was a visionary. People sometimes laughed at his ideas, but he was the one who introduced Lista tool cabinets to the factory, so we all had a neat working space. Whenever it was time for the cars to be transported to a race, the cabinets would go, too. Everybody's workstation would be ready at the track for them. It's normal now, but he was the first to do it. I used to marvel at his sponsorship presentations, with videos, slides and music at a time when nobody else was doing that stuff. He wasn't just competitive at the track, it extended to every domain – anything he thought would strengthen our position.
"McLaren had an image of being cold and clinical, because of Ron, but inside it was quite the reverse – the most family-like atmosphere I've known in a racing team."
During that 1984 season Nichols was race engineer to Niki Lauda, who pipped team-mate Alain Prost to the title by half a point. "I was lucky to work with lots of really good drivers," he says. "Niki, Alain and Ayrton Senna are the three who stand out, though. I couldn't believe just how good they were. I didn't imagine they could have been born like normal people – they must have descended to earth in a pillar of light, like aliens. They peaked at different times, but I really couldn't separate the three of them.
"Niki's big thing was an unshakeable resolve. He was obviously a very good racing driver, could feel the balance of the car and all that stuff, but the outstanding thing was his iron will. If you look at '84, when we went to Dijon – about one third of the way into the season – he was already 15 points behind Alain. On our way to the track, he said, 'I've been trying as hard as I can to beat this little French guy, but he is so quick. He can take advantage of my set-ups and all that, but I can't take advantage of his speed. I am not going to give up, though – I am going to win this race and I am going to win this championship.' He was kind of setting himself up, but he did it. His determination was unreal.
"Alain was the most conventional of the three – he just seemed like an all-round nice guy who didn't complain. He worked very hard and was completely normal in every respect bar one – he was freakishly good in a racing car. Smooth, unruffled, incredible. I think dying young helped cement Ayrton's legend, but people forget just how good Alain was – at least as good as Ayrton, in my book. I was Ayrton's engineer at the end of the '80s and, for all that he and Alain were at it hammer and tongs, he really did respect him.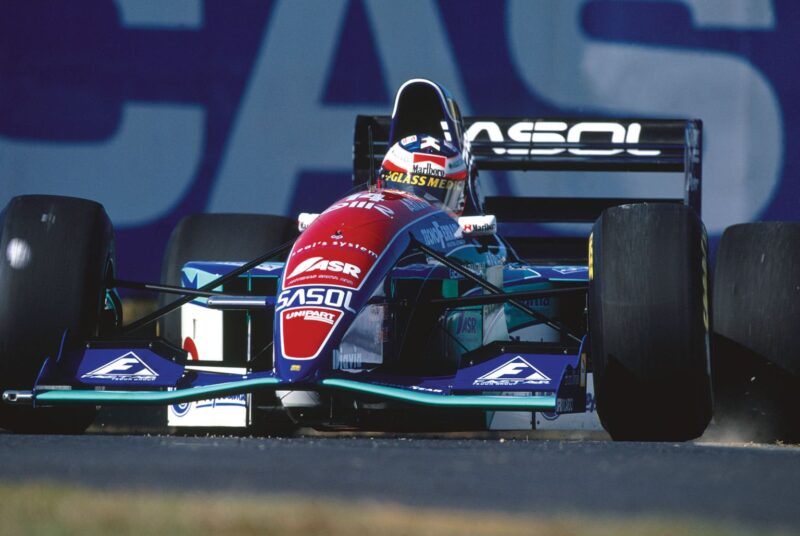 "Alain would always want to optimise the car – and Ayrton was the same. We'd have set-up sheets with all these boxes for notes about toe-in, castor, wing settings and so on. Some drivers rarely changed things so you could complete half the sheet before they'd arrived at the debrief, but with Ayrton you could barely fill in the air temperature. He wanted to talk through every box – and what effect changes would have at every corner. What's an alteration to left-front camber going to do under braking, on turn-in, in mid corner and at the exit of Turn One? The same again with Turn Two. Repeat, repeat, repeat until the lap was done, then move on to the next parameter. That would go on for two hours, but that's how he was. There were times when the car was very good – and he'd still go through every single parameter. At the end of all that, he might say he was happy and not change anything, but he would consider every detail."
Late during Prost's second title season, in 1986, Nichols stepped up to head McLaren's design team following Barnard's departure to Ferrari. "I think it was obvious to all of us that John was talking to them," he says, "and eventually Ron summoned him to his office, which was just above ours. We could hear the ructions… John departed in August, which left us slightly in the lurch. There was a hell of a lot I wanted to change, because although we'd been successful I felt things had stagnated a little on the design front, and it wasn't easy to start afresh that late in the year.
"When John left we had a staff of about 17 and needed to plan the MP4/3 for '87, then shortly afterwards start work on the MP4/4 to take the Honda turbo in '88, plus a test hack – an older chassis adapted to take the Honda – and then 1989's MP4/5 plus a test version of the MP4/4 to take the MP4/5's naturally aspirated V10. That was a lot of cars in a fairly short period. We divided the staff into two teams, me looking after the MP4/4 and Neil Oatley heading the MP4/5. Gordon Murray came in as technical director in 1987 and he was great: he was mostly involved on the corporate side and just let us get on with it.
"With the MP4/3 I encouraged everyone to contribute ideas, because I felt using our collective brainpower would give us a better car. It wasn't all we hoped for, but was the best we could do in the time available and good enough to win three races, so for the MP4/4 we just did the things we'd like to have done on the previous car with more time. It had a smaller Tilton carbon clutch that allowed for a lower engine installation and we were very happy with the aerodynamics we'd achieved with the MP4/3, so the sidepods were grafted straight from that. It was bigger and bulkier in the middle, due to the engine's size, there were two big wastegates sticking out at the back and the fuel tank was 175 litres rather than 150. The frontal architecture had to change, because that was the first year in which a driver's feet had to be behind the axle, so we went to a pull-rod front suspension and moved the dampers back. It was the first time we'd made a car with a proper, non-ground-effect monocoque, which was bigger, squarer and much stiffer than that on the MP4/3. But the design philosophy for the two cars was exactly the same – to find the best combination of low centre of gravity, low polar moment, low drag and high downforce. People used to ask about the secret of the MP4/4, but there was no secret. It was just well engineered in every area."
And it was strapped to a Honda V6.
"Honda had some fantastic engineers and nothing was too much trouble. Their work ethic was phenomenal. We'd go over to Tokyo, land late at night and they'd greet us at their technical centre, ready to talk for a couple of hours, after which they'd want to go out for a drink. It wasn't just F1, either. At 11pm the place would be absolutely buzzing, with people working on lawnmowers, outboard engines and stuff like that."
In 1988 the MP4/4 came as close as any car has yet done to completing a clean sweep – and that was prevented only by Senna tripping over Jean-Louis Schlesser's Williams while trying to lap it at Monza. Has Nichols forgiven the Frenchman? He laughs. "It was probably a good thing for the sport, because winning every Grand Prix is something to which teams can still aspire!"
The following year, during the course of another acrimonious duel with Senna (from which he emerged with his third title), Prost decided the time had come to move on. "He called me up to his room in Adelaide and asked if I'd go with him to Ferrari," Nichols says. "Ron, meanwhile, had this idea of Neil Oatley and I producing alternate cars, as we had with the MP4/4 and MP4/5. I disagreed with that philosophy and told him I wanted to apply all our brainpower to every car. But Ron didn't want that, Ferrari was offering a lot of money and Alain was keen for me to go, so…"
The man he replaced was the Benetton-bound Barnard.
"Before I went [former Ferrari technical director] Harvey Postlethwaite had a word with me and said, 'You realise they won't let you do what you want?' I'd thought that's why they were hiring me, but he was right. It's an odd place, full of intrigue – and politics. There's such pressure. It was a fantastic experience, and I enjoyed it, but it was a dream and a nightmare all at the same time. Lots of drivers say they want to drive for Ferrari, but I never thought 'I must work for Ferrari.' I just wanted to work for teams with sufficient resources to allow me to do the job.
"It was actually quite hard to get good staff. Everyone in Italy wanted to work for Ferrari and we'd have all these young engineers, some of them good and some less so, but they were paid peanuts and the better ones would eventually move on while the not-so-good ones would be there a long time. I told them they needed to change, that I'd come from a team that always did everything almost perfectly and that we needed to model ourselves on that. They said, 'You need to adapt.' They seemed to think that hiring Prost and I would do the trick – bish, bash, bosh, done. It doesn't work like that. I was looking at a five-year plan, but they wanted to win straight away.
"It was interesting that several years later they hired Jean Todt, Michael Schumacher, Ross Brawn and Rory Byrne, with Todt as a firewall, handling all the shit while the rest of them got on with it, not caring a jot for Italian politics. Even after that it took them a few years to win a title – that's the kind of structure I'd been telling them to implement, but they wouldn't do it."
He moved on early in 1992, after "an interesting" interlude working alongside Prost and Nigel Mansell. "Nigel was fantastically fast and brave," he says, "but he viewed me as Prost's man and didn't seem to trust me. While I was there we developed the first launch control – we'd been qualifying quite well, but kept losing positions at the start. Prost tested the system and it worked, so we took it to the next race – Estoril 1990. We explained it all to Nigel, who was on pole, but he decided that it wasn't launch control but a 'screw Nigel' button and switched it off. He then got too much wheelspin, slithered over in front of Alain and allowed both McLarens to get ahead!
"In testing, Nigel would like to do a race distance – which suited us – and once he'd finished would ask to do a run or two on qualifiers. Alain would work all day on set-up, then Nigel would do this spectacular time. Luigi Mazzola, Prost's engineer, would say, 'Alain, Nigel is fast – you need to do a quick lap.' He'd say, 'Why? We have proper work to do.' Luigi would reply, 'You need to do it to prevent the team gravitating towards Nigel.' Alain would roll his eyes, stick on qualifiers, go a few tenths quicker then come back in and say, 'Can we get back to work now?'"
How did Nichols feel after Suzuka 1990, when his former charge Senna torpedoed Prost at the first turn to secure the title? "Sad," he says, "because Ayrton let himself down that day. He didn't need to do it, because he was going to win the championship anyway, but he was a friend before the incident and remained so afterwards. Friends do sometimes make mistakes…"
From Ferrari he moved on to Sauber, in what amounted to a job swap with Postlethwaite. "It seemed like a relatively rational environment, but I found the attitude similar to that at Ferrari. 'This is how we do things…' Peter Sauber wanted to support local industry, which was fine, but if you took the most expensive carbon supplier in England, it was still 30 per cent cheaper than anywhere in Switzerland. That made things quite hard."
After leaving and spending most of 1993 away from the paddock, he returned the following year with Jordan. "That was quite interesting. [Technical director] Gary Anderson was master of the small team – limited people, limited resources, doing lots of stuff himself. He and [engine builder] Brian were like peas in a pod, both very hands-on. It was a great group – and got fantastic results given the resources. During my year there I think we had a budget of $30 million, but probably spent 40…"
During all this time Nichols had remained in touch with McLaren's Martin Whitmarsh, the pair meeting occasionally to chat over a drink. "We'd talked about my returning, but when they were doing well he'd say, 'We're OK, we don't need you.' Then, when they were doing poorly, it would be; 'I don't want you coming back to sort it out – we want to do it ourselves.' He eventually called me in mid-1995, when they were at a particularly low ebb, and hired me as a general consultant.
"Compared with the MP4/4, on which every detail was optimised, that season's MP4/10 was the absolute opposite – everything was so wrong. You want high downforce, it had low downforce. You want low drag, it had high drag. You want a stiff monocoque, it flexed. I set about instilling the ethos that had been there when I'd left – make it light, low, stiff, get back to basics. We made progress over the next couple of years, won three races in 1997 and got to the point where the biggest deficit we had was aero. Ron being Ron, he pursued the holy grail and got Adrian Newey. He came to us, did his aero work, did some good packaging work around the front suspension – he properly understands the importance of aero and mechanical integration – and set us on the right track for the late 1990s. Initially we collaborated well, but after a while I got the sense that Adrian wanted me out of the way – he preferred a clear run at everything, so he didn't have to worry about what I wanted mechanically."
Nichols was given a new role within McLaren Composites, not quite his cup of tea, and then answered a call from Jaguar. "I was told they wanted to build a $400m factory at Silverstone, have an unlimited budget and all of that," he says, "but then much of [team parent] Ford collapsed and the management wanted to forget about racing and concentrate on making Focuses and Fiestas. The budget was capped at $150 million, but they wanted to reduce it each year and rely on outside sponsorship.
"Of the money we had, about $50m was immediately allocated to Cosworth, then another $15m to Pi Electronics, then another $15m or so on drivers. We were haemorrhaging cash: I didn't want to know where every last dollar was going, but I was keen to know where every millionwas going. They wondered why weren't doing so well, but we had about $60m to spend on the car and needed to compare ourselves with other teams in that position – so Sauber rather than Ferrari. We were spending money left, right and centre; Sauber was giving Ferrari $20m or $30m a year and getting the engine, the electronics, the gearbox, the whole rear suspension. That was my kind of deal, to allow scope for chassis development. Nobody seemed to understand. It was a case of, 'We're Ford, we should be winning…'"
He left early in 2002 – and hasn't worked in F1 since.
"I've been pursuing hobbies and working on various projects," he says, "including a small engine to use as a range extender in hybrids and an Elva-McLaren M1-style track day car – tube frame, big American V8. If that works out there might be spin-offs."
And he also still races, driving a Nissan 260ZX in historic enduros in the States and, from this summer, he'll be back in the FF2000 Van Diemen RF82 he has owned from new. "It was the last RF82 off the production line," he says. "In period I did the BBC Grandstand series, stuff like that, and it is now obviously eligible for historic events. I haven't driven it for 15 years or so, though, after a shunt at Spa. It was the last lap of practice and I was coming up to pass a slower car at Blanchimont. I trusted that the driver would see me, but they didn't… It got quite badly bent and restoration has taken a while.
"I didn't ever want to discuss my racing with our drivers – I felt almost embarrassed, given the level they were at, but weirdly it seemed to give them a bit more respect. David Coulthard often brought it up during debriefings. He'd be talking about something and then say, 'It's just like such and such a corner would be in your FF2000…' Eddie Irvine reckoned FF2000 was the last category he'd contested in which the cars had truly been fun.
"For me it was a bit of a release – no development or testing, no need to worry about anything – just get in and drive."
Quite a contrast, then, to the day job.
---
career in brief
Born 20/2/1947, Salt Lake City, USA
1972 Joins Hercules Aerospace; buys Merlyn Mk11A to compete in FF1600 1976 Moves to Gabriel to work on Indycar dampers 1980 Recruited by McLaren as senior design engineer 1987 MP4/3 is the first McLaren credited to Nichols' technical leadership 1988 Race engineer to world champion Ayrton Senna 1990-1992 Chief designer, Ferrari 1992-93 Sauber 1994 Jordan 1995 Head of vehicle engineering, McLaren 2001Technical director, Jaguar 2002 Quits Jaguar early in the year 2002-present Freelance technical consultant & designer; keen amateur racer