? Tap the top right nav bar to listen to this exclusive audio extract of Luca di Montezemolo talking to Alan Henry at Ferrari's Maranello base.
Their backgrounds were very different – one a former bank clerk who'd cut his teeth writing club racing reports at Snetterton, the other the son of an Italian aristocrat, but they had arrived in Formula 1 at roughly the same time during the early 1970s. Alan Henry's mission had been to write race reports and to garner information for Motoring News, while Luca Cordero di Montezemolo was tasked with restoring a spring to the step of a Prancing Horse that had been limping for several seasons.
Henry was close to Niki Lauda, who spearheaded Ferrari's recovery under di Montezemolo – so much so that, at one race in 1974, the Austrian carried a Motoring News decal on his helmet in exchange for an annual subscription. Less complicated times, those.
He was also well placed to forge a relationship with di Montezemolo, who went on to assorted senior roles within the Fiat empire – and also played a key organisational role when Italy hosted football's World Cup in 1990 – before returning to Ferrari at the end of 1991, to rebuild a team that had twice been champion constructor during the 1980s but hadn't had one of its drivers crowned since Jody Scheckter, in 1979. Finally, in 2000, Michael Schumacher ended that drought. Cue a flight to Italy…
Alan Henry On a purely personal level for you, what does Ferrari's double in the world championships for constructors and drivers mean?
Luca di Montezemolo It might be the biggest personal satisfaction of my professional life. When I came back to Ferrari at the end of 1991, I had in front of me two goals: one was to reorganise and rebuild the company, with a new range of products, looking ahead without losing any links to our past. That was related to the factory, road cars and so on. On the other hand, we also wanted to win the world championship again, so I have achieved both of those goals.
I won the world title in 1975 as a team manager, but that was a different situation because I was not the chairman and managing director of the company. Enzo Ferrari was there, but it was still very satisfying and I still have a copy of the back page from a 1975 Gazzetta dello Sport – a nice souvenir from Monza. First Regazzoni, second Fittipaldi, third Lauda – and Lauda was champion. That was fantastic, but different. This is my biggest professional satisfaction, because I achieved two goals – not only winning the championship, but Ferrari overall is in a very good shape.
AH What d'you think the title meant to the passionate man in the street here in Italy?
LdM It was important – and last year was fantastic, a big battle, very unpredictable competition right until the end. Our people had been sad, because we'd lost the championship at the last race for three consecutive seasons, twice with Michael [Schumacher] and once with Eddie [Irvine], so we had been so close. And then in 2000… 10 victories, 10 poles – it was a fantastic season.
AH You said that when you won the title in 1975 you were an employee, the team manager, but now you are seen to be as important to Ferrari as Enzo Ferrari was 30 years ago, the keeper of the flame. How does that make you feel?
LdM From one side it's a bigger responsibility, from the other… When I came back to Ferrari, it was what I call a life choice. Ferrari is my life, I'm here almost the whole time. To use today as an example, I started this morning with a meeting about the new Maserati model, then had lunch with the chief of personnel and the chief of finance, then five minutes ago I left the managing director of one of our key suppliers, to whom I spoke about the future of our relationship, now I'm talking to you and later I have a meeting about our dealer network in the Far East, so I'm really involved. In the meantime, we are testing [the F1 car] at Mugello and, every 90 minutes or so, I receive news from the track. For me it's a life choice and I'm very proud of what we've achieved together during the past 10 years.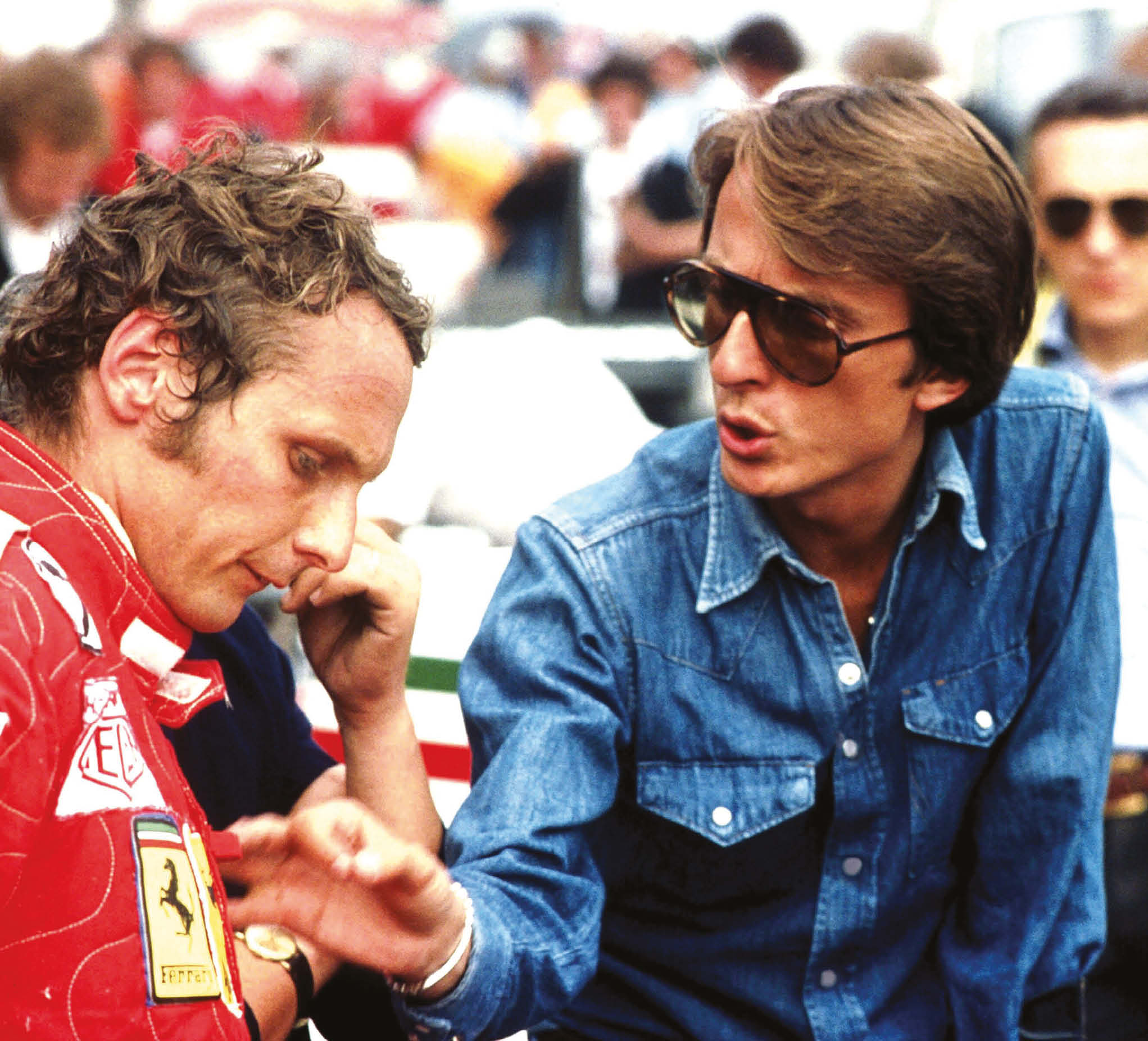 AH Would you rather Ferrari won the world championship or Italy the World Cup?
LdM (laughing) Unfortunately we have not won the World Cup for many years [1982 as he spoke, though Italy would win it again in 2006], so the victory of Ferrari was really important – and, you know, not only for the Italians, because in front of my eyes I still have Indianapolis and Hockenheim, where I was really enthusiastic to see so many red Ferrari flags.
At Indianapolis, when for the last three laps Michael was alone in the lead, he was able to look around a little bit and said, 'I didn't imagine I'd see so many Ferrari flags here, where Formula 1 is not so popular.' Barrichello told me the same thing in Germany. When he was entering the stadium, he could see only flags, flags, Ferrari flags. He said to me, 'I'm Brazilian and have nothing to do with Germany, so I was really impressed.' Anyway, we have done our best against very strong competitors, in a really difficult championship, and finally we succeeded. But now that is over and we have to look at the future.
AH The future looks very promising. You've got Jean Todt, Rory Byrne and Ross Brawn all staying until the end of 2004, yes?
LdM When I was in charge of the team in the 1970s, I tried to do my best to create a good atmosphere. When we won in 1975 Ferrari had been looking to win the title for the first time since John Surtees in 1964… In my blood I know the importance of teamwork. I hired Jean Todt in 1993, in the middle of a lot of politics – a Frenchman in charge of the Ferrari team, a man with no experience in Formula 1. I think I was looking for stability, a good atmosphere and a good group and I think our biggest strength was to be together, to be close to each other in the difficult moments. Remember two years ago? The beginning of the season was terrible for us, then we recovered. But the biggest challenge for us was in 1993, 1994 and 1995 – even 1996 was difficult, trying to maintain passion around Ferrari without many victories. So, to answer your question, I've done my best to maintain group stability and it is important now to sign a deal until the end of 2004, because it means Todt will have been with us for 11 years and this in Ferrari's history will be a record, as you know far better than me.
AH What about Michael? How do you rank him in the overall picture of F1 drivers?
LdM Looking at the drivers that have been close to me – Regazzoni, Lauda, Reutemann, Prost, Alesi – he's by far the best I've ever seen in a race. I don't like to make comparisons with Senna and Mansell, who have been fantastic. I love particularly Mansell, because I liked his attitude very much, and Senna was unbelievable. But it's stupid [to draw parallels] because the time is different, cars are different, situations are different. For me Michael is by far the best driver in the world; he is very close to the team, very correct, particularly during difficult moments. I like him very much.
AH D'you think the pairing of Michael and Rubens will improve even more in 2001?
LdM I hope so, I really hope so. Their relationship is good, Rubens is a guy I call 'the old young'. He's very clever, big experience, a correct guy. I think the combination is very good – and I think he had a very good first season with Ferrari in a very peculiar year, when we were, let me say, obliged to win. For him there was a very different pressure from his first year with Stewart. He has done very well and his victory at Hockenheim for me was crucial, super, super important.
AH Formula 1 has always been a particularly political business…
LdM Si…
AH …even in the 1950s, '60s and '70s.
LdM (raising voice) Correct! Now tell your younger colleagues – it has always been like this, always. Now the only difference in my opinion is that there are more players, big companies, and more communications people involved: television, radio, newspapers, internet, private channels, pay TV…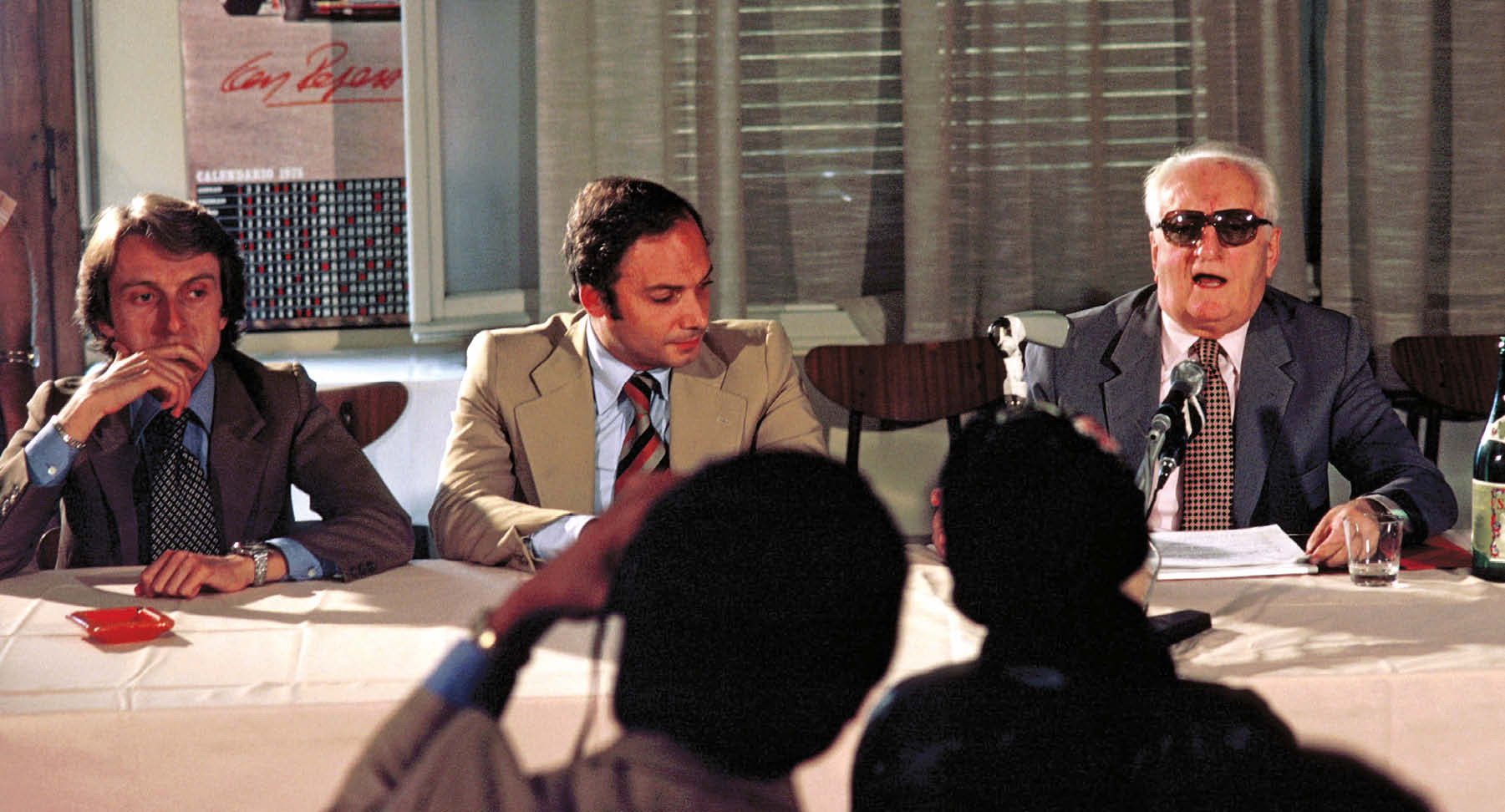 AH McLaren always seems nervous about what Ferrari is doing and thinks there might be irregularities, but if you go back to Brands Hatch 1976 and the row with James Hunt – it's all the same, isn't it?
LdM I'd like the opportunity to tell you my opinion. I think Ron [Dennis, then McLaren's boss] has a complex about Ferrari, but I respect this man a lot because I know where he started, I know what he has done. I respect and admire him, full stop.
AH D'you feel now that Ferrari might be on the edge of a period of sustained success, such as you enjoyed from 1975 through to '79?
LdM I think that we've been on the pace since 1997. At the time of the crash between Michael and Villeneuve [in that season's Jerez finale] we were ahead, with 17 laps to go in the final race. Then we were on pole position the year after at Suzuka, ready to win the championship [until Schumacher stalled at the start of the formation lap and had to start from the back], then we lost with Eddie but without Michael [injured at Silverstone] – and even with Eddie we won the constructors. So, to be honest, I think we'd already been competitive.
AH Today in Formula 1, you have to read The Financial Times – it's almost as important as a motoring magazine. What d'you think of all this business of the car companies buying into F1, or Bernie with his TV rights?
LdM I think Bernie has done a huge, huge job for Formula 1 – and for himself, but also for F1. Today we have almost all the biggest car manufacturers heavily involved in F1, either as engine suppliers or, in Ford's case, they've bought a team. Third, it's normal in my opinion that the players – and we are the players, we run the game – have to think of the future. I was the first to be in favour of becoming a public company, for the simple reason that when you are public you need clear rules, clear numbers, clear procedures, open books – far more transparency. Bernie is not a kid any more, the constructors are there, we are the players – it's normal that we want to have a bigger part in handling a business in which we are the biggest player.
AH When you say 'we are the players', d'you mean the teams or the car companies?
LdM That's a very good point. In my opinion the biggest objective is to have a bigger cake for the teams, because the teams are the players. But behind the players there are very well organised companies, big companies, with management, people, money and strategies. When I say 'players' I mean the teams. Today, the cake is too small for the teams, because TV rights and trackside advertising are extremely significant. In football, advertising in the stadium and on TV is crucial for the teams. For Manchester United, the TV rights, advertising and merchandising are the three key elements for investment.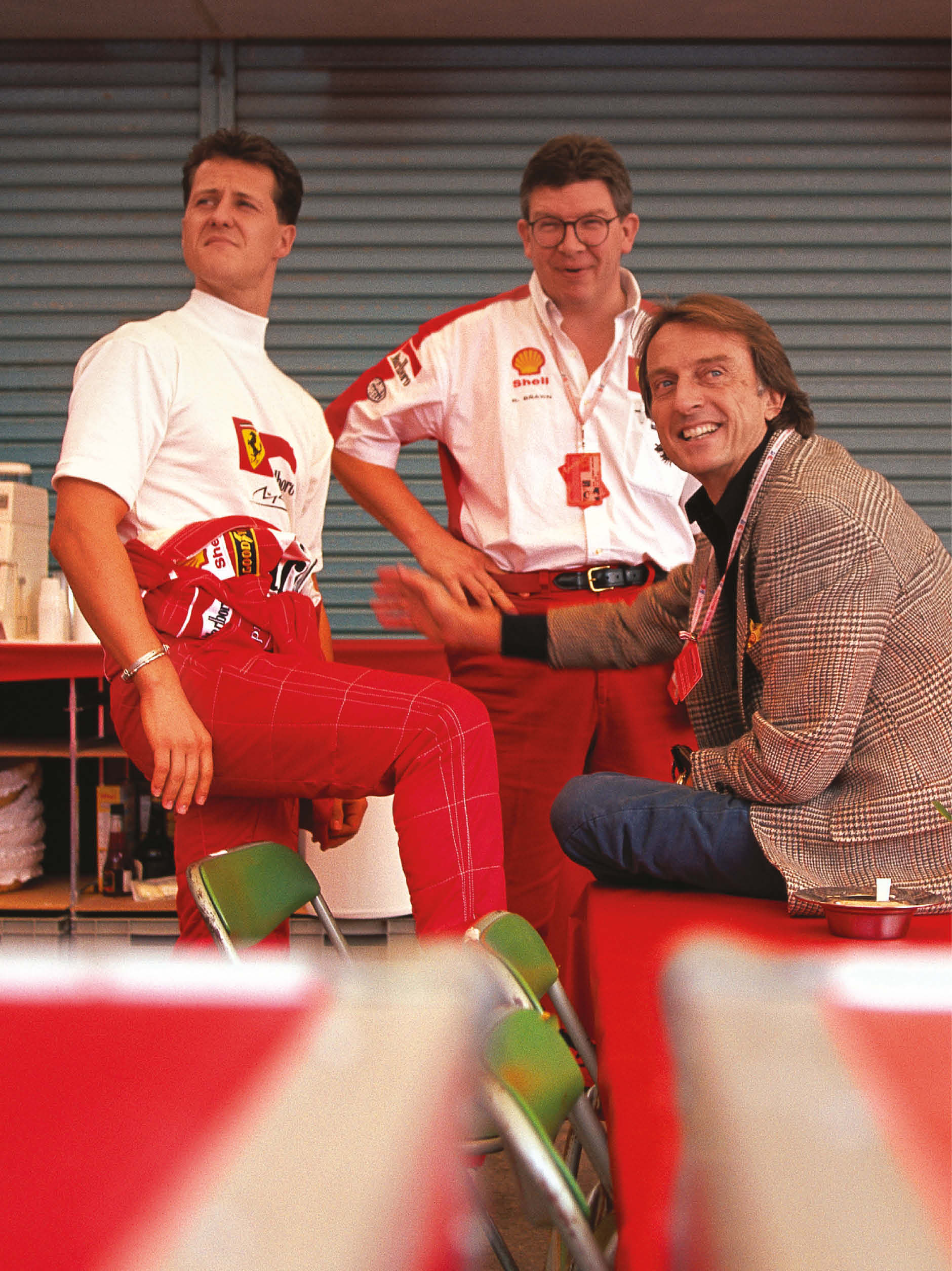 Looking at life after Bernie, the teams have to have a bigger cake, because races are expensive. Today we are forced to compete all over the world, which means heavy costs. For me it is positive to have the car manufacturers as protagonists for our future activity. This means also that the sport can theoretically become public. If you are private investors, you like to invest in a company owned by the biggest car manufacturers. I think it's useful for everybody, if it's done step by step. Personally I'm totally against the possibility of subscription TV. I can never accept this. Ferrari is popular all over the world, I will never accept that you are obliged to pay a television rate to watch a Formula 1 race – that's against the future of F1.
AH So Bernie has to be careful in his negotiations?
LdM I first met Bernie Ecclestone at a hotel near Heathrow Airport in 1973, with Colin Chapman, Ken Tyrrell, Teddy Mayer and the young Max Mosley from March, so I've known him many, many years. I think he's very intelligent and loves F1. He loves his own profit, but he loves F1 and has done a lot for it. At the moment I think he's the first to understand perfectly that F1 has to be put on a stronger footing for the future, stronger, more stable.
AH But it must be accountable, the car companies must have some say if they pay all this money to be involved, they have to have influence. Can I just ask one more question, about your personal future? Last year you were quoted once or twice, saying that you wished you could have a holiday and take some time off.
LdM Yes, but again I've made a life choice. Maybe there have been some years when I've thought, after a victory, that I should say, 'Thank you very much, I've achieved my goal, I think I've done my best for this fantastic company, but now I want to do something else.' But that was not my decision – my decision is to stay here. There are lots of challenges in front of me – Maserati, trying to win again the championship with Ferrari. You never know what might happen, but for now my life – and not only my work – is here.
AH So no future career in Italian politics?
LdM I don't think so. But then life is always unpredictable. During the World Cup I didn't expect I'd be coming back to Ferrari as the chairman and the managing director…
Epilogue: The 2000 world championship double was the first of five on the bounce for Michael Schumacher and Ferrari. Luca di Montezemolo was replaced by John Elkann as Fiat chairman in April 2010, but continued as Ferrari president and chairman until autumn 2014, when he resigned amid growing friction with Sergio Marchionne, CEO of Ferrari's owner, Fiat Chrysler. Kimi Räikkönen was the last Ferrari Formula 1 driver to take the title, in 2007; the team has not been world champion constructor since 2008.
---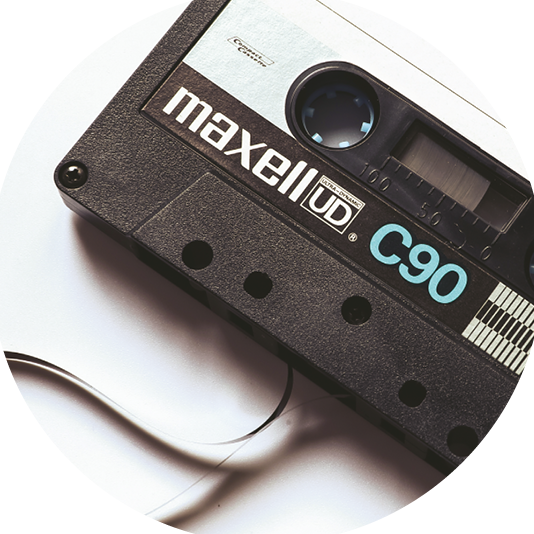 The Tape Trail
It was an email from the blue. I'd met Nick Henry many years previously, when he was a teenager accompanied by his dad Alan in the Silverstone paddock, and he felt the moment for reacquaintance was ripe. Specifically, he had come across boxes of interview tapes in his late father's old office and wondered whether they might be of interest to Motor Sport. Just a touch…
We finally met for breakfast at The Milk Shed, near Bicester, and a bag of jumbled cassettes indicated greater potential than we could have dared to anticipate: Jenks & Senna, Ron Dennis,
Dan Gurney… it was a veritable treasure trove of voices from a bygone age.
This interview with one of Ferrari's most successful and flamboyant bosses took place in the winter of 2000. Parts of the interview may have appeared in print at the time but as far as we can tell the full transcript has not been published before.
One of the great joys of reading – and listening – to these conversations is realising that sometimes the parts which were thought to be important at the time are less illuminating than some of those that weren't. Indeed, taken together the tapes represent valuable parts of a lifetime's work and we hope to return to them again in the future.
Simon Arron