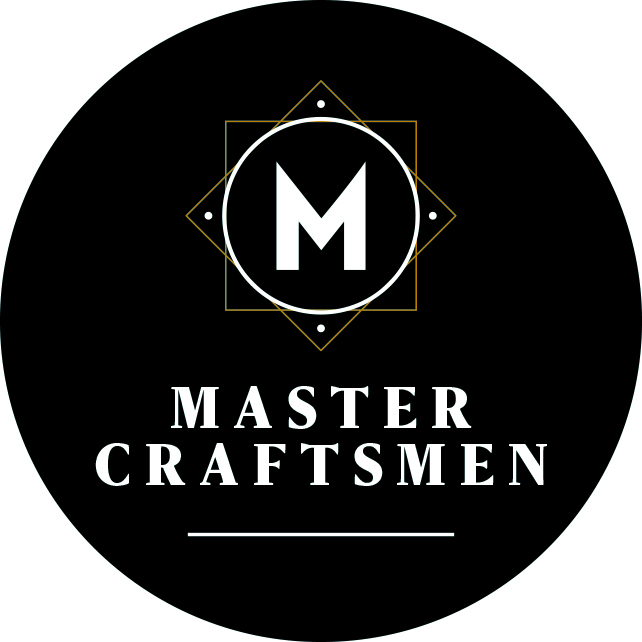 Car designers talk of the lights and brightwork on a vehicle as 'the jewellery'. That terminological crossover couldn't be more appropriate while investigating the glittering caverns that contain Genius of the Lamp in Birmingham's Jewellery Quarter.
Alright, it's not actual caverns so much as a door in a brick wall that opens into some dark storerooms. But climb upstairs where there are windows and suddenly points of light gleam and flicker everywhere, from brass and copper, from glass lenses and chrome reflectors, from brazing torches and the fierce white flare of a carbide lamp. This place is packed with lights and lamps and lanterns of all shapes and eras which have come here to be saved and rejuvenated.
And it was started by a jeweller. Having trained in jewellery and silversmithing, Kam Lawla took a temporary job helping repair lamps. "I meant to go back to silversmithing and engraving," he says, "but the lamps took over. That was 13 years ago." Since founding GOTL with brother Raj and Joe Vella, they've earned an international reputation with rare and unusual lights of all sorts coming from Germany, Italy, Japan or the States.
"American collectors ship their brightwork to us for concours"
On a bench lies a vast Franconia carbide light that's been in a crash, its brass casing dented and torn, fragments of glass clinging to the rim. It looks a hopeless case, but to Kam's team almost nothing is past saving. On another bench sits a row of oval brass Bleriot carbide lamps sent from the US for refurbishment. With cases mended, reflectors resilvered, burners cleaned and a cracked glass remade to the same complex bevelled ellipse, they're being reassembled by Zak. Carbide lamps were the goods before electric bulbs, dripping water on calcium carbide to make acetylene gas which burns with a bright flame. So can you test them here? "Oh yes," Zak says. "We keep a stock of carbide in hand."
That reminds me of a wonderful piece of circumlocution in the Badminton Book of Motors, published in 1902. Discussing carbide lamps it stresses that you must keep the water tank topped up, but that other liquids will do. It continues coyly: "If no water is to be found, the human body possesses the resources to supply the want."
It's not all ancient illumination. Across from Zak, Romero is planishing a 1930s Alvis lamp shell – smoothing out dents using a leather-faced hammer and gently tapping against 'stakes' – different shapes of metal former chosen to match the varying internal curvature. Next it will be copper-plated and then chromed. "We do top-quality work," says Kam firmly, holding up a shining reflector. "We're not cheap but we're the best."
Every proud boss will say this about their own work, but a lot of this stuff will sooner or later be admired by thousands on the lawns of Pebble Beach and Chantilly.
Once the refurbished lamps have been through sanding and polishing they arrive at the plating shop, with bubbling stripping and plating tanks, bright blue copper sulphate crystals clinging to electrodes along the edges. Here Rob applies copper, nickel or chrome, depending on vehicle era,as well as silver or gold if desired. "Silver is the best reflector – you can polish it to a mirror-finish," says Kam. "We probably use a good kilo of silver every month – and that's pure, not jewellery silver."
He holds up a vintage serpent horn, 3ft of tapering segmented brass ending in a snake's head. "The rubber inside perishes, but we have a way of sorting that. This comes from the States. It's hard to find the same quality of plating as the rest of a restoration, so a lot of American collectors ship all their brightwork to us for concours. As far as we know we're the only people in Europe who do all this. Basically, people send us their problems and we solve them."
"We use a kilo of silver every month, and that's pure, not jewellery silver"
He pulls down a reel of narrow woven fabric. "Lamp wick. We work on lamps from 1895 on, and side and rear lamps on early cars often used paraffin so we need to keep this in stock."
That's not the only thing in their extensive stores. Kam visits auctions and autojumbles buying lamps and parts for spares: there are shelves and racks of lamp shells, conical, spherical and bell-shaped; boxes of rims, reflectors and bullseye lenses, bulbs and holders. GOTL manufactures too: it can supply you a fresh pair of Lucas P100s, new lenses for the Zeiss lamps on your Mercedes SS, or complete Bleriot 'self generating' brass headlamps patterned on a 1904 original.
There's plenty of other work as well: Gancho shapes brass sheet into a radiator shroud while on a bench lies a sheet of brass with 'Austin' boot badges sliced out of it by water-jet cutter, while a new grille for a Gullwing Mercedes dangles from a hanger. There's jewellery too, and aeroplane models and a 1960s metal sculpture that has come for rechroming. Rows of plastic bags contain patterns for badges, brackets and insignia – they can tackle anything small and shiny.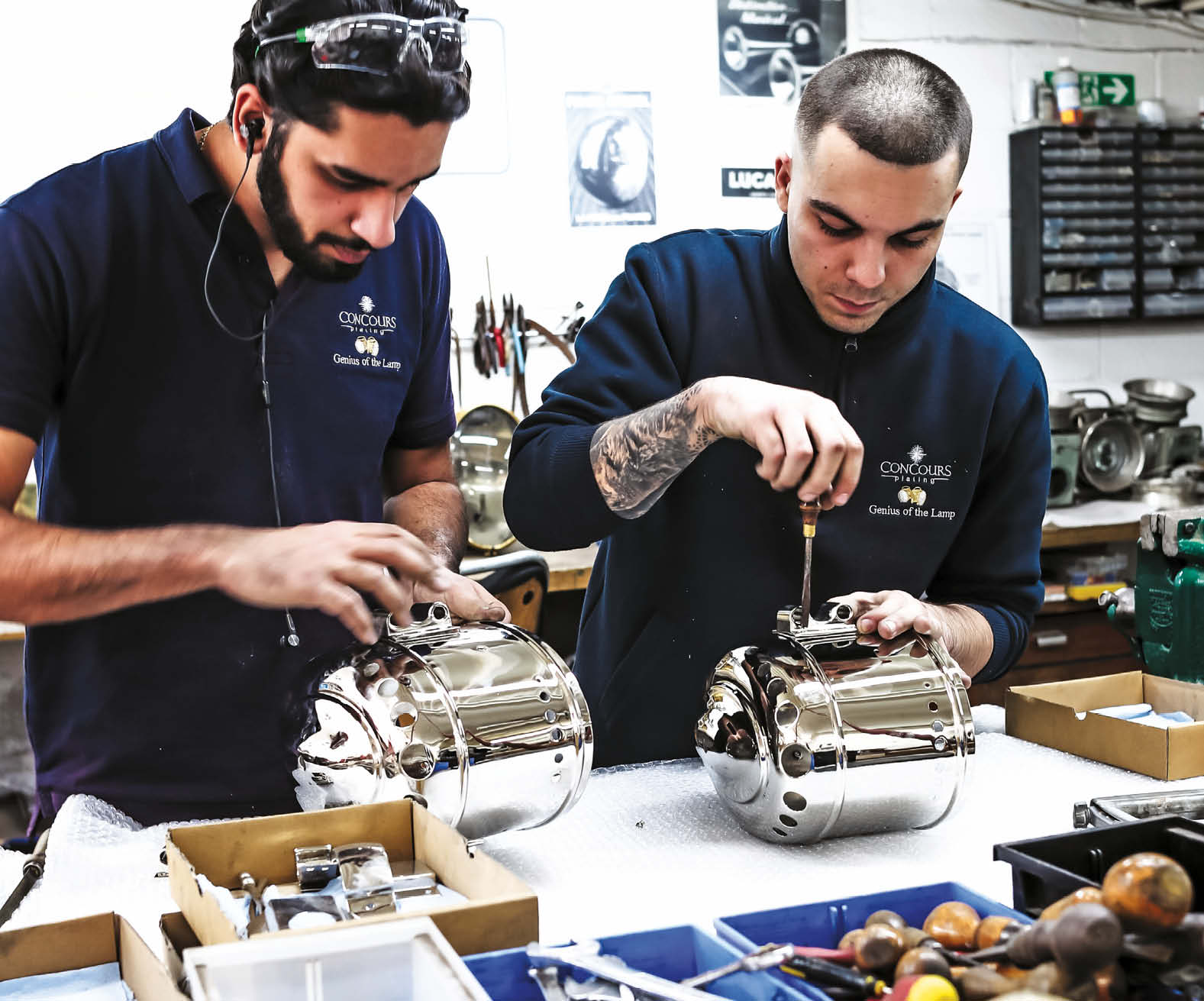 There are now 14 people working here, several who came as young lads and were trained up by Kam. Gancho, who back in Bulgaria was a blacksmith, knocked on the door and asked if there were any jobs. Now he's doing fine brasswork. "And we like everyone to be able to do everything," adds Kam, who by now has donned goggles to braze a mount onto a large Edwardian copper-plated lamp. So, whether it's brackets to be riveted in place, glass to be shaped and polished, or wiring and bulbholders to sort, work shouldn't be held up if someone's off.
Some of the projects come direct from owners, some via restoration firms – I see some lamp shells with the label of a well-known Bentley restorer attached.
But if it matters enough, people will find their way to specialists such as this where hand skills persist, and the only computers merely run the accounts.
---
The essentials
Name Genius of the Lamp
Specialisation Lamp restoration
Established 2004
Number of employees 14
Premises Birmingham
geniusofthelamp.co.uk