The new aero regulations formed a 'known unknown' (copyright Donald Rumsfeld) as we headed into the 2019 season in Melbourne. But we also discovered two 'unknown unknowns', one of which was a new badass version of Mr Nice Guy Valtteri Bottas, dominant winner of the opening race.
"In 2008, I got a call from a young Finn asking for a meeting," said Toto Wolff. "It was a snowy day in Vienna and this boy came in with a pullover, no jacket, and asked for advice. He went on to win the Formula Renault Eurocup in a strong year against Vergne, Ricciardo – he almost lapped the field on one occasion. This is the Valtteri Bottas I saw yesterday and today. Maybe his years at Williams and then the shock draft into Mercedes was something he needed to digest; he went off tired at the end of last season and the 2008 young man came back."
Before you write that off as hyperbole about a driver who simply turned in a good performance in the fastest car, consider this from Bottas: "It's quite difficult to explain what's been going on inside my head but something changed in terms of the way I feel about life in general and in racing, but that's all in my thoughts. I felt good in the car today and yesterday. That's all that matters."
It wasn't just how Bottas conducted his race with a pummelling sequence of laps to leave Hamilton in his parkland dust (Hamilton later cited floor damage costing rear grip), but his proactive assumption of control. A new point for fastest lap (reintroduced for the first time since 1958) had been announced, to introduce an element of jeopardy into the run-down phase of the races when fuel tanks are near-empty and track grip is high, the idea being that if you have enough of a gap to the next car you might stop for fresh tyres and set the track alight. Bottas had more than the required advantage and asked if they were going to make the late stop. "Negative," he was told, "We do not want to risk it."
"Copy," he replied. "But I want those 26 points." He proceeded to demand the high engine modes required to take the matter beyond reach. On his slow down lap he radioed, 'To whom it may concern, f**k you,' in reference to his detractors.
It was a stark contrast to his Australian GP of 12 months earlier when, stretching himself hard, he had crashed heavily in qualifying. This time he pushed Hamilton hard for pole, ultimately losing out only by a tenth. He made amends with a better start that barely required him to defend into Turn One. Hamilton spent three laps on his tail and then fell back, leaving Bottas to enjoy a thoroughly dominant performance.
"Bottas conducted his race with a pummelling sequence of laps and proactive control"
Post-race inspection of Hamilton's floor revealed the missing chunk of carbon fibre from the left-rear corner just ahead of the wheel. Hamilton had felt something hit the car on lap four on the run down to Turn Three and thereafter he was down on rear grip. When asked to keep the gap to Bottas at 3sec, he found he couldn't.
It left him unable to pull out a gap to Sebastian Vettel's Ferrari, which in turn obliged Mercedes to respond to Ferrari's early undercut attempt, forcing Hamilton to pit as early as lap 15 and thereby ensuring he would have to manage his pace carefully to get his second set of tyres to the end.
That section of rear floor is highly aerodynamically sensitive. Its slots and ridges control the tyre squirt, guiding the air compressed by the rotating tyre to the outside, preventing it from forcing itself into the underfloor and disturbing the airflow. So every time Hamilton turned right, he'll have had much less downforce than usual.
He backed off probably more than necessary, making his problems obvious. But his second place was safe and he made doubly sure he could get that second set of tyres to last 43 laps.
It was a luxury made feasible for him by the non-performance of Ferrari, after looking much the fastest car of winter testing. "It was not balanced, it struggled with the tyres and none of the different set-ups worked," said new team boss Mattia Binotto. "We are certain that this is not our real potential. We lacked the right balance – and if there's no balance the driver can't perform at the limit."
As the pit windows opened, Max Verstappen's Red Bull got close enough to apply undercut pressure to Sebastian Vettel's third place, forcing Ferrari to bring him in early (and triggering Mercedes into doing the same with Hamilton). Verstappen then ran long, allowing him to rejoin later on tyres 11 laps newer than those on the Ferrari and this grip advantage helped him complete a DRS-assisted pass to give Honda its first podium since its 2015 return to F1. "It's nice not to have to worry about grunt," said an impressed Red Bull engineer.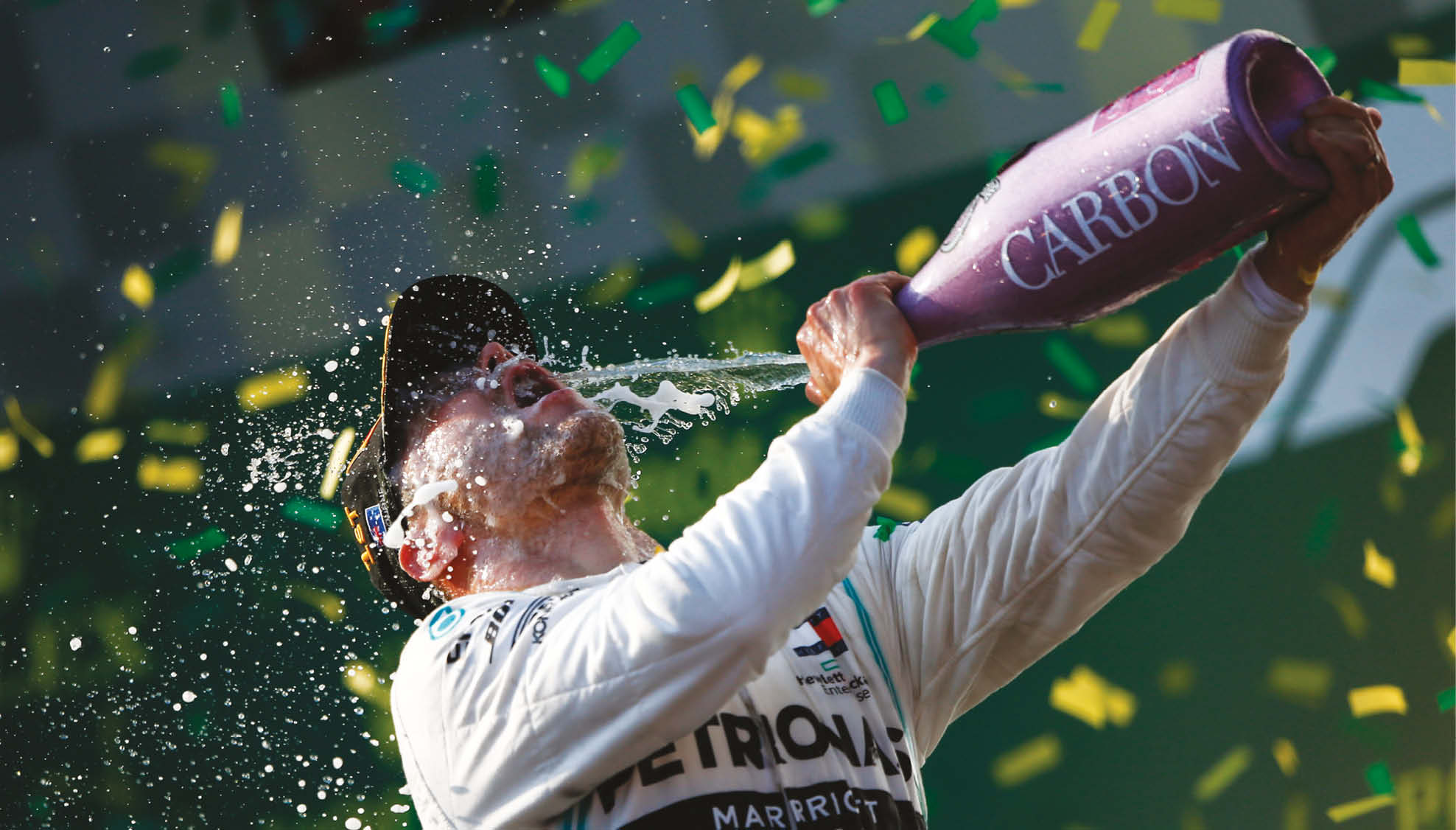 A 4-5 finish with Vettel and Charles Leclerc was not what Ferrari expected coming in to the weekend off the back of a great winter test, where the new SF90 looked convincingly the fastest car, beautifully balanced in a way it never was around Albert Park – a lack of front-end bite made it an awkwardly unresponsive proposition between the walls.
There were several theories about where the balance had gone. But one of the more intriguing was that posited by an engineer from a rival team. Just maybe Ferrari's front wing philosophy was unsuited to a low-grip track with slow corners. The new aero regs of 2019, specifically the banishing of the big front-wing endplates and their complex multitude of turning vanes, has led to two opposing schools of design thought. Some (particularly Mercedes) have retained full-depth wing elements right across the span. Others (notably Ferrari) have cut the elements right down at the outboard ends ahead of the tyre, in order to enhance the 'outwash' effect of getting the airflow to turn around the tyre rather than crashing into it. Both designs seek to wash the air around the tyre, but by unloading the outboard ends of the wing, the Ferrari design will make this easier to do, albeit at the expense of the maximum downforce the wing can generate. What if Albert Park, with its low-grip public road surface and its proliferation of slow, big-lock corners, simply demanded a level of front downforce that was outside the Ferrari wing's range?
One of the theoretical downsides of maximising the load on the outer ends of the wing is that the outwash airflow could be more volatile. So you'd have a car with more downforce, but which was a more demanding drive. The Mercedes around Albert Park looked unstable, but was quick once you learned to trust that its twitches would always be smothered eventually.
It was a working theory and one in which it was possible to pick holes. A Red Bull man had an alternative notion: "We think it's probably tyres. They are so stiff that it can be difficult to get them working properly around this place. But if you get them in the window, suddenly there's lots of extra performance. Looks like Ferrari have got caught out by it, same as us."
The full effect of the latest rules will become clearer with more races on different types of circuit.
FIA race director Charlie Whiting, who passed away suddenly in the early hours of pre-race Thursday, was very much part of the revived regs initiative. Bottas took time out, unprompted, to say: "This win is for Charlie and all his work for F1. He's done a massive amount and it means a lot."