Lunch with Alan Gow
He ran a team for Australia's racing hero, came to the UK for a break... and is still here, 28 years on, ruling the British Touring Car Championship with an iron fist
Alan Gow never planned to forge a life in motor racing, it was just something that happened along the way. "I liked cars when I was younger," he says, "but not motor sport." That all changed during his teens, when his sister's boyfriend took him to Calder Park – and he was instantly hooked.
Not sufficiently so, however, that he ever considered it a career path. "I was more inclined towards business," he says. "I left school early, at 16, and sold cars before I was old enough to hold a driving licence. I rode a bike down to the used car lot and would be in all sorts of s**t if someone wanted a test drive, because I couldn't take them anywhere. But I loved selling cars."
It's a long way from there to more than 25 years as the figurehead of the British Touring Car Championship, one of UK racing's biggest success stories of recent times. To hear how fate wafted him from a world of Holdens to one ripe with Hondas, we repaired to Theo Randall at the InterContinental, just off London's Park Lane. Before we start, the restaurant's owner comes over for a chat… because he's a car nut, a Motor Sport reader who has just acquired his first competition licence (if running five restaurants leaves any time for racing).
Gow: "What d'you recommend?"
Randall: "All of it!"
After a guided tour of the menu, our guest selects a cheese soufflé with spinach and cream, followed by fresh pasta stuffed with slow-cooked veal. He spurns the wine list, orders a Diet Coke and we return to a used-car lot in south-eastern Australia.
"Once I'd got into racing," he says, "I started helping mates. Only gofering, though, because I'm no mechanic. You'd end up doing mad trips to Sydney. It might be 12 hours each away, so you'd finish at six on Sunday evening and get home with just enough time to change and go to work. They could be horrific journeys, because you'd be breaking down, or suffering a blow-out. It was never easy, but that's just what you did – and I loved it.
"I did do some racing, but only when I could afford it – so not that often. Later on, when I could have afforded it, I didn't have time because I was busy with business. Racing was purely a bit of fun, but I never envisaged myself as a driver.
"I'd done really well as a salesman, then became a dealership manager and later a partner in a car retail business. It was during this time that I got involved with other aspects of racing. As a dealer everyone knocks on your door, wanting sponsorship, which is how I met Paul Radisich. He was running a Ralt-Ford in Formula Pacific, and I had a Mazda dealership, so there was no synergy at all in my backing him, but I gave him a little bit of money and let him use our workshop.
"After I sold some of my dealership interests, I got involved in property development and had a bit of time on my hands, because property development isn't all that intense. By that stage I'd known [Australia's most celebrated racer] Peter Brock for a few years and, during 1987, he lost the rights to develop and sell Holden vehicles in the wake of the infamous Energy Polariser case [Brock had developed a belief in the performance-enhancing power of crystals, which he began fitting to race and road cars, to Holden's dismay]. Peter asked me to lend him a hand. He'd had a big operation, but all of a sudden, the rug had been pulled. Holden deserted him, so the money went, and all he had left was backing from Mobil.
"I said I'd give him a hand… and that took over my life for the next three years. I got involved with the business and subsequently became team principal.
"Peter just wanted to make the cars quick and drive them. He wasn't involved in management and I'm not sure he was even a signatory on the company cheques. He just wasn't interested in that stuff. He left the business side to me."
Although the works Holden cash had been pulled, Brock continued running Commodores through 1987 – and entered two cars for Bathurst. "We were broke to the point that we had no spare parts," Gow says, "but we had a good deal with a brewery, which used to give us cases of beer, each with a dozen bottles. That's the greatest currency you can use in a race paddock. Our team manager would go around on Saturday night, swapping beer for whatever we needed from other teams. It was a bit like moonshining, running around in the dead of night giving out alcohol in exchange for spares.
"Beer is the greatest currency you can use in a paddock"
"That year's Bathurst 1000 was a qualifying round for the World Touring Car Championship and the Eggenberger Sierras were fantastic, miles ahead of us. Peter was in our lead Holden, which soon blew its engine, so he switched to our other car, which was just a start-money special. It was cobbled together from old bits that were beyond their useful performance life and we'd just put it on the grid to make sure we got our money. We thought it would last about five laps, but Peter put in one of the greatest drives you'll ever see, dragging it up to third place – and that became a victory after the Eggenberger Sierras were kicked out for a wheel arch infringement."
It would be Brock's ninth – and final – victory in his homeland's most celebrated race, a record that remains unequalled. He died in September 2006, aged 61, when his car left the road and hit a tree during the Targa West Rally. A few days earlier, he'd made a rare appearance in the UK when he drove a Holden FX at the Goodwood Revival. What was he like as a racer?
"Without peer," Gow says. "He had the best mechanical sympathy, the best speed, he could do anything behind the wheel of a car – by far the most naturally talented driver I've met. I always used to say to him, when we were looking for ways to get ourselves out of the financial s**t, 'Why don't we launch a racing school?' He'd reply, 'I'd never be able to explain what I do.' It just came so naturally to him. If the engineers asked how the car had been after a race, his answers were always vague because he didn't have to work hard at it or think about it, it just happened."
With the Holden relationship terminated, Brock and Gow took over Frank Gardner's BMW team for 1988, then switched to Ford's Sierra RS500. "Peter and I came over to Europe," Gow says, "and were going to buy cars from either Rouse or Eggenberger. We saw Andy first, did a deal the same day and so Peter decided he had no need to go and see Eggenberger – he was going to fly home to paint his house and left me to pretend I was still interested in a deal…"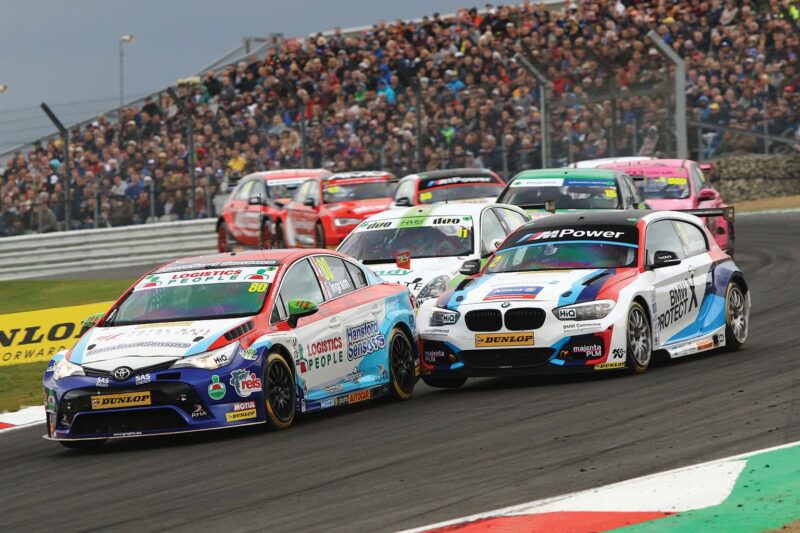 That Rouse connection was to have a significant influence, in a manner that could not have been foreseen. "At the end of the 1990 season," Gow says, "Peter and I sold the team. I had a broken marriage behind me and no longer had a business – and for the first time in my working life I was free. So, like most Australians, I jumped on a plane and went to England. I boarded a flight with a single suitcase, to use the UK as a launching pad to travel around and do things. I had no intention whatsoever of staying more than 12 months. I was friendly with Allan Moffat, another of Australia's leading drivers, and he happened to own a flat in Knightsbridge that wasn't being used. He gave me the keys and told me to stay for as long as I wanted, which was a fantastic introduction to the UK.
"I knew Andy Rouse, obviously, because we'd bought cars from him and he'd later raced with us at Bathurst. He knew what we'd built up in Australia, developing Brock-tuned road cars, and wanted to do something similar – Rouse Sport. He asked if I wanted to help, so I moved up to Leamington Spa and started working with him, but only on the road car side.
"A few months later, we could see that the BTCC wasn't really getting anywhere, so Andy said, 'Alan knows all about this stuff' – I'd been one of the co-founders of TEGA, the entrants' association in Australia – so he suggested we tried to do something like that. That's how TOCA came into being. Everyone else involved was a competitor – Andy, David Richards, Dave Cook who ran the Vauxhalls – so the deal was that I would run it… and it began to take over my life.
"I went to see the MSA, which was running the championship at the time, and said, 'Look, you're not promoters.' We put a deal to them that we'd take over. They didn't know me at all, but I had the legitimacy of a good group of people behind me.
"It was the start of the Super Touring era, though that's not what it was called in those days. The BTCC had just come off the back of the RS500 era – 500bhp, belching flames, great to watch – then you suddenly had 220bhp 2.0-litre cars. Some people were sniffy, but I think we proved them wrong.
"Vauxhall got away with six million, eye-watering numbers… "
"Those regulations worked from day one – towards the end of the Super Touring era we had 10 manufacturers, though that wasn't sustainable. The costs were getting out of control. It was like a drug; while you're taking it you don't actually think of the consequences – and when you were in the middle it was fantastic. The drivers were earning a fortune, the teams were earning a fortune, we were doing well, the circuit owners were doing well – everyone was doing well out of it. We were all on this big drug, but eventually the supply got shut off and we all came crashing down. It was a great era, but a lot of people look back with rose-coloured glasses because the racing we have nowadays is much, much better than ever it was in the Super Touring days. We had to introduce all sorts of artificial means, such as mandatory pit stops, in a bid to make the racing more interesting. The cars eventually became so good, with so much mechanical and aero grip, that they really couldn't get past each other. The best races were always those in the wet, because all that grip didn't come into play. It's easy to look back and say, 'Wasn't the racing fantastic?' but it was the cars, teams and drivers that were fantastic. The racing itself could be pretty poor."
Is it true that manufacturers were investing about £10 million annually?
"Ford spent £12 million in its final season," Gow says, "but most – Nissan, Renault, Volvo – were spending eight to 10. I think Vauxhall got away with six million, eye-watering numbers for a national series."
Eye-watering, but support for the series was growing thanks to TV coverage and promotion. "We focused on marketing the BTCC to non-motor sport people," Gow says. "BBC Grandstand was fantastic, because it wasn't a dedicated motor sport programme. And we didn't spend a penny marketing the series through the traditional magazines; enthusiasts knew all about the BTCC, so why would we need to keep telling them where it was racing?
"In the old days, when the circus came to town there would be posters about it, so that's what we did. It really hit me when I was at a very early drive-through McDonald's and saw a BTCC poster in the window – possibly for Pembrey – and thought, 'We've made it!'
"Our paddocks have always been open, and free, we have pit walkabouts, autograph sessions – people want to be engaged. And another feature of the BTCC is that drivers often remain for a long time, so fans can build up a rapport. In open-wheeler racing, say F3, a driver might be there for a year and then move on, so it makes it much harder to build a following. You don't get that in transient motor sport, but you get it in destination categories such as NASCAR, V8 Supercars, Indycar and the BTCC… F1 drivers have their fans, of course, but it's not possible to build a relationship with them."
He has a point. If you started supporting Matt Neal in the BTCC when you were six, you will now be 34…
Gow's stint at the BTCC's helm has not been unbroken; he was away for a period between 2001 and 2003, when US-based Octagon Motorsports bought the championship rights. Did that feel a bit like selling his kids? "In a way, yeah," he says. "Octagon came into the UK thinking it could make massive money out of motor sport. They bought the Brands Hatch Group off Nicola Foulston, the Silverstone lease, the rights to the British Grand Prix and the BTCC, so we sold them TOCA as a result of that.
"It wasn't something I wanted, but in hindsight the timing was really good because the manufacturers were pulling out en masse. Of all the times to walk away it was a good one, especially with a cheque in your pocket.
"I didn't go to any meetings. I deliberately went cold turkey and learned stuff only from people I knew in the paddock. The worst thing you can do is become this bitter old person sitting in the corner, pointing a finger, so I just stayed out of it. Increasingly they started asking me to get involved again, because it had become a mess, but I said 'no'. And then Octagon got out of everything and Denis Carter, chairman of the British Automobile Racing Club, told me he could get the BTCC rights – and wanted me to run it. My first race back was at Donington and I stood on the grid looking at not very many good cars, thinking, 'This isn't going to be easy.' It was a pretty ordinary thing to take back on, but I wanted it to do well again.
"During the time I was away, the teams came up with a new set of regulations – BTC-spec – that were really good, but they didn't work. It was probably timing more than anything else, but it didn't attract new manufacturers or teams. When I suggested allowing in cars to the FIA's latest S2000 rules, a lot of teams were against it because it would be seen as an admission of defeat. That was a bit of a hurdle, but we needed to do what was best for the championship and not worry about egos. So we introduced S2000, which immediately brought in SEAT. In the longer term, however, we had to sit down to devise fresh rules, because S2000 was a stop-gap and very expensive. It was an FIA formula, manufacturers were involved and we needed something sustainable for the BTCC."
"What would organising a BTCC race at Spa achieve?"
The answer would be NGTC – 'next generation touring car' – phased in from 2011.
"You don't ask engineers to set the regulations," he says. "Offer too much scope and you'll get something twice as expensive, so we just said, 'It's got to cost this much, have this much power and so on…' NGTC allowed front- or rear-wheel drive, different body styles and I think it has worked well. Look at Silverstone in 2017, 30 cars, front-drive, rear-drive, saloons, estates, hatchbacks – lots of combinations and the whole field was covered by nine tenths. No other touring car series has such diversity and remains so competitive.
"There are control parts, stuff teams don't need to spend money on – suspension, subframe, gearbox, ECU, brakes… Punters don't care about that stuff and the racing's better for it because the cars are equalised – in 2018 we had 17 different winners.
"Some people say, 'You use ballast, that's artificial.' I disagree. Try going to Ascot and telling them that handicapping is artificial – it's been used for years in horse racing and makes sure everyone has a level chance of winning, if they're good enough."
How does he respond to the criticism – often levelled at the BTCC – that it's just a posh form of stock car racing? He smiles and sighs.
"When you have 30 cars separated by a second or so, what d'you think is going to happen? It's the same with NASCAR. When you have that many cars so closely matched, you just need someone to grab a brake and there could be trouble. We are now really strict on driving standards – and if somebody purposely launches another car off the track, they'll get done.
"The sport in the UK is generally quite sniffy about the BTCC. They think it's not real motor racing, it's not pure, too much biffing and barging, but if you take the BTCC out of British motor sport, what have you got? The BTCC and British Superbikes are the only national championships that consistently draw decent crowds, so don't look down on us. People say it's not proper motor sport, but it f***ing is! It's proper drivers, teams and engineers putting a lot of effort into making these cars go as well as possible, which is as it should be, and it's entertaining racing."
The BTCC holds 10 triple-header meetings a year, nine in England plus Knockhill, Scotland. The series hasn't been to Pembrey, Wales, since 1993, nor Mondello Park, Ireland, since 2006. Could the schedule be extended?
"Mondello didn't really work," Gow says, "and we race at every UK venue that can still accommodate us. There are some very good ribbons of asphalt around the country, but Cadwell Park isn't big enough in terms of track width or infrastructure, Mallory Park isn't, Castle Combe isn't, Anglesey isn't… How would you get all our teams and spectators into Anglesey – and where are they going to stay? It's like saying your local non-league football ground could host Manchester United vs Liverpool. It could, theoretically, on the piece of grass, but what about the rest of it?
"People ask why we don't organise a race at Spa, but what would that achieve? The drivers would love it, but it would cost a fortune, there'll be three men and a dog watching and I'd have taken a round away from a UK track. Why would I do that?"
Racing culture is gradually shifting, symbolised in particular by the growth of Formula E. The BTCC has traditionally been quite open-minded, previously embracing biofuels, LPG and diesel, but does Gow envisage an electric future?
"Not yet," he says. "We've been early adopters with all sorts of things – even going back to catalytic converters – and have already committed to hybrids [when the regs evolve at the end of 2021]. I don't see electric cars in the BTCC any time soon, but I can envisage them as part of the support package. For the balance of my time in charge, I see hybrids as the way forward."
'His time' started 28 years ago, albeit with that sabbatical, and he has simultaneously fulfilled several other roles (including chairmanship of the MSA, now Motorsport UK, and president of the FIA Touring Car Commission), so has he ever fancied concentrating on something else?
"Not at all," he says. "I haven't missed a race while I've been in charge – you'd think I might have been ill at least once.
"I only enjoy the races properly when I watch replays a couple of days after the event; I'm at the track just to make sure it all runs properly. I love the BTCC – it's my passion, the reason I get up in the morning."
---
CV
Born: 23/6/55, Melbourne, Australia
1987-90 Team principal, Peter Brock's Mobil 1 Racing
1991 Co-founds TOCA to run British Touring Car Championship
1999 Part of winning team in Citroën 2CV 24 Hours at Mondello Park
2001 Steps down from TOCA after the Octagon takeover
2003-present Resumes as BTCC chief, a role he maintains today
2006-17 Motor Sports Association chairman
2010-present President of the FIA Touring Car Commission
2012-present Director, FIA Foundation
2018 Joined FIA Endurance Commission
---
Follow Simon on Twitter @SimonArron