1969 Dodge Charger 440 Magnum: Bullitt's forgotten hero
The Highland Green fastback Mustang sold for $3.4m (£2.8m) by Mecum auction house earlier this year may be the automotive hero of the 1968 thriller Bullitt, but the Dodge Charger that starred alongside in the famous 10min 53sec chase scene deserves recognition.
Indeed, stunt driver Bill Hickman – who played the bespectacled, emotionless hitman behind the Charger's wheel – is reported as saying that it was so much quicker than the Mustang that he was regularly required to slow down to enable the pursuing car to catch up. That's plausible considering the big-block 7.2-litre 'Magnum' V8 engine's 375bhp easily out-muscled Ford's 325bhp unit.
All the same, the Bullitt Mustang has undoubtedly proved the more popular choice when it comes to the creation of clone cars.
But, for those who want to be different, London-based restoration specialist Classic Investments is offering this superbly detailed Charger that, while it isn't being billed as a replica of the Bullitt version, is highly evocative.
Described as having 'laser straight' bodywork, the Concours-standard car is finished in mirror-black paint and is better than new both on top and underneath. The matching engine and chassis numbers indicate that it was equipped with the desirable 440 Magnum engine from the factory. The appeal of the car is then further enhanced by the rebuilt A727 manual gearbox.
The interior has also been fully restored to combine the original's classic appearance with some added luxury designed to make the car more enjoyable on long journeys. In addition to being re-upholstered in top-quality Italian PANA leather and bespoke carpeting made from period-correct materials, the cabin has been fitted with better sound insulation and finished with wenge wood detailing.
The original radio, speedometer and auxiliary gauges are all present and correct having been fully rebuilt, with every chrome component on the car thickly re-plated. Modern suspension and upgraded brakes and steering were also incorporated into the 3000-hour rebuild to create a car that, despite being 51 years old, is said to be usable in modern traffic conditions, both in town and on the open road.
Fans of the Dukes of Hazzard might prefer the screaming orange Charger driven so recklessly by country cousins Bo and Luke, but for mean and moody sophistication, this Bullitt-chase lookalike is difficult to beat.
1969 Dodge Charger 440 Magnum
On sale at Classic Investments, 2 – 6 Hampstead High Street, London NW3. Asking: £140,000. classic.investments.
---
Live the Hollywood lifestyle
Fans of muscle car movie icons don't have to look far to get their fix for the road
2019 Dodge Challenger Red-Eye £109,950
This Challenger packs a 6.2-litre supercharged V8 for 797bhp and a top speed of 203mph. It can be driven as easily as a hatchback.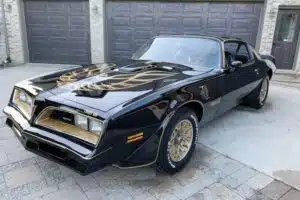 1977 Pontiac Firebird Trans-Am $120,000
Fan of 1977's Smokey and the Bandit? This is a dead-ringer for the Trans Am, and has clocked just 17,000 miles.
1972 Pontiac GTO $34,500
Another muscle car immortalised in film was the Pontiac GTO driven in Two Lane Blacktop by accidental street racer 'GTO'. This car is from 1972, a year after the film's release.
1968 Ford Mustang £199,950
Based on an original, 1968 Mustang Fastback, this Bullitt recreation runs on modern-day mechanicals, including a five-litre Coyote engine and six-speed automatic gearbox.