GP de Monaco Historique back on the calendar
After an absence of three years, the 12th edition of the Grand Prix de Monaco Historique will return this April, boasting a bumper entry list
and a special dedication to the history of Scuderia Ferrari.
The biennial event last ran in 2018, and had been scheduled to return for 2020, but plans were put on hold due to the Covid-19 pandemic leading event organiser, the Automobile Club de Monaco, to delay until April 23-25, 2021.
The date shuffle could have played havoc with the event's headline historic Formula 1 Grand Prix, which had been planned to celebrate the 70th anniversary of F1 in 2020. However, the event will now shift the focus to celebrating the 70th anniversary since Ferrari's first grand prix victory, which came at the 1951 British GP when José Froilán González triumphed at Silverstone aboard his 4.5-litre V12 375.
Split across seven categories and seven races around the full harbour grand prix track, the Grand Prix Historique has attracted a total of 170 entries. Fields will be divided into races for pre-war cars/voiturettes (Class A), front-engined cars from 1946-1960 (B), front-engined sports racing cars 1952-1957 (C), 1500cc Formula 1 cars from 1961-1965 (D), cars up to 3 litres 1966-1972 (E), GP cars from 1973-76 (F) and cars from 1977 to the age limit of 1980 (G).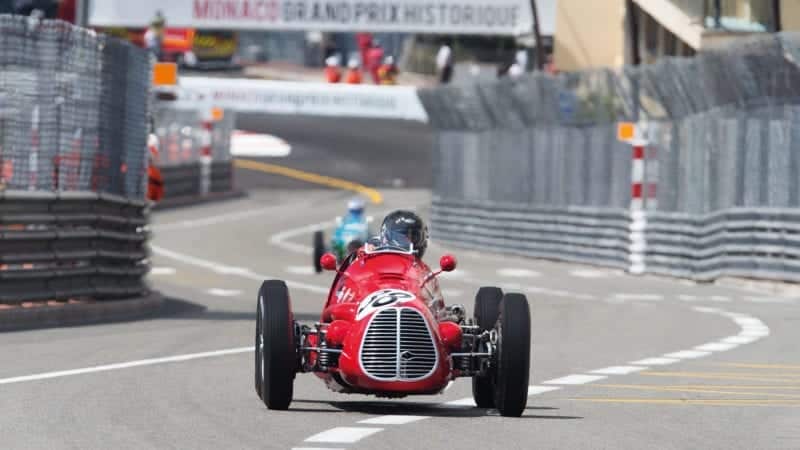 There are a number of star attractions throughout the entry aimed at celebrating the Ferrari legacy (see box, right), as well as a host of big-name drivers including ex-Formula 1 drivers Pastor Maldonado (1937 Maserati 4CM), Alex Caffi (1969 Ferrari 312), Jean Alesi (1974 Ferrari 312B3) and René Arnoux (312B3).
Historic racing regulars such as Gregor Fisken (1955 HWM-Jaguar and 1975 Shadow DN5), Andy Middlehurst (1962 Lotus 25), Roald Goethe (1970 McLaren M14A and 1974 Tyrrell 007), Stuart Hall (1971 McLaren M19A and 1973 McLaren M23) and Michael Lyons (1971 Surtees TS9, 1976 McLaren M26 and 1977 Hesketh 308E) will also be in action over the weekend.
The famous six
The Monaco Historique will feature a number of models dedicated to honouring 70 years of Formula 1 success for Ferrari. Here is the list…
1934
Alfa Romeo TIPO B (P3)
The type of car Enzo used for racing between 1933-37, before founding Ferrari in 1947.
1960
Dino 246
The final front-engined car to win a World Championship grand prix, in the hands of Phil Hill at Monza.
1953
250 Mille Miglia
Testimony to the single year when sports cars replaced single-seaters for the Monaco GP in 1952.
1964
Ferrari 1512
The model used by both Phil Hill in 1961 and John Surtees in 1964 to win the World Championship.
Four Ferrari Type 312s
From the first era of 3-litre grand prix cars as raced by Surtees, Bandini and Scarfiotti.
Two Ferrari 312 B3s
To be driven by former works drivers Alesi and Arnoux, both GP winners with the marque.