The Motor Sport Interview: Jacky Ickx
Passion is one thing. Team it with formidable concentration skills and childhood recall of competing in wet and icy conditions and you might get a driver like 'The Rainmaster'
He is a six-time Le Mans winner, Can-Am champion, the runner-up in the 1969 and 1970 Formula 1 World Championships for Brabham and Ferrari, twice World Endurance champion and Paris-Dakar rally winner. Jacky Ickx is a soulful, philosophical and enigmatic character who thinks deeply about his 32 seasons at the top of a dangerous sport. His success in so many different disciplines, and his prowess in the rain, has given him a rare status among both his peers and the fans who have followed his career from his early days as a champion motorcycle racer.
We catch up with the man many consider to be one of motor sport's greatest talents at his home in Monaco, where he's lived for the last 40 years.
Motor Sport: Let's begin with that remarkable drive in Ken Tyrrell's Formula 2 Matra at the Nürburgring in August 1967. You made a big impression on the F1 teams that day at the German Grand Prix.
Jacky Ickx: "Before we start… You've described me as one of the greatest, and I am happy if you want to say that, because you cannot say any driver is the greatest, or the greatest of all time, or whatever. I have seen that people say Lewis Hamilton is the greatest F1 driver of all time but this is not possible because you cannot compare racing drivers from so many different eras. It is not a proper comparison because there were so many – Nuvolari, Caracciola, Fangio, Moss, Schumacher, Prost, Senna – and they were all in totally different cars in totally different times of the sport. 'One of the greatest' is enough and, of course, Lewis is one of those. The young F1 drivers are all extremely talented and gifted. They don't need to be compared in this way."
Okay, many might agree, but let's go back to the Nürburgring in 1967, a circuit that you knew like the back of your hand from long-distance sports car racing.
JI: "The F2 Matra was the right car at the right place at the right time. I have always believed that weekend was part of my destiny, the start of many things that came later. First, however, I want to tell you some things about me that may help to paint the full picture of my career. I never had a dream, I never imagined that I would be a grand prix driver, a Le Mans winner. At school I was at the back of the class, looking out of the window, not knowing what I wanted to do. I thought I would become a gardener. Everyone is good at something, and my parents were waiting for me to find my destiny.
"First it was motorcycle racing, winning many races as a teenager, then into the cars and eventually Formula 1. There were so many great people helped me along this journey. The human aspect is so important. One of those was Ken Tyrrell, and my first grand prix was with him in 1966 at the Nürburgring, where I retired after a collision on the first lap. It was in '67, as you say, that I had a good race with the F2 Matra and this was for two reasons: I knew every detail of the Nürburgring having done 1000Kms races there in sports cars; and the Matra was so much lighter and more nimble than the F1 cars.
"I was third-fastest in qualifying behind Jim Clark and Denny Hulme but I had to start at the back behind all the F1 cars. I was up to fifth, with the fastest F2 lap, when the suspension broke and I had to retire. The car was jumping in the air as many as 17 times each lap. That's how it was at the Nürburgring and finally it broke. Maybe you can say it was an important day because it led to my first grand prix, for Cooper, at Monza in September and then I signed with Ferrari."
Your first grand prix victory came in '68, in heavy rain at Rouen, but you also broke your leg in a crash in Canada, and went to Brabham for 1969, finishing runner-up to Jackie Stewart in the World Championship. Why did you leave Ferrari only to return in 1970?
JI: "These days the top drivers focus on only one category, follow one single dream. Of course, they have the talent to do other things but an F1 driver now is fully focused on just that single discipline. We were professional freelancers if you like, racing in grands prix, sports cars and even Can-Am but in 1969 Ferrari could offer only Formula 1, which was not enough. Also, I had the drive with John Wyer's Ford GT40 sponsored by Gulf who were with the Brabham team as well so it worked well for me. Ferrari wanted me to stay, they were happy with me, but they had nothing else to offer and I wanted to do as many types of racing as possible. Going to Brabham was a great opportunity, a new experience. I had a good feeling with the car, I respected the work of Ron Tauranac and my chief mechanic was Ron Dennis. He was a good mechanic. Even then he knew where he was going and I have great admiration for what he has achieved.
"Sadly he never wants to talk with me about those days, and that's a mystery, because if I'd achieved what he has, I would be proud of it. It was a very good year for me at Brabham, winning at the Nürburgring, beating Jackie Stewart by nearly a minute at the most demanding circuit ever, that was special. Then to win again in Canada, and come second to Jackie in the championship, 1969 was good for me. I was very young, I had no intentions of being a number two to Jack [Brabham] even if he was a world champion. He broke his ankle during that season and then it was just me, and Ron Dennis on my car, and I started to fly, to leave the nest, you know. This made me more interesting to Ferrari and I knew I would go back there for 1970 because there was Mauro Forghieri's new 312B and now also the sports car programme with the 512. Nothing is ever perfect because I had to say goodbye to John Wyer, who became so successful in long-distance racing."
You were F1 runner-up again in 1970 when Jochen Rindt won the title posthumously. Despite this tragedy, did you feel you could have taken the championship in those last four races?
JI: "I have never thought about it like that. This was Jochen's championship and it would not have felt right, or good in any way, to have won in those circumstances. To have won without him there would not have been correct and I am happy that I did not take it. At the time there was some question about whether the title could be awarded posthumously but it was the right thing. He was a great competitor for whom I had a lot of respect. When you win a championship, you want to win it against all your great rivals. Yes, I won two of the last four races, but the Ferrari was not reliable in the first part of the season and there can be no doubt that Jochen and Lotus were the champions."
You have been called 'The Rainmaster'. Your skill in wet weather is well documented and some of your great victories were in the wet. How did you develop those skills?
JI: "I did five years of motorcycle racing and trials riding in the early days and this was very often in the winter when it was wet or with ice on the ground. When you race over icy gravel you learn a lot about how to use the throttle, how to be smooth, how to feel grip and be aware of where there is water, where there is ice, where is grip. So when I was in grand prix cars, I knew how to find grip, and often this was away from the perfect racing line. Also, when you have this reputation for being fast in the rain it gets frustrating for the other drivers. You put the car a little bit sideways and the others slow down when they see me do this.
Sometimes in a racing car you have this sublime sensation that nothing can beat you, nothing bad will happen to you. I had this feeling in John Wyer's Ford GT40 at Spa, where it always rains, in the 1000Kms in 1968. On the first lap, I was more than 30 seconds ahead of the field by the time I got to Les Combes at the top of the hill. It was the same in the Lotus at Brands Hatch for the Race of Champions in '74. Heavy rain again and a great battle with Niki Lauda's Ferrari. I passed him on the outside of Paddock Bend and won by just one and half seconds. We often laughed about that move over the years that followed and Niki told me he was amazed when I went by him off line in the rain. It was another example of that special mental state, that sublime feeling where you can do no wrong, that you're on another level that day."
Despite your success in Formula 1, you are always associated with those six wins at Le Mans. Your race in 1977 in the Porsche 936 was mesmerising. Would you agree that was your finest victory?
JI: "Yes, if you make me choose, then certainly it was the most incredible race, but also '69 when Jackie Oliver and I won by the smallest margin ever in the Ford GT40. You could say that was a legendary Le Mans. In '77, this was another example of finding myself in that sublime state of mind when nothing can stop you. This happens from time to time and this race, for me, was flat out, and I mean flat out, all the way because when the engine failed on my car after three hours I was transferred to car No4 with Hurley Haywood and Jürgen Barth, and they were right at the back after their own problems. It was raining, it was foggy, and nobody in the team believed we could win from 41st place in those conditions.
"In those days you had to nurse the car, look after your gear changes, save the brakes and take care of the car because it was race of attrition. But we had nothing to lose, we were laps behind the leader, and this gives you wings. I told the team, the other drivers, the mechanics, that it was possible to win. Every hour we picked up places, I did triple stints, more than three hours absolutely flat out in the rain, it was just fascinating – the feeling I had, the concentration at such a high level for such a long time. This ability to concentrate was a strong point for me and that weekend I simply believed we could win.
"At the end I was exhausted, physically and mentally, and then with just a few laps to go, with Hurley Haywood in the car, the engine went onto five cylinders and we had no rev counter, but we made it. So it was very, very special and a fantastic team effort. In every sport there are these moments of 'sublimation' – that is my word for it, you can choose your own. Senna used to speak about this state of mind in a racing car and I understood what he meant."
Let's talk about the Porsche 956, the car you drove to the Endurance Championship in 1982 and '83. What made this car such an effective weapon?
JI: "The 956 was a huge step forward for Porsche, a completely new design and an important development programme for Norbert Singer and his team of engineers. Before we had always had a tubular chassis but now, with the 956, we had an aluminium monocoque, much more rigid, new aerodynamics, much more downforce and a new five-speed gearbox. OK, it was still a very basic car compared to what we see today, very physical to drive, no power steering, no power brakes, but it was a winning car for many years.
"When I first drove the car at Weissach I knew it was special but it wasn't until we began testing at Paul Ricard that I felt the power of the aerodynamics, realised how much downforce we had. It was so fast in the corners – there was that very quick corner at the end of the straight at Ricard and I never thought it could be flat. To begin with I was lifting there, and I remember the first time I went through there flat out after lifting less and less for some laps. The next lap I couldn't do it again, I lifted, but eventually the belief in the car was there every time. Other drivers would ask me if a corner was flat, I'd say, 'Yes, of course… but sometimes I shut my eyes.'
"For me the 956 was an important car. We won Le Mans, and the World Championship twice, in '82 and in '83, and for two years this was the dominant car. People always talk about the 917, that it was a revolution – and it was – but in many ways I believe the 956 was an even greater example of Porsche's technical ability, of their constant desire for new technologies, new ways to win. For them, the engineering, the technology, was just as important as winning motor races and the 956 remains a great example of that attitude."
In 1981, the Paris-Dakar Rally became an important part of your life. You won it in 1983, and you've spoken about your lasting love of Africa. Can you explain the appeal of this most demanding of challenges?
JI: "It's not simply a rally, it's an adventure and one of the last great adventures. This event broadened my horizons – it introduced me to new cultures and ways of living that are so far removed from anything in the West. In that sense it is so much more than a race for cars or bikes, it is a huge physical and mental challenge, up to eight hours a day in the car and sometimes you don't see another single human being. You can be at the top of a mountain, or in the high dunes of the desert, following the tracks of goats or donkeys, navigating by compass, no proper reference points. If the car fails you will wait hours for help. In '83, when I won with the Mercedes 280, my co-pilot was the great French actor and comedian Claude Brasseur, a wonderful character who took lessons from Jean Todt in the skills of navigating through such challenging terrain. It's not easy, sharing a car for at least 800km every day, and you can learn a lot about yourself in these circumstances.
"In '84 I persuaded Porsche to enter the four-wheel-drive 959 and René Metge won twice with this car, a great achievement. The race, the cars, or the bikes, are just a part of the story. It's also about opening your eyes to the way people live in these remote places. They are so hospitable in such inhospitable places and they are invisible to people in the West. I mean, they will have to wait for a Covid vaccine that does not have to be stored at -70deg C. They simply do not have the means to do that. So, yes, it changed me, changed my life and I have found myself drawn to Africa ever since."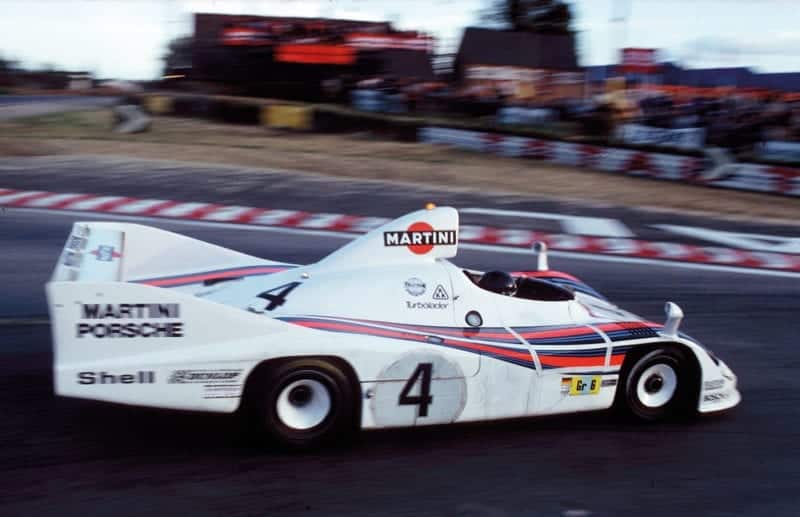 You lived through a dangerous time in motor racing, competing for an incredible 32 seasons. How do you reflect on a career that brought you so much success in so many different disciplines?
JI: "First, I want to say that it's not all about me, me, I, I… Motor racing is absolutely a team sport. Yes, all drivers have very big egos; that is somehow necessary, and it was the same for me, but us drivers are the only ones in the limelight when the team should also be remembered. Now, as I get older, I realise that sometimes my ego was too big and so I like to underline the importance of those mechanics, engineers and all the people who help to create a successful driver.
"Do I have any regrets, did I do as well as I could have done? In my last year of grand prix racing, at Ligier in '79 with the ground- effect cars, I realised I could no longer find those few extra tenths, those tiny margins that make the difference. I did not like those cars very much so I left Formula 1 and focused on sports cars.
"In the long distance races I never lost the speed, the strong concentration, so that is a mystery. But there are mysteries in everything we do, not just at a high level in sport. There are so many aspects to our lives, and life is very different for those in remote places. This I have discovered after so many years in the small world of motor racing."