Monaco Masters: the greats who dominated F1's toughest street circuit
Tight, slow and punishing, the Monaco grand prix is one of the greatest tests of talent. On the eve of this year's race we honour the masters of the principality

Niki Lauda
Winner in 1975 & 1976
Seven drivers share Lauda's record of two Monaco GP victories – and eight have conquered the principality's streets more frequently still. In the Austrian's case, however, the greatest significance is not so much the races he did win as one he didn't.
Lauda scored back-to-back successes in the mid-1970s, the first en route to the world title and the second ahead of the dramatic summer in which he recovered from being read the last rites to sitting on the grid at Monza weeks later.
In the first of those, he set a scorching pole position time, described by Denis Jenkinson (Motor Sport, June 1975): "Lauda went out and did a shattering 1min 26.40sec, which rocked everyone on their heels. It was as if he had said to himself, 'There are too many aces up here with me in the 1min 27sec bracket, I'd better reset the standard.'" His subsequent victory would be Ferrari's first in Monaco since 1955.
The following season Lauda did it again. Jenks wrote: "Lauda was on his own, driving with a visibly neat precision that many of the others could have benefited from watching."
As he signed off his '75 report, Jenks noted, "It was sadly ironical that neither Graham Hill, who has won the Monaco GP five times, nor BRM, who also have had five victories at Monaco, were able to qualify. Times change and there is no point in dwelling on the past." It had been while driving for BRM in 1973 that Lauda triggered the chain of events paving the way to those victories. Heavily in debt as a result of buying his way into F1, Lauda had bluffed to get a BRM seat on the basis of sponsorship that didn't exist – and payment was due. He had a strong race though, running third ahead of Ickx's Ferrari… until his transmission broke.
As Lauda told Motor Sport in 2017, "That evening [BRM boss] Louis Stanley said to me over dinner, 'D'you know what? You don't need to pay money any more. Your performances have been outstanding. You just need to sign a contract for 1974 here and now.' I was happy with that, signed and returned home.
"At the time my cousin's secretary also worked as my PA and we had a joke. I'd always say, 'Let me know when Ferrari calls.' On the Monday after Monaco I got back and she said, 'Ferrari called.' I didn't believe her, but she insisted that Luca di Montezemolo had phoned. I rang him and he confirmed that the Old Man wanted to see me. It was because of my Monaco performance. I told him that I'd love to, but that I had just committed to a new deal with BRM. He said, 'Don't worry, I'll fix the legal issues.'"
Thanks to a 24-lap cameo in Monte Carlo, his future was set.
---
Michael Schumacher
Winner in 1994, 1995, 1997, 1999 & 2001
Drivers have divided opinion ever since the French decided cars had an alternative purpose as competitive tools – but few have done so to the extent of Schumacher. People have a tendency to focus on his professional fouls (Adelaide 1994, Jerez 1997, Monaco 2006), but such indiscretions are dwarfed by many moments of greatness.
The 1992 Monaco GP marked his 12th F1 start and he finished fourth, beaten only by Ayrton Senna and the customarily dominant Williams-Renaults of Nigel Mansell and Riccardo Patrese. His team-mate that year was Martin Brundle.
"You have to build up to a crescendo in Monaco," Brundle says, "The track evolves and it'll come back to bite you at some point if you've knocked your car about. You have to keep dialling in to an ever-changing track, as a year's worth of rubbish, fuel and diesel are lifted up and replaced by tyre rubber. It rewards people that can carry the requisite speed without making mistakes, so those who are on top of theirs cars. It's okay making a small error at a mundane Abu Dhabi, but you can't do that in Monaco. That's why the greats have always shone there, despite it being slow. They have that mastery of their car and the conditions – and Michael was very strong there for all those reasons, especially with his mastery of left-foot braking."
Having overseen Senna's first race in Monaco with Toleman, Pat Symonds was still with the team eight years later after it had morphed into Benetton. "There are so many parallels between Michael and Ayrton," he says, "but there were also differences. Michael was much more professional, typified by his approach to fitness. Ayrton was actually pretty unfit when he joined us and I was surprised that somebody so intelligent hadn't realised what it would take to drive an F1 car!
"There's a myth that engineers are clever and design cars to suit drivers. What we do is set them up and develop them in a way the driver wants. Michael set his car up to be very unstable, which is why most of his team-mates struggled like hell against him. We'd show them what Michael was doing and tell them to try the same thing, but it wasn't necessarily the best option for them. It surprised me that we'd set the car up to be that unstable, yet lap times would get better and better. When you're at Monaco, where you need to change direction a lot and get a good turn-in to slower corners, for which F1 cars aren't designed, that unstable set-up worked well.
"We had data acquisition and our first telemetry systems back then, though it was all primitive compared with today. Data in Monaco is crap because the car is out of control most of the time and it's a difficult circuit to analyse. People who are able to drive consistent laps are pretty damned good, and Michael was certainly one of those."
In addition to his five victories, the German put in a big drive in 2006. Dispatched to the back of the grid for his qualifying subterfuge, when he caused a yellow flag to prevent rivals setting faster times, he came through to finish fifth. It was a race he could have started from the front.
---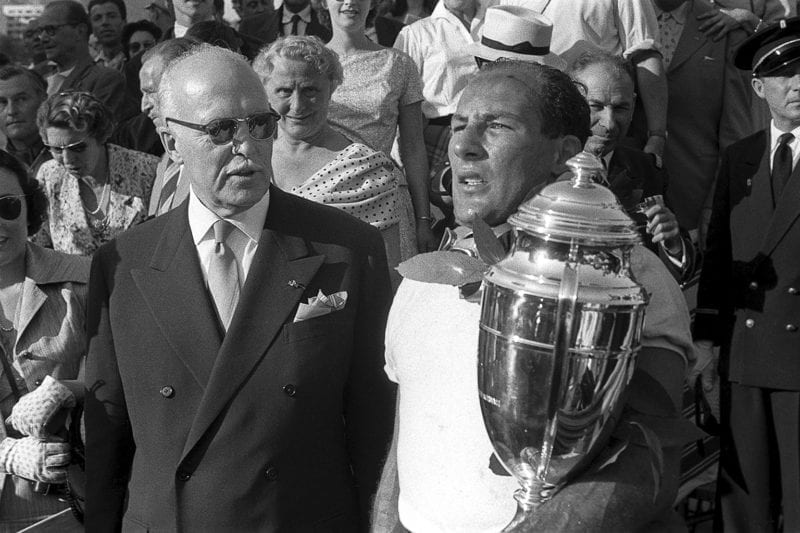 Stirling Moss
Winner in 1956, 1960 & 1961
Every time the two Maranello cars gained ground, Moss would nip by a slower car and the slight baulking would put the Ferraris back to 5sec. This was the luck of the game and, on three occasions, Moss just got by a slower car going into Sainte-Dévote and the American drivers lost valuable yards. This sort of 'traffic driving' was the saviour for Moss, for there is no one to match him at lapping slower cars and taking every opportunity with an uncanny foresight. It was like a fighter plane being chased by a superior enemy and being saved by dodging into clouds." Such was Denis Jenkinson's perception of the 1961 Monaco GP. It was a race that Moss himself considered to be his finest, though he had made his mark at the track a decade beforehand.
In 1950, he scored a heat win in the 500cc F3 event supporting the second round of motor racing's freshly instigated World Championship – and went on to beat fellow Cooper-JAP driver Harry Schell in the final. He was back two years later to take part in the GP itself, the only time it was run for sports cars, but after setting the early pace in a Jaguar C-type he was caught out by an oil slick that claimed several cars.
His first victory came in 1956, when he juggled initially between Maserati's carburetted and newer, fuel-injected 250Fs. Moss preferred the former, which caused momentary concern during the opening practice day. The team had left the older car in its garage, the updated model packed up… and Moss was keen to chase a cash prize worth £100 for setting quickest time. The only way to get to Maserati's garage was via the track, Horace Gould lent Moss his 250F to drive around, collect his own car and complete the lap in that, before taking an ultimately unsuccessful tilt at fastest lap.
The race was a little more straightforward. According to Jenks, "Moss chopped his way into the hairpin first, the two Lancia/Ferraris went round wheel to wheel and then the whole bunch came screaming up behind the pits. The roar as the cars came out of the tunnel was wonderful and then Moss came round the corner into the pit area in a controlled power-slide and it was seen that he was well out in front."
Juan Manuel Fangio was closing significantly as the race drew towards its end, but Moss was pacing himself as he completed 100 laps.
Moss started on the front row in 1957, led briefly in '58 and looked set to win in '59 until sidelined by transmission failure, but he scored his second Monaco F1 victory the following season. First time out in Rob Walker's Lotus 18, he came through to take a comfortable win. Jenks: "Moss reeled off the laps with consistency, handling the Lotus as though it were glass."
Ferrari was far better prepared than any rival when grand prix racing switched to 1.5-litre engines in 1961. It would take more than a power advantage to beat Moss, however, especially at Monaco. Of the closing stages, Jenks wrote: "All round that last lap Moss was watching his mirrors and Ginther was just as determined as ever and they crossed the line 3.6sec apart." Or as Moss put it, "If I'd matched my qualifying time on every one of the 100 laps, I'd have beaten myself by only about 40 seconds."
---
Lewis Hamilton
Winner in 2008, 2016 & 2019
Thursday morning, any year you care to mention. As Formula 1 cars filter onto the track, they all look much as though they are on installation laps. All except one, which arrives at the swimming pool significantly faster than the others, an uncoiled spring at its wheel, impatient to get on with the job he loves.
Lewis Hamilton's love affair with the circuit commenced long before he'd signed a McLaren F1 contract. Monaco's traditional F3 curtain-raiser was dropped after 1997, to make way for a Formula 3000 race, but was revived on a one-off basis in 2005 as a double-header and Hamilton won both races. He returned the following year in GP2, absolutely cruised to victory from pole and could quite easily have maintained his 100 per cent record on his first F1 appearance here in 2007.
McLaren team-mate Fernando Alonso qualified ahead of him but did so with a lighter car. Even so, Hamilton might well have beaten him had he not had to negotiate Mark Webber's Red Bull during his quickest lap. In the race, McLaren opted for a two-stop strategy, although Hamilton's fuel load would have allowed him to convert to one. As it was, McLaren twice brought him in a couple of laps early when leaving him out on a light fuel load would have given him a tilt at jumping ahead of Alonso. Once they were safely first and second the team instructed them not to race. Afterwards, Hamilton looked downcast for a driver that had just finished on the podium for the fifth time in as many grands prix. "I knew there would be no way to overtake Fernando on the road," he said, "so the only chance was to apply pressure – but he's a two-time world champion and doesn't make mistakes. Why did I come in early? Probably something to do with safety cars. I'm looking forward to talking about it…"
Then as now, Neil Oatley was McLaren's director of design and development. "I think that race was probably where he came of age," he says. "He had beaten Fernando in a couple of races, but hadn't yet won one. I'm sure he was already aware of how good he was, but Monaco probably convinced him that he was the best. Fernando was world champion and always quick in Monaco, but Lewis had his measure – at the least. It would have been close if we'd allowed Lewis to run longer, but we took the decision to slow them both down and I recall Lewis's disappointment, because he felt he could have won. Fernando was constantly on the radio, asking us to make sure Lewis backed off. That probably sowed the seeds for the way things deteriorated as the season went on."
Hamilton's maiden Monaco F1 win, in 2008, owed a little to luck. He clipped a barrier on lap six, puncturing the right rear, but with the field spread out in the wet he lost only three places. Now out of sync with the rest of the field, he had also unwittingly put himself on an ideal strategy. His next pit visit came at the perfect time to switch to dry rubber, while rivals were forced to make additional stops. Luck played its part, but that error apart he had driven well.
His appetite for the track shows no sign of being sated and no one is betting against him adding to his tally of wins next month. Hamilton might be from Stevenage, but Monaco is both his adopted and natural home.   
---
Graham Hill
Winner in 1963, 1964, 1965, 1968 & 1969
His 'Mr Monaco' sobriquet was well earned. By the time he notched up his fifth and final victory, no other driver had more than three to their name.
In 1968, Dave 'Beaky' Sims was a 22-year-old race mechanic, freshly promoted to Lotus's F1 crew. "I'd been working in F2," he says, "but after Jim Clark's death at Hockenheim the old man [Colin Chapman] shifted me to the F1 side. I remember testing at Snetterton before we went to Monaco and the way Graham spoke about the upcoming race was striking. He loved the place – the glitz, the glamour, going to the casino and dining at the royal palace. He always packed a dicky bow for Monaco and I'm sure he didn't do that for any other race. He seemed different when we were there, cheerful in a way that didn't necessarily apply at other tracks.
"Some of his job lists could be outrageous, but we were happy to do the work. That had been the biggest difference between Graham and Jim Clark; he'd be fiddling around during practice sessions, trying to get things right, while Jim would tell us not to worry, that he'd drive around any problems and we could adjust the car, if necessary, in the evening.
"It wasn't like that at Monaco in 1968, though: he just jumped in, got on with it, bagged pole and won. Before the start, I remember Colin chatting to Jackie Oliver [recruited to replace Clark] and telling him to take a leaf out of Graham's book by staying out of trouble. Unfortunately, he crashed on the opening lap!"
Hill's son Damon emulated his father by becoming world champion, but never won in Monaco – although he was on course to do so in 1996 until his engine blew. "My Monaco experience differed from his," he says. "My first attempt to qualify there in F1 was with Brabham in 1992, but I couldn't use all the gears because there wasn't room for my legs in the cockpit. I had to trundle around the hairpin in third!
"You have to ask what it was that Dad was doing right. People say he was hard on his cars, rougher than Jim Clark on the transmission or whatever, but he can't have been that bad if he managed to win five times in Monaco.
"I don't have recollections of him telling me anything about his wins, but I've read what he wrote. When he won in 1965, after having had to get out and push his way out of an escape road, he described a moment the following afternoon, sitting on a beach, reflecting on what he'd just done and feeling an enormous sense of achievement at having overcome all the obstacles Monaco can throw at you.
"It's a circuit that punishes the slightest lapse in concentration and Dad took a great deal of pride in his meticulousness when it came to preparing for races. He applied himself and was rewarded for that. He had a great ability to focus and good stamina because he did a lot of rowing. I think it speaks volumes that he also won Indy and Le Mans, other races that require a great deal of concentration for long periods. That's where he was particularly good."
---
Ayrton Senna
Winner in 1987, 1989, 1990, 1991, 1992 & 1993
At one stage I managed to extricate myself from the pits and went to watch at the entrance to the swimming pool, standing right behind the guardrail. Watching him through there was otherworldly – and remember that in those days they hadn't moved back the barriers to give them a bit more space. It was just an Armco tunnel – real life in fast forward. He was just incredibly fast around there and never more so than on that day. He believed very strongly that God was protecting him, so perhaps it had something to do with that, I don't know…"
The speaker is Steve Nichols, former McLaren designer and Ayrton Senna's race engineer in 1988 and 1989. He is talking about the first of those seasons, the Brazilian's introduction to the team, when he outqualified Alain Prost's sister car by 1.4sec – and the latter was hardly a slouch.
Senna had scored his first Monaco victory the previous year with Lotus but his love affair with the track began in 1984. He hadn't raced there in the junior categories, so cut his teeth in a Toleman TG184 designed by Rory Byrne and Pat Symonds. "He got to grips with the circuit quickly," Symonds says, "but I always feel good drivers don't really need to learn new tracks because that comes naturally. The learning part is really just finding that final half a per cent – the rest of it is built into them. That said, Monaco is one of the harder places to work out, not because it's a particularly difficult track but because the process usually involves slightly overstepping the mark and then coming back a bit – and Monaco traditionally punishes those who overstep the mark.
"Ayrton was on it pretty much straight away. We had a good car by then and this was the first race for the electronic fuel injection on the Hart engine. It couldn't have come at a better time because it improved the engine response no end, which was particularly worthwhile around Monaco. He was bloody good, though, in the way he handled a turbo, because in those days they had pretty terrible throttle lag – particularly on our car, with a big single turbo as opposed to the V6s with two small turbos. But he was very good at judging the lag, allowing for it and anticipating. For him, the learning process was more about working how to use the uprated engine than it was about braking points."
With 27 cars trying to qualify for a spot on a grid then limited to 20, Senna lined up 13th before making stellar progress in rain that caused the start to be delayed by 45 minutes.
"We'd started the year on Pirellis," Symonds says, "but then switched to Michelin. When they agreed to supply us, it required the approval of all the other Michelin teams but Ron Dennis said yes only on condition that we ran tyres that were one specification old. I'm not sure why he was bothered about little old Toleman, but there was only one wet compound so for once we were on the same tyres as the other Michelin runners – and it was the first time we'd actually used them."
Senna was closing fast on Alain Prost's leading McLaren when the red flag was shown after 31 of the scheduled 76 laps, with his advantage cut to just under 7.5sec. Would Senna have won had the race have gone full distance? Might Stefan Bellof have caught and passed both in his nimble, torquey Cosworth-powered Tyrrell? "We can't be sure that Ayrton would have finished," Symonds says.  "Afterwards we found that his car had a cracked rocker. It might have lasted a full distance like that, wet or dry, but it might not. We'll never know.
"Drivers like Ayrton are pretty exceptional, but they all need to have a degree of self-esteem. Time and again I have seen a good result reinforce that self-esteem, and even though Ayrton was tremendously confident, that result in Monaco ticked a box for him, confirmed to him that he was as good as he believed."
To most, the truth of that was already apparent. In 1985 he led comfortably from pole until his engine blew, possibly a consequence of having over-revved it slightly during the morning warm-up. He started and finished third the following year, beaten by the McLarens of Prost and Keke Rosberg, then scored the first of his record six victories in '87, inheriting the lead after Nigel Mansell's Williams lost turbo pressure. And then he set 'that' qualifying time.
On the other side of the McLaren garage, Neil Oatley was engineering Prost's car.
"I remember there being a sense of disbelief when the time was posted," he says, "and you have to remember just how good Alain was around Monaco. Ayrton was 1.1sec quicker the following year, too, but people always focus on that 1988 lap. He had that place absolutely pegged. The really great drivers perform at an exceptional level while having an intangible ability to make their competitors perform worse. A lap time like that just took the wind from everybody else's sails.
"I engineered him in 1990 and that was another great drive. His technique was to try and imagine a qualifying lap before he went out, which is something he did everywhere, but that's perhaps more relevant in Monaco. The level of skill needed to set a quick time is the same at every track, but at Monaco it is perhaps overlaid with a heightened sense of bravery that exaggerates any differences between drivers."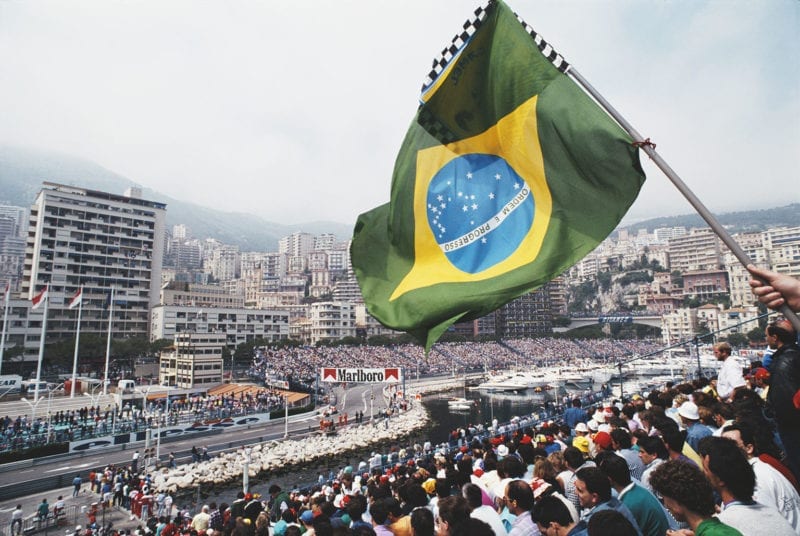 Nichols: "Our set-up sheets had blank spaces for absolutely everything – castor, camber, spring rates, bump rubbers, ride heights and so forth. With some drivers you could fill parts of it in advance because you knew they wouldn't want to change this or that. With Senna you couldn't fill in anything, but had to consider every last detail and how it might affect the car in every corner – and every phase of every corner. That took a long time. Sometimes you'd go through all of it and he wouldn't change anything, but you still had to discuss it. It was the same in Monaco in 1988. Even though he was so much faster, he still wanted to check the whole list to see if there was any chance of even a tiny improvement."
Ironically, it would be the only time between 1987 and 1993 that he didn't win the Monaco GP, a tiny mistake flicking him off at Portier with the race all but won.
His record tally will stand for some time. Among the active drivers, Lewis Hamilton is closest to Senna – three victories in arrears.