Kremer's denim-clad giant killer
After its domination with prototypes such as the 908 and 917, Porsche found itself in need of a new saviour on track in the mid-1970s. Its salvation arrived in the form of the 911 RSR. Andrew Frankel tries one of the finest of the breed
Some are older, many are faster, but if you were to ask me to name the greatest version of the world's greatest sports car, I would name this car, the 3-litre version of the Porsche 911 RSR.
Why? Because it is the ultimate naturally aspirated 911 based on the original 911 design. It represented the final point on its journey as a racing car before the purity of its design had to be compromised to go any faster. In this case, compromised by a turbocharger.
It is true that forced induction provided the RSR with a whole new lease of life, and also spawned cars that would pass into racing legend – the Le Mans-winning 935 among them – but while these brutal machines were quicker over a lap, were they ever as good to drive? When I asked Britain's foremost 911 racer Nick Faure to name his favourite Porsche he was quick to reply: "Oh, it's the RSR, no doubt about that. The most beautiful car to drive, so much easier to balance than the later turbo cars. You could do anything in an RSR." And he did, including in 1975 helping drive a private RSR from 30th on the grid at Le Mans to sixth at the flag, beaten only by one other RSR and four prototypes.
To give you an idea of how successful the RSRs were in period, they filled the first five places in the GT category in that Le Mans race. At the Daytona 24 Hours that same year where prototypes were not eligible to race, of the top nine finishers just one was not an RSR, and that came seventh. In the seven rounds of the World Sports Car Championship in which any GT car finished, RSRs won six. The year before they won their class everywhere but at Le Mans. And what's astonishing is these achievements came against more powerful cars, be it a 4.4-litre Ferrari Daytona whose engine had twice the number of cylinders and camshafts and almost 50 per cent more capacity, or monster 7-litre Corvettes. In the mid 1970s if you wanted to succeed in GT racing, you needed an RSR.
There's another reason RSRs are ineffably cool and it actually also goes a long way to explaining why they were so competitive. It wasn't the first 911 designed for racing – that was the original 911R of 1967 – but it was the first time a 911 had assumed the mantle of Porsche's flagship racing model, rather than as understudy to a prototype like a 908 or 917.
Like Porsche's two greatest racers, the 917 and 956/962, the RSR owed its very existence to a change in the rules. At the end of 1971 and with the 917 now as fast as F1 machinery at certain circuits, a 3-litre limit was imposed on prototypes, on the assumption that dropping their power by the best part of 200bhp would slow them down. Which it did, for about a year. But by 1973 the lap time of the pole-sitting 3-litre Ferrari 312PB at Spa was over three seconds faster than that of the 5-litre 917K in 1971.
But it was not a game Porsche could play. Its 3-litre 908 had won the WSC in 1969 with little help from the then-new, unproven and frankly dangerous 917, but while still quick enough at venues that placed handling above power, over the course of a season it stood no chance against Ferraris that were basically F1 cars with enclosed bodywork. The Porsche's flat-eight motor dated back to an early 1960s design and air cooling mandating just two valves per cylinder. It could never make close to the power of the purpose-built Ferrari. To make the point, the 1972 season had 11 rounds, of which Ferrari won 10 and didn't enter the 11th, leaving Le Mans to the Matras.
But Porsche was not yet ready to withdraw. Famously the 917 was repurposed as a Can-Am car, leaving the 911 as its only other product in conventional sports car racing.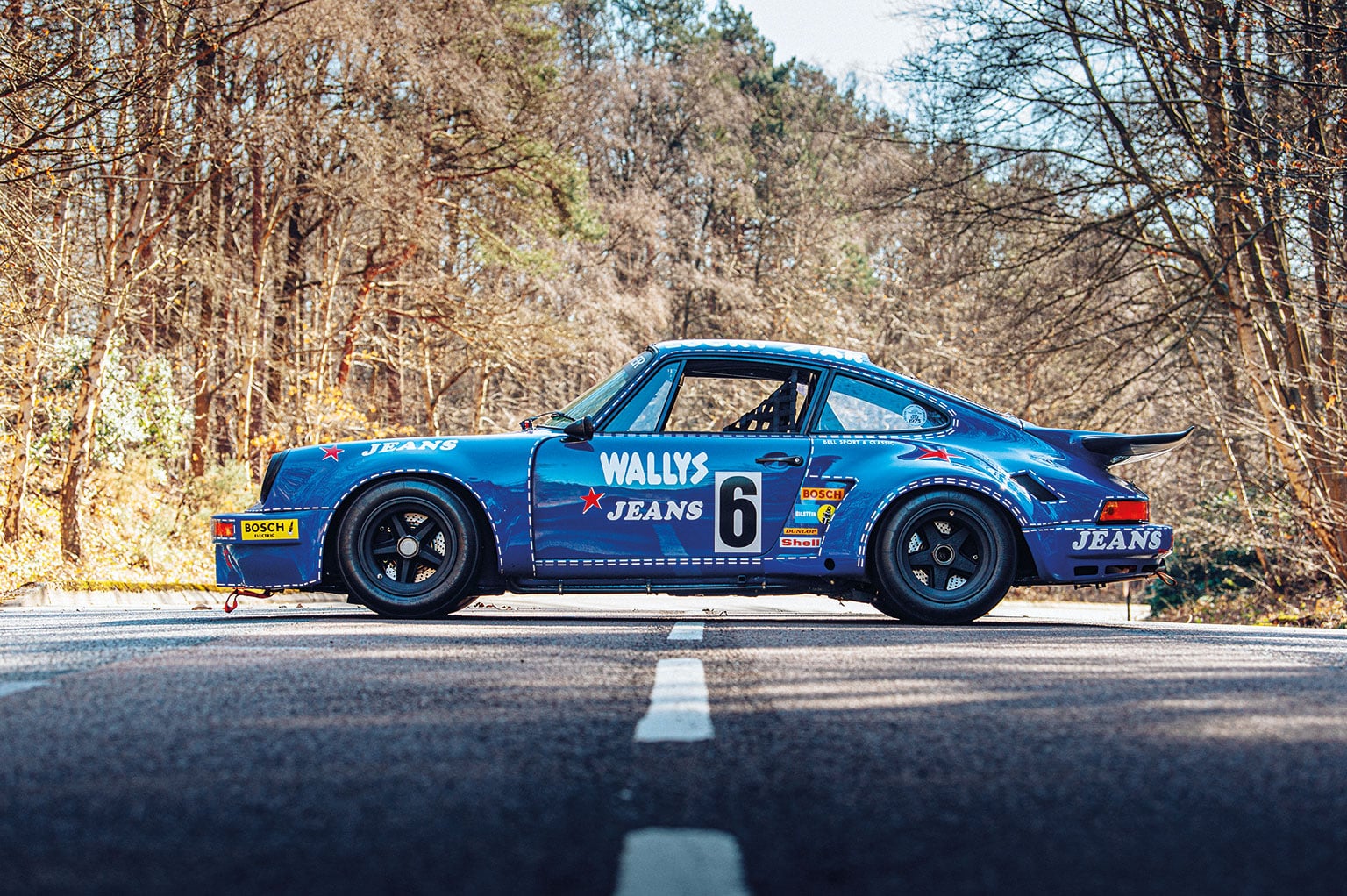 That presented an opportunity. By 1973 the 911 was already a 10-year-old car, and in that time had only grown a slightly bigger engine and an elongated wheelbase. Something was needed to sprinkle stardust on an ageing product. Porsche saw an opportunity in Group 4 racing – a forerunner of today's GT category – to prove it still had what it took on the track, and to do it in a car it could actually sell not by the handful, but the truckload.
And the 2.7 Carrera RS was part of that plan, with 500 road cars required to homologate its racing derivative, which was the RSR. Having been designed as a 2-litre, at first the engine would only stretch to 2.8, and that's how the early RSRs raced. Only when the crankcase material was changed from magnesium to heavier but stronger aluminium could Porsche widen the bores enough to permit the full 3-litre capacity without compromising reliability.
In this form, at least before turbos came along, the RSR was formidable. Its success wasn't due to any particular 'unfair advantage', but the absence of any weakness in its dynamic composition. With a gutted interior and plastic panels it weighed just over 900kg. With slide throttle, twin-spark ignition, hot cams and megaphone exhausts, power was around 350bhp. A braking system carried over almost unchanged from the 917 ensured it would lose speed even more rapidly than it gained it, while its massive rear track and engine located over the back wheels meant it could cannon out of the corners and carry all that extra speed.
Perhaps cleverest of all was using steel or titanium coils in the suspension instead of the standard torsion bars, which were unable to provide the requisite level of stiffness. It was clever because by mandating that the original springing medium be retained, the regulations appeared to rule out the change. But Porsche just left the torsion bars in and made the coils so stiff the bars were made redundant. The rules said the old springs had to be there; they did not say they had to have a meaningful function…
Finally, the cars were almost indestructible. As Mark Donohue – who in 1974 would become the inaugural champion of the IROC series in an RSR – said: "The car couldn't be broken. They're so strong and so well engineered that there isn't much a driver can destroy but the gearbox. The Carrera [RSR] is the best off-the-shelf production race car available."
And this is one of the very last, supplied to race in the 1975 DRM (forerunner of the DTM) and German GT championships. Unusually it wasn't built by Porsche but supplied in component form to the Kremer brothers, whose K3 version of the 935 would win Le Mans outright in 1979, the first time the race had been won by something derived from a production road car since before the war. Kremer ran the car for Dutchman Cees Siewertsen, scoring a couple of wins in the 1975 German GT series.
The car had a rather chequered existence thereafter. It seems its tub got damaged, and the car was rebuilt around a replacement. But the original was not destroyed but repaired, a new car built up around it and used for ice racing in Iceland. After that it went to the US while in 2003 the car with the replacement tub was sent to Roitmayer in Munich for a ground-up restoration. It was during research for this project that the existence of the original tub was discovered, purchased, completely restored by Freisinger Motorsport and then reunited with the rest of the car in its original Wallys Jeans livery while the replacement tub was destroyed to avoid later confusion. It is being sold by Bell Sport & Classic for over £1m in ready to race form.
Which is nice. So often these cars are museum pieces, lovely, but in need of gentle treatment for tests like this. This RSR is not like that: while it retains its original slides, trumpets and mechanical fuel injection, the engine itself – while to correct RSR spec – has been built around a later, stronger 930 Turbo block to preserve the original unit, which will be sold with the car. Likewise common sense items like electronic ignition are used, with the original system supplied as a spare. The car is running slightly silenced exhausts because, according to Bell Sport's Peter Smith, the original pipes are "completely nuts". I'm slightly disappointed until I hear it, its bark more than loud enough.
Driving this, versions of which won not just the Daytona 24 Hours, but the Sebring 12 Hours and the last world championship Targa Florio, is no more difficult than driving a 911 street car.
As Donohue said, all you really need to mind is that truculent 915 gearbox. I've driven so many and am yet to find two alike, so sensitive are they in the way they are built and set up. This one has an occasional reluctance to find third, but as with all of them you just have to be slow and deliberate in operating it.
The engine is another matter. You'd have thought such an old and highly tuned motor might be a peaky nightmare. But despite all the blood-and-thunder noise, it is utterly docile. Tractable from 3000rpm, baying like a wolf at 5000rpm and positively deranged at my self-imposed 7000rpm limit, if there is a more thrilling sounding six-cylinder motor, I've not driven it. For racing you would probably use 8200rpm and there are instances of RSRs surviving wrong-slot forays to the dark side of 9000rpm. They build 'em strong.
Yet for all its mad pace and extreme specification, those coil springs and its race-spec Michelin TB5 tyres, this all-conquering, giant-slaying racer still feels like a 911. If you've driven any classic 911, what would surprise you most about the RSR is how unsurprising it is. The steering has the same unique 911 feel, the nose still bobs about as only 911 noses do. The gearbox feels the same and the pedals, too.
I loved this car. Like today's RSR which you can read more about over the page it is the most extreme derivative of the road car that existed at the time, but unlike the modern RSR-19, you can understand and exploit this one.
This may not be the most famous of RSRs but, as a ready to race machine, eligible for events from track to rallies, with a known and documented history complete with all original parts, it has extraordinary appeal. And I've barely mentioned that livery. I'd probably have it for that alone…
---
Specification
Price: £POA (with Bell Sport & Classic)
Power: 330bhp
Torque: 232lb ft
Engine: 2996cc naturally aspirated, SOHC with two
valves per cylinder
Gearbox: Five-speed manual
Weight: 900kg
Max speed: 179mph