Race-used memorabilia: parts for the memories
Race-used items used to be a dirty business, but now they're handsome homewares, reckons Gordon Cruickshank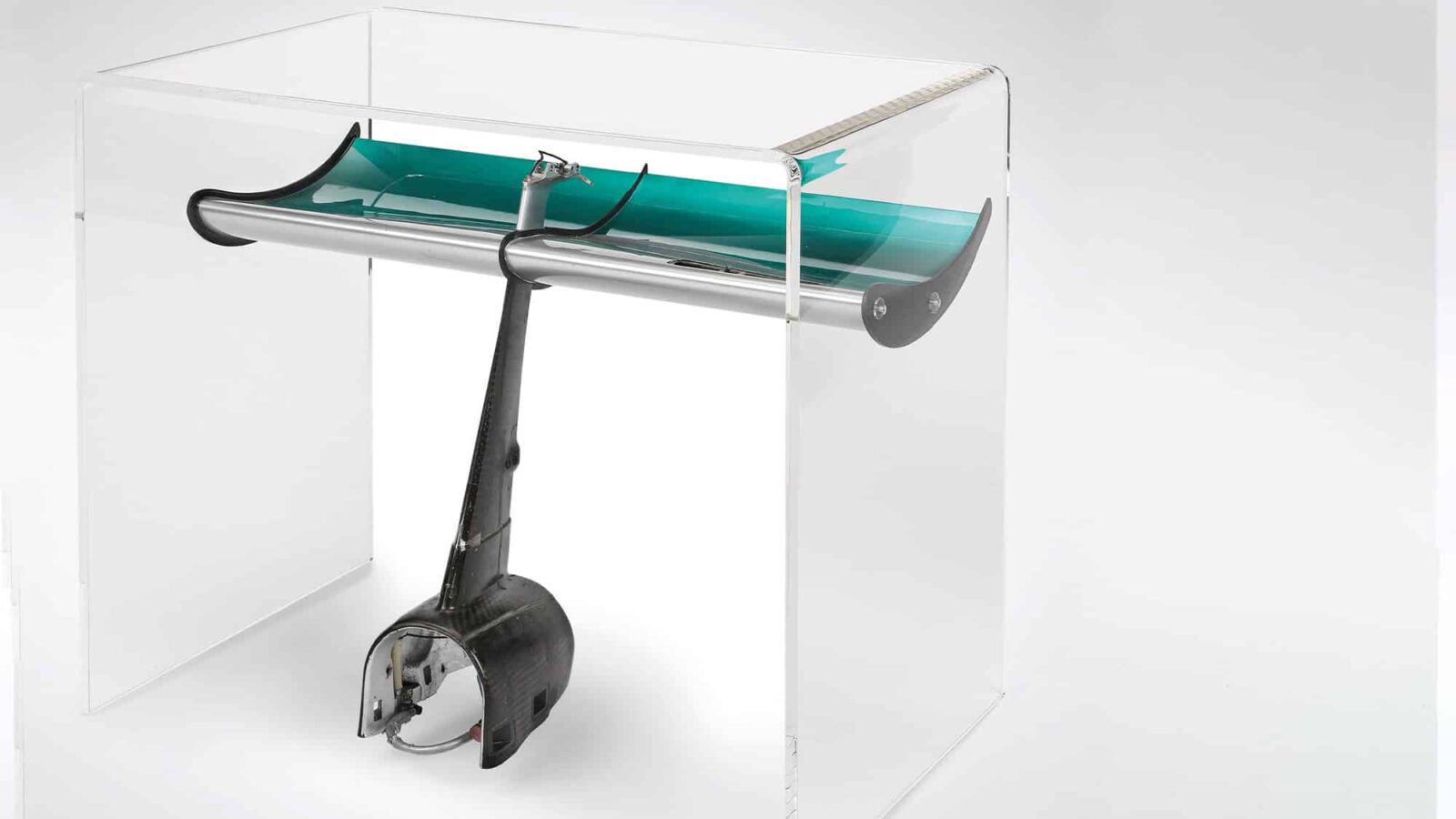 Racing was once considered an oily, grubby sport. No longer. Formula 1's worldwide TV and streaming promotion is awash with glitz and glamour, and you can bring a small reflection of that glamour into your home with recovered parts of machines you've seen on TV hitting punishing levels of g through Eau Rouge. We've all seen coffee tables made from an F1 wheel or tyre on its side, or perhaps a single component of beautifully machined titanium mounted on a stand, but admirers of high tech can elevate these left-over car parts to high design, with prices reaching many thousands of pounds.
Many a racer's desk has a piston or a con rod on display, perhaps mangled by some expensive engine blow-up. I've known enthusiasts who spring out trackside after a smack and harvest carbon fibre from the aftermath, hoping for a complete front wing or nosecone they can display as a trophy. Similar souvenir gathering has gone on as long as there's been racing. Even in the pioneer days the mechanicièn might be left with a wrecked car to protect it from the depredations of enthusiasts while the driver went for help – steering wheels and instrument dials have always made attractive trophies for dens and garages.
More lately, once the idea of repurposing used parts into décor or furniture arrived, F1 pitlanes became a bit of a marketplace. At the end of a race the crew would gather disposables and damaged items and sell them off to queuing fans. No longer. This market has been monetised; teams now contract to supply used or superseded parts to intermediates who can turn these expensive cast-offs into objects of desire.
Alex Blackledge of The Memento Group (selling arm f1authentics.com) explains: "Through our partnerships with F1 teams we obtain race-used clothing, bodywork and other components, delivered to us straight from the F1 team with proven authenticity."
These things are then re-engineered at their Northamptonshire workshop, perhaps into something practical like a side table featuring a rear wing from Lewis Hamilton's 2015 WO6 car (£9499.99), a table featuring a used brake disc taken from the seven-time champion's car (£994.99) down to a keyring made from a little chunk of skid block. There's even a skateboard made from skid block, and they add a QR code to each item so you can look up which driver and team it is associated with.
You can't remake carbon fibre into anything else – but you can slice it into squares, mount it in acrylic with a photo and voilà: a discreet wall decoration. To you, £199 for a piece of Bottas.
A new move for the firm is online auctions for items during the actual race. You can bid on Russell's rear wing or Alonso's gloves as they flash across your screen; afterwards, if you've won, the items will be prepared and delivered to you.
There are plenty of other sources for re-purposed parts, too. The eternal Ebay currently offers everything from brake bolts to half a Renault F1 car via a wheel bent by Lance Stroll and even a phial of Hamilton's used engine oil to hang round your loved one's neck.
Confirming there is life outside F1, racecarsdirect.com offers desk pen holders made from Porsche 911 cylinder heads. Elsewhere, grab a Vantage Aston wing that has toured La Sarthe – pit-lane.co.uk.
Motorsportsphotography.org is more prosaic about its recycling – its online store of used bits from BTCC cars is called The Scrapyard. No coffee table conversions here – instead you can buy a mucky front door from Rory Butcher's Honda complete with serious tyre marks thanks to a rival for £70 or the rear bumper of Chris Smiley's Toyota Avensis featuring a major crunch in the middle, evidence of touring car racing's famously gentlemanly behaviour.
These are not items that will end up creating a cool loft apartment; presumably banished from domestic areas by other household members, these will hang on the wall of a garage or workshop. But for a series devotee they'll carry the same excitement and pride as that flashy F1 lot.
Top-up time
Glass phial of engine oil from Hamilton's 2019 Russian GP-winning Mercedes on neck cord. Ten per cent of price goes to British-Ukranian aid.
For sale
Ebay, £24.95
Demi-Renault
Half a grand prix car is better than none… Genuine Renault parts built into the nose of a 2005 R25, finished in Fernando Alonso livery.
For sale
Ebay, £11,500
Rim shot
Front-right wheel from Lance Stroll's Racing Point RP19, damaged at Bahrain. Marked with 'Bahrain' and tiny Canadian flag
For sale
Ebay, £609
Aston wing
Race-damaged carbon-fibre wing from No95 Aston Martin Vantage GTE that raced at Le Mans in 2015. Finished in famous Gulf blue, but sponsor decals removed
For sale
Pit-Lane Motorsport, £220
Draught excluder
Dented door from Rory Butcher's 2019 Honda BTCC car, with lovely tyre marks.
For sale
The Scrapyard, £70