F1's best-ever US grands prix: the top 12
With two American Formula 1 races in 2022 and a third in the offing, it is time to celebrate the best of Stateside racing – and from Sebring in 1959 to the Verstappen-Hamilton humdinger at Austin last year, there have been some classics. But which stand out? Damien Smith presents his dazzling dozen
12 Watkins Glen 1964
Clark vs Surtees vs Hill
An inherited victory begins our dozen, but in a race featuring the era's greatest names the fourth US GP at Watkins Glen is prominent for its wider significance as the penultimate chapter of a tightly fought championship: Lotus frailty undermines Jim Clark's title bid (yet again); Graham Hill, left, steps up to show his Glen mastery for the second of three consecutive victories; and John Surtees stars in a sacrilegious white-and-blue-striped Ferrari.
Despite a slow start, Clark is in command by lap 13, demoting Surtees running in North American Racing Team colours, Enzo having ripped up his Italian licence in a flounce over 250 LM homologation. Walt Hansgen, running in a works Lotus, is "soundly cursed and fists were shaken", writes Michael Tee in Motor Sport, which helps Hill's BRM slip past Surtees and take the lead. Clark had been two points off Hill heading to The Glen. He leaves nine points down, with Surtees between them.
---
11 Watkins Glen 1966
Clark's redemption – with heavyweight H16
A couple of years later, and for once it is Jim Clark's turn to accept a gift. That he does so in a Lotus 43 powered by the heavy and usually reliably unreliable BRM H16 makes this United States GP stand out – especially in a year of drought for the Scot that contrasts painfully with his domination of 1965.
The 'return to power' season, when F1 engine capacity doubles to 3 litres, has been canny Jack Brabham's year thanks to his Repco-propelled BT19 as Lotus kills time before dropping the Cosworth DFV from a great height the following year. Jack is already champion. But this time, after Lorenzo Bandini's Ferrari V12 makes the early running, Brabham takes charge only for a cam follower to break, while team-mate Denny Hulme's Repco loses its oil pressure.
"Clark was now firmly in the lead," writes our own Michael Tee, subbing once again for Jenks. "His H16 BRM sounded perfect, which just goes to show BRM look after customers better than themselves" – the works cars of Graham Hill and Jackie Stewart have played to type. "Sceptics who said the H16 would never win a race should have been at The Glen when Clark took the flag, for the engine note was as crisp as on the first lap." A first (and only) time for everything, then.
---
10 Phoenix 1990
Alesi gives Senna a shake
Remember when Pirelli tyres were an outlier gamble rather than the spec monopoly, and Jean Alesi was the next best thing since sliced baguette? The Phoenix street track is easier to forget, but on the first day of term at the start of a new decade it throws up an unexpected thriller. A mix of Saturday rain and grippy Pirelli qualifiers shake up the grid, as Alesi flies in the pretty Tyrrell 018.
It can't last, of course, as Ayrton Senna's McLaren looms and drafts past. But what's this? The Tyrrell slips back under at the next 90-left and Senna must do it all again, with help this time from a baulking Gregor Foitek. Still, Alesi yaps at Senna's heels, refusing to accept defeat. No wonder Frank Williams wants to sign him, and why Jean listens to his heart and chooses Ferrari instead. Phoenix is the moment a talent ignites. He'll never be better or more enticing.
---
9 Dallas 1984
Track melts, Mansell faints, Rosberg wins
Our man Alan Henry reckons Dallas will become a popular venue. Little does he know that he's watching a one-off curio, marked by 41°C heat, a melting circuit and a wall-banging slog to the finish. Hell, even Alain Prost and Niki Lauda clip the walls as the 2.42-mile track throws up a memorable GP.
Martin Brundle breaks both feet in practice, the warm-up is cancelled as the track breaks up and Nigel Mansell sticks his Lotus 95T on pole position, his first. He leads the opening half but eventually Keke Rosberg gets by as Mansell heads to the pits for fresh tyres. Prost takes over, until he makes a rare mistake – costly in hindsight given the eventual half-point title loss to Lauda – to leave Rosberg claiming a first Williams-Honda turbo win. But Mansell steals the show as his Lotus dies at the close. He gets out to push, but collapses in exhaustion. High drama? Eat your heart out, JR Ewing.
---
Indianapolis 2000
250,000 pitch up for Schumacher vs Häkkinen
Nine long years since Phoenix 1991. F1 has missed America, but perhaps only realises how much when close to a quarter of a million turn out for an occasion many die-hards never thought they'd see: a grand prix on the hallowed Brickyard. The hybrid circuit mixes the world's most famous left-hand-only speedway in the 'wrong' direction, with a fiddly infield section. It's a cross between Monza and the Hungaroring.
The historic first F1 race at Indy proves a good one, if not quite great. But the novelty and that crowd elevate the September fixture as something special. David Coulthard gets the drop on Michael Schumacher but his start proves too hot. Before his penalty is called he holds up the nettled German, who finally passes – but now has title rival Mika Häkkinen on his tail. In a season of Ferrari vs McLaren rivalry, the battle is building a head of steam – only for Mika's V10 to lose its puff on lap 26.
So Schumacher heads Rubens Barrichello for a Ferrari 1-2, as Michael heads the points for the first time since July. Two races to go, but Ferrari's title drought can end next time out at Suzuka. History awaits.
---
Detroit 1982
McLaren's Watson finds his mojo in Motown
"Wild and woolly street racing with bumps, surface changes, Tarmac, concrete, manhole covers, solid walls and a tunnel. What more do you want?" writes Denis Jenkinson about the new Detroit street circuit.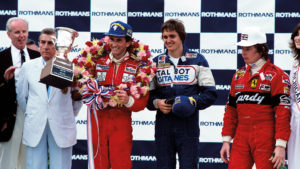 There's plenty that doesn't impress our man about the first Motown Grand Prix– a Renault 5 one-make race at the home of Ford and GM? – but like everyone he's full of praise for John Watson, right. The McLaren driver appears to find another gear following an early red-flag stoppage. 'Wattie' only started 17th, seven places down on team-mate Niki Lauda. But from 13th at the restart he slices past a long list of cars with a series of assertive passing moves. Alain Prost is out front for Renault, until fuel injector bothers cost him an easy victory – a familiar tale.
Still, who could begrudge Wattie on this form? He passes Lauda, Cheever and Pironi – on a single lap! – then chases down leader Rosberg, struggling with gearbox woes. The Finn still leads on time in this two-part race – but not for long. It's Watson's day of days, and nothing will ever top it. Will it?
---

COTA 2012
Hamilton lassoes Vettel in first Austin thriller
Another fresh start for F1 in the US, and how sweet it tastes. The circus relishes cultured Austin, gives a thumbs up to the Circuit of the Americas, then puts on a tense nail-biter for what is the penultimate round of an intriguing Sebastian Vettel vs Fernando Alonso title duel.
Alonso's Ferrari is out of sorts, qualifying only ninth. But Felipe Massa is sacrificed, the team deliberately breaking a gearbox seal to earn him a five-second penalty to help lift the Spaniard to seventh.
But in the race it's an inspired Lewis Hamilton, above, who does his old team-mate a bigger favour. The McLaren bats off Mark Webber's Red Bull in the early exchanges, then tracks Vettel all race. Riveting, but it's stalemate – until Hamilton spots his one and only chance. Narain Karthikeyan's HRT resists Vettel through the esses and Hamilton pounces as Seb bleats on the radio. It's Red Bull's constructors' title, but with Alonso third the drivers' crown is still up for grabs with Interlagos to come. F1's decorated trio wear Pirelli cowboy hats on the podium as Texas takes F1 to its lone-star heart.
---
Sebring 1959
Brabham shoves Cooper to history
That's the best cup of Coca-Cola he'll ever taste. Slumped exhausted on the Sebring concrete, dazed Jack Brabham is the new world champion – but after pushing his Cooper across the line in the Florida humidity the celebrations can wait. A three-way title shoot-out is just the way to begin America's F1 history, even if the race loses its fizz early on. Tony Brooks is shunted by his own team-mate, Wolfgang von Trips, at the start and his long-shot title hopes evaporate in the heat (even if he plugs away to finish third). And Stirling Moss roars into a lead, but lasts all of five laps before the Colotti gearbox on his Rob Walker Cooper lets him down (again).
Brabham looks assured of victory to go with his landmark title, the first for a car pushed by its engine rather than pulled… but that becomes too literal for his liking. On the last lap Jack's Cooper gasps and runs dry. Team-mate Bruce McLaren, just 22, is open-mouthed as he surges alongside, but Brabham waves him on to become the youngest F1 winner yet. The push is slightly uphill, but they breed them tough Down Under. As marshals are waved away to avoid disqualification, Brabham shoves it home. What an opening scene to the American F1 dream.
---
Las Vegas 1981
Reutemann goes missing, Piquet's title by a point
Where'd he go? As Nelson Piquet is lifted from his Brabham, head lolling in exhaustion, he's the new world champion – by a single point. But how?
Mean, moody, magnificent Carlos Reutemann had stuck his Williams on pole and in the race only has to keep clear of Piquet on the second row. Instead he just disappears, backwards, finishing out of the points in eighth. The Argentine grumbles about gearbox gremlins, but the team is nonplussed. The strangest denouement in F1 history? It's a story that at least makes up for the finale taking place in a car park of the Caesars Palace hotel and casino – is that the best they can do? – as outgoing champ Alan Jones signs off from Williams with a win.
F1 will be back in Vegas the next year for one more throw of the dice. Fast-forward to today and there's talk of a return to Nevada soon – although presumably on a circuit slightly more fit for purpose.
---
Long Beach 1977
Scheckter's tough luck as Andretti pips Lauda
"This was motor racing with no let-up," says Alan Henry in Motor Sport. "Scheckter was driving extremely confidently, hurling his Wolf round with a dash of opposite lock that let his two immediate pursuers know full well that he wasn't to be trifled with on this particular day."
Jody's switch from Tyrrell for an unknown entity has more than paid off by this, the fourth round of 1977. A first-time-out winner in Argentina, second at Kyalami – and now surely victor of the US GP West, as Mario Andretti and Niki Lauda prod away at his lead in vain. But then disaster: Scheckter's Wolf is going lame. He presses on, in hope the slow puncture will hold. It won't. On lap 77 the crowd shrieks in joy as Andretti slips ahead on the back straight.
It's not over yet as Lauda presses the Lotus for victory, but Mario's not about to let this one go. They cross the line separated by less than a second, Scheckter nursing the Wolf to third. The second Long Beach F1 GP seals the deal: it's a sun-baked highlight of the F1 schedule.
---
COTA 2021
Verstappen turns the tables on Hamilton
COTA usually produces a peach of a grand prix: Lewis Hamilton's late defeat of Nico Rosberg in 2015; Kimi Räikkönen recalling briefly how to win grands prix, for the last time, in 2018. But the best is the last (to date. How pleasing that F1 has recommitted to Austin until at least 2026).
Missing a year because of the pandemic combined with a duel for the ages triggers a swell of F1 mania as 400,000 make the pilgrimage in October 2021. In a season of finely poised races between Hamilton and Max Verstappen, this stands among the best. First, Verstappen pulls out a remarkable pole position after struggles on Friday. Then Hamilton's Mercedes gets the better of the Red Bull at the start. But that's just the trigger for a strategic ploy that puts the onus on Verstappen to step up, and he proves equal to the task. He's stopping earlier than Lewis, which undercuts him back into the lead, but potentially leaves him vulnerable to attack in the later stages, given Hamilton's tyre-life advantage.
The champ is a proven master of Pirelli conservation, but Verstappen understands that chemistry. Hamilton looms, yet the leader never gives him a sniff in a tense end. Max could have left Austin a point in arrears to his rival, but this victory gives him a 12-point advantage. There are five races to go and so much more to play out.
---
Long Beach 1983
Wattie's day of days, from P22
You can't pass on street circuits. Oh yeah? Someone needs to tell John Watson. Eight months after climbing from P17 to P1 in Detroit, Wattie does it again – but this time from P22, still today an F1 record.
Michelin's tyres are to blame for the qualifying misfire, but the right compound on a full fuel load for race day triggers F1's greatest rise through the pack. Sure, some places are inherited: Keke Rosberg does Wattie a favour by punting out leader Patrick Tambay, and Jean-Pierre Jarier is similarly obliging by in turn knocking out Rosberg. But mostly, F1's pass master goes to work and shows the rest how it's done – including his team-mate Niki Lauda. The last of his five grand prix victories, it remains one of the most remarkable comeback performances anywhere, and certainly on US soil. John loved racing at Long Beach and in America in general, as he tells us. Over to you, Wattie.
"Winning from 22nd? It's a record that's unlikely to be broken, and the only way right now is if Andretti Global comes in as the 11th team. But even then all they could do is equal it, not break it. It's likely to be a record that stands beyond my lifetime. The reason Niki and I started in 23rd and 22nd was we weren't able to get the Michelin tyre to work in a qualifying situation. But when we ran with a full fuel load the car was transformed.
"To get past Niki, I knew my only chance was on Shoreline Drive"
"We went forward in tandem, with Niki ahead of me. I made up my mind that if I let a car get between him and me I would lose that ability to beat him, which is what I was hell-bent on doing. Every time he passed someone I slipped up along and under too. To get past Niki, I knew my only chance was on Shoreline Drive, so I went down the inside, the left-front brake grabbed briefly and that moved the car towards him – he wasn't impressed. Once I had the corner there was no looking back.
"First of all I have to give credit to the team and the car. But I like to think I was a good race driver, as someone who could overtake. It's a frame of mind as much as ability, about being clear and positive in your actions when you are coming up behind another car. In his commentary James Hunt said I was the best overtaker of the day.
"The Rosberg-Tambay thing certainly was an 'assist'. To take the lead I got past Jacques Laffite with one of those moves: I'm behind you, I'm coming through and then I'm moving on. Jacques tried to squeeze me but he knew if he did we'd collide. To some degree there's an element of co-operation, but that's enhanced by reputation.
"The backstory was the great physical shape I was in at that time. For 1983, Ron Dennis decided that Willi Dungl, Niki's personal trainer, should become a part of the team. McLaren, Niki and I all contributed to Willi's fee. We started a programme at the first grand prix of the year in Brazil, simple stuff compared to what they do now. But it was an eye-opener for me. Willi had been a part of Niki's preparation for years and through the recovery from his crash in 1976. For me it was like discovering religion, and those people who do usually become fanatics. I was a little like that. I became a disciple.
"When the race finished everyone at Marlboro and McLaren were speechless. They didn't have a word to say to Niki and I, because they didn't know what to say. A 'well done' might have dribbled out. But Willi said, 'John, I knew you would win this race today.' He saw the disciple in me. Actually I was probably a better disciple than Niki who did the fitness stuff because he knew he needed to, but I don't think he enjoyed it. He liked a cigarette, a glass of scotch, an espresso coffee, all the things Willi said no to. But that was Niki, he did what he wanted. In contrast, I was, 'Where do I sign?' I found the whole thing an amazing experience.
"That was the last Long Beach F1 GP: in my opinion the biggest loss from the calendar. I would never criticise anything Bernie Ecclestone did to build up F1, but that race should never have been lost. [Promoter] Chris Pook had another option in IndyCar, Bernie didn't and here were two obstinate negotiators. IndyCar was a lot cheaper as a domestic race series and America obviously understood it, but it didn't have the appeal or glamour of F1. I loved going to LA and Long Beach. There was something about the place, that California atmosphere. It was just magic.
"I raced on a number of American tracks and not just in F1. The US is blessed with some of the great race tracks in the world. But my favourite is Watkins Glen, which to me was the perfect layout for an F1 track, in that time. It was the location, the time of year – it was motor racing's Woodstock. The Bog was just nuts. You had hippies in their VW vans, and what some of the team personnel got up to, you wouldn't believe the naughtiness. Seneca Lodge? I've never seen so many drunk people. There was as much beer on the floor as there was in people's glasses. It was F1, Woodstock, rock'n'roll…
"It dropped off the calendar because race tracks in North America were largely run by sole traders and their business was to make money for themselves, not for Bernie. He'd come along and say here's the package, take it or leave it – and they'd leave it. There was not enough in it for them. That's been the shortcoming of grands prix in North America.
Hopefully things are changing, certainly with Miami coming along. Austin is the perfect venue for a grand prix, and it's a good track. Let's see if Miami is, but it'll certainly have appeal with its Hispanic population, and it'll draw in people who want to see a grand prix on the east coast. I have no problem with America having two grands prix because the continent is sufficiently large enough to encompass it. I just wish they could go back to The Glen. Regrettably, it wouldn't be appropriate with the current safety requirements. I dread to think how quick an F1 car would be around that circuit now."