1972 United States Grand Prix race report
Stewart Collects the Dollars
Watkins Glen, U.S.A., October 8th.
Jackie Stewart completed the 1972 World Championship with one of the most convincing wins of his career. Driving the Derek Gardner-designed Tyrrell he was in a class of his own and led from start to finish in a tremendous demonstration of speed and skill. Just as in Canada two weeks earlier, no one could stay with him, but this time he led from the drop of the starting flag and was never headed. The trials and tribulations of the Mk. 2 Tyrrell are obviously over for Francois Cevert made it a great day for Team Tyrrell by finishing a convincing second in 006, and the team's "trainee" driver, Frenchman Patrick Depailler, toiled well for seventh place. The result did not go unrewarded. In total Ken Tyrrell picked up just a fraction under $100,000, which must constitute some kind of record for road racing.
In terms of numbers of cars the United States Grand Prix is always the biggest and the best in the World Championship. Since the organisers extended the track and completely modernised the pits and facilities last year they have had a track to live up to the big fields and big money—this year the prize fund available was at a record of $275,000. How is this done ? For a start, the event is superbly promoted and attracts a far larger crowd than almost any European GP apart, perhaps, from the Nurburgring. Secondly the American race spectator will pay more to watch his motor racing and will probably stay longer, camping at the circuit so that he can take in practice as well.
The Watkins Glen Corporation is a non-profit-making organisation so that, as well as giving money to local charities, they can also plough the profits back into the track. Motor racing could undoubtedly do with more such philanthropists. This year race director Malcolm Currie had hoped for 35 cars, although he only had 31 cars at the final count. Twenty-three of these were seeded entries and automatically received $6,000 starting fee, there were two additional amounts of $6,000 for the fastest two qualifiers excluding the nominated 23. The remaining runners had to race for the generous prize money. Most of the cars came direct from Mosport Park, the journey taking only a short time for, although there is a national border between Watkins Glen and Mosport Park, the distance is relatively short and everyone had plenty of time to bring their cars back up to scratch.
Qualifying
Practice for the race was scheduled in three sessions, one long four-hour stint on Friday plus sessions of 1½ and 2½ hours the following day. American weathermen seem to be far more accurate in the USA, the reasons for which meteorological friends would no doubt be able to explain, and they were predicting rain for Saturday. They were correct too, and both sessions were drastically affected, not only by a slippery surface in the morning session but by a thick mist which gradually blew away in the freezing winds. Many a member of the Grand Prix circus was heard to remark that they were glad they were sleeping in local motels and not camping out with the 25,000 enthusiasts. Thus Saturday's two sessions had no bearing on the grid at all, save for the fact that Schenken qualified the new Surtees on the back of the grid.
Perhaps in anticipation of the predicted bad weather, the teams mainly seemed to get down to business very soon. One exception was John Player Team Lotus, for Emerson Fittipaldi wasn't sure whether to race 72/7 or the older 72/5. Meanwhile Dave Walker had to wait around for the Brazilian to make up his mind. Once a decision was made and Walker was about to go out and attempt to find some of that confidence that brought him so much success in Formula Three in 1971 when Fittipaldi came in with a rear upright which was starting to fracture. So Walker again had to give the car up to Fittipaldi, and finally fitted eight laps in when 72/5 was repaired at the end of the session.
One fact was obvious front the first quarter of an hour and that was the superiority of Goodyear tyres over Firestone. That very morning the engineers from Firestone had been told that the decision to close down the European Racing operation had been reversed and so they tackled their tasks with renewed enthusiasm, if not bewilderment at company decisions. But in the interim period they had certainly lost out to their rivals and the Goodyear-equipped cars all had an appreciable margin.
By the end of the first hour this was plain to see, with the Nos. 1 and 2 drivers from both Team Tyrrell and McLaren Racing setting the pace and, for that matter, the No. 3s were not very far behind either, particularly Jody Scheckter who was handling the spare McLaren like a veteran.
When the four hours were over there were seven Goodyear runners in the first eight. Stewart had been fastest throughout the session except when he stopped for the mechanics to fit a different set of gear ratios. All timing at Watkins Glen is to one-thousandth of a second, which seems unduly complicated, and Stewart's best was given as 1 min. 40.481 sec., well under his last year's pole position time here of 1 min. 42.642 sec. But it was slower than the fastest Can-Am time of 1 min. 39.187 sec. set in practice in July by Peter Revson. Readers may remember that the nearby Corning University was consulted when the track was extended, and when various factors were fed into its computer it told us that a bogey lap times for Watkins Glen, assuming the driver was perfect and driving the machine on the limit everywhere, was 100 seconds. So Stewart was approaching "the perfect" although it should be remembered that since then the grip of the tyres has increased (the computer was given 1.6 G sideways force.) and perhaps the latest Tyrrell's aerodynamics and engine are improved over last year although not a great deal.
Following his pole position at Canada, Peter Revson again made the front row, this time being just fractionally off Stewart's best with a 1 min. 40.527 sec. Interestingly this would have made him equal fastest on Brands Hatch-type watches but, as it happens, Stewart had recorded the time first so his pole position was fully justified. The McLaren team was looking strong once again, for Denny Hulme was third fastest just under half a second slower than his team-mate but, in turn, a similar amount in front of Tyrrell No. 2 Francois Cevert who loves his new 006. Right up near the front was Carlos Reutemann with his Brabham BT37 although once again the talented Argentinian was new to the circuit. He was fifth latest and shared row two of the grid with Cevert.
Fastest of the Firestone runners was Clay Regazzoni although all three drivers were fairly close. Regazzoni lapped in 1 min. 41.951 sec. to share the third row with Chris Amon's temperamental Matra, which seemed to be working well, and South African Jody Scheckter. This was a remarkable performance for Scheckter's only previous experience in a Formula One car was one afternoon at Silverstone and some laps earlier in the week at Watkins Glen. He was taking the whole thing very much in his stride and it seems hard to believe that it is just two years ago since he had his first ever Formula Ford race.
So Scheckter found his mirrors on the starting grid full of World Champion Emerson Fittipaldi, whose Lotus was on Firestone's of course and was almost two seconds slower than pole position. He shared the fourth row with Mario Andretti's Ferrari, the American "superstar" going well but overshadowed by fellow countryman Revson.
Not only did McLaren have their trainee No. 3 well placed but so did Team Tyrrell, for Patrick Depailler, having his second ever drive in Formula One (the first was at the French GP), was eleventh fastest overall in the older Tyrrell. He shared the fifth row of the grid with Jacky Ickx's Ferrari which had a few minor problems and yet another No. 3 driver coming to the fore. Emerson's older brother Wilson Fittipaldi, who seems to be getting the hang of Formula One very nicely now. The two special $6,000 awards of course went to Scheckter and Depailler.
All this must have been very depressing for some of the other experienced Grand Prix drivers taking part, particularly those on Firestone tyres. On row six was Mike Hailwood's Surtees TS9B and Carlos Pace with the Williams March 711. Hailwood briefly tried the new TS14 but didn't seem to fit very well so decided to carry on with his own car while Surtees persevered with sorting out the new car. Through all this, Schenken sat on the pit wall and watched, because his regular TS9B had mysteriously been handed over to the American Sam Posey (runner-up in the US Formula 5000 series with a Surtees), leaving Schenken miserable and unemployed.
While Surtees fortunes have been higher, BRM's have rarely been lower. Last year at Watkins Glen the team entered five cars and finished all five. Of course, Howden Ganley, in particular, was competitive enough to pick up World Championship points. This was one of the reasons cited for the massive Marlboro team this year, and we seem to remember their joint Managing Director saying at the announcement press conference that he "saw no reason why we shouldn't run eight or nine cars in America". Well, in fact, there were only four and Ganley in a P160 (despite a wheel breakage which threw him into a fence) and Beltoise with a P180 shared row seven with Reine Wisell's Lotus, which was interesting as WiseII has been driving a BRM until recently. Apparently the BRM engines are simply not as powerful now as they were twelve months ago and the drivers have been told to use less revs. in an attempt to keep the V12s its one piece. Of the drivers, Gethin was particularly peeved as his car was on 11 cylinders in the Canadian GP and was still doing the same for most of practice. On one occasion he came into the pits and revved it loudly in front of Tim Parnell in an attempt to get the message home. Redman, who was driving for the team for the first time, commented the engine "wouldn't pull the skin off a rice pudding". There is a lot of work to be done at Bourne over the winter.
On row eight were de Adamich with his Italian-sponsored Surtees and Skip Barber's private March, this being a good effort by the American. Then came Beuttler, happier than ever before with his March, Pescarolo and Posey followed by the remainder of the grid. Peterson's lowly position was explained by the fact that his first engine blew within minutes of the start of practice and the second one, which was fitted in time for the end of the session, did likewise. This left March low on engines so a deal was done with Tyrrell to borrow the engine that had come out of Stewart's Canadian GP winning car.
As explained earlier, the Saturday's sessions did not help towards the grid. The morning period was effectively reduced to little more than half an hour and only 14 hardy souls ventured out. Peterson naturally wanted to make sure his third engine actually worked for more than ten minutes and proved this conclusively with fastest time of the session at 2 min. 05.288 sec., including a desperate display of opposite-lock motoring out on the course. lckx was not far behind, while the only other two to better 2 min. 10 sec. were the Brabhams of Reutemann and Hill, the latter unable to explain his poor time from the previous day with any tangible reason.
The fog cleared away for the afternoon session and the damp track started to dry out towards the end, making it as much as ten seconds faster. Fastest overall in the session was Carlos Pace's in Williams' older March, while Emerson Fittipaldi and Regazzoni were only slightly slower. Redman was remarkably well up the list compared with the previous day and Revson looked good again.
Towards the end of the session a few competitors started to try slicks instead of the grooved rain tyres. This was the undoing of Peterson who, after a pit stop to have a new rear slick fitted, promptly forgot about it and lost control at a slight kink and finished up with the March looking very sorry against the Armco. The left-hand side radiators had been wrapped neatly against the side of the monocoque, denting it, and the rear radius rod pick-up points, quite badly. The rear suspension was also knocked about and, on first appearance, one would have said the car was not immediately repairable. But Peterson's mechanics set about the task and, not only did they give the Swede a runner, but a car that was to enable him to give a superb display.
Starting with a slow trickle early in the week the crowd had been building up and by the end of practice it was estimated that there were more than 25,000 resident at the circuit, it looked like the scene of a pop festival. Many were in the comfort of mobile homes and caravans but the majority were in tents ranging from tiny ones, with hardly enough room for a sleeping bag, to those of near marquee proportions. Everyone seemed to be enjoying themselves without causing very much trouble but we would wager some had such sore heads after Saturday night that watching the race was agony! Schenken finally got a go in the TS14 and, although he wasn't within the 110% regulation, was allowed to start.
Race
By Sunday morning the nasty weather had blown away and there was a beautiful crisp autumn morning. The Watkins Glen circuit is set in beautiful wooded country in the Finger Lake region and everything looked ready for a fitting finale to what has been, in the main, an excellent year of Grand Prix racing. So heavy was the traffic that the drivers and team managers, etc., came in twos and three by helicopter from the hotel where they were staying.
Sad to relate, but by midday it was cold and overclouded once again, with a hint of rain in the leaden sky. A longer warns-up session was arranged so the time-table was put back 50 min., causing some National newsmen to panic. Everyone was able to practise for half an hour or so just an hour before the off. There were no supporting events although, prior to the practice, there had been some dancing (or were they prancing ?) girls, and the drivers had been paraded in Chevrolet Corvettes of various ages. Some sat on the back waving to the crowd, others huddled inside not wanting to get cold and remaining almost as anonymous as they are its their all-enveloping helmets. Bad marks those men.
That final warm-up session all but put paid to the chances of Amon's Matra and Bell's Tecno, which didn't have much chance anyway. The Matra went on to 11 cylinders, which was thought to be caused by a worn or damaged cam lobe, and there was no time to change the engine. Amon, who must be used to such disappointments by now, elected to start on the back of the grid alongside Sehenken. Bell's Tecno blew a head gasket and became little more than a starting-money special. It must be a new experience for Team Manager David Yorke, connected with so many successful combinations, to run a back-marker entry. But the hope is that Tecno will have learned from this year and will come back bigger and stronger in 1973.
Peterson's March appeared to be handling satisfactorily following its bump but there were still worried faces in the STP pit as the engine was playing up and not running smoothly, but this was fixed. At the end of the warming-up lap the cars assembled on the grid and first Ken Tyrrell, and then a mechanic, brushed the path in front of Stewart's car. This shows the absolute thoroughness of the team and, as the getaway path was off the usual line, it was very dusty because earlier in the morning, the crowd had been allowed to swarm over the track. There was a gap on the grid between Scheckter and Regazzoni where Amon should have been and he was alongside Schenken at the back.
When the flag fell Stewart made what he later described as one of his best ever starts and streaked into the lead. Behind there were all sorts of antics, partcularly at the first corner when a Ferrari came charging through under late braking and clashed with Reutemann, while Revson also got involved. By the time the field had completed a lap, the order was considerably different to that of the grid. Stewart was in the lead and had three clear seconds on Denny Hulme—and that was the nearest the rest ever got to him. Fittipaldi had also made a good getaway and was in third place, followed by "rookie" Scheckter, then the three Ferraris in convoy with lckx leading Regazzoni and Andretti. Reutemann was eighth with his nose cone looking crumpled. Cevert, Wilson Fittipaldi, Ganley. Hailwood, Pace, Beltoise, Barber, Revson (rushing down the pit road to have a nose wing straightened) followed in a blur of colour. Then came Peterson (already up to 17th place and obviously about to make up more), Pescarolo, Depailler, Wisell, de Adamich, Beuttler, Gethin, Lauda, Schenken, Posey, Redman, Walker and Hill completed the healthy runners, then there were Bell and Amon. Revson was out of the pits again before Stewart appeared for the second time but now with an incredible 5-sec. lead, while Scheckter had simply had the audacity to pass Fittipaldi. At the end of lap 2 Reutemann had stopped at the pits for a new nose cone and resumed a lap down, but after that the handling was never too good and he was just starting to pick off the back-markers when his engine blew up after just over 30 laps.
Fittipaldi continued in fourth place but had dropped back from Scheckter and almost into the clutches of the Ferrari trio. They soon had Cevert mixing it with them, the Frenchman soon finding out why his throttle was sticking and how to stop it. A piece of upholstery padding from the side of his monocoque had come un-press studded, slipped down into the cockpit and was tangling with the pedals. Many drivers would have stopped but the Frenchman is a charger and he was having to hook the throttle back. It all sounded rather dangerous but he had the hang of it and, by lap five, he was fifth and looked as if he would soon he challenging Scheckter. Meanwhile Fittipaldi had passed the pits at the start of the fifth lap at reduced pace and had to complete the lap slowly as a right rear tyre was going flat and chunking badly—a soft experimental compound had been chosen. The wheel was changed and he continued in last place completing nine more laps before he came in again with the same problem but this time it looked as if a wheel was damaged as well. He went out again but made a third and final pit stop three laps later. There was obviously something amiss with the rear suspension and the car was retired. Fittipaldi was the second retirement, Bell had already stopped, the Tecno boiling away all its water as expected. Lauda had made a couple of stops to have attention paid to the metering unit and was never in the running again and then Schenken brought the new Surtees in when a wishbone locating lug in the rear suspension broke.
That was on lap 23, and by then Stewart had increased his lead to a huge 21 secs, opening out almost a second a lap on Hulme who now had Cevert starting to close on him ominously. Scheckter had settled down to fourth place and was some 25 secs ahead of Ickx. Meanwhile Peterson was on top form and his charge through the field was one of the most exciting aspects of the race. He had just disposed of Andretti, whose Ferrari's handling had deteriorated, his decision of different compounds for each side proving the wrong one, and was now after Ickx. Regazzoni's Ferrari had lost considerable power as its exhaust system had started to fall apart and he was now in 11th position behind Wilson Fittipaldi and Hailwood who were having quite a battle. A superb effort by Revson had already moved up to thirteenth place and he was challenging Pace whose March was handling badly. The rest, including all the BRMs, were out of it, Ganley showing up better than the rest but then de Adamich tripped over him. The Surtees was out and the BRM made a pit stop for a flat tyre. He later stopped with engine problems, probably a slipped liner, and to complete the BRM sadness Beltoise had his throttle return springs break and then his distributor followed suit, Redman, who never looked the same man as he did when he drove the occasional McLaren earlier in the season, had his BRM throw a rod and Gethin's engine also did something fairly drastic inside.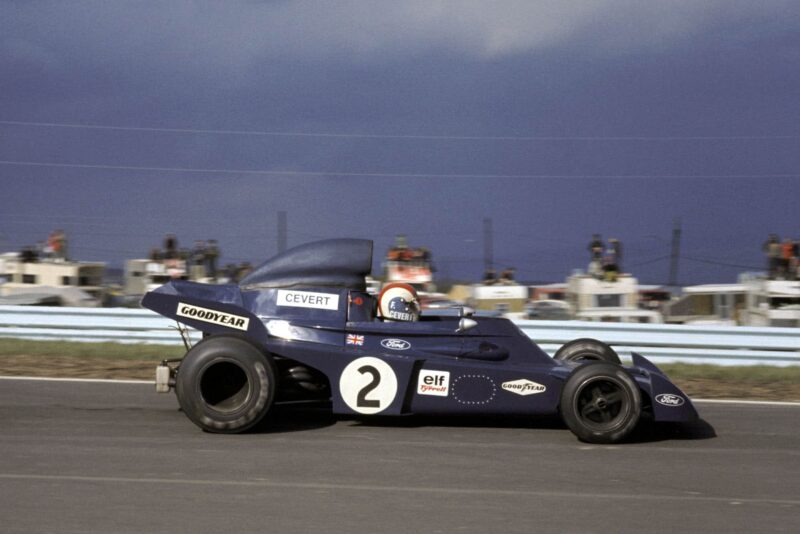 Just on half distance Cevert managed to find a way round Hulme's McLaren so the order was now Tyrrell, Tyrrell, McLaren, McLaren with Peterson now fifth but with Ickx hanging on well and certainly not letting the Swede get away. A few laps later there was the odd spot of rain and then, on lap 40, a sudden two minute shower just on turn 1, a tight 90 degree right, which made it very slippery. Scheckter, who had just worked his way through the happy little group dicing for sixteenth place led by Beuttler, was the first to arrive and spun round and up onto the earth bank and was promptly followed by Beuttler and Hill who actually touched the McLaren which didn't want to fire up again. If the truth be known he was push started by the marshals and resumed having lost the best part of two laps in fifteenth place just behind Posey. A couple of laps later Wilson Fittipaldi retired when his engine blew up. He was lying sixth and still doing a great job of holding off Hailwood. Meanwhile lckx had re-passed Peterson and Andretti's tyre problems seemed to be helped by the shower of rain and he started to lap much quicker.
All this time Stewart had just been opening out his lead and worked it up to 40 secs at one stage but, with Cevert his nearest rival, he was able to relax. Dave Walker retired from an uninspiring drive at the back of the field when his engine, which had been blowing out oil for a while, stopped altogether and Pace retired when his throttle linkage fell part and there were no spares to fix it.
Thus it was left to Stewart to complete the remaining laps although he didn't slow down too much as the sooner he got his hands on all those dollars the better. Cevert followed just over half a minute behind while Hulme was third for the third Grand Prix running. The fourth place battle wasn't decided until a couple of laps from the end. lckx's Ferrari started to throw off an exhaust which dragged on the ground showering sparks for a lap. Probably more out of gamesmanship rather than anything else, Peterson pointed at this when he was almost alongside lckx and finally beat the Ferrari to the line by a scant 0.4 sec.
Sixth man Andretti had been lapped, although he actually carried on to complete all 59. Tragically Revson, who had passed Andretti with nine laps to go and then a lap later took Hailwood, did not make the finish. Five laps from the end an ignition wire broke off behind the dashboard and the car would only run when the starter motor button was depressed. Hailwood didn't finish either. Three laps from the end he got involved with a spin Mike Beuttler was having and in which Lauda also participated. Both the Marches continued but Hailwood made for the pits with his rear suspension links snapped. Hailwood was all set for sixth place at the time and wasn't very happy about it.
Patrick Depailler finished an excellent seventh, steadily working his way up the field after a slow start which had left him 19th at the end of lap 1. During the slowing down lap all three Tyrrells closed up and came to the pits to receive the accolades in formation. A nice touch. Regazzoni's almost exhaust systemIess Ferrari was a sick sounding eight ahead of Scheckter. Reine Wisell's Lotus finished tenth, two laps down, losing fourth gear towards the end while Graham Hill led home Posey, Beuttler, Pescarolo, Amon (whose Matra ran roughly throughout but finished) and Barber who had hung onto de Adamich early on until his brakes Start to fade away. Hailwood and Revson were classified 17th and 18th and Lauda was the remaining finisher with 49 laps to his credit.