1974 Canadian Grand Prix race report
Fittipaldi a worthy first
Mosport Park, Toronto
In the two weeks between the final European Grand Prix at Monza and the penultimate round of the World Championship series, at Toronto's scenic Mosport Park circuit, an international Court of Appeal set up by the Federation International de l'Automobile in Paris took an unprecedented and highly controversial decision. They reversed the decision of the Royal Automobile Club who had rejected Ferrari's appeal that Niki Lauda should be reinstated into fifth place in the British Grand Prix, the position he certainly lost when the RAC's "organisation" failed to allow him back on the circuit after his tyre change late in the race at Brands Hatch. The FIA consequently re-wrote the order from fifth to tenth places, pushing Carlos Reutemann back to sixth place, depriving the hitherto sixth place Hulme of his single point and giving Lauda two extra points to add to his total. The rights and wrongs of such a decision do not concern this report, but one hopes this unsavoury episode is now closed for good as it raises serious questions about the validity of any World Championship scoring system and throws the history books into chaos.
However, most of the talk in Mosport Park's paddock did not concern the Ferrari appeal, for two brand new American Formula One teams had arrived on the scene for their very first race. Perhaps one should emphasise that the teams were only "new" to Formula One, for both contained plenty of proven ingredients from other racing categories and both turned out their new cars in such an immaculate condition that they rather out-shone some of the "old hands". Technically the most interesting was the Maurice Phillippe designed Parnelli VPJ4 which marks this designer's return to the Grand Prix scene after three fruitful years spent designing USAC machines for former Indianapolis winner Parnelli Jones. Sponsored by Viceroy cigarettes, the USAC Parnellis have enjoyed a great deal of success in the hands of Mario Andretti, Joe Leonard and Al Unser, but now the team decided on an audacious move into Formula One with a Cosworth-powered "British standard kit car". Mario Andretti was the driver, this being his first race in Formula One since 1972.
Phillippe's latest design, unsurprisingly, bears a striking resemblance to the Lotus 72, using as it does the same design of torsion bar suspension, inboard disc brakes front and rear and side water radiators angled in the same way as the later Lotus 76. There are additional refinements such as aircraft-type snap-on joints with one-way valves for the clutch and brake fluid lines which by-passes the need to bleed these systems every time an engine is removed from the chassis and the whole car attracted attention from just about every other designer in the paddock. Even Colin Chapman took a long look at the Parnelli, doubtless wondering if it was what his team should have been designing earlier in the year.
The second new Formula One car was Roger Penske's PC1 which, although equally smart in its turn-out, featured a more conservative approach with coil sprung suspension and outboard disc brakes at the front although it does employ side radiators, now apparently standard wear for most Grand Prix machines. The basic design work was the responsibility of Geoff Ferris, formerly a Brabham designer, and the car had been tested exhaustively on Penske's special test track before it ever lapped a proper racing circuit. Initial testing was carried out by former Can-Am Champion Mark Donohue who announced his retirement from racing at the end of 1973, but he decided to return to active participation after Penske's Formula One car was finished and was on hand to drive it in its very first race.
Facing these two new challengers and their optimistic teams was the usual band of confident, hopeful and apprehensive regulars, some of whom had won races this year, some of whom had come close and some of whom were no nearer winning than they were back at Buenos Aires in January. Team Lotus' success at the Italian Grand Prix had convinced them that a couple of "narrow track" 72s were the answer for North America, so JPS/9 was brought along as a spare car alongside 72/8 for Peterson and 72/5 for Ickx. Neither driver had a chance of the World Championship, but Peterson at least was determined to try his very hardest to win at Mosport as he does everywhere he steps into a racing car.
In a stronger position was the McLaren team, for not only did they lead the Constructors' Championship prior to the race, but Emerson Fittipaldi was well in with a chance in the drivers' contest. The Brazilian drove his usual M23/8 with Hulme in M23/6 and German driver Jochen Mass replacing David Hobbs in the Yardley McLaren following a split with Team Surtees. A statement was issued laying down the terms of his departure from Surtees which quite clearly indicated that their split was not in any way amicable.<.p>
Numerically, Brabhams were strongest contenders in the Canadian Grand Prix. Not only did they have the works BT44/1 for Reutemann and BT44/2 for Pace, but the Goldie-Hexagon BT44/4 had been completely rebuilt after its Monza accident for Watson to drive and the ex-works BT42/3 had been loaned to local Formula B driver Eppie Wietzes to drive in his second Grand Prix He drove at Mosport Park seven years ago in a spare works Lotus 49. Finally, Ian Ashley's consortium of sponsors got hold of the ex-Watson Brabham BT42/2 to replace the Token which he had driven last at Osterreichring.
The two works March 741s were on hand as usual for Stuck and Brambilla, while Ferrari brought along a trio of 312B3s for Lauda (015) and Regazzoni (016) while relying on 014 as the "muletta". In the Tyrrell team things were changed round with Scheckter using 007/3 and Depailler being entrusted with a brand new 007/4, the two Elf backed men having Scheckter's Grand Prix winning 007/1 as spare. At Team Surtees, Derek Bell stayed on to drive TS16/0402 but Austrian Formula Ford and saloon car driver Helmuth Koinigg had been recruited to drive the second car in place of Mass. The Embassy Lola team for Stommelen and Hill was unchanged as was the UOP Shadow organisation while Merzario and Laffite continued to drive for Frank Williams.
BRM's recent spell in the doldrums resulted in the suspension of Pescarolo and Migault from driving and the inclusion of Chris Amon in the team alongside Jean-Pierre Beltoise. Amon was given the newest car, B201/04 to drive, while Beltoise handled 03 and there was no sight of anything new in the engine department from Bourne. Rounding off the entry was Hesketh's Dijon-damaged 308/2 now rebuilt with side water radiators, flattened nose and full width front wing for James Hunt, these modifications having been incorporated simply for evaluation purposes to see if they were an improvement on the original arrangement and to provide pointers for the team's 1975 chassis. Lastly Mike Wilds was on hand to drive Morris Nunn's Ensign MN02.
Mosport Park's bumpy 2.4-mile lap had been partially resurfaced since the 1973 race in response to appeals from the drivers, but the circuit is still pretty demanding and there are several vantage points at which one could watch Formula One drivers really working hard for their money as their cars danced about over the ripples on the surface.
Qualifying
When practice opened on Friday morning, the first quick times were recorded by the works Brabhams, emphasising their performance over bumpy circuits. Pace headed the charts by the end of the first hour and a half, lapping his BT44 confidently in 1 min. 14.1 sec. with Reutemann right on his tail one tenth of a second slower. Regazzoni gathered it all together to equal Reutemann's time, but the Swiss looked as though his Ferrari was on the brink of disaster most of the way round the circuit as he strove to do so. Lauda, Scheckter and Hunt were all lapping in the 1 min. 14 sec. bracket, but anyone who didn't get into that area on the first day wasn't really in with a chance.
While the Ferraris scrapped with the fastest Cosworth powered competitors at the front of the field, there were plenty of other teams in trouble. Peterson was trying as hard as he knew in his Lotus 72, but could only manage 1 min. 15.3 sec. which was equalled by Beltoise, so clearly there was room for improvement there, but Jacky Ickx was having a thoroughly miserable time. First he ran his Lotus 72 gently off the circuit, inflicting damage to its suspension and steering and then he had to sit and wait for his mechanics to repair a brake which had seized on in the Lotus 76, leaving him only a few minutes at the end of the session to get in any serious laps. The Shadow mechanics were pondering over a seriously damaged engine in Jarier's car and Amon was busy telling everyone that there was, in fact, very much wrong with the BRM and it was virtually undrivable.
However, Andretti in the new Parnelli looked distinctly promising. Despite his new car showing a marked reluctance to warm up its tyres properly in the cool conditions the former Ferrari driver lapped in 1 min. 15.6 sec. during the first session and opined that there was still plenty more left to come. By the end of Saturday's session, Andretti was down to 1 min. 14.9 sec. although Donohue, who had only been one tenth of a second slower than Andretti on Friday, encountered problems on Saturday which ensured that he was unable to improve.
After just three laps, Donohue brought the car into the pits complaining that it wouldn't maintain its fuel pressure and had started to burble" at several points all-round the circuit. Penske's mechanics worked furiously for about twenty minutes to coax the car back into healthy life before pushing it back to the garage and examining their charge in more detail. They eventually diagnosed a broken belt to the mechanical fuel pump, changed the belt and were extremely disappointed when the car still failed to run smoothly. In consequence they were obliged to spend the rest of Saturday fitting a fresh fuel pump which meant that Donohue could only get out for the final few minutes of the session.
Having foiled all the apparent problems sent to hinder them on Friday, Team Lotus were faring scarcely any better on Saturday. Peterson spent the first session looking very glum, sitting on the pit wall watching his rivals fighting for grid positions as the Lotus mechanics sweated blood changing an engine oil seal in the garage and Ickx's 72 stood for much of the time in the pit lane as Chapman, Peter Warr and two mechanics endeavoured to trace the source of its fuel pressure shortage. Peterson eventually got out and worked his way down to 1 min. 14.34 sec., good enough for a sixth row start, but the best Ickx could manage after all his tribulations was over one full second slower. Team Lotus fortunes have varied alarmingly all through the season, and this was definitely one of their worse moments, but it is a measure of the standards that this organisation generally maintains that they think of this season as something of a failure. Peterson has won three Grands Prix, but the Lotus idea of a successful season is to win most of the races and take the Constructors' title.
By the end of Friday's session all the "experts" were predicting a Ferrari walkover, for Lauda had lapped in 1 min. 13.62 sec. and Regazzoni had recorded 1 min. 13.80 sec. and they were heading the grid at that time. But, although Ferrari himself had instructed his team to "allow" Regazzoni to win the race, he clearly had not taken into consideration the determination of Fittipaldi, Reutemann and Scheckter.
The final official practice session on Saturday afternoon provided a fine opportunity to see some really first-class exhibitions of bravery by some leading Formula One drivers. There have been times during the season when one has been tempted to accuse certain drivers of failing to give their best consistently, preferring a steady and "tactical" race in third or fourth position and hoping that their faster rivals in front will fail. But on this occasion, with the World Championship so delicately hanging in the balance, this was not a time for "tactics" or "soft-pedalling" and everybody was out there on the circuit scratching away as hard as they possibly could.
Regazzoni took the opportunity to take out the spare Ferrari, the Swiss chasing his Austrian team-mate round in tight formation and both drivers using more of the stone kerbing on the edge of the track than usual. Jody Scheckter was using the stone kerbing "and a bit more" in his Tyrrell, working his way down to a fine 1 min. 13.30 sec. which at one time looked good enough for pole position. But then Lauda came back with a spectacular 1 min. 13.23 sec. and Fittipaldi countered this with a stupendous 1 min. 13.18 sec. in the closing few minutes before a slight rain shower doused the circuit and that was the destiny of pole position put beyond doubt. Regazzoni looked a little bit depressed by the end of the afternoon, for the chargers were giving him a lot of trouble and he found that his 1 min. 13.55 sec. was bettered by Reutemann and Jarier, so he was pushed back down to the outside of the third row. Just as the rain started to fall, Regazzoni skidded the spare Ferrari straight into the catch fences on the outside of the first corner, knocking the nose cone off the car and slightly damaging the suspension in the process.
Depailler tried hard not to be left behind by Scheckter, but he was panting a bit to work his way down to 1 min. 13.63 sec., while Hunt, who found the revised Hesketh preferable to the original car over the Mosport bumps, was the only other competitor to break the 1 min. 15 sec. barrier. Amongst the others; Peterson and Watson looked a little further back than they ought to have been, the Swede for reasons stated, while Watson wasn't one hundred per cent happy with his repaired car and was suffering from a bout of sinus trouble. Hulme looked as though he was trying harder than of, late, Andretti deserved an "A for effort" considering his two years' absence from the Grand Prix scene and his team's inexperience in Formula One while Beltoise was still working as hard as ever to no avail in his BRM.
Derek Bell failed to qualify once again, this time after an injector had fallen into his Surtees' engine on Saturday morning, but Koinigg acquitted himself quite promisingly and Ickx simply looked as though he was ready to give up. Brambilla crashed his March beyond immediate repair and Stuck looked uninspired while Amon at least had the consolation to know he wasn't quite last on the grid after the organisers agreed to allow Wietzes' Brabham to start the race.
Race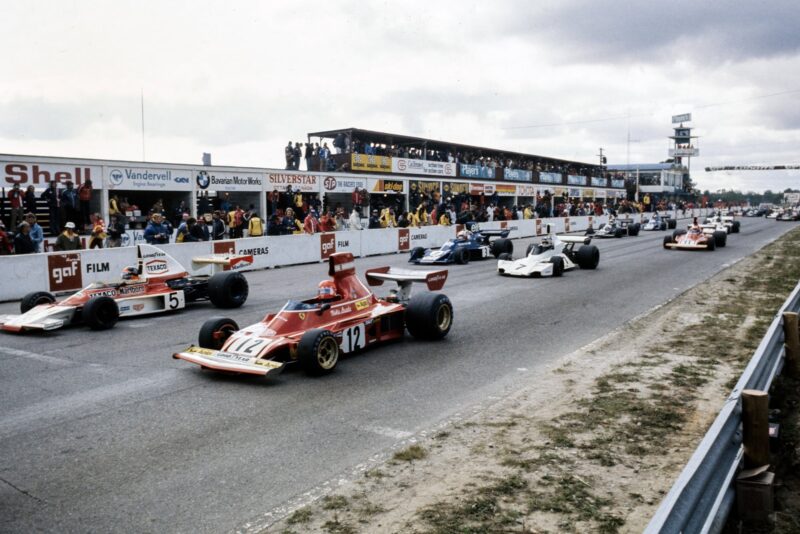 Sunday morning unfortunately showed up one or two organisational problems. Although the Mosport organisers are willing and obliging, the circuit's crowd control is very poor and the schedule of supporting events was not run off very promptly although it must be admitted that a multiple accident in the saloon car race hardly helped matters. However, the Grand Prix didn't get under way until well over an hour after its appointed starting time, leaving most people wondering whether the bitterly cold wind would be bringing along snow rather than the rain predicted by local weather forecasters.
When the Canadian flag dropped, both Ferraris made their customary fast starts, Fittipaldi managing to slip in between them both as they streamed round the first right-hand corner with Scheckter harrying Regazzoni hard in fourth place. By the end of the first lap Lauda, Fittipaldi, Regazzoni and Scheckter had already opened up a slight gap back to Hunt's Hesketh who in turn was at the front of a tight bunch containing Jarier, Reutemann, Pace, Depailler and Peterson. Then followed the "triers" in the form of Stommelen, Andretti, Mass, Pryce, Watson, Hulme, Beltoise, Laffite, Merzario, Ickx and Koinigg while Donohue found himself boxed in by the tail-enders and Amon was running a solid last, driving the BRM in a spectacular fashion which seemed to have no effect whatsoever on his position in the race.
By lap three Scheckter could see that the two leaders were beginning to get away from Regazzoni, so he charged past the third placed Ferrari and started to try and haul in the leaders. Hunt was sliding the Hesketh all over the circuit as he strove to stay in front of Jarier, while further back, Andretti forced his path ahead of Stommelen and left Mass to lead the queue round behind the German's Lola. By lap nine Stuck had made his first pit stop, retiring three laps later with fluctuating fuel pressure on his works March. Right at the back Amon's BRM was beginning to be troubled with sticking throttle slides while Peterson was biding his time at the back of the second bunch.
The first real incident of the race came when Mass tried to push inside Andretti at one tight right-hand corner only to have the American move over on him in determined style, causing the Yardley McLaren to slide broadside. This contretemps forced Watson to spin his Brabham into the guard rail, the Ulsterman resuming the race only to stop immediately at his pit to check the front of the car for any trouble. He continued the race but later made a second stop during which it was found that a rear wheel lint had been distorted in the collision with the guard rail, so his mechanics changed it and sent him on his way. Mass stopped a few laps later to complain about acute oversteer on right-hand corners, returning many laps later to have the McLaren's rear damper's tightened up and a fresh left rear tyre fitted.
Meanwhile Niki Lauda just drove round and round at the front of the field, while Fittipaldi drove as hard as he could to keep the Ferrari in sight and Scheckter did his best to keep pace with the pair of them. Pryce pushed his way past Stommelen by the simple expedient of bashing the nose of his Shadow against the tail of the Lola, both cars staying on the road, and the Welshman quickly pulled away from this bunch. Pace worked his way into the leading group only to stop his Brabham BT44 at the pits with a rear tyre having "gone off" while Reutemann had been in on lap 25 to change both front wheels for a similar reason.
Holding down third place, Scheckter looked certain to collect enough points to keep hint clearly in contention for the World Championship. But by the time the race had run to 45 laps, the South African was beginning to feel something wrong with the feel of his brakes. They were not exactly fading, in fact Scheckter could only describe them as feeling "funny". By lap 48 he was just turning over in his mind whether he should stop and tell Ken Tyrrell or not when he suddenly found that there were no brakes on the front wheels as he tried to slow for the hairpin, so Tyrrell 007/3 charged the guard rail at unabated speed and seriously damaged its monocoque. On closer examination it seems that the feeling Scheckter experienced was the straps securing the shaft to the inboard front disc breaking up, but since their early season failures Derek Gardner has designed in a "fail safe" mechanism which doesn't allow the shaft to come away completely when the straps break. Unfortunately it seems that Scheckter failed to heed the warning imparted to him when the brakes "started to feel funny" and drove on until the fail safe mechanism also failed.
The Tyrrell team leader's retirement from the race left Regazzoni in an undisputed third place, but not for long. An increasing amount of interest was focussed on Ronnie Peterson's Lotus 72 which was now hounding Hunt unmercifully for fourth place despite the left nose fin dragging on the ground, a legacy of slight contact with Mass' McLaren which was a bit tardy in moving out of the way when the black and gold Lotus loomed up in his rear view mirrors. By lap 60 Peterson had disposed of Hunt and was chasing Regazzoni's Ferrari as hard as he could so it didn't take long before the Swede was right on the Ferrari's tail.
It was a tremendous display by Peterson again proving just how serious a racing driver he is, whether it be when dominating a Grand Prix from the front or climbing up through the field as he did at Mosport Park. He pressured Regazzoni relentlessly and the Swiss was becoming progressively more and more ragged as Peterson clung hard to the tail of his Ferrari.
However, if Regazzoni felt rather embarrassed, his plight was nothing to that experienced by Niki Lauda on his 69th lap. Shortly before Lauda arrived at the right-hand Turn Three., John Watson lost control of his Brabham as he swung into the corner. A lower ball joint on the front suspension fractured, that in turn severed a brake pipe and all that was left for its luckless driver was to scrabble his way onto the apex of the corner in an effort to scrub off enough speed to negotiate the corner. Watson successfully managed this and coasted to a halt a little further round the track unfortunately having showered the circuit with dust, mud and grit as he completed his spectacular manoeuvre.
The next car to appear at the corner, where no warning flags were waving, was Lauda's Ferrari. He hit the mess on the track and skidded straight ahead into the protective barrier on the outside of the corner smashing in the front of his car, handing the lead to Fittipaldi on a plate. A few seconds after Lauda's unfortunate incident, Fittipaldi successfully negotiated the same corner and took over a comfortable lead which he successfully maintained until the finish, the Brazilian being too far ahead of Regazzoni for the Swiss to mount any realistic challenge and, in any case, he had his hands more than full in the closing stages of the race as Peterson came at him with a rush. Despite almost losing control on the corner before the pits, Regazzoni managed to get Donohue in the lapped Penske between hint and the tenacious Peterson on the last lap which allowed him to scrape home in second place by just over one second.
As the Ferrari mechanics were busy commiserating with Lauda, the entire McLaren team was grinning a communal grin of self-satisfaction as Fittipaldi finished a very worthy first after avoiding the snares and pitfalls which caught out his young Austrian rival. Fourth was Hunt ahead of Depailler, while Hulme refused to be ruffled by Andretti's presence right on his tail and beat the Parnelli by a matter of feet to round off the top half-dozen.—A.H