1976 Canadian Grand Prix race report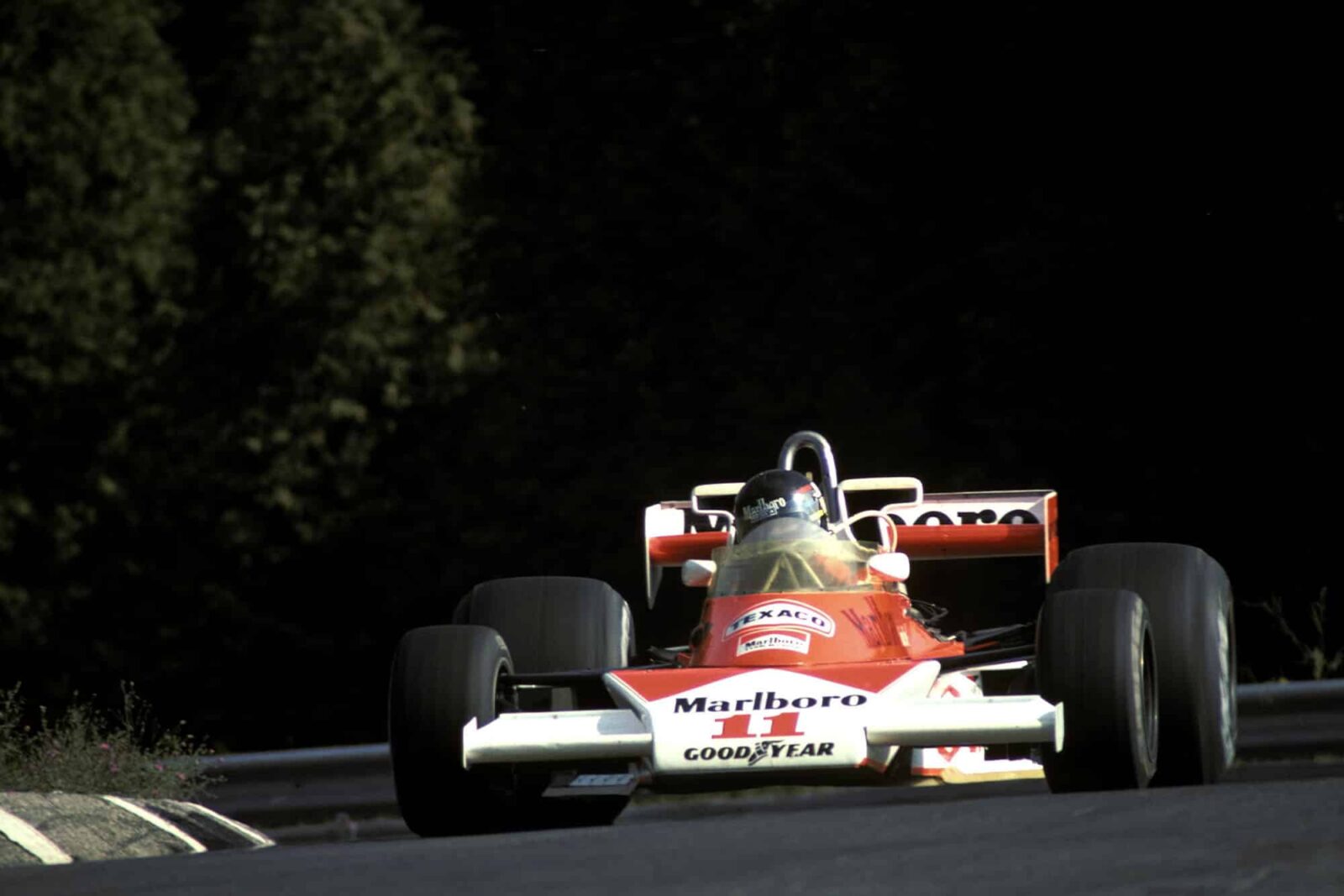 Justice for Hunt
Mosport Park, Toronto, October 3rd
The Canadian Grand Prix re-entered the World Championship calendar in 1976 follow-a year's absence, and the general feeling amongst the Formula One teams was one of satisfaction at the prospect of competing at the picturesque 2.4-mile circuit set in colourful woodland not far from the shores of Lake Ontario. The reason for the race being cancelled in 1975 was a protracted squabble between the Formula One Association and the Canadian organisers, the general feeling being that the Mosport race had been "sacrificed" on a point of principle, that principle being that you don't argue with Ecclestone, Mosley and Company about money; you might well be able to haggle over more trivial details, but if you are a Grand Prix organiser you accept the demands of the Formula One Association and pay up the prize fund they request if you want your race to take place. As there are no fewer than 16 races on this year's calendar and the scheduled return of the Argentine Grand Prix at the beginning of next January stretches next year's programme to a remarkable 17, one assumes that organisers all over the World must be happy with the current arrangement and arc making a great deal of money themselves; but that's really another story!
This year's race provided the latest instalment in the dispute for World Championship honours between McLaren's James Hunt and reigning title-holder Niki Lauda. Unlike last year, when Lauda's victory was clear-cut and without doubt, this year's Championship has been clouded with all sorts of unsavoury disputes, with race results being decided in courtrooms months after the event. Immediately prior to the Canadian race the McLaren team and Hunt were told by an FIA Court of Appeal that they had been disqualified from their victory in the British Grand Prix on the grounds of some obscure technical ruling in the International regulations as the result of an appeal from the Ferrari team. Just as Hunt was firstly disqualified from victory in the Spanish Grand Prix and later reinstated at a Court of Appeal, he'd been allowed by the RAC to take part in the British Grand Prix and now, months after winning it in fine style, had to accept that this victory was negated on some obscure point of law. This whole business only goes to prove what Motor Sport has been saying for many years, namely that the World Championship as such can appear very stupid so it's individual races that count, and that top-line motor racing is unnecessarily cluttered with a host of silly and complicated rules. As far as this magazine is concerned James Hunt (McLaren-Cosworth M23/6) won the 1976 British Grand Prix at Brands Hatch.
Qualifying
Despite this obvious disappointment, Hunt shrugged off his annoyance and got to work with a vengeance during practice at Mosport Park. Using his regular McLaren M23/8, the Englishman really set the pace on the first day with a whole series of splendidly confident sub-1 mm. 14 sec. laps, finishing the day off with a tremendous 1 min. 13.381 sec. best which was comfortably under Niki Lauda's 1974 official record of 1 min. 13.659 sec. and within sight of Emerson Fittipaldi's fastest practice lap of 1 min. 13.188 sec. in 1974. In the closing stages of the first day's practice Hunt coasted into the pit lane with an expensive-looking trail of smoke corning from one of his McLaren's exhaust pipes, so that was his lot for the day, and in the last few minutes Vittorio Brambilla rushed his March 761 round in 1 min. 13.333 sec. to post fastest time of the day.
Hunt wasn't standing for that on Saturday and quickly dislodged the swarthy Italian from the top of the practice times. just as he'd been confidently circulating in the mid1 min. 13 sec. bracket on Friday, Hunt went even faster in the final timed session, cutting a whole series of laps a full second quicker than he'd managed the previous day, finally topping it off with a magnificent 1 min. 12.389 sec., which put pole position beyond doubt and left his pursuers rather breathless in their efforts to keep up. Only three other competitors managed to break into the 1 mm. 12 sec. bracket, so the "aces" of the weekend were Ronnie Peterson in his March 761, who managed 1 mm. 12.783 sec. to share the front row with Hunt, Brambilla who improved to 1 mm. 12.799 sec., and the ever-determined Patrick Depailler who makes Ken Tyrrell smile so much these days, on 1 min. 12.837 sec.
Team Lotus brought along their usual trio of 77 models for Mario Andretti and Gunnar Nilsson, Colin Chapman's team deciding at the last minute not to show off their new and exciting type-78 until the start of next season.
Andretti and Nilsson drove their normal cars, but the two race cars had their Perspex skirts along the underside of their monocoques replaced by brush-like fringes. "We're being public spirited and sweeping the track for our rivals" was Chapman's dead-pan explanation to a query from a local Press man, but it's pretty certain that these appendages are being evaluated for use on the new 78. As usual, Andretti was tremendous value, throwing the 77 round with tremendous verve to finish the first day third fastest on 1 min. 13.44 sec. That same evening he agreed to signing a Lotus contract for 1977, and returned on Saturday to slice another 0.4 sec. off his time and assure himself of fifth place on the grid just ahead of Niki Lauda's Ferrari 312T2. In the untimed session On Saturday afternoon Andretti's 77/3 lost a front wheel when a stub axle sheared, and Gunnar Nilsson, who'd only managed a 1 min. 14.397 sec. on this his first visit to Mosport, ended the day shooting off the track and through a catch-fence, so the Lotus mechanics resigned themselves to a long hard night in the Formula One garage. All three 77s appeared at Mosport with revised front suspension, originally seen just on Andretti's car at Monza.
In the Ferrari camp the atmosphere was anything but confident. Since the Italian Grand Prix Reutemann has been confirmed as Lauda's partner in the team for 1977 and Clay Regazzoni has tactfully been given his marching orders. Lauda said he couldn't see any good reason for Regazzoni leaving the team, but the Austrian was very pre-occupied trying to sort his car out over the bumps and ripples of the Canadian circuit. On the first day he admitted he was not driving very well at all, managing only 1 min. 14.117 sec. On Saturday he hurled the car round in 1 min. 13.060 sec. but emerged shaking his head thoughtfully. "I'm very disappointed that no development or testing was done whilst I was away", he said, "We're just way off the mark here". He was right, for Regazzoni could manage nothing better than 1 min. 13.500 sec. Practice for the Italian team was marred by a visit from one of the CSI's technical "trouble-shooters" who decreed that the way in which the oil-cooler was mounted at the rear of the Italian cars was too far back, so the mechanics spent Friday night altering the car to comply with this latest piece of "nit-picking".
On the fifth row of the grid was Jody Scheckter in the second Tyrrell P34, the South African putting in a good honest performance without exactly looking inspired, while Hans Stuck in the third March 761 was next on 1 min. 13.322 sec., ahead of the Ligier-Matra V12 driven by the determined Jacques Laffite (1 min. 13.425 sec.). Bernie Ecclestone's Martini-sponsored team brought along a brand new Brabharn-Alfa Romeo BT45 for Carlos Pace to drive, this being chassis number 5 which featured several minor chassis alterations and weight-saving changes plus wishbone rear suspension and revised rear bodywork, with newly "faired-in" cold-air ducting for each bank of the 12-cylinder motor. The car was also using the carbon-fibre brakes once more and the Brazilian seemed reasonably happy with it on the first day, although his best of 1 min 13.438 sec. on Saturday was only 12th quickest. In the second car, vacated permanently by Carlos Reutemann, Ecclestone had decided to reward the initiative and determination demonstrated by bespectacled Australian Larry Perkins whilst he was driving the old HB Ensign MNO4 in the European races he could afford to compete in. Perkins was thus installed in the second Brabharn (BT45/3) and did a neat and tidy job on his first outing with a works team even though he was forced to take over the team spare BT45/1 after his original mount suffered engine failure on Friday, and then the replacement engine developed a severe internal vibration on Saturday.
In the Shadow camp Tom Pryce was driving the lone DN8 with his customary verve, most signalling crews in the first half of the pits keeping one eye on the spectacular Welshman as he hurled his car through the right-hander before the pits in some of the wildest slides imaginable. Pryce was adopting this style in an effort to compensate for excessive understeer, but he eventually came unstuck in the second session and shot back across the circuit head-on into the pit wall, almost collecting Lotus chief Colin Chapman in the process. Fortunately the Shadow was barely damaged and he continued on Saturday to record 1 min. 13.665 sec., his enthusiasm and determination making up for Jean-Pierre Jarier's lack of fire in the old DN5. Although the Frenchman was handicapped by engine failure during the first session and fuel pressure problems in the final spell of timed practice, he never looked very inspired.
On the basis of recent form one would have expected John Watson to have been right up with the leading runners at Mosport, and indeed he was during the first session. The popular Ulsterman was driving a brand new Penske PC4/02 for the first time, but he had to resort to his Austrian Grand Prix-winning machine (PC4/01) on Friday when his new car suffered gearbox trouble. This was repaired for Saturday and Watson was just settling back into the swing of things when he encountered an unwelcome bout of misfiring and had to swap back to the old car. By the time all this had happened there was precious little time left in the final session and his best was 1 min. 13.973 sec., which, standing from the first session, meant that he ended up 14th fastest overall.
Jacky lckx continued his term with Mo Nunn's Ensign team but there wasn't enough time left for him to record a decent time on Saturday after the car's engine packed up on Friday and had to be changed during the first two timed sessions. Near the back of the grid was Fittipaldi, disappointed that the first day's promise hadn't been maintained, while the Surtees team never got going after a multitude of minor problems, and Pescarolo's privately-run TS19 split the works entries of Jones and Lunger on the grid.
The back row of the grid was shared by Guy Edwards in his privately run Hesketh 308 and the lone Williams FW05 of Arturo Merzario. Chris Amon has been co-opted into this organisation, which is now run by Canadian businessman Walter Wolf, and he was down to drive FW05/2 in the Canadian Grand Prix. Unfortunately the luckless New Zealander spun very slowly on a downhill left-hander whilst moving over to make way for a faster car during the second session. Before he could restart he was hit by Harald Ertl, who simply lost control on his own, the impact wrecking both cars and putting both drivers out of circulation with badly bruised legs and damaged muscles. The only other nonstarter was the hopelessly slow Austrian Otto Stuppacher in ex-works Tyrrell 007/6-4.
Race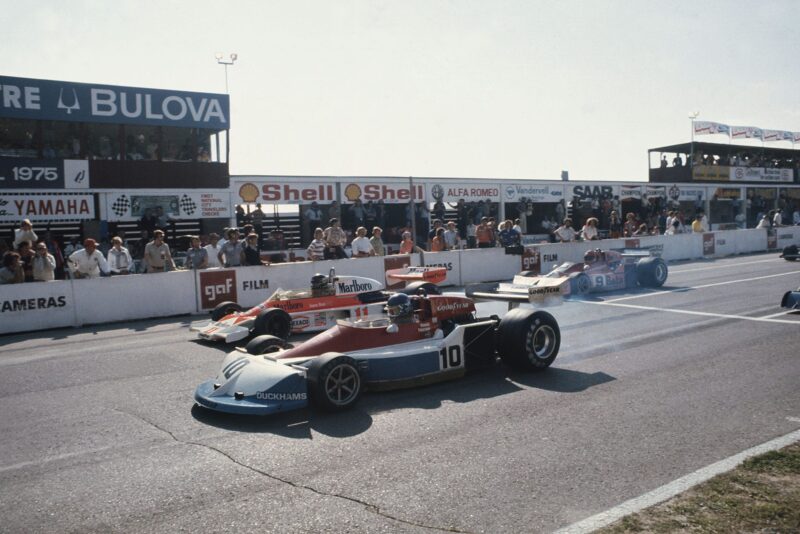 From pole position Hunt made a tremendous getaway at the start of the 80-lap race, but Ronnie Peterson was even quicker, the March slipping ahead as they led the field through the first downhill right-hander and away down towards the bottom of the circuit. Back on the grid poor Gunnar Nilsson had been left stranded just before the field departed at the start of its parade lap, and the recalcitrant Lotus was half a lap behind before it would fire up. Thus the rest of the field were long-gone into their first lap before Nilsson appeared to take the starting flag, and nobody seemed to mind him taking a flying start under the circumstances.
At the end of the opening lap Peterson led a tight bunch with Hunt right on his tail, and then came Depailler, Andretti, Brambilla, Scheckter, Lauda, Mass, Laffite, Stuck, Pace, Regazzoni, Pryce, Fittipaldi, Perkins, lax, Pescarolo, Watson, Edwards, Lunger, Merzario, Janet, Jones and Nilsson. Hunt was really pressing Peterson hard and although the Swede continued to lead for the first seven laps it was pretty clear that the McLaren driver would be through and away given half a chance. Within a few laps of the start Peterson found his March deteriorating into its customary near-undriveable state, but he wasn't giving up without a struggle and when Hunt slipped past on the inside of the hairpin on lap 8 he took full advantage of his rival running slightly wide and slipped by again as they came back up the hill towards the start/finish area. Next time Hunt made no mistakes and took the lead confidently and cleanly, giving his M23 everything he'd got once he had a clear road in front of him, for he knew full-well that Peterson would keep his rivals tied up for a good while and by the time they'd got past the March it was Hunt's intention to be out of sight. Depailler took until lap 13 to displace the Swede's March and then it was Andretti's turn to take over third place on lap 16 as Peterson dropped to fifth behind Jody Scheckter. At the back of the field Merzario's Williams had disappeared unnoticed after spinning off the circuit, and Perkins had a wild old spin in the Brabharn-Alfa which dropped him to last place.
Niki Lauda took over fifth place on lap 18, but this was as high as the World Champion managed to climb in this particular race as Ferrari were clearly outclassed, and Regazzoni took some time to find a path round Pace's Brabham-Alfa Romeo and then had to work tooth and nail to hold onto it. As Peterson gradually faded, Jochen Mass overtook the number one works March and then Brambilla slipped ahead briefly before dropping back to ninth with a repetition of his practice gearbox trouble. Fittipaldi brought his family car in to change a badly blistered front tyre on lap 28, resuming quickly, while Stuck stopped to check his March's handling after a spectacular spin.
Patrick Depailler chased Hunt for all he was worth, cutting the McLaren's advantage from 2.9 sec. on lap 20 to just over one second on lap 30, and finally down to 0.8 sec. 10 laps later. As all the Grand Prix machines seemed to be showing an untypical degree of mechanical reliability (only four were to retire out of 24 starters) the track remained quite heavily congested for the whole race and Hunt picked his way in and out of the back-markers in excellent style, always gaining a few feet on Depailler as he did so. In third place Andretti was driving smoothly and quickly, maintaining a consistent gap to the leaders but unable to make any ground, while Scheckter held an equally secure fourth place ahead of the disappointed Niki Lauda. Behind the on-form Mass, Pace was pulling every trick in the book in an attempt to displace Regazzoni, but although the Swiss was getting more and more untidy, there was no way he was going to give his Brazilian rival enough room to get through.
Hans Stuck retired his March after 37 laps with dire "handling problems", while Fittipaldi's Copersucar never handled properly again after its first pit stop, and a broken exhaust pipe was the last straw that prompted the Brazilian to retire on lap 42. Three laps later, Laffite, who'd been throwing his Ligier-Matra all over the place in a desperate effort to get past Peterson's tardy March and take over 10th place, inadvertently selected 1st gear when he wanted 4th and crept into the pits to retire with dangerously low oil pressure on the French V12. From that point onwards to the finish nobody else retired from the race.
At the head of the field it looked as though an impasse had set in with Depailler constantly challenging for the lead but unable to get close enough to really have a try at getting alongside Hunt. The British ace was driving his McLaren in tremendous style, never putting a wheel wrong and obviously determined to prove that he was the best driver and his team's machine was the best car, irrespective of what any small-minded bureaucrats in Paris might or might not think. On lap 58 Lauda suddenly slowed, dropping out of the top six as he found his Ferrari weaving slightly on the straights and yawing from side to side on the corners. Unbeknown to the World Champion the right rear suspension top link was working loose, altering the camber on that wheel from corner to corner. Naturally cautious of any potential chassis fault after his still-unexplained German Grand Prix accident, Lauda eased right off and dropped to eighth place behind Mass, Regazzoni and Pace by lap 60. But he was still a long way ahead of Ronnie Peterson, the March team leader refusing to concede an inch to John Watson's Penske, while Tom Pryce finally got back into 11th place on lap 60. The Shadow team leader had been .gradually catching Peterson in the first half of the race but dropped behind Laffite, Icloc and Watson whilst lapping some particularly difficult rivals, notably his "teamMate" jarier in the older DN5.
Although Depailler inwardly feli that he could beat Hunt in the closing stages, feeling his Tyrrell P34 to be quicker out of the hairpin and back up the hill to the -start/finish area, the possibility of the Frenchman making a "last ditch" challenge was to be negated by a minor fuel leak. A leaking diaphragm behind Depailler's head, which transmits the fuel pressure to an alcohol-filled capillary tube running to the pressure gauge on the Tyrrell's instrument panel failed and began leaking Elf fuel into the cockpit. Not only was the fuel leaking over the determined little Frenchman but he was inhaling fuel vapour and feeling very unwell indeed over the last few laps, completing the race fractionally over 6 sec. behind the jubilant Hunt.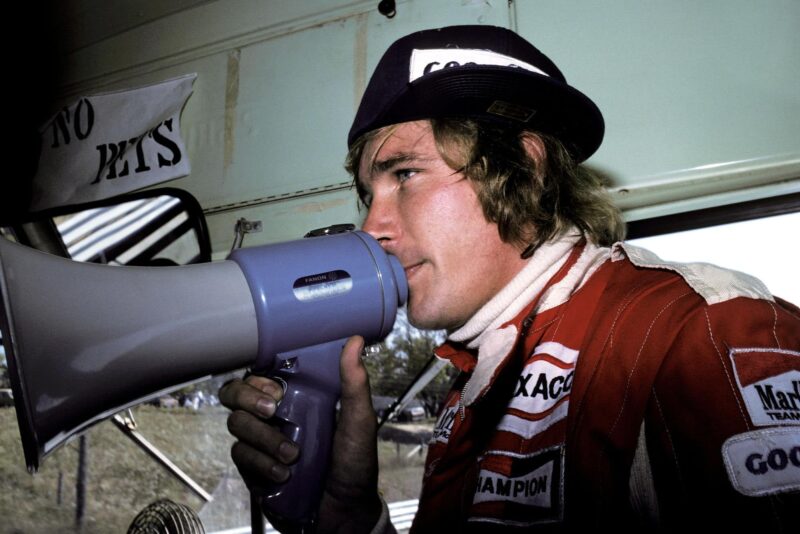 Behind Andretti and Scheckter, Mass finished a very satisfied fifth, while Clay Regazzoni held onto sixth after a precarious moment four laps from the finish when he ran wide in a huge oversteering slide on the right hand corner before the pits. Whether by accident or design, the Swiss then overcorrected and camee lunging back across the track, collided with Pace and pressed the Brabham BT45 against the pit wall. For a Couple of seconds the two cars remained locked together as they hurtled down the wall, Pace's right front wheel rim sending up a Shower of sparks which sent all the mechanics with their signalling equipment rushing away from the track's edge. Fortunately both cars were able to continue, Regazzoni holding on to sixth place to the finish; but the incident became the cause of a great deal of discussion after the race and Bernie Ecelestone's team protested to the Stewards of the Meeting about Regazzoni's tactics. The appeal was turned down on the grounds that there was insufficient evidence to deem Regazzoni guilty of reckless driving, so everyone left Mosport Park and moved on to Watkins Glen for the following Sunday's United States Grand Prix happy that at least one Formula One race had reached a conclusion without any cloud of doubt and controversy hanging over it. The McLaren team were smiling more than ever for Hones tremendous performance had made a very clear point to the opposition, particularly reigning World Champions Ferrari who crept away feeling very nervous about the destiny of this year's title.—A.H.