United States Grand Prix East race report
The US Grand Prix
Watkins Glen, New York, October 5th WITH only tweak separating the Watkins Glen season linak from the previous race at Montreal, the Grand Prix teams had a pretty hectic schedule transporting their cars and material down to the track in northern New York State which has been the scene of the United States Grand Prix since 1961. There had been a great deal of speculation surrounding this year's race. as to whether or not certain track improvements would be completed in time. but the organisers rose enthusiastically to the occasion and had resurfaced the hitherto bumpy section, to the cueatt although soveral drivers hazarded the opinion that all they had done was m move the undulations from one place to another!
vCasualties from Montreal which had to he repaireni included Daly's 'Tyrrell Olte which had to be rebuilt round the monocoque salvaged ttom his spectacular Zandv.rt accident and v,..at that dubbed "2-2laner's car was repairable which meant that young Mike Thackwell was to be given another opportunely in the original chats,. number I. Lottes were down to two cars ,111, Andre., 81 1 had been damaged beyond repair during his aviating antics the Previous wccken,l• Renault decided to enter a single car tor Arnoux following Jabouille's accident which had wrecked his car on hes last outing her the Regee as well as leaving him with a broken right log, and the Fittipaldi team managed to patch up Rosberg's Fittipaldi F8 1 although this meant replacing quite a lump out of the sandwich construction monocoque and gluing in a fresh front bulkhead. The only change to the line-up was the nomination of Geoff Lees to replace Kevin Cogan in the second RAM Williams although this turned out to be a matter of ret significance.
Practice took place nominally at the usual times. although there can have been few events at which there were so many interruptions to the schedule in order to drag bent racing cars out of catch fences of guard rails. Friday's casualties included Lees, who blotted his copybook early on during the first untimed session, sliding into the barrier on the outside of the right hand corner at the end of the circuit's longest Straight. During the afternoon's timed session, Laffite spun his Ligier through the catch fencing at the same spot. receiving such unpleasant "whiplash" effects that It e went straight back to his hotel tee rest and tilt so dizzy the following day that he took no further part in official timed practice, emerging only on race morning retake part in the untimed warm-up session and then the race itself. Before he had this accident he had recorded a 1 min. 35.421 sec. lap which was quick enough to qualify in the middle of the grid, even allowing for the fact he wasn't present on the second day.
Others who started off "on the wrong foot", so to speak. included Andretti, who had a nasty experience when his Lotus' engine failed and locked up the back wheels, the American driver slithering to a ruffled halt uncomfortably close to the guard rail. The session was stopped for Mario's car tee be recovered, this break also helping Thackwell whose Tyrrell had suffered major engine troubles. 131.1t It wasn't all trouble. particularly in the Alfa ROM° pit where Geacomelli was responding tie young de Cesares. presence in the team in a most forceful and impressive manner. The V12 Alfa Romeo using Goodyear's softest compound rubber to best effect to post a tremendous 1 min. 34.551 sec. best although this was a matter Of hundredths of a second faster than World Champion Alan Jones in his Williams F550713 11 men. 34.563 sec. e.
Watching the final session on Saturday afternoon it seemed likely that teveral others would approach, perhaps equal. Giacomelli's time, but when Piquet, Reutemann and de Anglis threatened closely, the plucky little Italian driver went our again and wrapped up pole position without any question by posting a tremendous 1 min. 33.291 sec. best which was a full eight-tenths of a second quicker than the hard-trying Nelson Piquet's Brabham BT49. Reutemann wound up third on 1 min. 34.111 sec. with a confident de Angelis fourth, benefiting from revised suspension pick-up points on his Lotus 81, to record 1 min. 34.185 sec. The Italian driver said that his machine was riding over the bumps much better than usual and felt certain that he would produce a worthwhile performance in the race. The fact that Alan Jones was fifth in the starting line-up might not have been typical, but it certainly was not any cause for alarm or despondency. Both Williams cars had been on the front row together when the session had been stopped to retrieve Andretti's car on Friday and Jones had been held up in the final session mid-way round what he felt would have been his fastest lap when Keegan's RAM Williams began to lose control in front of him and "I backed off to see which way he would spin off . . ." Keeg., incidentally, eventually qualified fifteenth quickest although his 1 min. 36.750 sec. was a long way off a competitive time and he rounded off the final timed session with another damaging incident which shredded the nose section of his Williams which in no way pleased entrant John
MacDonald in view of the fact that Lees had crashed again on the second day, damaging the underside of his F55'078 badly enough to prevent him trying fora place on the grid during the last hour.
In the Ligier camp Pironi upheld their challenge alone on Saturday, qualifying seventh men I men. 34.971 se, although he had to take the spare car for this timed session after his regular machine developed engine trouble in the morning. That put him men the grid just behind Amoux, who had wrestled with tyres that were not quite au pun( throughout practice and seemed unlikely to reproduce his impressive 1979 Watkins Glen form when he finished a strong second behind Villeneuve's Ferrari in the predominantly wet race. Behind Pireeni was the second Brabham BT49 of Rebaque. the little Mexican driver really rising to the occasion in wham must certainly be a N., good car although he was more than a full second slower than his team leader Piquet. Watson was a little disappointed that his best time of I min. 35.202 sec only earned hem ninth place usthe grid, for his mmerule was running at a high level and he had been fourth overall leer a long time on the firse day and felt particularly optimistic about his prospecis for the race with the McLaren MIK going extremely well an the hardest "race" compound tyre. For Prost whose McLaren M36 I had been repaired since its Montreal suspension breakage sent it off the track in the Canadian Grand Prix, Watkins Glen brought with it more trouble. After recording a reasonable 1 min. 35.988 sec. lap on Friday. he never went on to practise in Saturday's timed session. On Saturday morning his M30 went very violently -out of control on one IA" the fast left hand corners shortly before the pits and plunged off the circuit, the accident apparently due to a suspension component failure. It was a very big accident indeed and Prost was lucky to emerge from his battered car with nothing more than a severe shaking and some nasty bruises on one arm. Unfortunately these became so painful that he did not practise further and, after a handful of lapse his spare M29C on race morning, opted to withdraw from the contest before the race started. This little drama enabled Jan Lammers' Ensign N180, which had failed to qualify yet again, to take its place right at the back of the starting grid. The final timed practice session seemed endless as it was stopped periodically for damaged cars to be removed from the circuit. Chcever's °sells FAI/B1, which had spun to a standstill when the
suspension broke in the morning, had a most alarming crash when the front suspension gave out again and the car lost a wheel going into the right hander after the pits. Cheever was sent flying through the catch fencing at considerable speed and, although he walked away, the car appeared quite badly damaged. There were only two 'Fyrrells running by now for Thackwell had been withdrawn after a brake disc broke on Ola I during the untamed session on Saturday and. since Janet's car had suffered two similar failures on Friday, the Ripley team was getting a little short of spare parts: The Fittipaldi team was scratching its communal head after Rosberg slammed his F8 into the wall again during the morning, but by dint of using up their last spares they managed to get him going again in time to qualify on I min. 36.332 sec., which was just behind Andretti, not bad for a car with a large and obvious crinkle in its monocoque. Emerson Fittipaldi was much further back in 20th place after being afflicted with dire undersreer problems on Friday. the Brazilian rumoured strongly lobe rething at the end of the weekend although no formal announcement was forthcoming.
Andrea de Cesaris did a fine Mb for Alfa Romeo once again, the Italian novice managing a 1 min. 35.235 sec., which was tenth quickest and Villeneuve could always be relied upon to produce a spectacular performance from his uncompetitive Ferrari T5, and he did lust that although his verge-shaving enthusiasm went a little too far on Saturday when one of his spins ended against the guard rail at the right bander before the pits. Nothing daunted, he rushed back to the pits and climbed into his spare car even though there was little more than ten minutes of the session left to go. Scheckter, feeling rather reflective on the eve of his very last Grand Prix, was last-but-one qualiticr ahead of Mass and couldn't raise himself to approach his team-mate's effort.
Watching Villeneuve out on the circuit, it seemed criminal that his tremendous efforts only netted him 18th place on the grid with a lap in I rein. 37.040 sec.
Race
On race morning it was interesting to note that spectators were decidedly thin on the ground, a reflection perhaps that people -accent prepared the able, to put up with the ever-spiralling costs involved in attending some Grand Prix races. The camping sites, normally overflowing with enthusiastic American supporters, were at most "comfortably" full and there were worrying empty patches in the main grandstands opposite the pits which can hardly have suffused the organisers with financial optimism. By the time the grid formed up in front of the main control tower the weather had become Pleasantly sunny although it was still cold enough for everybody to be wen weaving furiously on the Parade lap in an effort to warm their tyres to somewhere near operating temperatures. There was much speculation that on this. Giacomelli's "moment of truth". he would fall foul of the first corner, a resurfaced section of track which had accumulated large build-ups oldest on its outside 'lip". If one had felt sorry for the little Brescia driver as hr sat waiting for the starting signal it was misplaced sympathy, fie although he had got an impressive array if "heavy hitters" right behind, there was no way he was going to allow them to jostle him into an error of judgement. As the lights on the gantry overhanging the track fttrried to green, the Alfa Romeo team leader Performed a copybook start and blasted down into the first corner well and truly established in the lead. Jones, anxious to underline his status as a worthy World Champion, came hurtling through from the third row. sliced Mto second place under
braking thr the corner and then slid wide across Piquet's bows and ran the Williams onto the grass. The Australian backed right off, nursing his machine back onto the circuit in 12th place as Giacomelli led the field away up the hill and through the chicane. Further back de Cesar. and Arnoux also went "a mowing" in a cloud of dust but they also coaxed their cars back onto the tarmac and everybody completed the first lap without incident.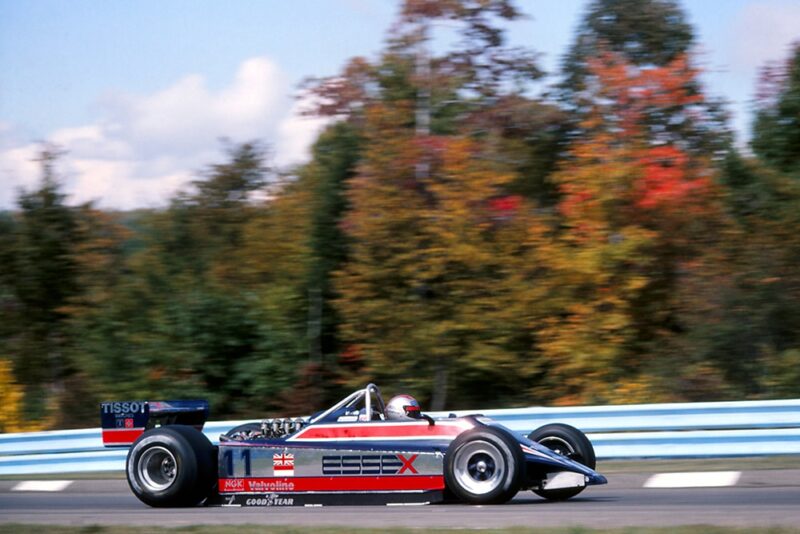 Piquet had made a desperate effort to displace the leading Alfa Romeo first time round on the main straight, but Giacomelli made his car as wide as possible, knowing full well that he had the ability to pull away once he "got a flier" and the Brazilian wasn't quite close enough to have a try second erne round. Third was Reutemann. then Pironi. de Angelis, Rebaque, Watson. Laffite. Andretti. Keegan, the "head-down" Jones, Villeneuve. Surer, Cheever, Patrese. Daly, Scheckter, Mass, de Cesaris. Arnoux. Fittipaldi. Rosberg and Lammers with Jarier last, a long way back. The first major incident of the race came on the third lap when de Cesaris got flustered after his bad start and rammed the rear of Daly's Tyrrell under braking for one of the slower corners. The Alfa Romeo retired on the spot with quite severe frontal damage while Daly lasted another lap before his mount got away I.rem him under braking for the right bander beyond the pits and he spun wildly off the circuit. Subsequent examination revealed the Tyrrell to have sustained a bent rear suspension link in the collision with de Cesaris as well as having a very obvious oil leak. With Giacomelli pulling steadily away from his pursuers Piquet seemed secure Inc the moment in second with Reutemann.
Pirorn. de Angelis, Watson, Rebaque and Leith,: next up. Jones was lapping at a tremendous rate. not simply content to sit back and bemoan his error at the first corner and he dearly felt that there was every chance 01 getting back in among the front runners. It didn't take him king to slice past Laffne and Watson. gaining another place when the impressive Rebaque found his too-soft tyres wearing badly and pulled into the pits for sonic tresh rubber. Be the time ten laps had been completed Piquet was being pressured quite hard by Reutemann while de Angelis was still keeping up with Piront, although the Italian was starting to become aware of an increasing amount of understeer which was eventually to get so bad that he would lose contact with the leading hunch. JOTICS was now lapping at record speeds, smashing the official record time after time as he chased after the Lotus. then picked it off, and set off after Pironi's Although Giacomelli was now comfortably out of sight in the lead. Jones had clearly not given up hope and a tremendous battle was warming up for second place as Piquet came under increasing pressure from Rentewunnari he began to experience loss of adhesion from the soft compound tyres he was using as well. On lap 25. with Jones through to fifth place and jostling Pironi. Piquet tried a little too hard as he swung into the first right bander. his Brabham spinning over the kerb (into the grass where it stopped with its nose touching a catch fence NIe. Mindful of his machine's vulnerability in this position (Dale's Tyrrell had lertunately been moved by the marshals, otherwise it would have been T-boned by the Brabhan, Piquet urged them to push start his car which at least meant that he could crawl back to the pits, out of harm's way, where he retired with the skirt system on the BT49 smashed beyond repair, This left Jones to dispose of Pironi on lap 28 and Reutemann two laps later, presenting the World Champion with an open track to Giacomelli's leading Alfa Romeo. It would have been interesting to see whether Jones could have caught — and passed — the Italian, but the crowds were to be denied that entertainment when the luckless Giacomelli had his simply die under him with electrical failure.