1981 Caesars Palace Grand Prix race report
Jones signs off with a win
Las Vegas, October 17th
The whirlwind of frenzied Formula One activity finally reached its climax for 1981 in the dusty, sun-scorched car park of the Caesars Palace hotel and gambling complex in Las Vegas. Although the organisers had clearly gone to an enormous amount of effort in staging this end-of-season event, the end result was a "point and squirt" circuit laid out between unyielding concrete barriers. At first glance it looked somewhat like Jarama, but without the ups and downs. Crammed into this car parking area was no less than 2.26 miles of race circuit and although most drivers were prepared to concede that the concept was rather novel, few would actually admit to positively liking it. Staged primarily as a television spectacular (I heard it was planned to be this, so I stayed at home. Ana tee-vee spectacular it was awful — D.S.J.) the Caesars Palace people had managed to get round the rule which has hitherto required a circuit to host a "pilot event" in the way that Long Beach, Montreal and Imola have been required to do in recent years. Quite how or why this has been permitted is probably a secret known only to the FISA / FOCA inner sanctum but will, in view of M. Balestre's recent re-election for another three year term as President of that august former organisation, probably serve a precedent tor future similar events.
Qualifying
Official timed practice was scheduled to take place on the Thursday and Friday prior to the race, but to give the teams a chance to familiarise themselves with the circuit the track was open on the Wednesday as well for untimed testing. From the outset both Williams FW07Cs of Alan Jones and Carlos Reutemann proved to he particularly competitive and lapped at an average speed of just on 100 m.p.h. When the first official qualifying session started on Thursday.
Reutemann, anxious to do well in this final race of the year and clinch the World Drivers' Championship, took advantage of the comparatively cool weather conditions. With a cool breeze taking the edge oft the fierce South Nevada sunshine, the dusky Argentinian was well at home and left his rivals stunned with a scorching 1 min. 17.821 sec best, an average speed of 104.917 m.p.h. Jones simply couldn't match that, failing to break the 1 min. 18 sec. barrier despite experimenting without the engine cover in an effort to improve the airflow over his Williams' rear wing. But the Australian was quickest on Friday when the weather was much hotter, lapping in 1 min. 17.995 sec. to ensure himself second place on the grid, using his race car for this task after the spare in which he began practice broke a valve spring.
In this final session it was Reutemann's turn not to he able to break 1 min. 18 sec. following a spectacular incident during the untimed session which could have marked the end to both race and Championship prospects for himself and Nelson Piquet. Reutemann came upon the Brabham team leader running slowly, just off the line, tried to squeeze through the gap and miscalculated the amount of room available. The Williams vauIted over the Brabham's rear wheel, spun in mid-air and came crashing down onto the circuit again. Piquet's car emerged relatively unscathed, but the FWO7C was immediately taken back to the garage for monocoque and suspension pick-up point damage to he examined. The car was later returned to the pit lane for Retuemann to use during the final timed session, but after wearing out one of his two sets of qualifying tyres he stopped to report that the morning impact had probably bent the suspension pick-up points, causing an aggravating amount of understeer.
Most of the competing cars had been transported in convenient trucks from the previous race in Montreal, arriving at Las Vegas in notably clean and undamaged condition, which pleased the mechanics considerably. One man who had a fresh race machine for this event was Gilles Villeneuve, for whom Ferrari 126CK turbo 051/B had been sent out from Italy to replace the chassis which finished a somewhat frayed third in the Canadian. Round the eight twists and turns of Las Vegas Villeneuve was, predictably, great entertainment as his Ferrari turbo swung from lock to lock and he indulged in a couple of heart-stopping spins during the course of practice.
He eventually squeezed a hectic-looking 1 min. 18.060 sec. best out of the precarious looking Ferrari, remarking later with no false modesty "if I had a really good chassis I'd be on pole position by half a second…" Even in the circumstances at Las Vegas, Villeneuve felt he might even have broken the 1 min 18 sec barrier had he not been confronted by two slower cars immediately ahead of him at a point where his younger brother had parked his Arrows A3 with electrical problems. Gilles was obliged to stantd hard on the brakes, destroying the prospect of an even quicker practice lap on his last set of Michelin qualifying tyres.
Unusually, the Las Vegas Circuit was run in an anti-clockwise direction and the preponderance of left hand corners was causing some discomfort amongst the drivers. One such who suffered more than most was Piquet who sought assistance from a boxing masseur to relieve cramp in his neck. The unfortunate side effect of this was a badly bruised back and Nelson had to return for several more massages during the course of the weekend. The pain was bad enough to stop him practising on Friday morning, but he forced himself into a fourth fastest 1 min. 18.161 sec. lap on Friday afternoon.
This was good enough to beat Alain Prost's impressive Renault RE34, which ran the gauntlet of gear selection problems and a minor brake fluid leak, and qualified fifth on 1 min 13.433 sec., a time recorded on Thursday. John Watson's McLaren MP4 lined up sixth although the Ulsterman was not without his problems, virtually having to abandon practice on Thursday due to a sinus problem attributed to his hotel's air conditioning.
The one other competitor with a chance of winning the World Championship title was Jaqcues Laffite, but the Frenchman complained of an engine pick up problem and dire lack of traction, so much so that he commandeered team ate Tambay's machine to record his 12th fastest 1 min. 19.167 sec. and decided to use that car in the race.
Tambay had already set an impressive seventh quickest overall time to place himself ahead of Bruno Giacomelli's Alfa Romeo and the Lotus 87 of Nigel Mansell. The Birmingham driver was comfortably the quicker of the two Lotus entries, despite having to transfer to the team spare in the final session after his race machine developed timing problems and a sticking clutch. De Angeis, unhappy with his 87's handling and complaining that he was unable to get a clear run in the traffic, couldn't improve on 15th place.
Rene Arnoux had a new Renault (RE35) to replace his chassis damaged at Montreal, this car equipped with carbon fibre aerofoils front and rear as first seen on Prost's car in that race. However, a new car brought Arnoux no improvement in fortune and following a turbocharger oil leak and consequent fire on Thursday, he spun off into a retaining wall damaging the rear wing, suspension and gearbox. The net result of these problems was a 1 min. 19.197 sec. best, only good enough for 11th place on the grid. Both Alfa Romeos qualified respectably enough, but Didier Pironi had continual handling problems and a turbo failure which contributed to his lowly starting position in the second Ferrari turbo. De Cesaris did a respectable job for McLaren despite missing much of the first untimed session when his MP4's engine dropped a valve.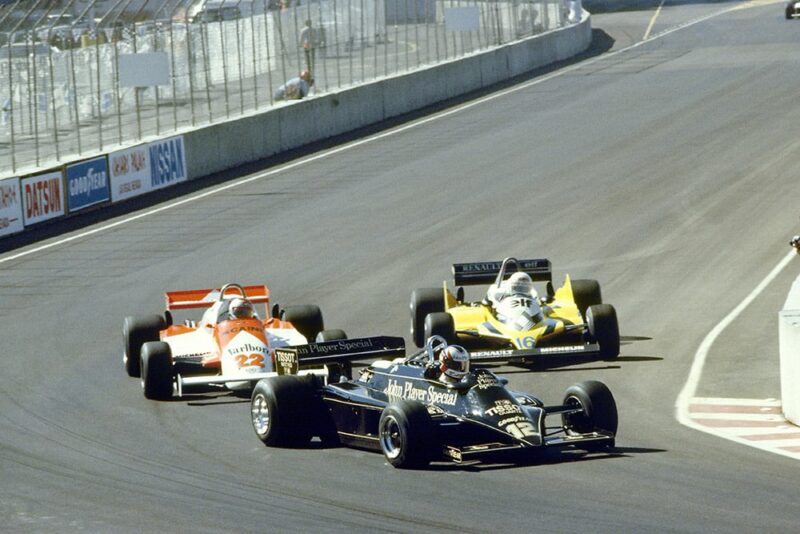 Hector Rebaque suffered a front brake failure on Thursday, the Brabham coming to rest undamaged in one of the runoff area "sand traps". He qualified 16th eventually, one place ahead of Alboreto's Avon shod Tyrrell while Cheever's similar Goodyear shod machine was a couple of places back on this occasion. Derek Warwick at last qualified his Toleman-Hart for his first Grand Prix (and, indeed, his first motor race of any sort for more than than a year!), a real "white knuckles" effort, but this time Henton failed to make it in the other car from Witney. Jarier was unexpectedly far back in the new Osella following engine failure on Thursday. Rosberg managed to struggle his precarious-handling Fittipaldi on to the grid despite steering that seemed periodically to be seizing up on him while the final row of the grid comprised Surer's Theodore and Salazar's Ensign, both alter game practice efforts. Borgudd's ATS and Daly's, March 811 were numbered amongst the non-qualifiers, the popular Irish driver admitting that he knew his car had handling problems but they didn't really feel that bad! Jacques Villeneuve also failed to qualify on his second attempt at getting on to a Grand Prix grid at the wheel of the second Arrows.
Race
Race day was absolutely scorching and one couldn't help feeling that this was one of those races in which the two Williams drivers would be in a class of their own. Once the 24 competitors lined up on the dummy grid prior to setting off on their parade laps they were given a very firm lecture by the Clerk of the Course and told that they would he disqualified it they infringed any of the very specific regulations involving starting grid procedure. Thus when Villeneuve lined up his Ferrari slightly too far to the left, the stewards took the decision to disqualify him. The decision of the stewards took some time to be communicated to the Ferrari pit, by which time of course, their driver had his head down in the thick of the battle!
Jones stormed through to lead into the first corner, as expected, leaving Reutemann to be swamped by Villeneuve. Prost and Giacomelli. By the end of the opening lap the incredible Jones had a two second advantage and he more than doubled that second time round. Reutemann was already down to fifth behind the aforementioned hard chargers, then came Watson, Laffite and Piquet. Mid-way round the second lap de Cesaris spun Tambay's Talbot under braking for one of the tight infield hairpins but both cars managed to continue. Unfortunately Tambay only managed to proceed about half a mile more! It seems that the tangle with the McLaren had damaged something on the Talbot for Patrick suddenly shot off the circuit on a fast left-hander, slamming into the protective tyre barrier. The whole front end of the Talbot was ripped off in the impact and Tambay was fortunate to be able to hobble away with a bruised leg and elbow.
Jones was walking away with the race, his ever-increasing lead helped by the fact that Villeneuve had a great queue of cars banked up behind his Ferrari. On lap three Prost found a way past Villeneuve and the Renault set off after the fast-vanishing Williams, leaving Giacomelli to tussle with the Ferrari V6. Laffite was doing well in fourth place while Reutemann was only a few lengths ahead of Piquet, the Williams driver already experiencing some gear selection difficulties. Arnoux's appalling luck ran true to form yet again and he stuttered into the pits after 10 laps to retire with a mysterious fuel system misfire.
Others in trouble early on included Salazar's Ensign which stopped to have a burst brake line replaced, Pironi who stopped for fresh tyres on his Ferrari and Surer who made a succession of pit visits to investigate the Theodore's strange handling and eventually gave up with a broken rear suspension rocker arm after 19 laps.
Completing lap 17, Piquet dived ahead of Reutemann under braking for the left-hander before the pits in a smooth and confident manoeuvre which looked absurdly straightforward when one considered precisely what was at stake. Meanwhile the Ferrari team management were debating what to do about Villeneuve's disqualification, whether to let him continue and appeal later or withdraw him there and then. But their deliberations became of academic interest on lap 21 when he spun off and was unable to restart. Just as he did so them was a flurry of action as Laffite moved past Giacomelli for third and two laps later the Anil Romeo spun off, resuming tenth That put Andretti up to fourth with Piquet fifth and Watson sixth.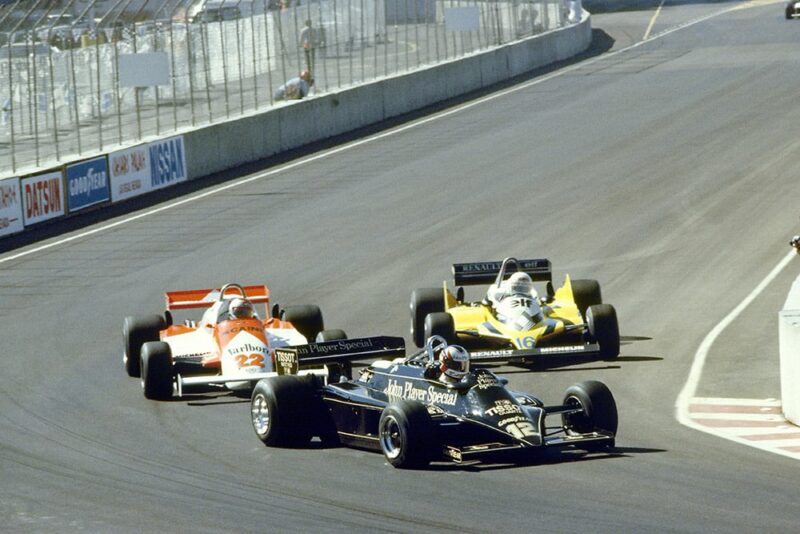 As Jones proceeded on his blissfully untroubled way, Prost suddenly shot into the pits on lap 32 for four fresh tyres, dropping to fourth and promoting Laffite to second. The abrasive, dusty track surface certainly seemed to be causing problems for the Michelin runners and Laffite eventually fell victim to the same problem, stopping at the end of lap 52. By that time Andretti had brought his Alfa Romeo to a halt with broken rear suspension, rounding off a really foul year for the American driver. Thus, with 15 laps left to go, the real interest centred on whether Giacomelli could catch Prost for second place – and whether Piquet could stay ahead of Watson (who also stopped for fresh tyres) and the fast recovering Laffite who was really storming back towards the Ulsterman's McLaren. In the event, Giacomelli was barely a length behind Prost in third place at the chequered flag. Then came Nigel Mansell, fourth in his Lotus despite cramp in his left leg caused by an ill-fitting seat and Piquet, exhausted with fatigue from his neck and back took two valuable points for fifth place to become the 1981 World Champion driver. Laffite squeezed past Watson for sixth going into the final corner and a thoroughly dejected Reutemann trailed home eighth, fourth gear having long since ceased working on his Williams.
As the remaining exhausted competitors struggled from their cockpits, Alan Jones strolled confidently to the winners' rostrum clutching a can of beer. Whatever the outcome of the official World Championship, nobody left Las Vegas in any doubt as to who was the best driver in the business. And many people are just keeping their fingers crossed that he doesn't retire after all. A.H.
Results
Las Vegas Grand Prix – Formula One – 75 laps – Caesars Palace – 3.64 kilometres per lap – 273 kilometres – Very hot
1st: Alan Jones (Williams FW07C/16) 1 hr. 44 min. 09.077 sec. – 157.554 k.p.h.
2nd: Alain Prost (Renault RE34) 1 hr. 44 min. 29.125 sec.
3rd: Bruno Giacomelli (Alfa Romeo 197C) 1 hr. 44 min. 29.505 sec.
4th: Nigel Mansell (Lotus 87/5) 1 hr. 44 min. 56.550 sec.
5th: Nelson Piquet (Brabham BT49/C) 1 hr. 45 min. 25.515 sec.
6th: Jacques Laffite (Talbot JS17/06) 1 hr. 45 min. 27.252 sec.
Fastest lap: Didier Pironi (Ferrari 126CK/049B) on lap 49, in 1 min. 20.156 sec. – 163.929 k.p.h.