1994 European Grand Prix, Jerez
Schumacher moves closer.
On his return from suspension the World Championship leader extends his advantage, as Mansell's comeback fizzles.
The folly of Jerez as a Grand Prix track was never better illustrated than on the afternoon of Sunday, October 16.
The sherry region's idea of a racetrack provided many of the safety facilities that were so conspicuously lacking when Martin Donnelly had his awful accident in 1990, the last time the F1 circus visited it, but one thing was desperately absent: anywhere to overtake. Like Jarama, it created follow-my-leader chasing, not racing.
For the first 18 laps it seemed that we had the makings of a race, when Damon Hill won the all-important drag to the first corner and obliged Michael Schumacher to dog his wheeltracks. This was an intensely satisfying moment for Hill, who had been attacked verbally by Schumacher prior to the weekend, in a singularly ill-advised and, ultimately, completely ineffectual attempt at out-psyching. It must have seemed like a good idea at the time to whomever put the German up to it, and Michael's thoughts at this precise moment would have been interesting to record.
"Normally the red light stays on for a shorter time," he said. "This time it was on for…quite a long time. I was also very close to the bite point of the clutch, and it heated up and started to drag. I had to come off it again, and when the green light came on I wasn't prepared. Then I bogged down and picked up too much wheelspin. It was a mess. . ."
He had gone to the grid with revised settings on his Benetton as he opted for lower downforce, and there he had a trifle more angle taken off the front wings. After losing the start he found his car more to his liking initially, but then it began to oversteer on its first set of Goodyears. At the time it seemed that he was biding his time before the first scheduled stops, but Ross Brawn admitted that he had been at his limit. In the early going Williams was in control.
All that changed when Hill took on fresh tyres and fuel on lap 18. Schumacher had come in three laps earlier, and as Hill lost ground coming into the pits, Michael pushed extremely hard and was able to speed by as Damon appeared at the pit exit. Now that the Benetton had the advantage, the race as such began to come apart. Where Michael had been as much as two seconds adrift of the Williams at times, now he found his handling was much better and steadily he began to draw away. Tactics were also playing their part, for as it did to its advantage in Magny Cours and Hungary, Benetton played its three-stop card, where the conservative Williams team again stuck with two. It was noticeable that Schumacher could get through traffic much better, and though this owed much to his innate ability to slice through aggressively, and to Hill's inherent caution in such circumstances, the Williams was also more difficult because it was heavier.
Hill was disappointed and defensive afterwards, and cautious in his comments about team tactics which always seemed to work better for the opposition. "You have to remember that I was ahead of Michael, on a two-stop strategy, when he came out of the pits. That meant that I should have been looking very good."
It transpired that Williams had called him in early for each of his fuel stops due to a problem with its refuelling equipment. Insufficient fuel went in on the first stop, a massive 95 litres on the second, which made it far heavier than the Benetton.
"I don't really feel that I had bad luck with the backmarkers. Part of the problem was that we had too much fuel in the middle of the race, and it is much more difficult to pass with more fuel in the car," he revealed.
On its second and third sets of tyres Schumacher felt that the Benetton was behaving perfectly, and his only moment of concern after taking control came when Hakkinen slammed the door on him as he was being lapped in Turn One on lap 52.
"This is just the way you like to come back to F1: this is where I left it," said Michael, "I'm really pleased about the way things happened. It has been very difficult in the last two races, for the whole team and me. We proved our strategy was the quickest" his third stop had gone perfectly on lap 52 "and I'm just very, very pleased."
Hill's mood was etched all over his face, and he could only be philosophical. "I have to say that I had got my hopes up about doing well here. Nevertheless, by finishing second my chances of winning the championship are still open. Second place is not, er, great, but it has kept everything alive."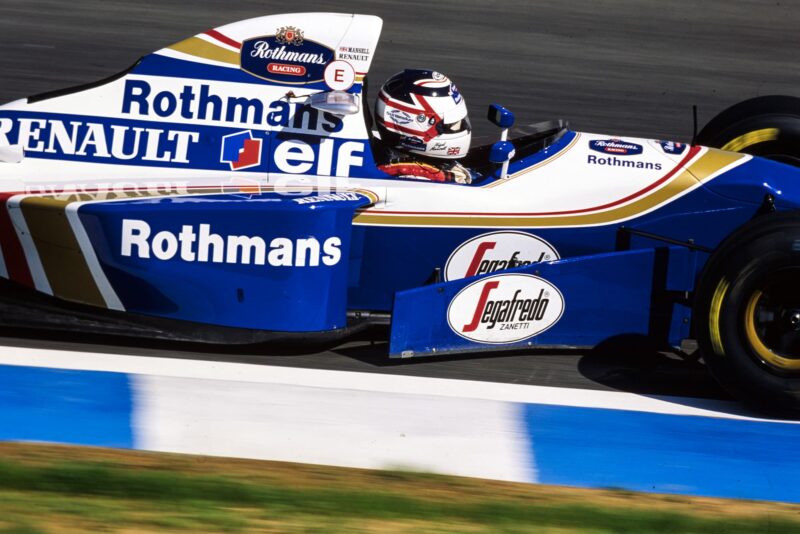 If only the European GP had seemed alive! Contrary to expectations, everyone got through the first corner without incident, but there had been several place changes. Mansell made an awful start, and Frentzen, who had impressed throughout the weekend, leaped through to take a third place that he would thereafter defend very well. Berger and Barrichello also muscled past the second Williams. Rubens pushed ahead of Gerhard during the first lap, so the order as it ended read: Hill, Schumacher, Frentzen, Barrichello, Berger, Mansell, Irvine. Herbert (who had switched to Ligier only days earlier), Hakkinen, Morbidelli, Blundell, Brundle, Alesi, Panis, de Cesaris, Verstappen, Martini, Alboreto, Comas, Zanardi (mercifully recalled to Lotus), Bernard (unceremoniously dumped by Ligier and transferred into a Lotus that would numb him but which he would bravely haul to the finish, to say thanks for the welcome the team gave him), Brabham, Simtek debutant Schiattarella, Fittipaldi, Katayama and second rookie Noda, partnering Comas at Larrousse.
Brundle was back in his race McLaren after the spare, which he had preferred, developed a water leak on the grid. Fittipaldi's brakes weren't fully up to temperature and he ran into the back of Martini's Minardi, losing his own nose and a lap, and initiating undertray damage that would later delay the Italian in a race-long fight with Zanardi's tractionless Lotus. Noda and Katayama had both stalled on the grid, the latter blaming a clutch which had overheated on the formation lap and then started to drag as he tried to hold his Tyrrell on the line.
In the early laps Frentzen had Mansell, Barrichello, Berger, Irvine and Herbert chasing hard after him, the former World Champion moving up to fifth on lap two, then taking the Brazilian for fourth on lap six. He remained there until lap 12, when Rubens pounced again, and then three laps later Mansell came into the pits for a long stop. He had hit the back of Noda's slowing Larrousse, sustaining damage. "It was great being back," he said, "but it was just a very bad start and then I was very unlucky as my front wing caught Barrichello" a case of mistaken identity; Barrichello confirmed they didn't touch "as I was passing him. It broke it, we had a very long pit stop and then it was a bad race from then on in." He resumed in 23rd place.
As the sextet fighting for third place had held one another up around lap 13, the train grew to 11 cars as Hakkinen, Morbidelli, Blundell, Alesi and Panis joined them. Brundle should have been there too, having maintained station ahead of old enemy Alesi, but a frustrating weekend ended on lap nine when his Peugeot V10 broke. This time, Peugeot even admitted it!
The individual fuel and tyre stops broke things up after that, but just as he did in Portugal Frentzen was planning a single stop and as the others came in he just kept plugging on. He'd been troubled by food poisoning all weekend, and the team was worried that he might not make it if he stopped twice. The longer he went on, the more apparent it became what an impressive job he had done earlier with his heavier fuel load.
The race pattern settled again by lap 30, with the yet-to-stop Frentzen still third, now well ahead of Hakkinen, Irvine and Berger, then Barrichello was running alone, clear of Herbert, Alesi and Panis, while further back the irrepressible Katayama was pushing very hard after Morbidelii.
Mansell worked back up to 16th place, but on lap 48 he lost control of the FW16B and spun into the gravel and retirement. "The back end got away from me and I just lost it," he confessed. "It was as simple as that."
As half-distance approached Schumacher dived in for his second stop on lap 33, handing the lead back to Hill, but it was only a temporary loan, for when Damon came in two laps later the 13s pre-stop deficit was restored. Frentzen came in at last on lap 33, and sadly his bold gamble failed to pay off as he slumped to seventh place, separated from Hill by Hakkinen, Irvine, Berger and Barrichello. Mika was very happy with his MP4/9, while Irvine was driving not only with great panache but also with his head, taking it easy in the first corner and then steadily improving his position as his rivals stopped for fuel and tyres. Berger was just surviving, struggling with the Ferrari's relative lack of torque.
Behind them. Frentzen now had his mirrors full of the Ligiers of Herbert and Panis, which in turn had Alesi looming behind them, but when a driver of Jean's calibre expressed the opinion that overtaking was impossible, you appreciated just what a stupid track they were running on. And people wonder why F1 is losing some of its appeal to touring cars. . .
The second group began its second stops around the 40-lap mark, and this time it was Irvine who stayed out longest in what was without question the most impressive F1 drive of his career. He remained third up to his stop on lap 49, and was more than a little miffed when Hakkinen was able to slip ahead.
"I was five seconds ahead of him before I came in," said Eddie, "we did a really good stop — but suddenly he's ahead of me when I come out again. It seems a bit suspicious to me."
He was clearly inferring that the Finn might not have observed the 80 km/h pit lane speed limit during his own stop, and visual evidence very much suggested that this was the case. Jordan team manager John Walton went to the stewards afterwards when no stop-and-go penalty was levied on the Finn, but was told that nothing untoward had been recorded. It appeared that the men operating the pit lane speed trap had taken their eyes off the ball for a moment, and Hakkinen escaped without punishment.
Irvine pushed very hard after the McLaren in the closing stages, and by lap 58 they were almost nose to tail. But as observers began to calculate the doubtful odds against the two of them staying on the track, Eddie began to drop back again.
"To be honest, I decided not to have a go at him. Maybe some other time," he said. "Safety was the way to go today." He finished fourth, nine seconds behind, and very happy with a mature performance.
Berger did his usual professional job in unfavourable circumstances for fifth, while Katayama drove stunningly to make up for his error at the start. His charge brought him on to Frentzen's tail in the closing laps and he actually squeaked ahead under braking for the final corner, but as he went in very deep Heinz-Harald was able to dive back ahead and held him off by two tenths of a second as they sprinted for the line.
Either of them would have deserved that final point, while Herbert was disappointed not to be more in contention for it, perhaps feeling that Ligier's pit stop strategy hadn't quite worked. Barrichello merited it, too, but 10 laps from the finish his left rear tyre developed a puncture and he fell back to 13th. He was able to fight back past Mark Blundell, who admitted that he still felt physically drained after a difficult race that followed a very nasty accident in qualifying on Saturday afternoon which bore chilling likenesses to Ayrton Senna 's at Imola.
Morbidelli, too, deserved better, fighting a Footwork that wasn't as good as it had been in Saturday qualifying. It was just his tough luck that so many others finished this race, and he had to be happy with 11th, behind the disappointed Alesi. Jean was angered on Saturday afternoon when he locked up and spun off on his first flying lap, a mistake which dropped him from eighth on Friday to 16th on the grid, and damned him to a frustrating race.
Of the other notables, Verstappen made a bad start and was trapped behind de Cesaris in 16th place, until he got too impatient and slid into the gravel.
The European Grand Prix was more interesting on paper than in reality, since it stretched Schumacher's points lead from one to five with two races left, and restored Benetton Ford to a narrow two-point lead over Williams Renault in the constuctors' table. Such statistics aside, it might yet have more historical importance as the last race for the once great Team Lotus, unless serious finance could be injected to get the beleaguered team to Susuka and Adelaide. DJT
STARTING GRID
5 SCHUMACHER Benetton B194 1:24.207 (2) 1:22.762 (1)
0 HILL Williams FW16 1:24.137 (2) 1:22.892 (1)
2 MANSELL Williams FW16 1:24.971 (2) 1:23.392 (1)
30 FRENTZEN Sauber C13 1:24.184 (2) 1:23.431 (1)
14 BARRICHELLO Jordan 194 1:24.700 (2) 1:23.455 (1)
28 BERGER Ferrari 412 T1 1:25.079 (2) 1:23.677 (1)
25 HERBERT Ligier JS39B 1:26.241 (2) 1:24.040 (1)
10 MORBIDELLI Footwork FA15 1:26.048 (2) 1:24.079 (1)
7 HAKKINEN McLaren MP4/9 1:25.275 (2) 1:24.122 (1)
15 IRVINE Jordan 194 1:24.794 (2) 1:24.157 (1)
26 PANIS Ligier JS39B 1:25.384 (2) 1:24.432 (1)
6 VERSTAPPEN Benetton B194 1:35.441 (2) 1:24.643 (1)
3 KATAYAMA Tyrrell 022 1:26.304 (2) 1:24.738 (1)
4 BLUNDELL Tyrrell 022 1:25.995 (2) 1:24.770 (1)
8 BRUNDLE McLaren MP4/9 1:25.942 (2) 1:25.110 (1)
27 ALESI Ferrari 412 T1 1:25.182 (1) 1:44.801 (2)
23 MARTINI Minardi M194 1:25.812 (2) 1:25.294 (1)
29 DE CESARIS Sauber C13 1:25.407 (1) 1:25.411 (2)
9 FITTIPALDI Footwork FA15 1:26.094 (2) 1:25.427 (1)
24 ALBORETO Minardi M194 1:26.744 (2) 1:25.511 (1)
12 ZANARDI Lotus 109 1:26.973 (2) 1:25.557 (1)
11 BERNARD Lotus 109 1:28.047 (2) 1:25.595 (1)
20 COMAS Larrousse LH94 1:28.042 (2) 1:26.272 (1)
19 NODA Larrousse LH94 1:29.041 (2) 1:27.168 (1)
31 BRABHAM Simtek S941 1:28.388 (2) 1:27.201 (1)
32 SCHIATTARELLA Simtek S941 1:30.069 (2) 1:27.976 (1)
Did not qualify: GACHOT (Pacific PR01) 1:30.099/1:29.488
BELMONDO (Pacific PR01) 1:31.162/1:30.234