Forty-five years later Tiff Needell slides his six foot one inch frame into the cockpit. The venue is Mallory Park. It's tipping it down, but that doesn't dampen his enthusiasm as he gets into character.
"I've got a face mask in my bag — do you want me to wear it?" "No, it's OK Tiff, they didn't bother with them until a few years later…"
Needell has driven an awful lot of cars over the years as a racer and TV presenter, but he's never been powered by a 2.5-litre Coventry-Climax before. He's really up for it.
This car is FII-5-60′, McLaren's chassis throughout 1960. It's been well-used: after its life as a works car the Lowline passed to Arthur Owen, who used it to win the 1962 British Hillclimb Championship. It continued as a climber until 1980, then returned to the tracks. Current owner Barry Cannell bought it four years ago. "It's had lumps knocked off it over the years," he says. You wouldn't know it now.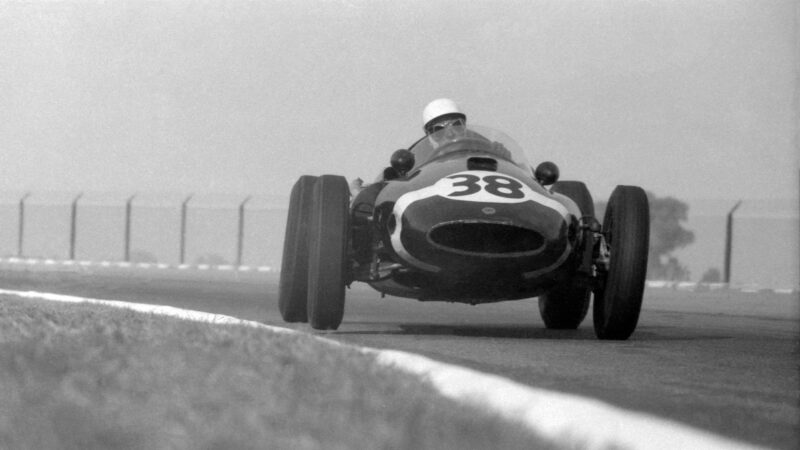 After a couple of decent runs the Lowline trundles back to the pits. "Brilliant," says Tiff. "It was actually nice to feel the rain on your face and the drops on your lips. It was a bit cramped with a chassis tube under my left foot, impeding my clutch movement, and my knees were pushed up — I'm used to that with my height. But it's fantastic sitting upright. The thing that always strikes you in the old cars is the visibility." He's driven a Lotus 25— and that's when drivers really started to go to work on the horizontal.
So Tiff, what do you think? "I wasn't expecting the steering to be so responsive, and nothing was clattering or shaking. And it was so much fun. The Cooper twitches a lot and you are constantly correcting it as you corner. You can hold a slide at slow speed, but the little corrections make it more difficult around Gerards. Maybe I was tentative and should have let it go a little more, but it's very wet and it's someone else's lovely car…"