Lunch with Jacques Villeneuve
He was the golden boy of racing whose career never matched its early promise: there were mistakes, he says, but no regrets
Jacques Villeneuve has experienced one of the most unusual careers in the history of motor sport. By the age of 26 he had won the world championship, 11 Grands Prix, the Indy 500 and the CART Indycar title. He had also proved the sceptics wrong by demonstrating that he had inherited the ability and drive of his late father Gilles, even if their personalities were somewhat different. At the height of his success, in 1998, his profile was high enough to convince a global tobacco giant to bankroll the formation of a brand-new F1 team that was built around him.
But then the golden boy lost his Midas touch.
The new team never matched expectations: although he would spend another nine years in Grand Prix racing, there would be no more F1 wins. In 2006 he was unceremoniously pushed out of the BMW Sauber team halfway through the season. For the past decade he's been a gun for hire, popping up in a bewildering variety of cars and series.
What he hasn't done is hold onto a drive for long enough to establish himself fully in any given environment, and inevitably over the years his image has taken a battering.
Now 45, he keeps himself busy working for French TV as an F1 commentator, and for Italian TV as an analyst. He remains a perceptive observer of the scene, always saying exactly what's on his mind with views on every subject – a trait that hasn't always gone down well among the people with whom he's worked. He's able to bring that focus to a frank discussion of the ups and downs of an extraordinary career when we talk at Hockenheim in the drivers paddock, while he is eating an afternoon snack, and later at Spa, where the photographs were taken.
On both occasions he is in reflective and bullish mood: "I probably could have made different decisions that could have meant more championships," he says when asked if he could have made better choices. "But I could also have killed myself with a different team. You just don't know. You should never change the past, and I'm happy where I am today. There were reasons for making the decisions."
Gilles Villeneuve was still racing snowmobiles when Jacques was born in 1971, and the youngster spent his early years in Québec living in modest circumstances, usually in motorhomes. Life was turned upside down when Gilles became an F1 driver in 1977 and embarked on the road to international stardom, and the family subsequently moved to Monaco.
Would Gilles have approved of his son's career choice? "He would have, yes, definitely," he says before pausing and adding. "I have no memories of talking to him about it, not really. At that point he was too busy with himself, anyway. Which is normal."
Villeneuve had just turned 11 when his father died in an accident during qualifying at Zolder in May 1982. He spent his teenage years at school in Switzerland, far away from the F1 scene. But the passion was already there.
"I watched when I could. There was no internet back then, and you were in a boarding school, so you were cut off anyway. I remember the Monaco race in the rain [1984], because that was the holidays. But all I cared about was to go and race.
"My mother knew since I was five that I would race cars anyway, so that was never an issue. As long as I kept on studying just to make sure that I had the baggage. She could see that I had the passion. That's all you want your kids to do, to have passions and to go for them."
What Joann Villeneuve couldn't do was support a karting career.
"How would I have done it? My mother wasn't going to spend the money for me to go racing, because my father didn't leave the money for that. So there wasn't the budget, and she wasn't going to be a mechanic. And it wasn't required. I was a skier, I was racing, and I was getting the experience I needed.
"It was a good mental training, also good for your space awareness, lines, and how to work a race, how to psychologically prepare, and find ways and tricks to go faster and faster and faster. In free skiing all I wanted to do was to jump rocks and cliffs, so there was always this element of pushing the limit, and doing it a bit better than the others. Which was like going through Eau Rouge flat. No reason, no purpose, just so you could say, 'I did it'."
He had his first taste of what was to come when he drove a kart at Imola in September 1985 at age 14. "My sister was there as well. They just put tyres in the middle of the track, it wasn't even a kart track, just to do three laps because someone wanted to take pictures and put it in the newspaper. We didn't think about it – it was, 'Do you want to drive a go-kart for a few laps?' 'That sounds like fun'."
The first real opportunity to drive came in 1986 with a Jim Russell course at Mont Tremblant, where he made a good impression. The following year he went to Richard Spenard's school at Shannonville, Ontario.
"I went during my summer holidays – I was 16 I think – to work as a mechanic. I was living with the mechanics, and the payment was that you could do a few of the school races. That was fun, it was a good experience to help a boy become a man. I was at a stupid age where you don't really listen anyway, and I was a terrible mechanic!"
Back in Europe Villeneuve was thrown into the deep end when invited to contest some Italian touring car events at the end of 1988, with an Alfa Romeo 33 – and an Andorran racing licence as he was still under 18.
"I did two or three races. It was fun, but it was just a really bad car. I didn't really know what I was doing, I thought I was in a video game. Then Camel wanted to back the sons of drivers. Luckily they took me, as I was 17 at the time. That's when racing became serious."
For 1989 Camel placed him in the Italian Formula 3 series – a big step for someone with no karting background.
"Normally when you start you have two years when nobody knows you're racing, and that gives you the time to learn. I had the attention right away, and that forced me to perform to get better fast. But Italy was not a bad place, because my dad was loved there, so that helped a little bit too. The second year I started getting points and running quickly, and in the third year I got pole positions and was leading races."
At the end of 1991 Villeneuve accepted an invitation to attend the Japanese GP. To his surprise he bumped into his former school skiing instructor Craig Pollock. "His was the only face I knew in the paddock. So we started hanging out and he took care of me." The smooth-talking Scot would gradually take on the roles of manager and business partner, and he would shape the youngster's subsequent life and career.
Meanwhile in Macau Villeneuve was approached by TOM'S Toyota about a drive in the 1992 Japanese F3 series. Not for the last time in his career Villeneuve made a bold decision – and accepted. "When I went to Japan I had the option to stay in Italy for a very big salary, but I thought now's the time to move on, to get off the normal path. You also develop as a man. Suddenly you are out of bounds, you are left to your own devices. It was similar to a university year.
"It forced me to relearn how to work, having a Japanese engineer who didn't speak English, so you had to find ways to explain yourself and make the car progress. And it was great there that they gave me time to learn things."
He won three F3 races and finished second in the championship to Anthony Reid. He also had an outing in a Group C Toyota, sharing with Eddie Irvine and fellow sports car rookie Tom Kristensen.
As much as he enjoyed Japan Villeneuve's career was about to head off in a new and unexpected direction. In August 1992 he had made a one-off appearance in a Formula Atlantic race at Trois Rivières, and finished third. The visit was a huge PR success and, keen to promote Canadian talent, BAT brand Player's took note. Pollock subsequently agreed a deal for Villeneuve to do a year in Atlantic followed by two in Indycars. A new team, Forsythe/Green, would be built around him.
Suddenly he was in the same field as Mario Andretti, Emerson Fittipaldi and Nigel Mansell, men who knew and respected Gilles. "It was crazy because they were heroes of my youth that I'd been watching. So that was amazing, to be able to race close to them, and sometimes to beat them.
"The first race in Australia I crashed with Stefan Johansson, he put me in the wall, because I tried to outbrake him on the outside. Phoenix was a big crash – I got lucky a few times in my career, and the one in Phoenix was one of them, where I cut another car in half. Then I crashed again in Long Beach on my own, so people were worried. Then in Indy I did my best race. It looks like I always needed the big moment to step up."
As an Indy 500 rookie Villeneuve finished a solid second, his improving form reflecting a close relationship with engineer Tony Cicale. "It was the same in Italy, Japan and there, it was the engineers I worked with – there was always this kind of father figure, and there was a lot to learn from them, and there was always this big belief, big trust, and we could exchange and come up with ideas. That's what made the difference and allowed us to perform."
In a season dominated by Penske his first win came at Elkhart Lake in September. The 1995 season then started well with victory in the opening Miami street race, and he became a regular front-runner.
"At that point we weren't following what Reynard said we should do with the car. We just did our thing, and our car was a lot faster than any other Reynard. Tony used to design and race Can-Am cars, so he understood the human aspect of things, the feeling, that's why we really worked well together."
At Indianapolis Villeneuve's hopes appeared to be over when he was assessed a two-lap penalty, which in effect meant he had to run 505 miles.
"From the team there was this attitude of 'never give up, just go for it, somehow we can do it'. I could see my number on the bottom of the scoreboard, and suddenly I was climbing up, gaining laps in the pit stops, overtaking the leader on the race track, then getting a pace car.
"Ten laps from the end under the pace car I was behind Scott Goodyear, who was leading. It was, 'How did that happen?'
"I knew the only way to beat him was to apply some psychological pressure, so the whole last pace-car lap I accelerated, hit the brakes, got next to him, just made him stress. And he went too early and overtook the pace car. I hit the brakes, because I knew he would then get a penalty."
Villeneuve had won the Indy 500 at his second attempt. But even as his title challenge gathered momentum, Pollock was busy lobbying on his behalf in Europe. This was the year after the death of Ayrton Senna, and Nigel Mansell's full-time comeback with McLaren had floundered. Bernie Ecclestone wanted a big name, and Frank Williams invited Villeneuve to test at Silverstone in early August.
"It wasn't planned. It was winning Indy, that's all. It gave us the necessary credibility, and also it showed that mentally I was strong. Bernie was very helpful as well, with Frank.
"I flew from Michigan after the race, and I was knackered. I made a seat, and did three days of testing in a car that was stupidly fast in those days. The g-force that I was pulling, I wasn't ready for that. The F1 car had less horsepower, less acceleration, but the braking, the turning, how quick the car would react to any impulse, was very different."
Nevertheless he was fast, and he was duly signed up to partner Damon Hill in 1996. After securing the Indycar title he left the US scene behind to start an intense F1 testing programme. He was to be perhaps the best-prepared rookie the sport had seen, and he quickly formed a bond with Williams engineer Jock Clear.
"Those cars were beasts to drive physically. What drivers do today, jump in and in five laps they're on the pace and never get tired, back then it was impossible. It would take you two months to build your neck, the arms. And the tracks were scary, a mistake meant you were hurt.
"I came with good baggage about racing and tough situations with a lot of pressure, like Indy. And also I had a great team-mate from whom I could learn a lot. He was a worker, he was super-fast. He wouldn't just drive and go home, he spent his time trying to find out how to make it even better, and that's what I enjoyed as well, so I learned a lot from Damon.
"I managed to get pole in Australia, but the next three races he was killing me – a second in qualifying for three races in a row. I didn't know where to find it. I really had to look at what he was doing, and then work with Jock on the car. The car had been designed for Damon, it was like a second skin, but it wasn't for me. Halfway through the year we made changes that really suited me, and then suddenly I started flying."
Villeneuve scored his first win at the Nürburgring in April, and followed up with successes at Silverstone, Hungaroring and Estoril, logging a string of podium finished elsewhere. He went to the finale at Suzuka with an outside chance of stealing the title from Hill, but after taking pole a lost wheel ended his hopes.
The balance changed dramatically for 1997. Long before Hill secured the title he was dropped by Williams to make way for Heinz-Harald Frentzen, who Villeneuve knew from his days in Japan. "When Williams signed him, they signed him to be the next champion, and that's how they promoted it. That was enough to just make me mean. At that point I just knew that I had to destroy him. And that's what I did. I didn't want to fight him in the championship, as I had to fight Michael…
"The car was designed with me in mind obviously, because I'd been working on it in '96. It fitted me and I could do almost what I wanted with it. The only times it was difficult was in low-downforce trim, where it was too nervous. Then it was a question of who between Michael and I had more influence on choosing the tyres from Goodyear for the following races."
Villeneuve enjoyed a superb season, taking 10 poles, winning seven races and generally leaving Frentzen far behind. After a controversial penalty in Suzuka he went to the finale in Jerez just a point behind Schumacher.
"It was a strange qualifying, with three of us on the same lap time. We had imagined a million plans, and obviously none of them happened. I got into Turn One with Heinz-Harald, we didn't know what to do or who should be in front, and it didn't work out well.
"Then it was just a crazy race. I almost crashed a few times, getting closer to Michael, losing a little bit, catching the [Ferrari-powered] Saubers who were told by Ferrari to slow me.
"I could see all race that I was braking a lot later than Michael, so I could attempt a kamikaze move. If I got a metre closer at the end of the back straight, I could go for it. I knew I could surprise him, and the only way to overtake him was to surprise him. I made my pit stop after him, put on new tyres and I knew I had two laps on fresh rubber to do it – that was it."
On the 48th lap, he saw his chance. "On that lap I came out of the high-speed corner before the back straight, I stayed on it, and even went into the dirt. I took a risk. Then I saw that I was one metre closer to him than every other lap, so I just went for it. Suddenly he realised I was there, so he turned away and then he turned in again. He did it badly, because he didn't hit my wheels, he hit my sidepod.
"The car jumped in the air, I still managed to stay on the track luckily, but then I slowed down because I thought something was broken. In fact the battery mounts were broken, and it was only hanging on by the electrical cables. I was just kissing the brakes, hitting them slowly, just to drive the car softly. It's a good thing I did, because otherwise I would not have finished."
Third place was more than enough to secure the title, while having ended his race in the gravel the disgraced Schumacher was later penalised by the loss of his second place in the championship.
At 26 Villeneuve he had the world at his feet: a world championship, a strong Williams team and a worldwide profile other drivers could only envy. Things couldn't have been going more right, and he fully expected his golden run to continue: "At that point I thought I will win five more championships, and it didn't happen! Everything had been going the right way. Then Craig had this idea of building a team, and I got pulled into that…"
British American Racing was announced just weeks after Jerez. In conjunction with Adrian Reynard, Pollock had persuaded BAT to try to repeat the Indycar success and start an F1 team from scratch, although they initially bought Tyrrell as a short cut to owning a franchise. Meanwhile Villeneuve spent one more year with Williams. Renault had pulled out, leaving the team with customer engines, and he finished a low-key fifth in the '98 world championship.
"That was bad, because Adrian Newey had gone away, the car was undriveable, it just didn't work. I had a couple of podiums, but the car was really a pig. We had to do some weird things on the set-up sometimes just to make it survive. It wasn't fun, it was stressful."
And Villeneuve's attention was already on the future: "It was exciting. I built a team basically, and for five years I was an owner of an F1 team, even thought it wasn't promoted like that. That was the next challenge."
The brash BAR approach did not go down well, amid claims that the team would follow Reynard tradition and could win its first race. Even Villeneuve didn't believe in the hype.
"Not in the first race, that was a little bit extreme. But I don't know many teams who started F1 being as competitive as we were. We got criticised, but when you see other new teams afterwards… That was when only the top six scored points. Many times we qualified eighth or ninth, so it would actually have been a good season with today's points system. The car was quick."
In fact he started as high as fifth at Imola, but the car was hopelessly unreliable and he scored no points. For 2000 the team switched from customer Supertec to Honda power, and another voice was added to an already complex management structure.
"The sponsor was also the owner, and at some point that won't work. It was all promises that were made that couldn't be kept, basically. And when you make promises that you cannot keep, it goes wrong. In the second year the car was less quick, but we got some points, so we were on the way up. Then the politics started, and then it just went to shit. Actually it went to shit when Honda joined."
Despite his concerns Villeneuve decided to sign a new two-year deal in 2001. "Staying for the second contract was a mistake. At the same time I had a contract available from Flavio Briatore, and he had promised Renault that I would be signing there, which I almost did. But there was also pressure from Honda, 'We need you, you have to stay.' Then as soon as I signed, they changed their minds."
Just weeks after Villeneuve agreed to stay, Pollock was ousted and replaced by David Richards, who had enjoyed a long relationship with BAT. "Too many egos, so it was bound to implode. I wasn't involved, I was kept away a little bit on purpose. I didn't see everything that was going on the background. I should have, because by that point, when David Richards replaced Craig, I protected Craig instead of being nice to Richards.
"By then it was too late, by then I'd taken sides. When Craig was pushed away I felt obliged to protect him. He had become my father figure basically, so I had to prove to him that he could trust me, and so on. That was a mistake, but it was a social mistake."
Villeneuve remained with BAR through 2002 and 2003, but towards the end of the latter year things began to get increasingly difficult with Richards. When Takuma Sato was announced for the following season, Villeneuve left his car to the Japanese driver for the finale in Suzuka. It was almost a year before he was back in F1, called up by Flavio Briatore to replace Jarno Trulli at Renault for the last three races of 2004.
For 2005 Villeneuve was back full-time with Sauber, but it was to prove an unhappy relationship. "That was tough, because when I started to work on the car, I was told 'We know how to make the car go fast; shut up and drive.' That was the habit they had with their young drivers, I guess. Sorry, it doesn't work that way."
In the middle of that season BMW bought the Swiss team, and he was fortunate to hang onto his drive in '06. In the summer, however, he was unceremoniously turfed out in favour of reserve driver Robert Kubica after a crash in the German GP. "I almost didn't do that half year with BMW because I was told by Mario Theissen, 'We don't want you to drive.' I had to change my contract so that he was allowed to kick me out for any reason. Which is why I stopped when I stopped."
With no realistic chance of returning to F1 Villeneuve and Pollock instead looked to America and NASCAR, but the strain was beginning to show on their relationship: in 2008, after more than 15 years, the Pollock/Villeneuve business partnership and friendship unravelled amid recriminations on both sides.
Villeneuve's second stint in the States met with mixed success. He has made sporadic appearances since 2007, racing mostly in trucks or the second-string Nationwide series – which had a round in front of his home crowd in Montréal – but it hasn't been easy: "I had to find some sponsors, and one race I paid out of my pocket, in Talledega. Then I had to find some sponsors to race in Montréal the first year, and then after that because people could see I could drive then the offers started coming to the point where I got to race with Penske. Then I had the misfortune of running into Danica Patrick, and that was it – I subsequently lost my sponsor."
Since then he has done his own deals, and he's spent the past decade dipping in and out of a bewildering array of races including ice racing, the Spa 24 Hours, Australian V8s, Speedcar and Brazilian and Argentinian stock cars. In 2007 and '08 he raced for Peugeot at Le Mans, finishing second in the latter year. It was not a happy experience.
"It was an amazing car to drive, a very professional team, but it was our race and we managed to lose it. We had the quickest car, and it was overheating. And some pathetic decisions were taken. It was better to finish second safely than to win for example, and that made me angry. So I wasn't smiling on the podium, and then a month later I received an email saying your services are not required any more. You are not an endurance driver, and we need somebody French."
In 2014, aged 43, he returned to the Indy 500 with Schmidt Peterson Motorsports. "The first half-day I did I couldn't cope with the speeds, my brain wasn't used to it any more. I thought I was going fast and I was doing 180mph. I thought, 'What am I doing here?' But I took a break and got back in the car, and it was easy. You just needed the brain to assimilate again and go get the information from 19 years before. The race was really, really cool, it was aggressive. But I don't want to go back just to be the extra car."
That same year he also briefly sampled the World Rallycross Championship, while his most recent experience came in Formula E with the Venturi team in 2015, but the relationship lasted just three events. "I went for it because for the first time in many years it was a full season. That was the plan, but it was a mess, so at that point with the team we decided, 'OK let's move on and do something else'."
Villeneuve has not competed in anything in 2016, but he has far from given up on racing and is still looking for drives. "It's always last-minute things. It's frustrating, but you do what you can. You know that people take you because they want to use your image and not necessarily the rest, so you'll never end up having a career out of it. But at least you drive a bit and it's fun, it keeps you in shape.
"The few NASCAR races I was doing, at times it was one race a year, without practice. It makes it a little bit tough. What is difficult is not to get to invited to a race, that's the easy bit, it's to concentrate on a full championship. That's what becomes difficult. Right now, the opportunities are not there."
Tellingly he doesn't have one now, but the recurring theme through Villeneuve's career is the presence of father figures, or perhaps big brothers, be they trusted engineers like Cicale or Clear, or the svengali-like Pollock. Given the absence of Gilles from his life, that's perhaps not surprising.
"Maybe I was trying to replace that somehow, because even when he was alive, he wasn't a father. When he died it didn't really make a difference, apart from being hurt and so on. He had already been away for two or three years, anyway. Maybe that's why I'm very involved with my kids. It is a huge responsibility, but a lot of fun as well. It does make you tired, it does take your life away, but it's all worth it."
His F1 TV work aside, Villeneuve is kept busy by those family duties at home in Switzerland, where he lives with Brazilian wife Camilla. The man who lost his own father so early now has four sons, Jules (aged nine), Joakim (eight), Benjamin (three) and Henri (two). The older pair, from his first marriage, have shown more interest in ice hockey than following the family trade.
"I never say to them there's only racing in the world, because it's not really a good job to get into any more. When I got into racing you could still kind of make it, even if you didn't have a millionaire father. Nowadays I just don't know how you get into this business. If you have only one son I guess you can focus on him, but when you have four, you can't!
"All I want is for them to be passionate for something, and to go for it – whatever brings them happiness, and for which they are willing to sacrifice everything to make it happen. Then they'll have success in whatever they do. That's all I want."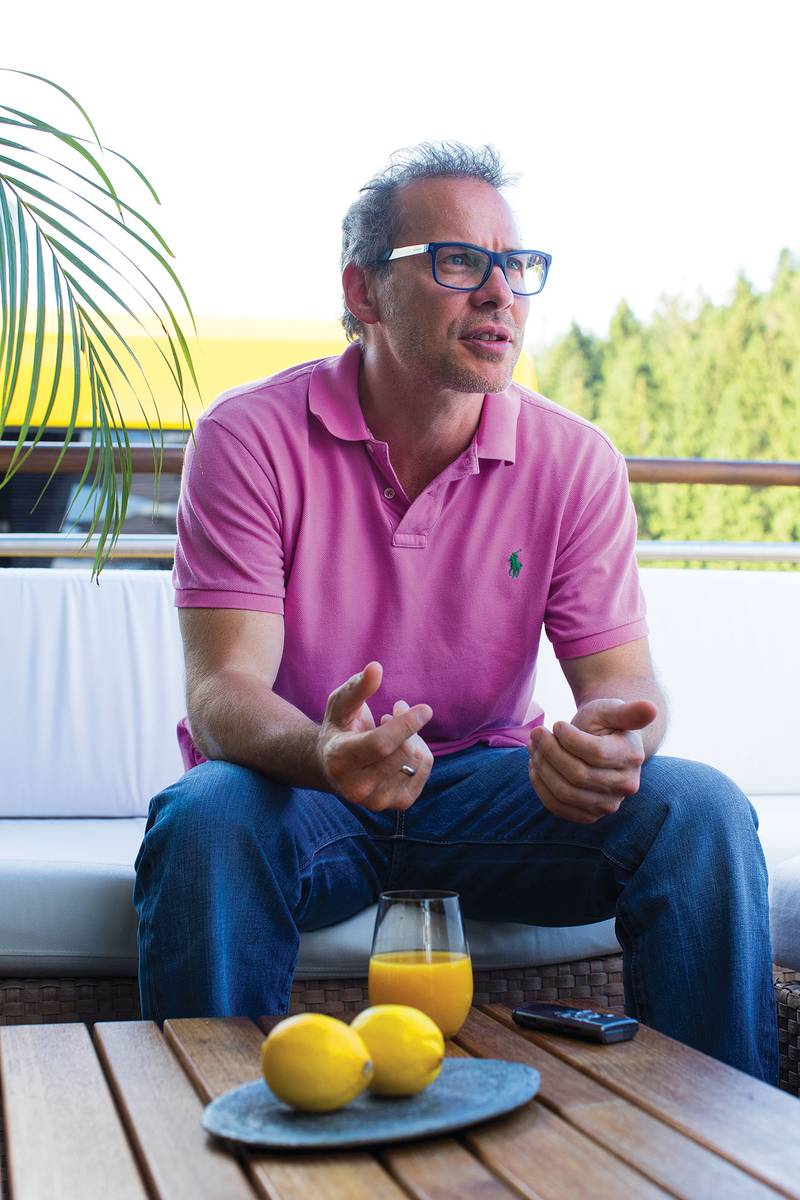 As for Villeneuve, after nearly 30 years in motor sport he has no regrets – even about leaving Williams for BAR. "I went for building a race team; that was just another challenge. I had accomplished my goal, which was winning the F1 world championship. I always need new challenges. Career-wise that was probably not the best decision, but it was fun and it was exciting, and today that team turned into Mercedes. So at the end of the day, it wasn't bad."