Pedal cars — for kids and collectors
With years to wait until a driving licence, kids once skidded around the streets in self-propelled cars. Gordon Cruickshank knocks on your door and asks if you're playing out
Eyebrows lifted a couple of years ago when Jaguar Land Rover announced a sale of 140 vehicles, all of them as green as they could be, with not a petrol engine among  them – because they were all pedal-powered. The sale was part of the vast James Hull collection which JLR purchased in 2014, including the kiddie-car-parkful of junior transport, items which have an appeal of their own to car fans of all ages. And not for that front lawn grand prix. Many will end up in garages alongside the real thing, or indoors for pure display.
Pedal cars have been around almost since the dawn of the real thing, and became popular in the early 1900s. Of course they're still around, although they've long left behind the basic format; now an electric motor is likely to do the legwork, and at the deluxe end they can exceed the price of a real family hatchback.
Simplistic early efforts soon became realistic: before World War I, Bon Marché in France offered a junior grand prix Peugeot. But the most appealing and desirable items coincide with the twin peaks of pedal car style, the 1930s and the 1960s, before plastic took over. By the 1930s the best pedal cars were impressively built with enamelled steel panelwork, chrome trim, leather seats and opening bonnets and doors, and this is where prices peak – in the US in 2012 a lovely '20s Packard with windscreen and plated grille made £14,160. In contrast the deco-style Skippy racer with swivelling faired front mudguards is much more common and affordable.
"The E-type was one of Tri-ang's biggest '60s sellers"
Over here, Tri-ang offered some 30 different designs, though you would be lucky to find the electric Rolls-Royce which topped the range. Easier to locate is the 1950s Austin J40, built in large quantities by disabled miners in Wales and a big seller, thanks partly to its use by junior driver training schools and every Austin showroom. That's the model that stars in Goodwood's Settrington Cup race. In fact they've been revived lately; continuation cars exist even in this small world. But its predecessor is on every collector's list – the Pathfinder, a neat replica of the pre-war Austin 750 racer with dummy twin-cam engine. And a price tag of £25 – which was a fortune in the '50s. Good luck finding one for less than £2500.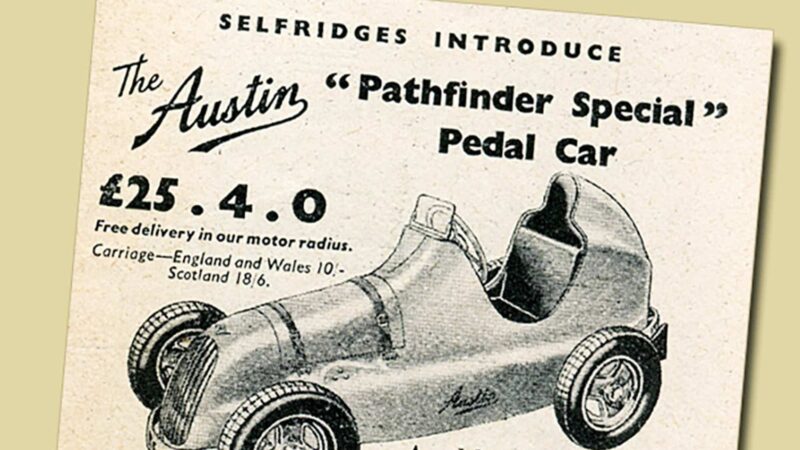 From the 1950s pedal cars became ever more real: in the US you could buy your child the Thunderbird or Impala you always wanted; over here, what else but an E-type Jaguar, one of Tri-ang's biggest 1960s sellers.
From here plastic took over and collector interest falls off (although there was a groovy 1970s Tri-ang beach buggy). As always, condition and completeness rule, though pedal cars usually suffer from their junior drivers so restored examples are easier to find. But less charming.
Skippy Racer, 1935
American National was the world's largest manufacturer of pedal cars in the '30s and the streamlined Skippy was a big success, featuring enclosed swivelling front fairings and a dramatic tapered tail.
Sold
Sotheby's, £2600
Austin Pathfinder, 1949
For the indulged child of wealthy parents who recalled Austin's pre-war flash of racing glory, the costly Pathfinder offered a faithful-ish profile of the single-seater plus spark plugs to play with. Rare, and thus prime collector bait, with prices in the thousands.
For sale
Ebay, £7995
Austin J40, 1955
With its opening bonnet revealing a mock engine with spark plugs, opening boot with spare wheel, and working lights and horn, Austin's J40 offered plenty of play value for 1950s – and 2020s – kids. This example was completely restored but J40s turn up in all conditions.
Sold
Sotheby's, £7200
Unknown, c.1950
Sweeping wings and enclosed rear wheels suggest a 1950s date for this steel-bodied job, believed to be French. Unrestored but in good condition, it sold at H&H's online auction in March.
Sold
H&H, £1150
---
My prized possession
2009 Le Mans winner's trophy
David Brabham, sports car veteran
"After 16 attempts and two GT1 class wins, standing on the Le Mans podium as a Peugeot Sport driver with the outright winner's trophy in hand was an amazing feeling. Post-race duties done, I finally got the chance to collect and admire my trophy, only to find there was only one left – and it was the wrong one for P2! I went to Audi and found that Allan McNish had taken mine by mistake! We had a good laugh and I walked away even happier… not only did I have my winner's trophy, but I'd won it back from Allan!"