2021 BMW M5 CS review: It doesn't get much better
With a soaring price tag, the BMW M5 CS should seriously impress. Andrew Frankel heads to Thruxton on a fact-finding mission
BMW is exerting upward pressure on the positioning of its M5 super saloon. When the previous model was introduced in 2011, it cost around £73,000. When it replaced the current car in 2018 that price had risen to £89,000. To this was added a Competition version, which was nothing of the sort, but it didn't take long for the standard car to be quietly deleted fromthe configurator, meaning today the entry point to M5 ownership is £102,385. But BMW would far rather you bought this new CS (Club Sport) model instead, for which they would like £140,780, all but double the price of the only M5 you could buy a decade ago.
It's a vast sum to spend on a mass-market four-door saloon given that a 520i SE from the other end of the same model range costs – wait for it – over £100,000 less. BMW rather grandly calls the CS a 'limited-run, exclusive special edition model' but then omits to mention to what number the run will be limited, rendering the phrase meaningless. My strong suspicion is that it will be limited to the number BMW expects to be able to sell, making it just like any other car on sale. Can it be worth it?
On the surface it seems not. Despite new intercoolers and revised turbos running higher boost, the power gain over the Competition is just 10bhp. Yes, this does make this the most powerful M car to date, but only just. Likewise the weight reduction of 70kg, primarily through the addition of forged rims, carbon ceramic brakes and some CFRP panels (of which the largest by far is the bonnet), though welcome, has to be seen in the context of a car that still weighs over 1800kg. Overall it equates to a drop in mass of less than 4%.
"I was prepared to be thoroughly sniffy about this car"
Perhaps more significant is what BMW has done to the suspension, which retains the old architecture but is otherwise thoroughly re-thought: new springs, dampers, anti-roll bars and more robust engine mounts to stop the car's single largest weight source from roaming around the engine bay, adversely affecting the handling. Pirelli P Zero Corsa tyres – street rubber with decent wet weather performance but some degree of track optimisation – completes the picture.
I was prepared to be thoroughly sniffy about this car. On first acquaintance I didn't appreciate the unyielding M Carbon front seats, and upon looking in the back I noticed the one in the middle has gone, so this car is not even as practical as before.
And yet so too is there something different about this M5 CS. I felt warmer towards this generation of M5 than its predecessor from the moment I first drove one, but always thought a distance remained before it could possibly be mentioned in the same breath as those M5 icons like the E28, E34, E39 and E60 of times past. But the CS takes the single biggest stride along that path seen to date.
It's as if BMW has stopped play acting, no longer merely making a car that looks, sounds and goes like an M5 should, because if it doesn't drive like one, none of that matters.
This M5 drives like an M5. I don't really care that it requires just 3secs to reach 62mph from rest, I care deeply that it feels like a sports saloon developed by people who really understand what matters in this kind of car.
Which first, foremost and strangely enough, means it should ride properly. Cars like this don't actually spent most of their time on mountain passes and race tracks; indeed many will spend none of their time in such idyllic environments. They'll slog up motorways and crawl through towns instead. And bizarre to report though it is, I'd say this M5 CS on its stiffened, lowered suspension actually rides better than the Competition.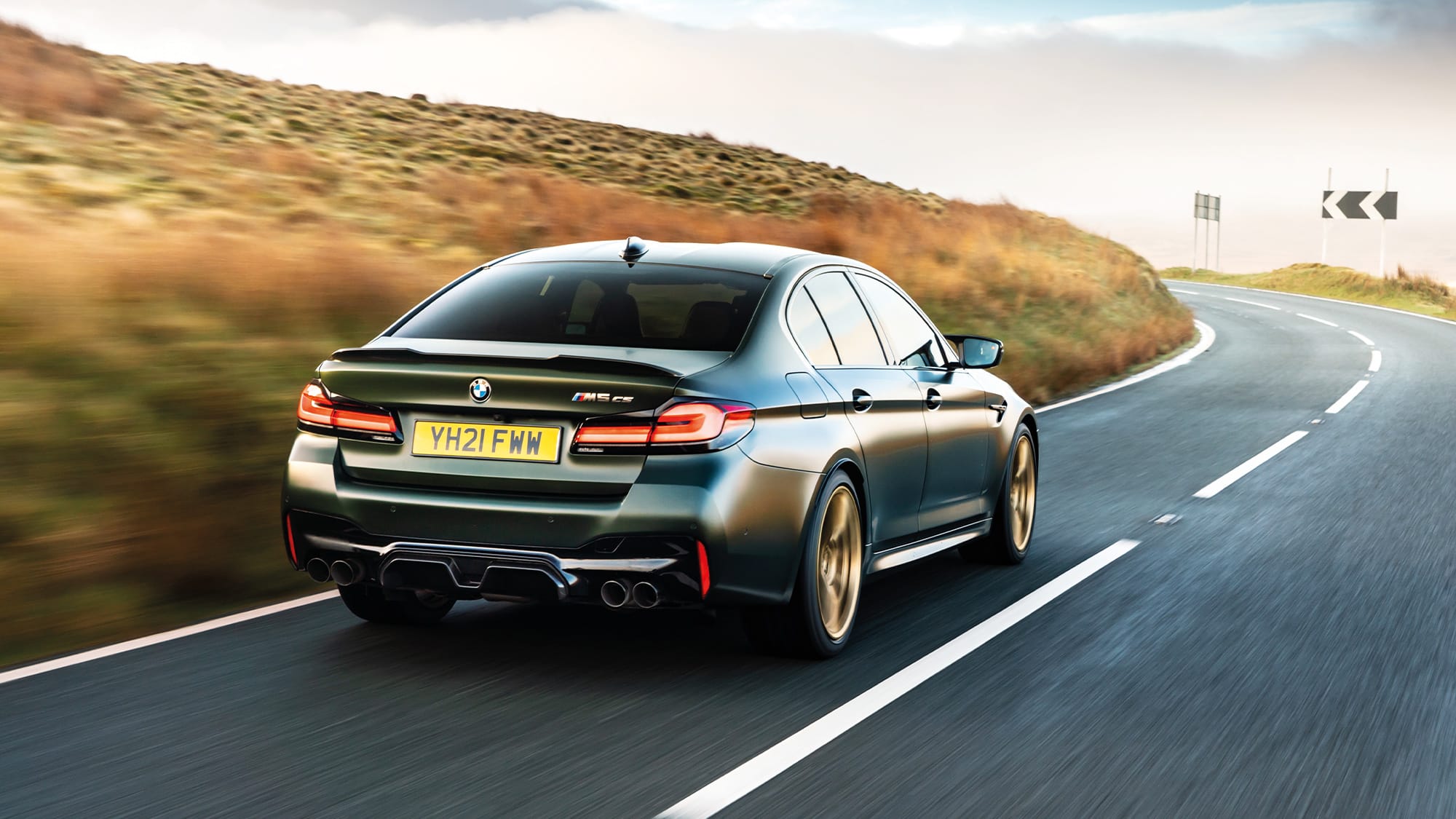 When conditions are right it should more than merely go through the motions, gripping hard and behaving itself when the limit is reached. It should offer an involving, interactive experience, and this M5 does. Indeed I was surprised and impressed not just by its grip and balance, but the feel of the car. For the first time in far too long, I felt like an integral part of the process rather than being told to sit down, shut up and watch the show.
The most illuminating moment for me came when I used it as transport to Thruxton to drive the Jaguar XJR-8 that is featured in the V12 pages of this magazine. I thought it would be sensible to reacquaint myself with this fast and tricky track before tackling it in a 750bhp Group C car, so I padded round gently in the M5. Yet despite paying far more attention to identifying lines and braking points than driving fast, until someone driving a nearly new Porsche 911 GT3 RS slithered past, it was the quickest car out there.
I really liked that, because not only should all M cars be even faster than they look, the reason for that speed should be the confidence they instil in the driver. That to me is another crucial M car trait, which certainly the larger, heavier ones of recent years have lost.
It still strikes me as a great deal of money, but for the first time in a decade an M5 is now the super saloon I would choose to drive. The Ultimate Driving Machine? In this category and for now at least the answer is yes. Welcome back M5. It's been a long time.
2021 BMW M5 CS statistics
Price £140,780
Engine 4.4-litre, eight cylinders, turbocharged
Power 626bhp at 6000rpm
Torque 553lb ft at 1800-5950rpm
Weight 1825kg
Power to weight 343bhp per tonne
Transmission Eight-speed automatic, four- and rear-wheel drive
0-62mph 3.0sec
Top speed 190mph (limited)
Economy 25.0mpg
CO2 256g/km
Verdict This is the real deal – superb.