1974 Austrian Grand Prix race report
Reutemann all the way
Osterreichring, Knittelfeld, August 18th
There were quite a lot of changes to the Grand Prix scene in the lower echelons, caused by accident, changes of heart, re-organisations, general muddle and openings for newcomers. With Mike Hailwood still in hospital following his Nurburgring accident the Yardley McLaren team rebuilt the works original spare car, number M23/4, painted it in Yardley colours and employed David Hobbs to drive it. The Hesketh team blossomed out into a two-car affair, with Ian Scheckter, elder brother of the Tyrrell driver, in 308/1 supporting Hunt with 308/3. John Surtees farmed out his car TS16/05 to the Austrian driver Dieter Quester and Graham Hill took Rolf Stommelen into his Lola team as a temporary replacement for Guy Edwards, whose damaged wrist gets worse instead of better. The Italian-owned Brabham BT42/6 of the Finotto/Bretscher team was hired to the young Austrian Helmut Koinigg while Morris Nunn's original Ensign MN01 rebuilt and rebodied had Mike Wilds driving it in place of Vern Schuppan, Nunn having split up with Schuppan's sponsor from Hong Kong, Teddy Yip. Jochen Mass finally split with Team Surtees and was nowhere to be seen and his place was taken by Jean Pierre Jabouille supporting Derek Bell, while the team's transporter was covered in sticky tape obliterating all signs of Bang & Olufsen who were sponsoring Team Surtees and who have now come to legal blows. The sad BRM team had reduced themselves to two cars and one driver, Beltoise having P201/02 and P201/03 to play with while Pescarolo and Migault were forced to sit in the sun and wait for the management to sort themselves out.
Among the serious Formula One teams all was happiness and bright, with Team Lotus back to a full complement of four cars, both Peterson and Ickx having a Lotus 72 and a Lotus 76 at their disposal, Peterson with 72/R8 rebuilt since its Nurburgring crash with parts from R9 which looks as though it is not going to get completed, and his original JPS/9 brought up to date with the 72 rear suspension. Ickx had his usual 72/R5 and JPS/10 which Peterson had raced at the Nurburgring. The Elf Team Tyrrell were in good form, Scheckter and Depailler having their usual 007 cars and the latest 007/3 with all the latest mods was on hand as a spare. McLaren's mainstream team of Fittipaldi and Hulme had M23/8 and M23/6 with M23/5 as a spare, all three having the latest form of parallel link rear suspension and 23/8 and 23/5 had plastic skirts hanging down from the monocoque to try and discourage air from getting under the car. The three works Brabham cars were BT44/1 and BT44/2 for the drivers Reutemann and Pace, with BT44/3 as a spare for both of them, while the works-blessed BT44/4 of Hexagon was driven by John Watson. The Ferrari team arrived in confident spirit with three cars, 014 for Regazzoni, 015 for Lauda and 011 the "muletta", while in addition they had four spare engines in special carrying frames. Just to confuse things they had rear aerofoils with the vee at the front, others with the vee at the back and yet more with no vee at all. Stuck and Brambilla had their usual works March cars, while Jarier and Pryce had the works Shadows they had been driving all season, with DN3/4A as a communal spare. The Williams cars were driven by Merzario and Laffite, the Trojan by Schenken, the Token by Ashley and Kinnunen had his Finnish sponsored Surtees TS16/01.
Qualifying
In superb weather conditions practice took place on Friday and Saturday in three-hour sessions, with a half-hour break midway to collect any broken down cars. The results were pretty simple for the Brabham team were on top form, their drivers and cars more suited to the circuit than anyone else, and Reutemann was fastest in both parts of Friday practice, while Pace was fastest in the first part of Saturday practice. Almost as the last gasp on Saturday Lauda just managed to snatch pole position away from Reutemann, while Fittipaldi got between the two Brabhams, but at the expense of a blown-up engine. Team Lotus did not seem to know whether they were coming or going and when a 72 was right a 76 was wrong and vice-versa, neither of the drivers getting very impressive results. The elder Scheckter was cruising round feeling his way along in the Hesketh when the engine blew up in a big way, which ended his first day's practice before it had really begun and the Ferrari team were not setting the pace like they usually did. Lauda's engine broke very violently and the car was towed in during the interval and he then went out in the spare car in the second session. By the end of the day nobody had gone as fast as they expected, a lot of people had been frustrated by fuel vaporisation due to the intense heat and very few drivers were content with their car's handling, the biggest complaint being a tendency to understeer off the road on the fast downhill corners, which was a fairly natural thing for a car to want to do. Reutemann was undisputed fastest, with Scheckter next, followed by Hunt and Fittipaldi and then the two Ferraris.
If anything it was even hotter on Saturday, as practice started at midday once more, and among the also-rans there was a lot of scuffling and panic for only twenty-five of the thirty-one aspiring aces were going to be allowed to start. Lauda was back in his proper Ferrari with a new engine installed, and Ian Scheckter was ready to try again. Pryce was in the spare Shadow, Jarier having used it the day before, and Beltoise was still playing with the two BRMs. Fittipaldi's McLaren was wearing its plastic skirt away as it rubbed on the ground under braking, and Laffite lost a lot of time while a drive shaft was replaced on his Williams car. Pryce went off the road in the spare Shadow and crinkled it beyond further use, and Wilds was in trouble with the Ensign as its Cosworth engine would not run on eight cylinders. Due to the heat part of the road surface in the braking area of the final bend on the circuit was deteriorating and Regazzoni got out of line and went off into the fences damaging the front of his Ferrari slightly, and Wilds lost the Ensign and damaged it quite badly. Hunt's gearbox broke a bearing which let the gears chew themselves up and Bell and Jabouille were in engine trouble with the works Surtees cars. The McLaren team were dripping oil from every corner as first Hulme's engine blew up in a big way, then Fittipaldi's spewed out all its oil and Hulme then had the spare car wreck its engine. It was amidst all this trouble that Lauda was credited with the fastest lap of the meeting, gaining him pole position on the grid with Reutemann alongside him. Laffite earned an A-for-effort with his position alongside Watson on row six and Ickx got a B-for-black with his position on row eleven alongside Graham Hill. There were no real surprises among the non-qualifiers. The only unusual thing on the starters list was that Ickx decided to drive the Lotus 76 in place of the Lotus 72, feeling that the modified 1974 car gave him feel, though it was not very fast.
Whereas practice had been held at the heat of midday the race was due to start at 3 p.m. when the sun was more civilised, though still very hot. Ickx was very late in leaving the pits as the fuel pressure on JPS/10 was much too high, and the relief valve had to be changed, and when Laffite finished his warm-up lap he felt there was something wrong with a front tyre. While his mechanics were changing it the small centre retaining nut jammed on its thread and the car had to be wheeled back into the pits to have the nut chiselled off. This left 24 cars on the grid, and in the acceleration match away from the line Reutemann's Brabham out-dragged Lauda's Ferrari and led away up the hill. The Argentinian led the opening lap with Lauda, Pace, Regazzoni, Hunt and Scheckter hard after him. Regazzoni quickly moved into third place behind his team-mate and Reutemann was then hounded by the two red cars. It was something of a high-speed procession with Lauda's Ferrari closing up on the Brabham under braking at the end of the top straight, but losing out on acceleration and through the mid-field swerves. Regazzoni was firmly in third place with a long line of nervous drivers back-pedalling a bit so as not to get too close to him, so that the overall race speed was not unduly high. Pryce called in at his pit after three laps with a misfire, and had the ignition unit changed and Graham Hill was in after nine laps in trouble with his front tyres. Scheckter disappeared quietly on this lap when his engine tightened up, having just passed Pace for fourth place. Hunt was in the pits on lap 13 for a left front tyre change and Watson did likewise two laps later. All this time Reutemann was unruffled in first place but the red car behind him had changed, for on lap 13 it was Regazzoni in his mirrors for Lauda was slowing as his engine went off song. He struggled round until lap 16 when he called at the pits and after a bit of fiddling with the ignition unit he did one more lap and then retired. The engine had developed valve trouble and that was it. At this point Laffite joined the race, after the offending wheel nut had been cut off and a new one fitted and from then on he had a non-stop and fast drive, losing only one lap to the race leader in the remainder of the 54 laps. It was a performance that would almost certainly have netted him seventh place had he started with the rest of the field.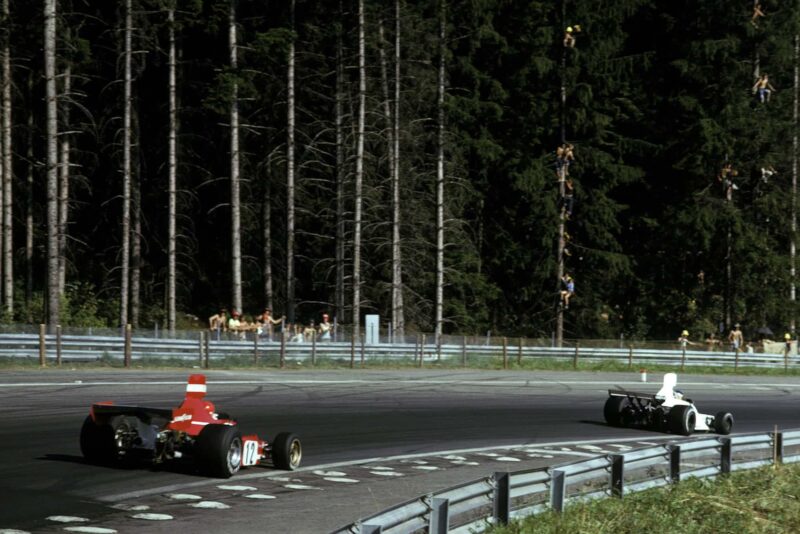 At 20 laps, Reutemann's situation was unchanged, his lead being in no danger, while Regazzoni was a firm second, with Fittipaldi, Peterson and Pace following. Then came Depailler, Hulme and Ickx with Brambilla doing well to keep pace with them, and then the odds and ends, with Hunt and Watson fighting their way through them making up for their pit stops. Pryce spun off the track and could not get started again, Merzario gave up with a loss of fuel pressure, Beltoise disappeared out on the circuit with engine trouble and Reutemann continued his domination of the scene holding a two second lead over Regazzoni. Behind the swarthy Swiss, Fittipaldi, Peterson and Pace were very close, but no-one was making an attempt to do any overtaking of the Ferrari. At 38 laps Fittipaidi dropped out of the race when his engine broke, and at 40 laps the scene in Reutemann's mirrors became very pleasant for Pace had already passed Peterson and with Fittipaldi's disappearance had taken third place, and now passed the Ferrari. Peterson also passed the red car so obviously something was wrong, and then Reutemann saw the black and gold Lotus in his mirrors, with no sign of his team-mate. After holding second place for only two laps the unfortunate Carlos Pace had coasted to a stop with a fuel leak. Now a long way behind, Ickx had passed Hulme and was close behind Depailler, and the Frenchman was getting very tired and making mistakes. On lap 43 he got sideways on in the midfield swerves and while trying to correct the car went the wrong way and Ickx hit the Tyrrell amid-ships eliminating them both from the race, the Lotus limping back to the pits. On the next lap Regazzoni was into the pits to have his left rear tyre changed and the Ferrari team made a complete nonsense of the job, losing him valuable time. At 45 laps Reutemann had 6 1/2 seconds lead over Peterson with Hulme in third place a long way behind, followed by Hunt, Brambilla and Watson. From the start Reutemann had had an ever-changing scene in his mirrors and once more it changed, this time to no-one in sight at all, for Peterson's Lotus broke a universal joint in a rear driveshaft and the Swede slid gently off the track and out of sight. This was on lap 46 and for the first time the Argentinian could relax a little, apart from the knowledge that Hulme was in second place more than half a minute behind. Although the Brabham BT44 was running perfectly Reutemann was worried that something was going to break for he had been in this position in the Argentine Grand Prix and Hulme had coasted home the winner when the Brabham failed in the last miles. This time all was well and a very relieved Reutemann took the chequered flag and stopped almost immediately from sheer relief, rather than keep going on a cooling-down lap. After his pit-stop Regazzoni rejoined the race with renewed vigour and chased after Watson, but the Irishman was going well and was not to be caught, actually passing Brambilla with three laps to go, and Regazzoni caught the March driver on the penultimate lap to snatch fifth place.
The huge crowd, estimated at around 150,000, had obviously been badly cheated, the Austrian fans by the failure of Lauda, the Swiss fans by the failure of Regazzoni and the Italians by the failure of Ferrari. Reutemann and Brabhams did not seem to have much of a following, a lot of people saying "Who is Carlos Reutemann and what is a Brabham?" As a result the vast crowd dispersed very rapidly and by dark the beer tents were pretty quiet. – D.S.J.