1985 Italian Grand Prix race report
Honda nearly there
Monza, September 8th
The tail-end of the Formula One scene is going through a bad time at the moment, first with the death of Manfred Winkelhock in Canada, then the injuries to Jonathan Palmer during practice at Spa ­Francorchamps and then the death of Stefan Bellof during the Spa 1,000 kms race, all these incidents being in Group C sports cars, but robbing Formula One of three of its regular runners. Ken Tyrrell withdrew his number four entry in respect for his lamented driver and Zakspeed withdrew its entry as well. The entry list for the 56th I!alian Grand Prix was brought up to 26 by the entry of Alan Jones making another return to Formula One, this time with a new team financed by an American group of companies using a chassis designed and built in England and powered by a Hart 415T engine. There was a change in the normal scene in the replacement of Andrea de Cesaris in the Ligier-Renault team by Frenchman Philippe Streiff.
With the end of the season in sight there was a slight feeling of "end of term" about the paddock as everyone got ready for the Friday morning test-session, with nothing really new mechanically to be seen, though just as much progress going in detail terms of engine power and efficiency and chassis and suspension mods to utilise the power, while tyre development is continuous. Ferrari had resurrected the two new monocoques it built for the French GP and added suspension improvements and re-thinking in terms of radiators and inter-coolers in each side pod, while it built a brand new car to this revised specification for Alboreto's use. The Tyrrell team had completed a third 014 model with Renault power for Brundle, his original 014/1 becoming the T-car.
As a change from recent races there were no worries about the weather; it was warm and sunny and in typical Italian fashion it was obviously going to stay that way. Indeed, Italy hasn't seen any rain all summer – it's all been north of the Alps. The first remarkable revelation was to discover that young Ayrton Senna had never ever driven round Monza in any sort of car and was going to have to "learn" the circuit, yet everyone assumes he will be challenging the established stars for fastest time in any practice session. Down at the bottom end of the pit lane it was good to see the "chunky" features of Alan Jones once more and the team personnel of the new Beatrice ­sponsored car, called a Lola-Hart, for want of a better name, included many familiar faces from Formula One of a year or so ago. Everyone had all their cars out in front of the pits so that the paddock looked uncannily empty, all the workshop tents alongside the transporters being remarkably clean and tidy with only the odd engine or three tucked away in corners. It only needed the hour and a half of Friday morning to change all this, for in spite of three chicanes Monza is fast and calls for sheer engine power, and strong engines at that.
The Honda engines in the Williams cars sounded really "hard" and purposeful, while the BMW engines were making things vibrate all round them and the Renault, Ferrari and Porsche engines were making it quite obvious that the name-of-the-game at Monza was horsepower and torque, with the teams' chassis and aerodynamic experts juggling the variables to get the highest speed possible, commensurate with down-force to get maximum cornering power. That both factions were winning was shown by Piquet and Alboreto, in Brabham-BMW and Ferrari, respectively, recording over 197 mph through the speed trap at the finishing line, while Mansell and others were already approaching the existing fastest practice lap of 1 min 26.584 sec from last year, and this was only a test-session in preparation for the afternoon qualifying for grid position. The morning session was not without its drama and when it was over Tambay's Renault, Patrese's Alfa Romeo and Acheson's RAM were towed in and Streiff's Ligier was brought in on a breakdown crane after spinning off the track. The Renault had run out of petrol, the Alfa Romeo suffered engine damage as did the RAM, while already in the paddock workshop tents was one of the Beatrice-Lola cars, with driveshaft trouble, while Piquet's race Brabham had broken its BMW engine and the T-car engine was not working properly. The new Tyrrell's Renault engine would not work at all, defying all the efforts of the Renault engine men to get it to start, and the Osella team had an engine failure.
The afternoon was realiy hot, so there was no mad rush to set a qualifying lap time and nearly five minutes passed before Brundle set the ball rolling with the original Tyrrell 014. In anticipation of Ferrari being to the fore a huge partisan crowd had paid to come and watch, and hopefully clap and cheer, but the Ferrari cars were not in the picture. As the "aces" took to the track the Ferraris were pushed further and further down the grid, and there was nothing to cheer about. For the tifosi it was a very dull afternoon. For those of us who take a broader view it was really hotting up and Piguet went through the speed trap at 207 mph with a lap in 1 min 26.595 sec. He got this down to 1 min 26.527 sec with another 207 mph pass, on his second run and in a final effort he shattered everyone with 1 min 25.679.sec, but only recorded 206.3 mph through the speed trap. Marc Surer in the second Brabham-BMW clocked 203.612 mph with a very respectable lap time of 1 min 27. 799 sec, and Gerhard Berger took his Arrows-BMW through the trap at 203.206 mph with a lap time of 1 min 27.746 sec.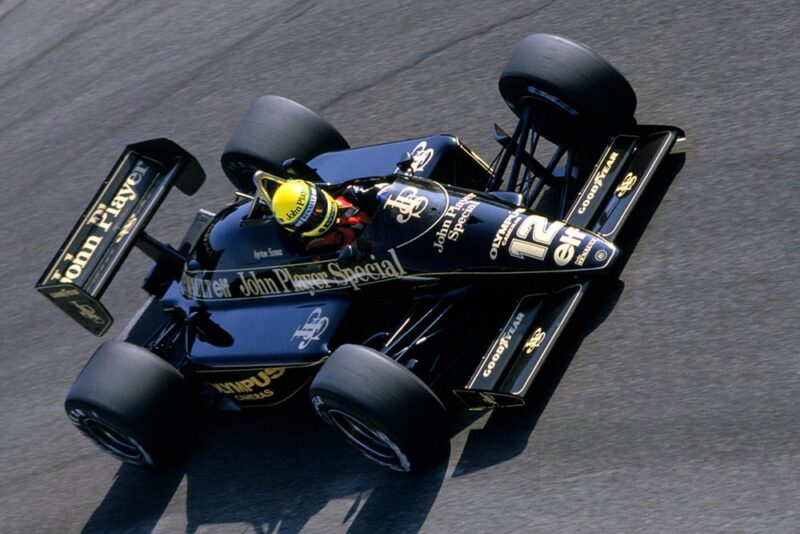 The visible "grunt" of the BMW engines from 130 mph onwards was quite spectacular and the unfortunate tail­enders like Martini with the V6 powered Minardi and Acheson with the Hart­-powered RAM could not reach 180 mph. The Hondas were just on the 200 mph mark and Rosberg and Mansell were second and third, but not in the same bracket as Piguet. Ferrari were not in the BMW class on speed and were even worse on handling so neither Alboreto nor Johansson could give their fans anything to cheer about, added to which Johansson's engine blew up and he had to wait untii Alboreto had finished, to have a go in the T-car, in case the team leader needed it. The Lotus-Renaults were not as fast as the Ferraris on the straight but both de Angelis and Senna were faster on lap times, the Brazilian being fourth fastest overall on his first attempt on the Monza track. A natural fast driver? Tambay had an exciting moment when he had to take to the grass verge at the Lesmo corners in order to miss Laffite's Ligier which moved the wrong way when being overtaken. At 150 mph the Renault skated along on the grass and then came back on the track, but a hidden kerbstone had gouged the monocoque's underside so the car was u/s for the rest of the meeting. Tambay took over the T-car and next day the Renault mechanics built up a new T-car round a spare monocoque.
It had been a pretty impressive high speed session, with Piguet averaging 151.428 mph (243. 700 kph) on his fastest lap and Rosberg being second at 150.581 mph, both of them faster than last year's pole-position figure. The only consolation that the Italian papers could give the fans was to tell them that Alboreto was faster than Prost, much play being made of their personal battle to score points for the World Champion title. They almost forgot to mention that they were only sixth and seventh in the preliminary grid line-up, while poor Johansson was down in a miserable 14th position. Piquet's fast time had not been without trouble, for his gearbox went wrong during his second run and after having it put right his third and final run was on part-worn tyres.
Saturday was another warm and sunny day and even while "testing" there were troubles, Alan Jones blowing up his Hart engines in both his cars and Mansell having a very "hairy" moment at high speed when a rear tyre deflated, but he somehow kept it on the road and away from the unforgiving guard rails. While the Williams team gave it a thorough inspection Mansell used the T­-car for the afternoon qualifying. The Beatrice team found engine changing a longer job than anticipated so that Jonesey-­boy only managed to get out in the dying minutes of the qualifying hour. After the deception of Friday qualifying a much smaller crowd attended on Saturday and their deception was even worse for Prost was actually faster than Alboreto. The scene at the front changed dramatically. Piguet knocked a fraction off his previous best time, but then the big KKK turbocharger failed and the mechanics had a busy time changing it, everything being very hot.
Rosberg and Mansell both beat Piquet's new time and it looked like being a Williams­-Honda front row until near the end of the hour when Senna went out and did an inspired lap in 1 min 25.084 sec, which included putting two wheels on the grass out of the first Lesmo corner, which took the edge off his speed through the second Lesmo corner. His excursion off the road wasn't intentional, he was simply going too fast ! The remarkable thing was his speed trap time at the finish was only 197 mph, against Piquet's speed of 206.9 mph on his quick lap. Surer was still nearly as fast, with 205.7 mph and Johansson and Rosberg clocked over 200 mph, the Ferrari's poor handling being emphasised by the Swede's lap time only giving him tenth position on the grid. Prost moved up to fifth position, even though he could only manage 194 mph through the trap and Alboreto was seventh, so once again the crowd sat quietly and rather bored. In the last minutes of qualifying Piquet went out witn a new turbocharger fitted to his BMW engine, but all hopes of regaining pole position were lost when he found the track slick with oil from the BMW engine in Boutsen's Arrows, which had blown up.
Race
Sunday would have been a real "scorcher" except that the sky was overcast with a heavy haze, but it was quite stable and meant that the day was comfortably warm and free from glare, which was ideal for racing. In spite of the black days of practice an enormous crowd flocked into the Autodromo di Monza, ever hopeful that Alboreto would win by some miracle, or at the least that fhe dreaded Prost would blow up his Porsche engine. One paper gave the crowd as 120,000, another gave it as 150,000 and one even quoted 180,000, but certainly the place was packed solid so it must have been 100,000, and they were all in place quite early, in spite of the race not being due to start until 3 pm. The morning warm-up saw the McLarens of Prost and Lauda recording the fastest lap times in race conditions, which always depresses everyone else, especially after qualifying sessions in which they did not figure strongly.
The Beatrice team was still in trouble with its Hart engines blowing up, the new one in 002 failing, so that 001 had to be prepared for the race. The RAM team was also getting short on Hart engines, while the Toleman team was having no real trouble at all with its engines, which suggests instillation problems on cooling and oil circulation in the RAM and Lola. The Arrows team had another BMW engine failure and Boutsen's car was in many pieces during the lunch hour. Lauda's McLaren was having a new clutch fitted and Mansell's Williams had the gearbox off having a small oil leak cured. All was ready by 2.30 pm when the 26 cars set off from the pits to line up on the gnd. In the morning warm-up session Senna's Renault race engine had seemed a bit flat relative to his qualifying engine but the Renault engine men checked all the electronic read-outs and pronounced it fit, so the idea of changing it was dropped, but Senna wasn't convinced about it.
The race was to be over 51 laps so there was a lot of "topping up" of fuel tanks at the last possible minute, and added to that worry was tyre wear, many teams planning a rmd-race tyre stop. Brabham hedged its bets by putting Piquet on soft tyres with a pit stop in view, and Surer on hard tyres with the prospect of running through non-stop. Similarly Prost was aiming to run non-stop and Lauda was planning a stop, as were both Wtlhams cars. Nothing is cut and dried in these days of fierce competition between the big manufacturers supporting the specialist teams. Senna led the field round on the parade lap and they all took up their positions on the grid. The red light came on and as engines soared to 10,000 rpm and more, the huge concrete grandstand shook with the reverberations of all that unleashed power. The first eight positions on the grid were enough to send shivers down the back of the most hardened spectator. Senna (Lotus), Rosberg (Williams), Mansell (Williams), Piquet (Brabham), Prost (McLaren), de Angelis (Lotus), Alboreto (Ferrari), Tambay (Renault); as good a bunch of "racers" as you could wish to see, and all of them about to unleash 800 bhp in a car about the weight of a Mini-Metro ..
As they screamed away to the first chicane Rosberg and Senna were wheel-to-wheel, with Mansell behind them. Rosberg took the line into the first corner and Senna had little option but to cut straight across the kerbs, for he had no intention of lifting off and giving the corner to Rosberg. However, his acrobatics meant that he lost out to the Williams boys, but "nothing ventured, nothing gained". Back at the start line two cars had been left behind both having stalled their engines. Acheson's RAM-Hart was push-started by the marshals and joined in a bit late, but poor Ghinzani's Toleman-Hart was unable to restart in spite of being pushed a long way. The Electronic Engine Management system was confused by the messages being received, and was giving all the wrong answers, so all the engine would do was to give an occasional "blurp".
Out on the circuit Rosberg was hard on it and had an enormous lead at the end of the opening lap, followed by Mansell, the two Honda V6 engines sounding terrific as they blasted past the pits at 185 mph. Senna was third, Prost fourth, de Angelis fifth, Alboreto sixth, Piquet seventh, Tambay eighth, Johansson ninth, and Warwick tenth. With fuel tanks filled to the brim many of the cars were hitting the slight bumps on the main straight with their under-body steel skids, sending out showers of sparks. On the second lap Senna knew that he had been right about his Renault engine being a bit flat, for Prost caught him quite easily and went by into third place and de Angelis was closing on the Brazilian. At the back of the field Alan Jones' Hart engine was showing signs of overheating and he called at the Beatrice pit briefly to report the fact, but was sent on his way with fingers crossed. Acheson also called at the pits with gear–change linkage trouble. As the two Honda powered cars completed the third lap, Mansell's engine suddenly went flat and made an awful noise, but it kept running and he staggered round the whole lap and made his way into the pit lane. The trouble was diagnosed as a fault in the electronic boost-pressure control unit, and after this was replaced by a new one in a matter of seconds, the engine was back on full song and Mansell was back in the race as healthy as ever, albeit nearly two laps behind Rosberg.
This had let Prost up into second place running smoothly and consistently and just waiting for the Finn's engine to blow up, except that this time it didn't, so all the Frenchman could do was sit in second place and watch the Williams slowly but surely disappear mto the distance. There was absolutely no danger from behind for though de Angelis had taken third place from Senna, he was a long way back and losing ground. Piquet and Pirelli had been having a gamble on tyres, the Brabham starting on relatively soft ones, but in the opening lap with a full tank of fuel they were begining to overheat if pressed hard. However, by ten laps Piquet had been able to speed up and had passed Alboreto and was closing on the Lotus duo, but he could "read" his front tyres and knew they were wearing too rapidly due to the early over-heating. At the end of lap 12 he was into the piits for a new set of tyres and rejoined in eleventh position, but now equipped to have a bit of a go. The Beatrice/Haas/Lola/Hart or whatever we are supposed to call it, expired in sight of the pits on lap 8 and Jones walked in thoughtfully. The Minardi had expired on the opening lap with turbocharger failure/engine trouble, without many people noticing and Cheever's Alfa Romeo went out with similar trouble. Some engine development never progresses! Warwick retired his Renault at the pits on lap 10 with the crownwheel and pinion chewed up and Berger had similar trouble in his Arrows as he sped past the pits to start lap 14, clanking to a stop before the first chicane.
Rosberg was in complete command of the race, lapping Mansell so that the second Williams was running strongly between him and Prost, and anyone who wasn't paying attention, or had been to the bar or the toilet, would have thought the Williams team were still first and second. There was a long gap behind Prost, but then came Lauda in the second McLaren-Porsche, the crafty Austrian almost surreptitiously having worked his way up from his sixteenth position on the grid to third place. It only wanted Rosberg's car to falter and we'd have another McLaren one-two, with Lauda's steely eyes looking for another win. He had passed Johansson, Tambay, Alboreto, Senna and de Angelis and it would have been interesting to know what they all really thought as he went by, for Lauda is not one to say "Good-day, excuse me while I go by." On lap 26 Lauda was into the pits for a tyre change and a new nose cone, which dropped him back to tenth place, and on lap 28 Rosberg was in for what must have been the quickest tyre stop ever seen, for he was out and gone before de Angelis came into view, though naturally Prost had swept by into the lead as the Williams peeled off into the pit lane. Alboreto had stopped for tyres, losing only one place, that being to Piquet who was slowly but surely working his way back up through the mid-field runners. Tambay and Mansell both stopped for tyres and in spite of being too far back to make any impression the Williams-Honda driver was still pressing on hard when a lot of drivers would have given up in disgust. His tenacious drive was rewarded with a new lap record on lap 38 in 1 min 28.283 secs (236.512 kph).
While de Angelis was enjoying leading his brilliant young team-mate, his engine was using too much fuel and soon after half distance his contents gauge made him panic and ease right off, dropping from the third place he had inherited when Lauda made his pit stop, so that Senna moved up into third place behind Prost and Rosberg. Down at the back of the race the slower cars were gradually falling by the wayside, but in mid-field Marc Surer was running strongly as was Johansson, though the Ferrari was not exactly competitive compared with the leaders. Piquet had moved steadily ahead of these two and was once more closing on the Lotus pair, de Angelis being easy meat with his power turned down. Other people's stops had promoted Johansson to fifth place, but then his own stop put him down to eighth place, a lap behind the leader. Rosberg had been steadily closing on Prost, and on lap 40 he sailed by into the lead, the mighty McLaren unable to respond, and it really looked as if the Honda engine was going to hold together this time, for it sounded very healthy, as did Mansell's, but we spoke too soon for at the end of lap 45 it was Prost who appeared in the lead and the unfortunate Rosberg was seen heading for the pits. There was far more water on the outside of the engine than inside and its race was run. Although a head-gasket was suggested as the failure, one wonders whether it was not something more subtle like the failure of a ceramic-to-alloy joint inside, as the Porsche engine used to suffer last year. Their water-leaks were often attributed to the simple "head gasket". As if in sympathy Mansell's Honda engine expired three laps later with a suspected piston failure, but whatever it was, it was pretty serious. Between these two engine failures the quiet and glum crowd had began to leave, along with the Italian President and his entourage, for on lap 46 Alboreto had driven slowly into the pits with his Ferrari engine de-arranged internally. Even Johansson struggling along in fifth place was not enough to keep them in their seats. In was a black day for Maranello and Monday morning at the factory was something that every member of the team was dreading, for even at 87 years of age Uncle Enzo would be asking questions.
While all this was happening Piquet had caught and passed Senna, so that Rosberg's retirement promoted the Brabham to second place but too far back to worry Prost, who eased right off in the last two laps and let Johansson go by to un-lap himself, the last car on the same lap as the McLaren. Marc Surer had driven a remarkably consistent race, running neatly and tidily on his harder Pirellis and very nearly caught, Senna's Lotus on the last lap, nonetheless finishing a praiseworthy fourth. Johansson went by to start his last lap as Prost came up to get the chequered flag, but on that last lap the Ferrari ran out of petrol and rolled to a stop. Though he moved down from being fifth, on the same lap as the leader, to being one lap behind, Johansson did not lose his overall position and as he rode back to the pits on the side-pod of the Lotus of de Angelis the Italian crowd gave him a great reception, for they appreciate an enthusiastic hard-tryer, even though he had never looked like winning.
Up on the winner's podium Prost took delight in "revving-up" the crowd, for the Italian press had been making a lot of drama about the rivalry for the World Championship between the Frenchman and Alboreto. He should have been looking to his right and left for he was flanked by two Brazilian drivers, one the fastest driver of today and the other the best driver of today, all things being equal. -DSJ.