1985 Dutch Grand Prix race report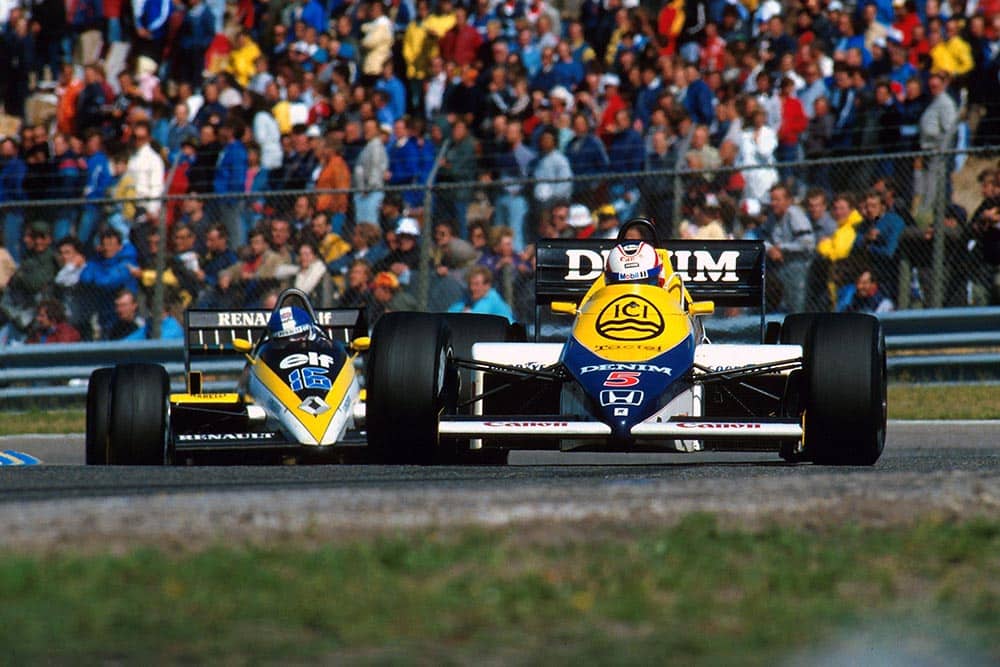 Quite a race 
Zandvoort, August 25th
Before the engines started up on the first morning of practice for the Dutch GP the talk was of the "musical chairs" that Niki Lauda had precipitated the previous weekend at the Osterreichring by announcing that he would be retiring at the end of this season and leaving the McLaren team. Much of the talk at Zandvoort was rumour and surmise, but equally much of it was true and some was actually confirmed. Lauda's place at McLaren, alongside Prost, is to be taken by Keijo Rosberg, and the vacant seat at Williams will be filled by Nelson Piquet, leaving Brabham after all these years. The Brabham seat could be filled by de Angelis moving from Lotus and the vacant seat at Lotus could go to a reasonable driver who might find himself out of work, like Derek Warwick, providing he is prepared to play number two to Ayrton Senna. That, of course, assumes that Senna will stay with Lotus. If the Beatrice/Lola/Hart combine turns out to be a pure Ford (Detroit) Grand Prix team, then there will be a rush for the second seat behind Alan Jones. Renault was on the brink of announcing its withdrawal at the end of this season, though engine supplies will continue to Lotus, Ligier and Tyrrell, or so the contracts say, and Toleman may become an all-Italian team.
While some people were waving their arms about and saying "we have a contract .. . " someone started up an engine, and then another, and another and practice and testing began in warm and sunny conditions with a strong tail-wind down the long straight. As some of the cars went by the pits clocking 192 mph· before braking at 105 metres for the 80 mph Tarzan hairpin, you could only think to yourself, " .. . contract! What's a contract in the world of Formula One?"
The morning had not gone far before there was a bit of shouting· and fist-waving for Patrese collided with Warwick, or rather the Alfa Romeo ran into the side of the Renault and damaged the French monocoque beyond immediate repair, so Warwick was forced to take over the spare car. The Tyrrell team was now much happier as it had promise of sufficient Renault engines to allow it to run both its drivers in Renault turbocharged powered cars, Brundle in 014/1 and Bellof in 014/2 and the Cosworth V8 engine was dead and buried once more. Just to confuse the issue Tyrrell was told that his drivers could revert to their original racing numbers of 3 for Brundle and 4 for Bellof. Although Ferraris were fastest through the speed trap at the start line, they were hopelessly down on lap times, the drivers complaining of the cars jumping about over the bumps. Much later it was discovered that the Maranello engineers had lost their way on spring rates, damping and shock-absorbers and the cars were making their own bumps!
It was a busy morning for some teams for Piquet made a nonsense of braking at the end of the straight and spun off into the sand in his "race" Brabham, and Senna's Lotus set itself on fire when the left-hand turbo­charger blew up. As he was on the section of the track behind the pits he turned right off the track and drove into the paddock through an escape road to get the fire put out as quickly as possible. For his initiative the organisers later fined him $5,000 for leaving the track at an unauthorised point! Already last year's pole position time of 1 min 13.567 sec, set up by Prost with the McLaren­-Porsche had been beaten by him and Lauda, and Piquet, Rosberg and Fabi were close to beating it, and this was only "testing" in readiness for the serious business of the afternoon qualifying hour. Consequently it was no surprise when anyone worth his salt beat last year's pole-position time, during the afternoon.
The Brabham sprint-car BT54/7 was wound up good and tight for Piquet's use in qualifying and he was right on form, with a lap in 1 min 11.074 sec (an average speed of 133.8 mph) which was some going on the winding Zandvoort circuit, though 190 mph down the straight helped. He was closely followed by Rosberg (Williams-Honda), Prost (McLaren-Porsche) and Senna (Lotus-Renault). Last year's fastest qualifying time would have been placed 14th in this first qualifying session for the 1985 Dutch GP. We do make progress, don't we, now that Formula One entertainment has become serious technical Grands Prix again. With Toleman entering Ghinzani in its second car again, it raised the entry to 27 so that the last man in qualifying was going to be a non-starter, which kept the regular tail-enders scurrying about.
Although the weather had been kind, rain and gloom was not far away so everyone had rushed out early before conditions deteriorated, and for once qualifying was nearly finished by 1.30 pm. The qualifying tyres would only stand one full-boost, searing lap so most drivers did two separate "flyers" and that was that. Senna waited until near the end for his second try and though he was faster than on his first run it only netted him fourth place behind Piquet, Rosberg and Prost. No disgrace for a relative new-boy to be behind that trio. The Ferrari team were in such a muddle that Alboreto and Johansson were down in 16th and 17th positions with virtually equal times. It was difficult to believe that the Ferraris were that bad. Kenny Acheson was the unfortunate driver in 27th position, his RAM-Hart damaging its engine in the morning so he had to qualify in Alliot's car after the Frenchman had finished with it. Unfortunately the gearbox broke while Alliot was qualifying and by the time it was repaired Acheson only had time for one flying lap. The rain did not develop until later.
On Saturday morning you could have been forgiven for thinking that the North Sea had invaded Holland, everywhere was grey, wet and miserable and the only thing the teams could do was to prepare for a wet race on Sunday and try and learn a thing or two about running in the wet. To their consternation, or rather Goodyear's consternation, they found that the abrasive Zandvoort surface was wearing away the rubber on the "wet weather" tyres at an alarming rate and there were misgivings about how many tyre changes would be needed in a wet race.
More important was Goodyear's concern that they had enough "wets" to supply all their runners, if that was the case. For a brief moment during the morning it looked as though the rain might stop and it could dry up, but it was an illusion, and throughout the qualifying hour the rain kept on coming down. Only a handful of drivers bothered to go out in the rain as most of them had learnt all they wanted to in the morning, and there was no question of improving on the previous day's time. So what could have been a pole-position battle worthy of Grand Prix racing, like that at Silverstone before the British GP, fizzled out and race-preparation began under the soggy paddock tents and in the drafty garages, for the wind at Zandvoort never seems to stop blowing.
Race
This year nobody in their right mind takes any notice of the weather experts but remarkably Sunday morning turned out quite good, with blue skies and large white clouds occasionally obscuring the sun. Holland does not allow unnecessary noise before midday on a Sunday, so the pre-race "warm-up" ran from 12 to 12.30, with the race due to start at 3 pm. Conditions were good, if a bit windy, and it was no surprise to see Lauda and Prost heading the lap times. The big surprise was to see the two Ferraris in third and fourth places, with Johansson fractionally faster than his team­mate. The Ferrari engineers had done some radical rethinking on spring-rates and shock-absorbers and realised they had been making their own problems. In the Renault pits all was confusion and they were their own problem. As Warwick had taken the spare car, to replace his damaged one, another car was brought up from Paris and when Tambay found his engine misfiring he went out in this new spare car. The first time he braked heavily for the Tarzan hairpin the left front suspension collapsed and he was very lucky to get away with a mild shaking. It appeared to be a structural failure, which did not exactly instill any confidence in the two drivers, nor did the sight of mechanics welding stiffening gussets into the two race cars. Apart from the French team the rest were looking quite good, and even if they weren't they did not show it.
At 2.30 pm the pit lane opened to allow everyone a lap or two before lining up on the dummy-grid opposite the pits, and McLaren made a last-minute change by putting Prost into the T-car. When the pit lane was closed there were only 25 cars on the grid for Tambay had gone off in his Renault only to return with the engine apparently still misfiring. After more fiddling about by the mechanics he had to line up at the exit of the pit lane, to join the race after the start. Piquet led them all round in a pretty orderly fashion, and they lined up on the starting grid, which is before the pits. The anticipation of the start was electric, for Piquet knew he was going to be first into the Tarzan harpin, from pole position, Rosberg was determined to use every ounce of Honda power to beat him. Senna was going to do one of his "Villeneuve" starts from behind the Williams, Prost was not going to miss any opportunities, and if Mansell got it all right he was going to be in the thick of drag-race down to the first corner. At the back Alboreto and Johansson were actually behind Ghinzani in the second Toleman, which could not have pleased Uncle Enzo, so they were going to rocket away when the green light came on.
When the red light came on someone's engine could be heard bouncing on the rev limiter, and it sounded like Rosberg's Honda engine. The sound and fury of nearly 20,000 bhp screaming to be unleashed is one of those things that has to be experienced by being there. No television or radio broadcast can hope to transmit it, and when the green light shone confusion reigned. Piquet, on pole-­position, stalled his BMW engine, blocking the whole line of cars on the right, and Boutsen stalled his BMW engine in the left row. It seemed that Piquet must be struck, but by a miracle of quick reflexes, skill and judgement, everyone on the right missed him, and equally everyone behind Boutsen missed the Arrows. The Zandvoort start area is not all that wide, and there were numerous close-shaves, but it was heart­stopping to watch, so you can imagine what it must have been like to be in there amongst it all. Rosberg had made no mistakes, and neither had Senna and these two were away. Boutsen managed to "catch" his BMW engine while he was still rolling, but Piquet needed to be push-started by the start-line marshals; in the meantime Tambay had joined in from the pit lane. The 1985 Dutch GP was on with a vengeance, to run for 70 laps, and though there was a strong wind blowing off the sea across the main straight, the white clouds in the sky looked comfortable.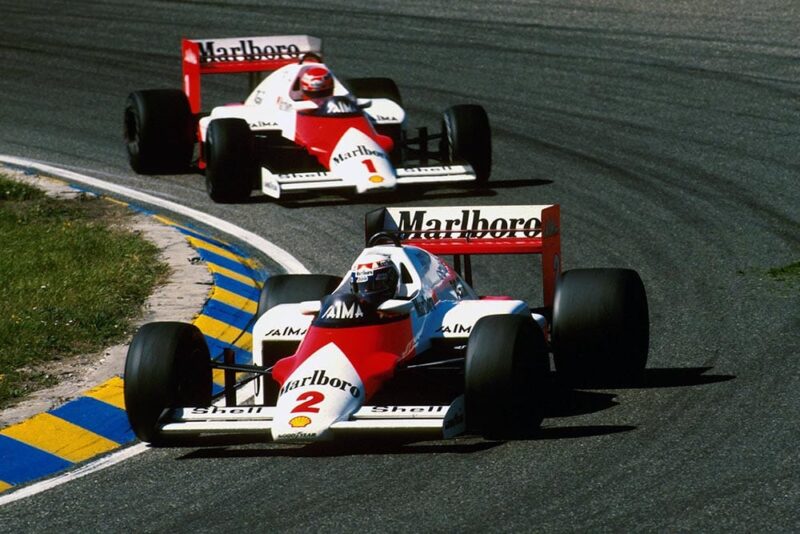 In the opening lap Johansson and Alboreto jumped from 16th and 17th to 11th and 12th, and Tambay passed five cars. Rosberg really had his foot right in it, and as Piquet finished his opening lap the Williams was appearing onto the long straight, the Honda engine sounding very "hard" and purposeful. Nobody could stay with the Flying Finn and by the end of lap 3 he had pulled out a visible gap over Senna's Lotus and it was growing steadily. This went on to lap 10 when Rosberg eased the pressure very slightly, but was still looking very secure. As if the embarrassment of watching Tambay having to start from the pit lane in his works Renault wasn't enough, both Euroracing Alfa Romeos trailed into the pits at the end of the opening lap with smoke pouring from damaged turbo-chargers. On lap 9 Johansson came into the pits with smoke coming from his Ferrari engine, but this was much more serious than a mere turbo­charger; it was terminal internal damage. Running right at the back of the field Piquet was forging a lonely path, lapping nearly at the same speed as Rosberg, which made his "muffed" start all the more infuriating. The order behind Senna had soon settled down after Fabi had been ousted from third place, where he had slotted into during the start line melee, both McLarens getting by him.
At 10 laps the order was Rosberg, Senna, Prost, Lauda, Fabi, Mansell, Warwick, de Angelis and Alboreto with no obvious changes imminent. The other interest was to watch Tambay's progress up through the field, for he was now thirteenth and about to pass Bellof in the second Tyrrell-Renault. On lap 14 Senna's Renault engine suddenly cut out completely, and Prost and Lauda nipped by. It then cut in again and the Brazilian went on racing, now in fourth place, but getting a bit fed up with things going wrong with his Lotus-Renault. At the start of lap 17 Tambay was harassing Alboreto, and dived to the inside under braking for Tarzan hairpin. "Our Albert" obviously thought "nice Mr Tambay" wouldn't do anything rough and stayed on line, but he was wrong, Tambay was aggressively wound up and banged wheels with the Ferrari as he forced his way through into ninth place. On the next lap this turned out to be eighth as Fabi came into the pits to retire his Toleman with a loose rear wheel fixing. On lap 19 Tambay disposed of de Angelis, and the Lotus number two promptly stopped at the pits for new tyres, so now Tambay was behind his team-mate Warwick, who was trying to get by Mansell.
Twenty laps saw a complete change, for Prost came by in the lead, followed by Senna, as Lauda headed for the pits for a routine tyre change. Mansell, Warwick and Tambay went into the Tarzan corner in a splendid wheel-to-wheel pushing and shoving match that you only get at Zandvoort, at the end of the long straight, and then Rosberg rolled slowly into the pit lane with smoke pouring from his Honda engine. It just wasn't strong enough for the Finn's heavy right foot. The two Renaults ousted Mansell and found themselves third and fourth, but then Tambay disappeared out in the country and it was reported that his transmission had broken " … probably the limited-slip differential … " Lauda's pit stop had been swift and sure and he was back in the race in eighth place, going as well as ever. Mansell stopped for tyres and de Cesaris stopped for good in a cloud of smoke, and then Senna made a. swift tyre stop. Alboreto had unobtrusively passed Warwick, so Senna's stop let the Ferrari up into second place, which wasn't bad going from seventeenth on the grid.
While all this was happening Prost was droning round in the lead, as only he can do, looking unruffled and unemotional, but oh so efficient. Warwick disappeared as quickly as Tambay had, the reason being given as "gearbox trouble", so now at 30 laps the order was Prost, Alboreto, Lauda and Senna, with Marc Surer moving up onto the leader board in fifth place, ahead of de Angelis. Mansell had had the wrong sort of tyres fitted at his pit stop and was making very little progress, and was to stop later, on lap 39 to have some better ones fitted. Just before half distance there was a lot of activity in the Ferrari and McLaren pits, which were alongside each other, and sure enough Alboreto stopped for new tyres at the end of lap 32, and Prost stopped at the end of lap 33. This let Lauda by into the lead, and Senna moved into second place. Alboreto's stop was a good one, but Prost's was spoilt by the right rear hub nut baulking on its thread and having to be replaced. It only took a matter of seconds, but virtually doubled the length of the stop, and Prost rejoined in third place, quite a long way back from Senna.
It would be nice to say that Prost now "got his head down" and began to really charge, but he doesn't drive like that. With no outward sign of aggression he began to whittle away the gap betwen the Lotus and the McLaren and his lap times tell it all. While Lauda was lapping in the 1 min 18 sec bracket, with an occasional one in the 1.17 bracket, Senna was pretty consistently in 1 min 18 sec bracket. Prost reeled off 1.17.2; 1.17.2; 1.17.4; 1.17.8; 1.17.5. The gap closed steadily until by the end of lap 46 McLaren and Lotus were side by side as they crossed the line and headed for the braking point. Senna was on the inside and sat it out with Prost, but had to give best to the determined little Frenchman. Meanwhile Alboreto had disposed of de Angelis, so was now fourth, with his sights set on Senna's Lotus, especially as the Lotus was losing power, thanks to some obscure Renault fault. Although Lauda responded by getting his lap times down into the 1.17 bracket, Prost was even quicker, lapping in the 1.16 bracket, and with 20 laps still to go, he was going to catch the reigning World Champion.
With 10 laps left Prost had his team-mate well in sight, but it was obvious that Lauda was not going to slow up and let him through into the lead. They had a pre-race agreement that in such a situation it was every man for himself; there is no number two driver in the McLaren team. While the eyes of the world through television were on the two McLarens, there was a much more serious race going on behind them, for Alboreto was up with Senna, and both wanted third place. In the last two laps Prost made attempts to get by his team-mate, but the Austrian made sure there wasn't room, and eased back ever so slightly as he .took "central" lines into corners, knowing that there was not room for Prost to get by, even if he had the speed. This was vintage Lauda, for he is not called "the wily Rat" for nothing.
Lauda crossed the line two-tenths of a second ahead of Prost, holding him back just that minute fraction which can be so frustrating for the second man. Behind them Senna crossed the line a mere four-tenths in front of Alboreto, the difference being that both drivers were at their limit all round that last lap. Indeed, as they had gone into Tarzan to start it they were side-by-side and it was getting quite rough.
This win was Niki Lauda's 25th, a total that equalled that of Jim Clark, and put him only two away from Jackie Stewart's record of 27 wins, so you could see why he wasn't interested in letting Prost go by. – DSJ.