1994 Belgian Grand Prix: As thick as a plank
Schumacher was beaten to pole position by a combination of the weather and Rubens Barrichello, but on race day he was in a class of his own… Until they measured his skidblock.
There were two Belgian Grands Prix this year.
In the first, Michael Schumacher simply blasted into what on race day was a wide blue yonder, to beat arch-rival and pre-race favourite Damon Hill by a comfortable 13.6s.
The second race was witnessed by few and took place in parc ferme, where instead of green lights it was initiated by FIA Technical delegate Charlie Whiting wielding a pair of vernier calipers with which he measured the skidblock, or 'plank' on the underside of Schumacher's Benetton-Ford.
Shock horror! The plank started life 10mm deep along its 224cm length and across its 30cm width, and it was allowed a wear tolerance of not more than 9mm by the race's end. Yet here, claimed Whiting, was evidence that 10cm back from its leading edge, and for a portion of some 80cm, it was as narrow as 7.4mm. Consternation! Suddenly, what we had all seen on the track was not, after all, what it might have been. . .
To a man, Schumacher's peers had slagged off the Eau Rouge chicane that he had created with F1A Safety Delegate Roland Bruynseraede, but the German had seemed to know just what he was up to when he supervised the changes that emasculated the last great corner in racing.
Taking away that daunting swerve, through which it is so vital to carry maximum momentum, and replacing it with a horrible little left, right flick, should have favoured the punch of Renault and Ferrari, and penalised the Ford Zetec-R. That was what everybody seemed to think prior to the Belgian GP, but that wasn't quite the way it worked out.
Perhaps, we said after qualifying, the rain that had spoiled both sessions was the reason why Schumacher had been so quick. After all, Rubens Barrichello was on the pole, so things weren't that accurate a guide, were they? But come the race, when everyone had to guestimate their settings because the race morning warm-up had not been held on a totally dry track either, the German was simply in a class of his own. Nobody looked like getting anywhere near to him as he took his eighth victory of the season. Only later would some impute sinister reasons for the Benetton's speed, as news began to filter through of the skidblock's failure of the measurement test. For Barrichello it really had been a case of right place, right time as the track dried out on Friday afternoon. It was literally getting drier by the minute, and as Schumacher ducked round in 2m 21.494s once the real aces had switched to slicks, there was jubilation in the Benetton camp. Damon Hill was left with a solid 2m 21.681s on wets, which had just pipped Eddie Irvine on an impressive 2m 22.074s. Jean Alesi was left scowling with a face like thunder after he and Martin Brundle had ruined each other's best laps by each wanting the track at the same time. Few had eyes for the 22 year-old Brazilian, but Jordan's management had timed things to perfection. Even as Schumacher and his crew were congratulating one another, Rubens ducked beneath the chequered flag and the Tag Heuer screens twitched one final time. 2m 21.163s said the top line. Great timing.
"At first I told them it was too risky for slicks," said Rubens. "Then just as they were going to get the rain tyres I changed my mind and said, 'No, let's take the risk and go for it."
It was a gamble that would pay off even more handsomely when Saturday's final qualifying session was also affected by rain, and a delighted Barrichello sat glued to the television monitors with team manager John Walton, clapping with excitement as Schumacher and Alesi failed to get within four seconds of his previous day's best. Once again the track was drying towards the end, but this time it didn't dry enough. A very shrewd bit of timing had reaped dividends and made him the youngest ever pole winner in a pukka Grand Prix.
If Spa had been good for Barrichello and Jordan thus far, however, the glee didn't last long. True, Rubens and Eddie I did get further than they have in the last two events. The Brazilian kept his nerve off the line and led to La Source, and he led all the way down to Eau Rouge and out of the silly chicane and up the hill to Raidillon. That was good. But as they came up to Les Combes at the top of the circuit, the inevitable happened. Schumacher had got away well enough in second place, and on that long, long climb he simply powered past and grabbed the lead going into the right, left, right sequence.
Further back Alesi had got away well too, slipping inside Hill who had been surprised to see the green lights turn back to red and who politely made room when the Ferrari steamed by. At the Bus Stop chicane at the end of the lap two the Ferrari was up to second as Jean slingshotted by down the inside of Barrichello before they turned in. Bad luck for Jordan, but this was good for those who wanted to see Schumacher challenged. We were to be let down within a lap, however. The German led by 4.2s as they crossed the line, but Alesi got no further than the exit to La Source when he trickled to a halt. Engine failure.
"What can I say?" he asked. "Once again everything went wrong for me on a day when the car seemed really good. Everything happens to me. . ." You couldn't blame the plaintive note in his voice.
It really wasn't his weekend. He had been very quick during the wettest period on Friday, but was incensed when he and Brundle had their contretemps. Since Brazil and Imola in 1992 they haven't exactly cried upon one another's shoulders, and here their subsequent verbal exchange was acrimonious to say the least. "Everyone knows you're in the car because Ron Dennis couldn't find anyone else," Alesi ventured. "I hope next year he doesn't waste the seat and gets a young driver with talent." Brundle was unmoved, and pointed out that he too actually had a right to use the circuit even if that was a surprise to Jean. Had he wanted to he might also have pointed out that their results have been very similar, right down to the fact that neither has yet won a Grand Prix. . . Barrichello moved gratefully back to second place, but within a lap Hill, Coulthard and Hakkinen had all rushed by, but Rubens was planning only one stop so his car was carrying more fuel, which explained a few things.
With seven laps gone the race for victory was already over as Schumacher nursed a 13s advantage over Hill and Coulthard, the latter right back on the sort of form that he showed on his debut in Spain. "For a man in his sixth GP he was very impressive," Patrick Head would say later. "You're looking at a new talent."
Hakkinen's initial burst had brought him a solid fourth, while Barrichello had dropped back and was locked in combat with Verstappen and Frentzen. Berger chased this bunch, like the lead Jordan, his Ferrari heavy with fuel as he too planned only one stop. Heinz-Harald had overtaken Jos on lap six to take sixth, and Gerhard followed suit three laps later. This seemed to be shaping up quite nicely, with the Sauber looking a real threat to the Jordan, but then Frentzen pressed a little too hard at Eau Rouge as the C13 got away from him. Officially, he then retired "because there was no traction any more." but what he really meant was that he had kept the engine running, tried to restart, and beached the car over a kerb which lifted the rear wheels off the deck. . .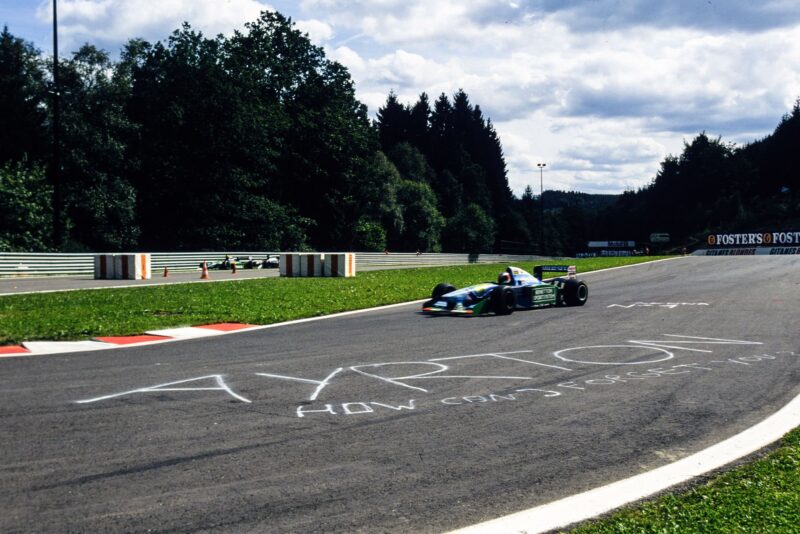 Another threat to Barrichello disappeared when Berger's engine broke as he went through the Bus Stop on lap 12, ending a bad day for the Prancing Horse. His car stranded in a potentially dangerous place, Gerhard, with best intention, attempted to make the pit entrance, raising his hand in indication of his problem. Unfortunately, the angle he was approaching it at prevented him seeing Brundle as Martin headed for the pits and his first fuel stop, and they narrowly missed collision. Later, Berger would be given a one-race suspended penalty for his sin.
Barrichello was the last front runner to stop for fuel, coming in from second place on the 18th lap, and when he resumed the order read Schumacher, 18s clear of Coulthard who had got by Hill during their stops, then Hakkinen, Rubens, Brundle, Verstappen and Blundell, who was catching the second Benetton and leaving behind Irvine, who had been edged wide at La Source at the start and had thus lost valuable momentum and places on the climb to Les Combes. Then came Morbidelli, scrapping with Panis (who was rolling again when the lights went green) Martini and Fittipaldi (who had been 28th fastest on Friday and was mighty relieved to scrape into the race in 24th place on Saturday).
On lap 19, however, Schumacher so very nearly came to grief at Pouhon, the very quick double left-hander. The Benetton suddenly spun through 360 degrees and he was very lucky to get away with his rear wheels flicking over the kerb and just kissing the grass with his right rear.
Off line it was getting very slippery, thanks to dirt and rubber shards all round the circuit, and going through Pouhon a lap later Barrichello switched Eddie Jordan's promising day back into nightmare mode as he got on to too tight a line and went straight on into the gravel. He kept the momentum going as he attempted to drive round the outer edge, but instead he carried right across until thumping the tyre wall. That left Brundle in fifth place, a good 20s behind his team-mate, who was into a sterling drive that went a long way to making amends for a very public shunt exiting the Bus Stop at the end of the morning warm-up. Martin, however, would last only until lap 25, when he too dropped it heavily at Les Combes.
By now the Belgian GP had become to public entertainment what the Great Plague was to sanitation, for quite clearly the Williams duo wasn't about to catch Schumacher unawares. After his little surprise Michael had quickly picked up his rhythm again. Hill, however, was frustrated in his efforts to pass his team-mate when they came upon de Cesaris. After his Indian Summer with Jordan in 1991, and the odd shining run for Tyrrell, the Italian has slipped back into his bad old ways, and the way he held up Hill reminded onlookers of his less desirable traits.
From 0.6s on lap 23 the gap between the Williams drivers expanded to 2.4s by the time Damon had encouraged Andrea to use the glass things that stuck out on the sides of his Sauber's cockpit. It's not just Mercedes-Benz that thinks Sauber chose the wrong stand-in for Karl Wendlinger. One just hopes that Derek Warwick didn't throw anything too hard at the screen if he was watching on television.
Hill refuelled on lap 28, at the same time as Schumacher, which gave Coulthard a lap in the lead for the first time, and when he resumed after his call on lap 29 he got out of the pits marginally ahead of Damon. Why the Scot had not already received any message to allow Hill to pass, to pursue his World Championship aspirations, was a point beyond the immediate understanding of many onlookers. Though David naturally wanted to make as great an impression as possible, it surely made more sense to have the driver in the best position to challenge Schumacher's points tally running in second place.
Damon certainly thought so. "My view is that the team should have acted sooner in asking David to let me by, and I let them know my feelings on the radio. They replied 'Yes', and said they understood what I was saying, but nothing happened.
"Once I was past I was able to run much quicker because I wasn't in dirty air. It's always easier to get the most out of the car when you're not running in another car's turbulence."
Damon thought he was close enough for the team to radio David; the team, apparently, didn't, even though Hill was running less rear wing and could thus tow up to Coulthard by the end of the straights.
It was an unfathomable impasse, that many felt would prompt Frank Williams into thinking that he really does need Nigel Mansell after all next year.
The situation finally resolved itself on lap 37, when Coulthard was called in. His rear wing was wobbling and assuming an odd angle at times, and Patrick Head insisted on a safety check. He conducted this himself before despatching the Scot once again. He had been the first of his race to lead a Grand Prix since Jackie Stewart in Canada in 1973, but by now any thoughts of the first podium finish for a Scot since JYS' in Germany that season had once again been dashed.
As Coulthard resumed, Hakkinen had superior momentum going down to Eau Rouge, and just as Coulthard's own overtaking moves on backmarkers going into that corner had demonstrated his extreme confidence, so Mika's lunge did. The Finn grabbed third place, and then a lap later it was clear that David was in trouble. The heat sink during his prolonged pit stop had upset his car's electronics, with the effect that his last laps were conducted with the FW1 6B stuck in fourth gear.
This would be bad news for Blundell. The Briton's progress had once brought him on to Verstappen's tail, but as they came up to lap the spin-prone Gounon and Bernard on lap 20 Mark had to venture off line and immediately found the dirt on his tyres took four laps to scrub off. "Just before my first stop I'd had a problem with the gearbox and its selection process, so we'd changed the mode when I came in. After that the car was great, with a good set-up, and I was catching Jos again. We both passed David, and then going through La Source on lap 40 he tapped me up the back and I spun. He came and apologised to me afterwards, but when you're headed for fifth place and two points, and you get knocked off by the guy who goes on to take that position, it's difficult to tolerate. He was going too fast there for the problem that he had, being stuck in fourth. Without that, I think I could have caught Jos and who knows? I might have been able to pressure him into a mistake. . ."
At the end he'd been lapped, so was unable to push after the crippled Coulthard, but in any case his Tyrrell had sustained damage to its left front wing endplate and had lost a lot of downforce, so it was by then a moot point whether he could have caught the Williams. It was nevertheless an unsatisfactory end for a team which had earlier lost a flying Ukyo Katayama when engine seizure had pitched him off the road on the 19th lap. Further up the road, Hakkinen was extremely pleased with a reliable run to third on his return to the cockpit after his enforced layoff in Hungary, especially as he'd had a brake balance problem since the halfway point. And Verstappen again showed his growing maturity with an excellent run for fourth.
Blundell did take a point, a place behind Coulthard, while Gianni Morbidelli drove unobtrusively for an apparent seventh place in Arrows 250th GP in a team career that has yet to enjoy the distinction of victory. Or even the sniff of it. . .
The naughty Panis was next, ahead of the Minardi duo of Martini and Alboreto who raced right to the line in the team's 150th GP, Piero getting the verdict by less than half second.
Others were not so fortunate. Irvine had been heading for fifth in the wake of Coulthard's problem, keeping out of trouble and desperate for some points after his recent appalling run of ill fortune, when his battery started running down with three laps to go. An alternator problem was suspected. Herbert's brilliance went all but unnoticed, in his last scheduled outing with the unloved Mugen-Honda ZA5C before the highly promising ZA5D came on stream at Monza. He spun on the first lap when he ran out of room in traffic at La Source, and then went straight on there on lap five when he locked his brakes. The bleed nipple on the right rear caliper had worked loose, leaving him with only effective front braking. He lost two laps having the problem diagnosed and rectified, and then despite occasional gearchange glitches he drove like a demon with laps that were quicker than all of the midfield runners up to Morbidelli.
At the flag Schumacher was 13.6s ahead of Hill and had notched up his eighth win of the season and his 10th since victory had fallen to him at Spa back in 1992. Or so we all thought.
"The set-up today was a gamble, because I only did two installation laps in the dry just to scrub some tyres. But once again we proved that we are always competitive, from the first moment, and we proved it here again." Hill desperately needed to win this race if he was to keep his slender championship hopes alive, so second place, particularly in the circumstances prevailing, was a huge disappointment. "We took a few risks with the set-up," he admitted glumly. "The car wasn't good enough, at the end of the day. I took a bit of wing off and I had a little bit too much pointiness in the car. Second place hasn't got me jumping up and down. . ."
That would come later, when he had struggled through the traffic to Brussels airport and was told the good news that, after all, he had won. What we had all thought to be a fight for second place between the Williams-Renault drivers had in fact been the battle for the lead. . . As the Englishman began to celebrate, Benetton engineers Ross Brawn and Pat Symonds were jumping up and down themselves back at the circuit, but for entirely different reasons. . . D.J.T.