Italian Grand Prix – Monza, 10 September 1995, 53 laps of 3.604 mile circuit (191.012 miles)
1: Johnny Herbert – Benetton B195-Renault V10 – 1h 18m 27.916s
2: Mika Hakkinen – McLaren MP4/10-Mercedes V10 – 1h 18m 45.695s
3: Heinz-Harald Frentzen – Sauber C14-Ford Zetec-R V8 – 1h 18m 52.237s
4: Mark Blundell – McLaren MP4/10 – 1h 18m 56.139s
5: Mika Salo – Tyrrell 023-Yamaha V10 – 52 laps
6: J-C Boullion – Sauber C14-Ford Zetec-R V8 – 52 laps
The race in brief
Coulthard fails to make it round the warm up lap after sliding off on oil at Ascari. Alesi out-flanks Schumacher at the start, with Berger third. Papis spins at Ascari on lap 1 and a four-car melee blocks the track. The race is stopped.
Coulthard jumps into the T-car and makes the restart, diving into the lead ahead of Berger. Schumacher, tyres smoking, drops to third ahead of Hill and Alesi. Berger takes a look inside the Scot at Lesmo on lap 1 but is rebuffed.
Brundle has a left-rear tyre blow on the pit straight at the start of lap 10. He nurses his Ligier back to the pits 'Gilles Villeneuve style; to retire and subsequently receives a reprimand and from the stewards.
Two and a half seconds clear of Berger, Coulthard's Williams snaps sideways under braking for the second chicane on lap 14. A wheel bearing failure is responsible and he exits the Italian Grand Prix for the second time. Berger now leads with Schumacher only a second and a half behind in second, Hill third and Alesi fourth.
On lap 24, under braking for the second chicane, Hill collects Schumacher as they negotiate backmarker Taki Inoue. Hill is irate with Inoue, for switching from right to in front of him when entering the braking zone, whilst Schumacher is furious with Hill and rushes over to the stricken Williams to protest. Hill is later given a suspended one-race ban. Alesi is now second from Barrichello, Hakkinen, Herbert and Irvine. Race leader Berger makes his only pit stop as, like the rest of the field bar Tyrrell, he is on a one-stop strategy.
Alesi stops on lap 25, Barrichello on lap 26, and Hakkinen on lap 27. Alesi's quicker stop brings him out ahead of Berger.
Herbert pits on lap 29 and leapfrogs up to third ahead of Hakkinen and Barrichello, and behind the two Ferraris.
On lap 33 Alesi's rearward facing camera falls off and hits Berger's Ferrari, which is running less than a second adrift. The Austrian is fortunate to escape without physical injury but his suspension is damaged and he retires. Alesi is now handed a nine-second buffer over Herbert, Hakkinen, Barichello, Frentzen and Irvine.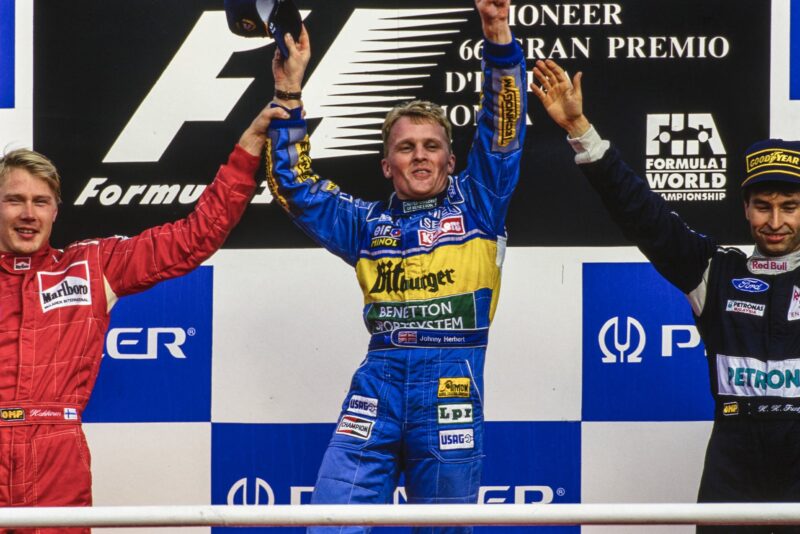 Irvine retires on lap 40 with engine failure, promoting Blundell to sixth. He is followed on lap 43 by team-mate Barrichello with hydraulic failure. Blundell is now fifth.
With only eight laps left the lead changes yet again on lap 46 when a wheel bearing failed on Alesi's Ferrari. Herbert is handed the poisoned chalice with 15 seconds to spare over Hakkinen. Frentzen is third, with the second McLaren of Blundell fourth. Salo and Papis fill the remaining points positions.
Boullion, having started the spare Sauber from the pit lane, passes Papis for sixth on lap 51.
Having extended his lead to 17 seconds, Herbert takes the chequered flag for his second GP win. Hakkinen claims McLaren's first top three slot of the season, with Frentzen bringing Sauber a first-ever F1 podium finish. Blundell is fourth. Salo scores Tyrell's first points of 1995 in fifth with Boullion sixth.