1962:
Henry Ford II decides he wants a Le Mans win.
1963:
Attempt to buy Ferrari outright falls at 11th hour: Ford begins to plan Its own car, and creates Ford Advanced Vehicles In UK. Eric Broadley comes on board as designer. and Ford buys two of his three Lola MkVI GTs. This monocoque project with mid-mounted Ford V8 will be the starting point for the new Ford GT. Body design and aerodynamics to be developed at Dearborn, USA. the monocoque at FAV in Slough.
1964:
April: GT40 revealed to public. Engine is dry-sumped alloy-block 4.2-litre lightweight derivative of the Fairlane unit.
At Le Mans tests Jo Schlesser writes off prototype due to severe high-speed instability. Tail spoiler added, nose deepened for Nürburgring 1000Km. but car retires when suspension mounts fail.
June: three GT4Os enter Le Mans: all retire, though Richie Ginther leads early on and Phil Hill breaks lap record. Leo Beebe installed to oversee project, with more control from Ford management in USA. Development duties are switched to Shelby American in USA; construction remains at Slough. Ford sets up Kar Kraft in USA. effectively its own build/prep shop, which starts design of next project, the composite-chassis J-car.
Tougher wet-sump iron-block 4.7-litre units fitted for Reims race: three more retirements with differing transmission problems. Shelby adapts two chassis for 7-litre Galaxle engine. Season closes with more DNFs at Nassau, making a 100 per cent failure record.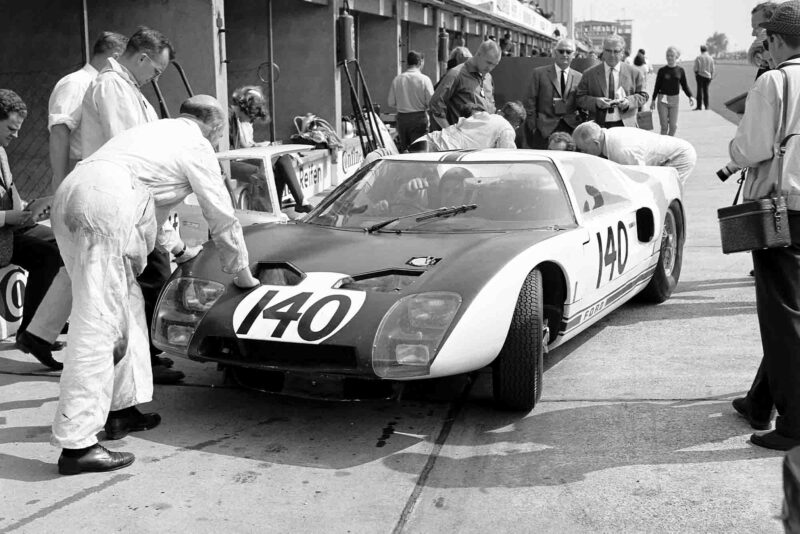 1965:
Wider tyres. 4.7-litre engines now standard, improved cooling, new quick-change brakes and Hallibrand alloys. FAV and Shelby developing cars in parallel; FAV also builds three open-topped roadsters.
First victory, at Daytona, then a second place at Sebring. FAV roadster crashes out of Targa Florio. Three GTs and one roadster contest Nürburgring 1000Km: three break, one is eighth.
Shelby tests 7-litre MkII: top speed reaches 210mph and Dearborn insists two are entered for Le Mans, along with one FAV and two private GT40s; all five retire. In the wake of this debacle, the programme is on a knife-edge: victory in 1966 or immediate cancellation. Emergency meeting of senior team members agrees that reliability is the keynote: with no time to design a lighter chassis or a new engine, they will rely on sheer speed of 7-litre cars along Mulsanne.
Preparation to be shared between Shelby American and Holman-Moody in the US. and Alan Mann in UK. Mann builds two lightweight GT4Os. making a third parallel development string. FAV begins production run of 50 road cars to qualify GT40 in Gp4. Shelby develops lighter. dry-sump 427 giving 485bhp.
1966:
Definitive MkII shape settled. with deep nose, higher tail and extra rear airscoops. Mklls finish 1-2-3-5 in Daytona 24 Hours: at Sebring a one-off 7-litre roadster wins ahead of a MkII, and a GT40.
First tests of J-car, with composite monocoque and auto transmission. Alan Mann team supplied with Mklls. Ford's Le Mans squad of eight Mklls and six GT4Os. against 14 Ferraris. Finally brings victory — though there's controversy about which MkII actually covered the greatest distance. Henry Ford II dissatisfied that winning drivers Chris Amon and Bruce McLaren are not American. and car is arguably British in origin, though prepared by Shelby. Nevertheless. a Ford 1-2-3 (and the championship) justifies the project's huge budget. But the teams are stunned when Ken Miles, Ford's main development driver and a crucial link in sorting the cars, is later killed testing a J-car.
1967:
Alan Mann 'deselected' as entrant: John Willment and John Wyer form JW Automotive to continue developing the lighter 4.7-litre cars and create a road car, the MkIII. JWA, now with Gulf Oil backing, also builds slightly lighter, sleeker, narrow-roof GT40, called Mirage M1.
J-car's unusual bodyshape replaced by all-new profile, with immediate gains in speed and handling: from now on this is labelled MkIV. Holman Moody builds MkIlB, with normal doors (no roof cut-out) and spare wheel moved from nose to Le Mans 'luggage' slot in tail. MkIV and IIB are first and second at Sebring. MkIVs touch 205mph at Le Mans trials in April: Mirages notably faster than the other GT4Os. JWA wins at Spa with 5.7-litre Mirage M1
For Le Mans the Ford steamroller comprises four MkIVs. three MkIlBs. three GT4Os and two Mirages. The Fords are fastest, but closely pursued by Chaparral 2Fs and Ferrari P4s: eventually only two Fords are still running, but the two MkIVs cross the line first and fourth. Ford has at last won Le Mans with an American crew (Dan Gurney /AJ Foyt) in an American-designed car, at a record speed and even steals the Index of Thermal Efficiency from the French at 6mpg. Henry Ford II's ambition is satisfied; official Ford GT programme ends immediately. Privateer teams aim to continue.
1968:
To keep speeds down. CSI restricts Gp4 sportscars to five litres: as Ford has built over 50 GT4Os and developed them into reliable race cars these are now competitive again, with bigger brakes and wider tyres. Ferrari withdraws from sportscar racing for the season. JWA refits GT40 bodies to its Mirages to qualify in Gp4 instead of 3-litre prototype class, and enlarges blocks to 4 992cc. One car takes pole at Daytona (Jacky Ickx), and breaks the MkIV's lap record. After a series of failures. JWA wins Brands Hatch 1000km. JWA Ford quickest at Le Mans trials. beating Porsche's new 908, then wins at Monza and Spa, plus a 1-2 at Watkins Glen. Le Mans, delayed to September by French elections, becomes the title-decider: JWA wins at the Sarthe and clinches sportscar title: it's the first Le Mans win for a GT40, though, helped by many privateer entries, the ageing model wins 51 other races this year.
1969:
Porsche bodyswerves the regs by building 25 of its new 917 prototype, allowing it to use 5-litre power. JWA's new BRM-powered Mirage M2 is not ready, so team resort to the obsolete GT40: Ickx /Jackie Oliver win at Sebring in 1968 LM winner. chassis 1075. now with 480bhp. For Le Mans JWA enters two GT4Os which look like dinosaurs against the 230mph 917s. But the new Porsches suffer a series of breakages. and JWA cars move up the list until, by mid-morning, Oliver leads. lckx takes over and for two hours plays cat-and-mouse with Hans Herrmann's Porsche 908. He wins by yards in closest LM finish ever: Ford's fourth consecutive win. and the second win for 1075. Thus Ford's GT programme finally comes to an overdue end with a sensational swansong victory.