In his 14th F1 season, Alboreto had fewer reserves than most to rise above the calamities of that year. At Imola, one of his rear wheels broke free in the pitlane and injured some Ferrari and Lotus mechanics. A few days after that, Michele was attending the funeral of Senna, a man he had (unusually) despised when they'd been rivals for victory, but who, as Alboreto slipped down the grid over the years, had become a friend. And a few days after that, Michele scored his final F1 point: sixth at Monaco. Long before the season's end, he decided to quit F1. The fun had gone, so had the desire. His 194th grand prix was his last.
A dreadful year in International Touring Cars followed, and then a brief spell in the inaugural season of the Indy Racing League aroused his curiosity. But what he really wanted to do was sportscars, and Reinhold Joest made that possible. In 1997, Michele took pole for the Le Mans 24 Hours and, with Tom Kristensen and that man Johansson again, went on to win.
"It was very satisfying," says Johansson. "It felt like Michele and I had closed our circle of friendship. Twelve years on, and we were team-mates again, and had won together."
It also led to Alboreto's relationship with Audi — who had employed Joest to run its factory team — and a friendship with compatriot and team-mate Rinaldo Capello: "You would never have known Michele had been a GP winner. He didn't act like a superstar; he was so open and so friendly. And still quick.
"But because he was not doing the full American Le Mans Series, he was driving in the dark much less than the rest of us. Once he realised he had lost a bit of pace at night, he used to ask for an extra stint in the daylight and one less stint in the dark, so the car did not lose time. He didn't have a big ego.
"I remember so clearly our last win together, the Sebring 12 Hours in 2001. He was so incredibly happy on the podium, like an 18-year-old scoring his very first victory. That is the picture I will always remember."
"He never talked about retirement. He loved his job" Rinaldo Capello
It was a picture that flashed back to him with dreadful poignancy a little over a month later.
"I was on my way to join Michele at Lausitz that day. I was waiting at the luggage carousel when there was an announcement, 'Mr Capello, please go to the information desk'. A few seconds later my wife called me and said, 'I think Michele has had a crash. It's on the news'.
"I tried his mobile number, then I called the doctor over at the track, and he told me what had happened. He said, 'Please do not come to the track, go straight to the hotel'. I just couldn't believe it. But then I got a call from Michele's wife, Nadia, who asked if I could bring all his stuff home…" Suddenly, it sank in.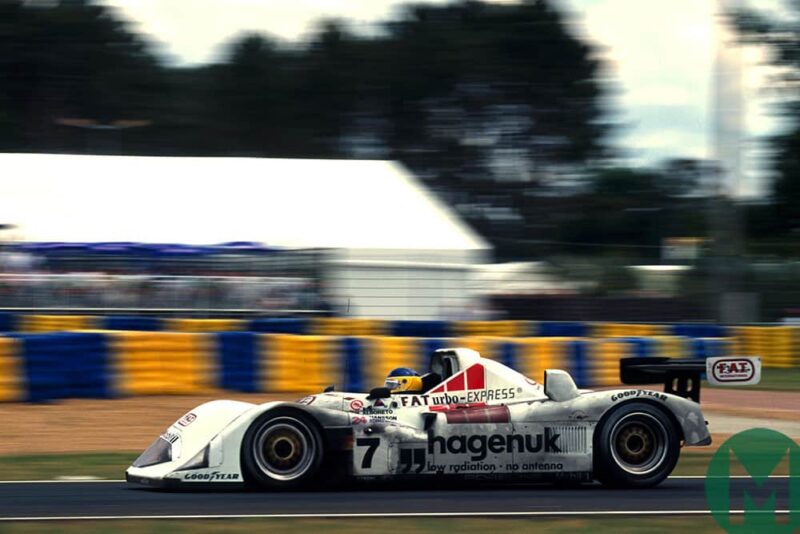 "We had become very close. Our wives were very good friends, too. But in all the times that we'd spent together, Michele had never once talked about retirement. All those years in motorsport, all those races — and still he loved his job."
It would seem we can be sure that as Michele fired the beautiful Audi out of the pits for the last time, he did so with concentration, satisfaction and exhilaration. Just like he always had. That is some comfort to me. I hope it is to you.
Upon finally reaching work, I was confronted by a grimfaced editor. "Heard about Alboreto?" he asked.
"Yeah, this morning. How did it happen?"
"They say he got a puncture, car sat down on one corner, air got underneath and flipped it. He was doing about 200mph…"
The next few hours were spent answering e-mails from colleagues who knew what Michele had meant to me since watching that amazing drive of his in Monte Carlo in 1985 — I was an impressionable pre-teen at the time.
In the final scene of Rob Reiner's beautiful film Stand By Me, Richard Dreyfus is seen typing: I never had any friends later on like the ones I had when I was 12. Jesus, does anyone?
The same is true of heroes.