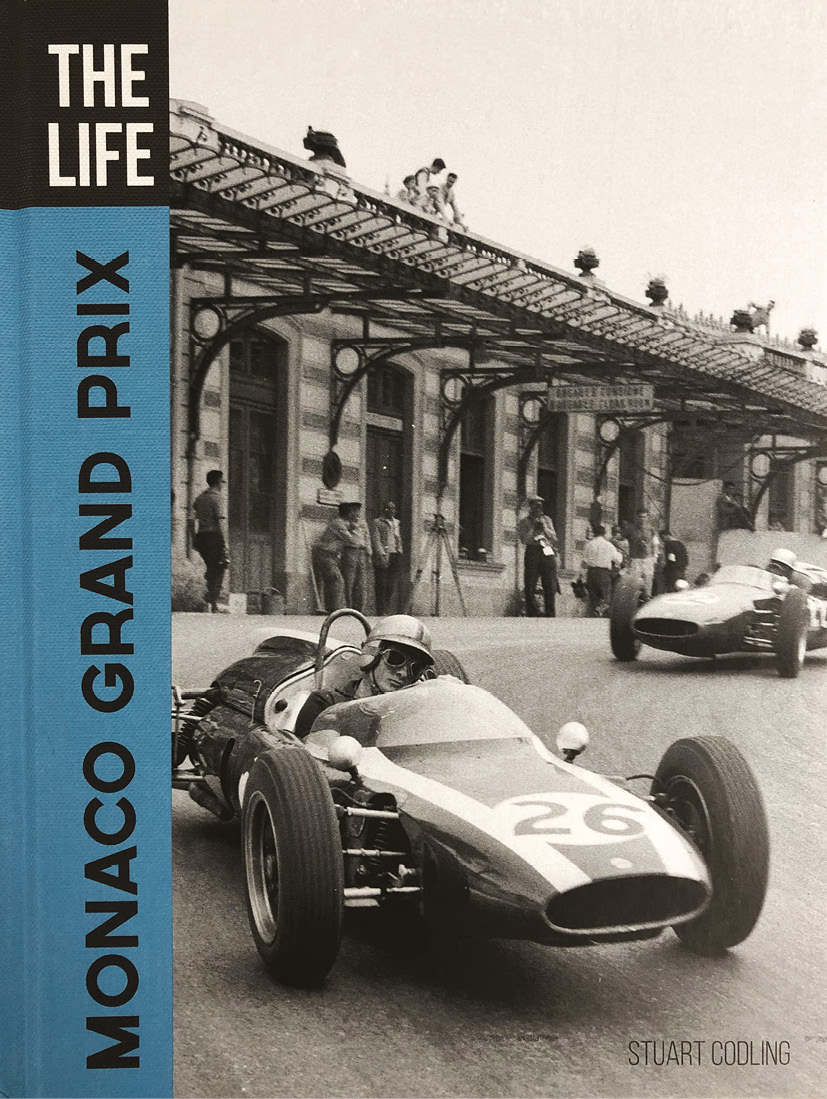 The Life: Monaco Grand Prix
Stuart Codling, published by Motorbooks, £20, ISBN: 978-0-7603-6374-4
Monaco is perhaps the most complex Formula 1 venue of all, and remains an enigma to this day. Whatever your views on its suitability as a modern grand prix race venue – many deride it for its lack of action with today's faster, wider cars – there's no question that the principality has been the basis for more motoring stories than perhaps anywhere else. That then explains why author Stuart Codling has taken a rather more abstract approach to this work, as a refreshing alternative to your usual motoring-flavoured book. Part sporting digest, part cult memoir, part historical document, part travel guide: even if you think you know everything there is to know about Monaco's quirks, you'll undoubtedly find something new here.
The usual bases are covered, such as the track's development and the changing safety demands placed on it by drivers dunking their bare-bones single-seaters into the harbour. There are also less conventional chapters on Monaco's royal family, its political relationships with neighbouring France and wartime positioning, and even an entire section dedicated to Grace Kelly.
Those seeking pure motoring content are well catered for, with a rich history of the race's origins and defining moments over time, including a fascinating look at what happened to William Grover-Williams, winner of the first ever Monaco race in 1929. A character with a mysterious past, some thought him a real-life James Bond-style spy, some reported him executed by the Nazis, some reckon they got his autograph after bumping into him at circuits 20 years later…
Monaco's relationship with all things celebrity is explored, as are its sightseeing attractions, gambling obsession and there's even a few Airbnb recommendations for those not willing to shell out for a luxury hotel. Throw in cycling with F1's secretive 'Chain Gang', the mystery of Jaguar's missing $300,00 diamond, recollections of Ayrton Senna's out-of-body qualifying lap and a selection of quotes and sources from media around the world – including Motor Sport's Bill Boddy – and you end up with a thoroughly researched and entertaining distraction from the norm. It's also beautifully presented, with extended binding and luxurious matte paper. My one gripe is a lack of immediate captions for many pictures – there are some on a dedicated section at the back, but it can be a nuisance to flick to that for reference. Overall though, it's well worth a read.
---
Rallying 2018: Moving Moments
Anthony Peacock, Reinhard Klein, Colin McMaster, published by McKlein Publishing, £49, ISBN: 978-3-947156-03-0
McKlein – the photographic amalgamation of Reinhard Klein and Colin McMaster – is the definitive name in rallying photography. So, whenever it puts a new book out you're guaranteed some great shots. That is true of this latest update, which essentially serves as a season review for the main series in world rallying during 2018. Each WRC round is covered, with editorial telling the story of each round and a 'moving moment' picked out for each as a highlight. The German and British championships also get their turn, as do the WRC2 and Junior WRC sub-categories. But you'll buy this for the photography first and foremost. The addition of spotters' guide-style barrages of cars from samey angles from each round drags a bit however, and leaves you wondering if it would have been better to have a little less in order to make more of the few. RL
---
MINI Scrapbook
Martin Port, published by Porter Press, £20, ISBN 978-1-907085-94-9
It is doubtful if a single syllable remains unspoken on the topic of Sir Alec Issigonis's signature design, and yet… This isn't a simple rehash of anything that's gone before, but a bright, engaging pictorial romp through 60 years of the British motor industry's most recognisable creation (plus many derivatives that never progressed beyond concept stage). Author Martin Port provides much engaging background detail, but the outstanding achievement is the curation of some wonderful photographs – featuring, among others, Peter Sellers, Christine Keeler, period advertisements, scale models, slot cars and a beautifully timed shot of Malcolm Leggate's inverted 1275GT at Castle Combe in 1977. It is also an object lesson in how to produce a high-quality book for a very competitive price. Recommended. SA

---
DIGITAL EXTRA