Formula E's 2020 Berlin finale: Six-shot showdown
Formula E had to get innovative to spice up six races at the same venue. Cue some fresh thinking and three different circuit layouts. Sam Smith explains the hard work that made it happen, and looks at the series' immediate future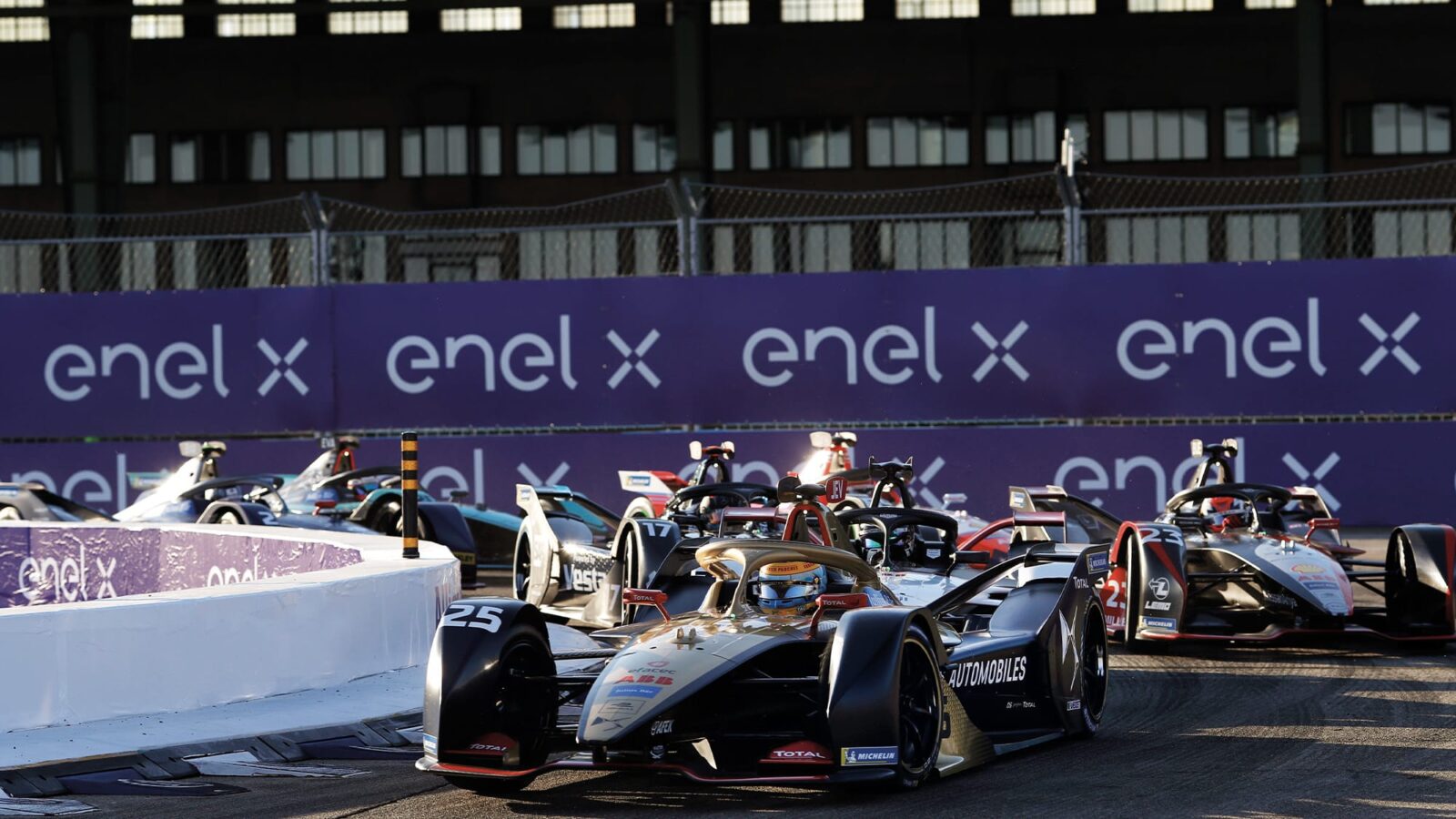 There was something dystopian and zeitgeisty about Formula E's finale at an imposing and completely fan- free Tempelhof airport in Berlin. A residency of six races
over nine days, encircled by the moribund vast hangars and former check-in areas of what used to be the world's largest airport was perhaps the strangest location for a championship ever to be concluded.
Tempelhof, scene of the infamous Berlin airlift operation just after the end of the Second World War, has held Formula E races for five of the all-electric series' six seasons.
But it had never hosted anything quite like this. The decision had essentially been made for FE to be at the facility because a relative lack of alternative venues were unable to offer the adaptability that Tempelhof could.
Algarve, Silverstone and Assen were also briefly considered, but by mid-June the teams had received their race cars back from storage in Valencia and three double-header events were announced for early August to bolt on to the five races that had been conducted from November 2019 to February 2020.
There was a neat symmetry for FE in making the decision to race in Berlin. Four of the teams are German giants of the sport – Mercedes-Benz, Porsche, BMW and Audi.
But the reality was that FIA championships have to complete at least 'six events' for a final standings to be legitimised. Additionally, FE has commercial agreements with partners in place, which stipulate 11 races.
Plus, there was a time constraint as the 19-20 campaign had to be concluded before mid-September. That deadline was due to the batteries getting a refresh from the Atieva company based in San Francisco and then being returned to the teams in time for the pre-season test ahead of the first official world championship season in 2021.
It was a remarkable effort by Formula E Operations, the FIA and the German authorities to manage to get the Berlin events positioned and operational. Limited to 1000 staff on-site, it meant teams were restricted to 20 operational passes including the drivers, and one for team principals.
With six races in nine days, it was groundhog-day spec for the teams, but behind the scenes the work that Formula E Operations (FEO), the organiser and promoter of the championship, and the FIA did was quite simply monumental.
From a blank canvas they achieved three different track configurations and had only a day in-between, going from a clockwise to anti-clockwise circuit set-up to do so.
While that may sound like an easy fix, the reality was much more complex, even at a facility created from a blank canvas.
"Honestly, everything changes – the grid, the (starting) lights, the Tecpro Barriers, the barrier gaps, kerbs, the list goes on," FIA race director Scot Elkins told Motor Sport.
"The biggest thing is the overlaps [where two pieces of wall make a hole] have to be completely reconfigured for the other direction and the kerbs in a couple of corners must do the same. Formula E did one hell of a job in preparing everything, even to the point where for between rounds two and three they have walls and barriers already built so that the transformation from one configuration to another goes really quickly."
It was a Herculean task, but one that preparation played a central part in to ensure that for the first time in living memory, one facility had hosted multiple races on three different track combinations for a major FIA- sanctioned meeting.
"It's always easier to do nothing, that is not a challenge and it's easier to just stay at home and wait for whatever," said Formula E sporting manager, Frederic Espinos.
That statement emphasised FE's ambition to be creative in order to test teams for the second half of the season rather than simply put on a series of races on the same circuit.
"For Da Costa it was a huge result, after years of frustration"
"During the COVID-19 situation basically everything was moving every day," adds Espinos. "Something that was true one minute, was different 10 minutes later, so we had to work to find a serious plan to restart." FE had even looked at racing through one of the Tempelhof hangars at one stage, but the trio of different tracks was deemed sufficient to challenge the teams.
"This was all quite intense with six races," surmised Mercedes-Benz EQ driver Stoffel Vandoorne. "I don't think anyone wants this solution for the future, but with the current circumstances as they are, this was really the best we could have done.
"The whole FE organisation for me has created a very efficient setup here, the whole testing process was super, super well organised, keeping everyone safe. It looks like we'll have to deal with some of these measures in the future as well. So this was probably a really good test."
The technical and sporting tasks didn't stop coming though, as Michelin threw in an unexpected curveball after the first two races by lowering the minimum tyre pressure to 1.3 instead of 1.4 bar.
"That really kept us on our toes and spun-in another big variable," said DS Techeetah team principal, Mark Preston.
But it didn't stop the Chinese/French alliance, which swept all before it in the dexterous hands of António Félix da Costa, snaring both the drivers' and teams' titles.
The Portuguese held a slender points advantage heading to Berlin, but he widened that to a chasm after a breathtaking brace of wins in the opening double-header.
With his rivals, including team-mate Jean- Éric Vergne slipping up, it meant Da Costa went in to the second double-header, held on the 'conventional' Tempelhof circuit, able to play the percentage game. This he did to clinical effect, and in the second of those encounters he followed Vergne home and cruised to a first title.
For Da Costa it was a momentous result after several seasons of frustration and questions marks about his ability to first form and then execute title campaigns.
When one rival burst in to his pit garage earlier in the season, after an on-track altercation, Da Costa was hit with a volley of angry words which ended with: "….and that is why you will never be a champion!"
They echoed loudly around his mind for a while, and when the same driver offered his congratulations minutes after he took his deserved crown, Da Costa was gracious but knowing in his acknowledgement.
While Da Costa and his DS Techeetah team wrapped up the titles with two races to spare, the season ended with perhaps a light swinging over and upon two teams that can topple their supremacy next season.
Nissan e.dams and the Mercedes-Benz EQ team took a win apiece in the latter stages of the Berlin action, with Oliver Rowland and Vandoorne claiming maiden wins.
Mercedes especially look primed to add a first EV title to the myriad of hybrid ones it has swept to in F1. But, any perception of similar dominance from Mercedes here should be discounted due to FE's volatile qualifying system and its constitution of strict cost-efficiency.
All that will take place upon a backdrop of FE becoming a bona-fide FIA World Championship in 2021. With the growing influence of Jamie Reigle as new CEO – in place of co-founder, Alejandro Agag, who is now concentrating on his Extreme E odyssey – FE is quickly expanding its commercial tentacles. Reigle is building upon FE's brand and core messages by forming a team of high-level expertise, which includes executives from McLaren, the International Cricket Council and Manchester United Football Club.
Beyond next season, FE has also been hard at work on ensuring its future health and prosperity, too. The third rules set will kick in for the 2022/23 season and the technical partners have already been selected for a lighter, faster car.
Spark Racing Technologies retains the chassis deal, but new battery and tyre tender winners have come to the fore in the shape of Williams Advanced Engineering replacing McLaren Applied Technologies, and Hankook usurping Michelin for the tyre supply deal.
The latter was a major surprise but a vibrant Korea strand is emerging in the all- electric series in recent months with a long- term deal for a Seoul E-Prix, which is set to run for the first time in June 2021, and talk that Hyundai is evaluating joining for 2022 or 2023 through its new EV brand, IONIQ.
The format of the races will change, too, as pit stops are likely to return with a rapid-charging element that will be provided by FE's title sponsor and tech industry powerhouse, ABB.
With the continued backing of the FIA and an immediate cutting back of unnecessary costs, including a cosmetic bodywork upgrade for next season, FE is not only constructively managing a multi-manufacturer competition, but it is doing so in some of the most difficult economic and existentially threatening circumstances ever seen.