Seeing the light: On the road in the new Eagle E-type Lightweight GT
If you want an E-type that's the best of the best, then British specialist Eagle should be your destination. But has the best just got even better with its Lightweight GT? Andrew Frankel finds out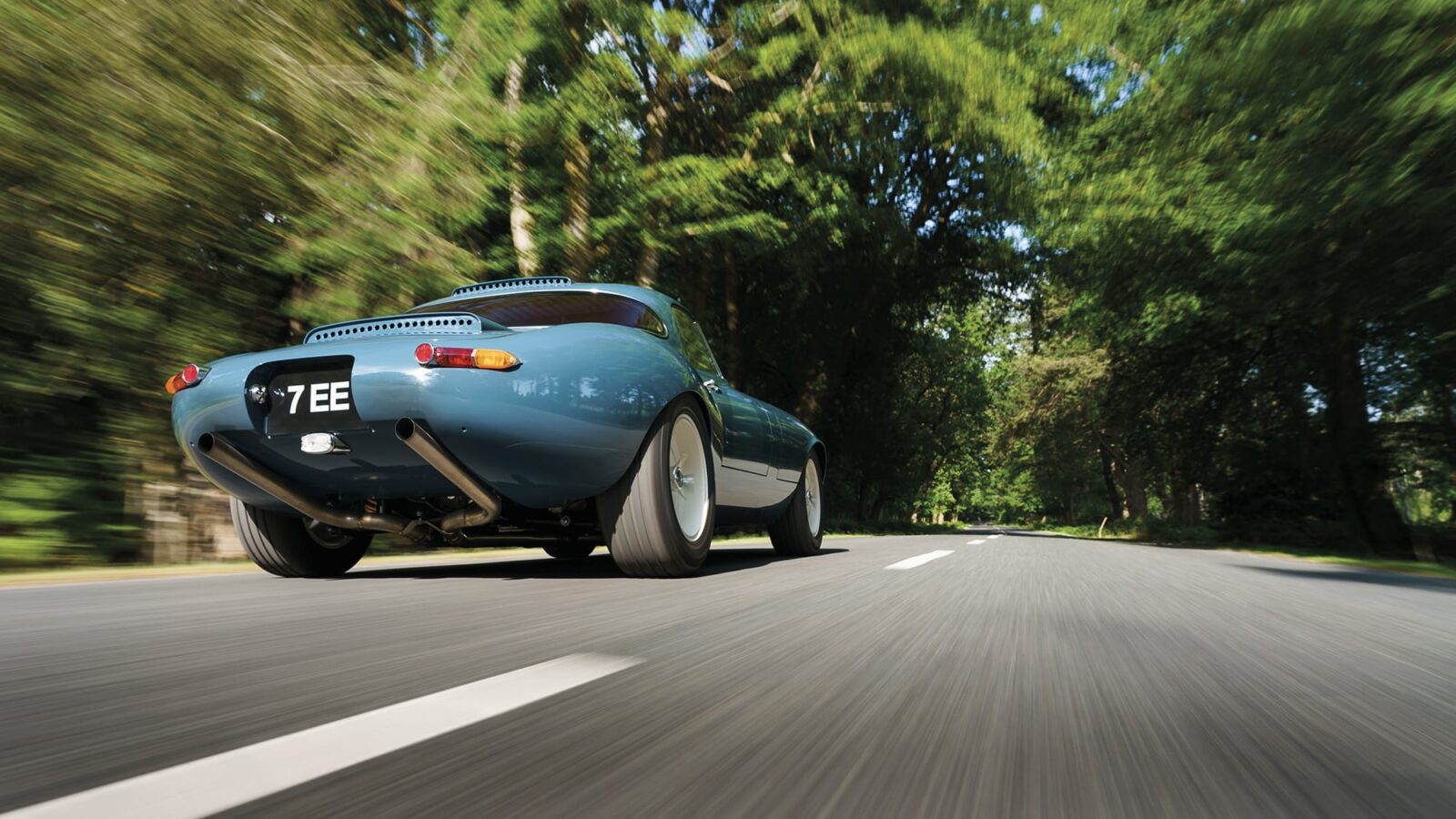 There's a road about 20 miles from where I live that I never use for testing fast cars. From its nearest access point to me it offers about 16 miles of sinuous, undulating nirvana for the right kind of machine. Then you can just turn round and do it all over again. Why don't I use it? Because today fast cars are also wide cars and this is the kind of road on which you can no longer exercise such machines without the attendant fear of a John Deere the size of a small Alp coming the other way and taking the side off your low-slung slice of automotive exotica. But there's probably never been a better road on which to drive Eagle's new Lightweight GT E-type. So that's where I went.
You will probably know about Eagle. It sells original E-types and E-types fastidiously restored in-house. But it's most famous for its specials, of which this is the fourth type. Before it came the Low Drag GT, the Spyder GT and the Speedster, all of which remain available to order, if you don't mind waiting between 18-24 months for yours to turn up (or even more depending on the level of personal commissioning you want) plus a bill measurable in the many hundreds of thousands of pounds. The Lightweight GT is so new no price has yet been set, but it's fair to say it will likely begin with an eight.
The first thing that buys you is a Jaguar E-type, in this particular case, a 1963 Series 1 Roadster. The folk at Eagle won't let you supply your own donor because they don't know where it's been. They know all about the case of the superficially shiny E-type that turns out to be shot to pieces underneath, a misaligned, rusting wreck in a prom dress.
So Eagle provides the car, then strips it back to its constituent components. Every nut, screw, washer and bolt that can be saved is saved, either to be put back on the car or for you to do with as you choose. Once it's put back together again, about 60 per cent of it will be new.
In this case Eagle starts with stiffening the chassis, then inserting its own specification, wide-angle, big-valve, 4.7- litre version of the fabled old Jaguar twin- cam motor. Except because this is a Lightweight evocation, this too, like the originals, has an aluminium cylinder block. It could also run fuel injection if you liked (and as the Lightweights did), but the customer for this car preferred it to breathe through triple twin-choke 45mm Weber carbs.
Within reason, you can choose how much power you want. This car's owner wanted his on the perky side of interesting, so has gone for forged rods, a billet crank, sharper cams, bespoke pistons and a host of other modifications far too numerous to mention to produce an easy 380bhp. It drives the rear wheels through a five-speed gearbox of Eagle's own design. No fewer than four different back axle ratios are available, from 1⁄4-mile spec to lazy long distance.
The body of course looks like that of a Lightweight, and is similarly fashioned entirely from aluminium (albeit from a more modern, less easily damaged alloy), instead of steel like any normal E-type; but the closer you look, the more differences you can spot. The shallower rake of the screen, the squatter stance, the carefully flared arches and so on and on. In fact there's not a panel in common. That bodywork alone requires 2500 hours of work on an English wheel. The entire car takes some 8000 hours to create, or over 20 times longer than it took Bentley to make its flagship Mulsanne limousine.
Jaguar's fundamental suspension architecture remains, but everything else is changed: it has lighter wishbones, revised geometry, different roll bars, bespoke spring rates, adjustable Öhlins dampers and a set of the biggest AP Racing brakes you can squeeze behind those magnificent 16in wheels.
And of course as a car evoking the memory of the Lightweight, it wouldn't be in the least good if it still weighed the same as the standard E-type from which it is derived. Clearly the aluminium body and engine block carve substantial mass from the car, but that's simply the starting point. Magnesium is used for the sump, gearbox casing, bellhousing, diff casing, hubs and those wheels. The exhaust is titanium, the exhaust manifold crafted from Inconel. The entire intake plenum is carbon fibre. It has a lithium battery, aluminium wheel spinners and tubular driveshafts. It even features aluminium differential brackets just to shed a few more grammes.
When Eagle put this car on the scales it weighed 1017kg, which is about 150kg less than a McLaren F1 and about the same as an original Lightweight which, let us not forget, was essentially a racing car. This, by contrast, is a pure street machine complete with big comfortable chairs and air conditioning. Without the latter and with thin buckets in place of the former, it would weigh less than a tonne with no further modification. This is a car that's lightweight in more than name alone.
The hard top is just that, and on this car cannot be removed. The doors open – not far enough, but they never did on E-types – to reveal an immaculately trimmed interior in metal and wood. I might dial down the shine a notch or two, but that's the point: you make it as you want it. Most surprisingly, there's room in here for my 6ft 4in frame. Behind the scenes, Eagle has modified the floorpan, rear bulkhead and pedal mountings to provide the leg room that early 'flat floor' E-types always lacked. And by dropping the seat, additional headroom has been provided, too.
Gallery
Eagle E-type Lightweight GT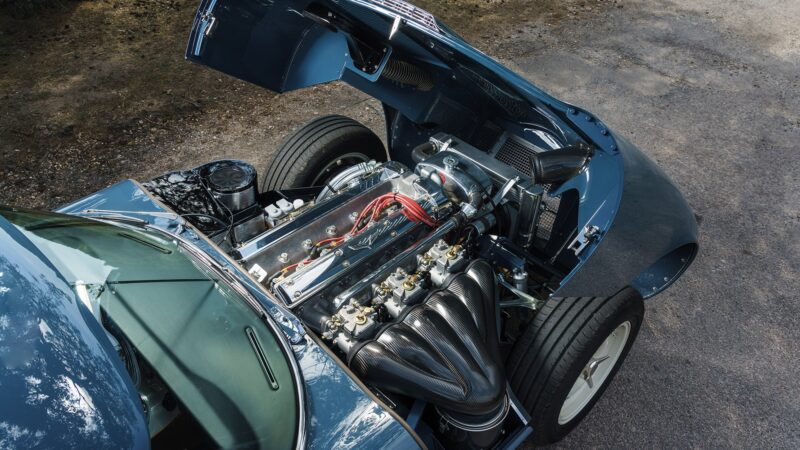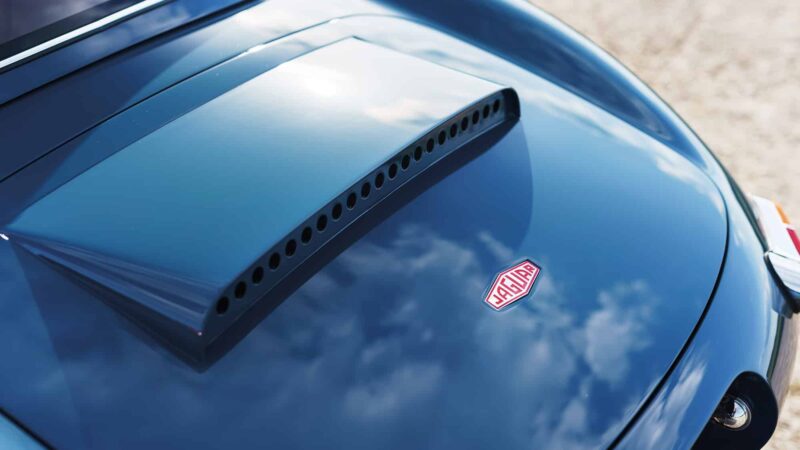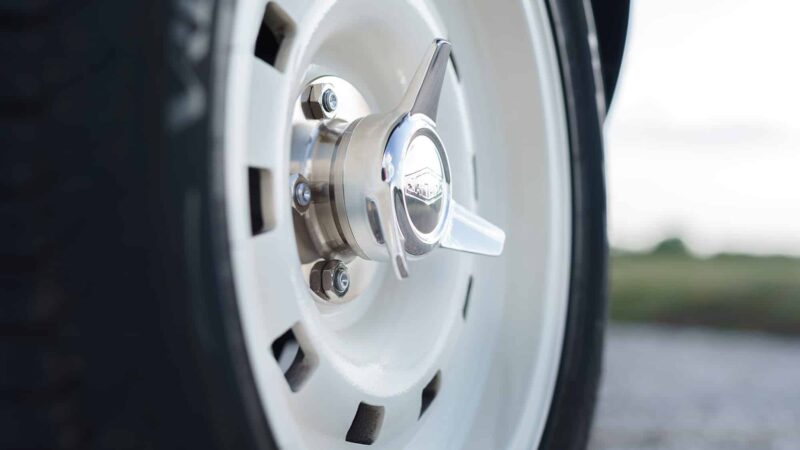 Already warm, the engine fires at the first press of the button. The action of the five-speed gearbox is reminiscent of the four-speed Jaguar gearbox fitted to 4.2-litre E-types from 1964, and deliberately so. It has synchromesh on all gears, including reverse.
Surprisingly then, what first grabs your attention has nothing whatsoever to do with the powertrain. It's the way the car steers and rides. With a quick- ratio rack and unimprovable damper settings for this kind of terrain, it just breathes with the road: any firmer and it might start to skip off the bumps, any softer and it would possibly pitch and wallow. It does neither.
Then you notice the response. There are a hundred ways you can feel how light a car is, but here what you notice most is the speed and eagerness of its reactions, the way it always and immediately goes when you expect it to and the grip generated despite its still narrow track and utterly unremarkable Vredestein tyres. The car feels tight and snug around you, tailor-made, as if you've just put it on. And it feels structurally stiff in a way no ordinary E-type could imagine. And you've still not done more than 3000rpm.
Past that point is where it gets properly interesting. The engine is flexible in any gear from 1000rpm, but at about 3500rpm it turns into another beast altogether: the exhaust note hardens, the car sits down at the back and then lunges forward. On paper it has a better power-to-weight ratio than a modern Porsche 911 GT3 RS and on the road that's just how it feels. By any standards this is a serious high-performance road car.
Most of all, however, I will remember the confidence with which I drove it, and not just because its slim hips make it ideal for this kind of road. It's the feel it gives you, not merely the reassurance that it's never going to do anything unexpected, but that sense of knowing always and exactly where it is on the road. And yet, somehow, it still feels like an E-type, albeit one designed with the benefit of almost half a century of hindsight. Because of its look, its sound and its dimensions, the essential character of the car has been preserved.
There are things I'd change on this car: I'd replace the seats with thinner items (I might even have a carbon race seat trimmed in leather so no one could see the material underneath) to provide even more head and leg room and lateral support; I'd quieten the exhaust, only because it drowns the more interesting mechanical noises coming from the other end; and I'd choose a lower final drive because the owner has chosen the tallest available, which means something like 110mph can be reached before you even need fourth, let alone fifth gear. And I'd drop the price, so I could afford one.
But that's about it. Eagle was founded by Henry Pearman in 1984 and I've never driven a car of his I didn't like. But the Lightweight GT is something else. In fact, with fellow directors Paul Brace and Matthew Dewhurst, Eagle has created a masterpiece, a car that's not just fast and beautiful, because by comparison that would be easy. In fact it's how deftly judged it is that lives longest in the mind: a car with the character of a 1960s lightweight road racer, but with all the point-to-point pace of a modern high- performance car plus construction standards as high as any I've seen. Is it as good as it looks? If you can believe it, slightly better, I'd say.
Eagle E-type Lightweight GT specification
Price £TBC (but it probably starts with an 8… plus many 0s)
Power 380bhp
Torque 375lb ft
Engine 4.7-litre XK straight-six with aluminium block
Gearbox Five-speed manual with synchromesh
Weight 1017kg
Power to weight 374bhp per tonne
Verdict Just when you thought an E-type couldn't get better…