Book reviews in brief
More new books reviewed: Brooklands — the sports car endurance races | Patrick le Quément's Design — between the lines | Racer by John Andretti
Brooklands — the sports car endurance races
Unable to run long closed-road Continental-style races, Britain's only option until Donington came along was Brooklands. This nicely produced history details all endurance events at the track, and benefits from research which expands on Bill Boddy's canon. It covers every long-distance production and sports car race in great detail with nicely reproduced photos, many I hadn't seen, and crisp diagrams of the multiple track layouts employed for variety. A definite for fans of 'The Track'. GC
David Blumlein, Chaters, £30, ISBN: 978-0-995-7054-3-2
Click below to view the latest price at Amazon
---
Design — between the lines
Patrick le Quément steered Renault design for many years, creating innovative machines such as the Twingo and Avantime. This is not a biography, but 50 short essays on a huge range of subjects, amusingly and sometimes satirically illustrated, from his school days in Britain, time with Simca and Ford, corporate decisions in the US (resulting in "the most monstrous body designs") and how to avoid gunmen in lifts.
He explains why you have to knock 1mm off your 4m car (4 is unlucky in China), invokes Elgar and the Bauhaus and compares the smell of Connolly leather to Proust's madeleines. He's not shy of slating car designs either – Daimler's Dart gets a beating. Unconventional, but captivating if design interests you. GC
Patrick le Quément, Merrell, £35, ISBN: 978-1-8589-4676-4
Click below to view the latest price at Amazon
---
Racer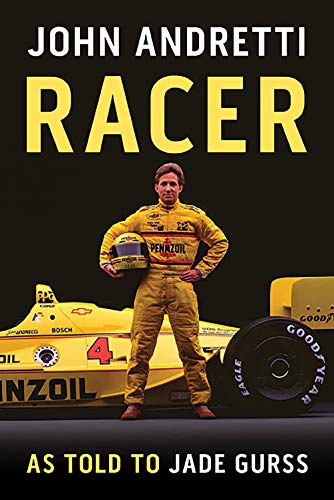 What is it like to grow up in one of the world's most famous racing dynasties? This autobiography by John Andretti gives a valuable insight not just into his racing career in NASCAR, IndyCar and IMSA but also offers a unique perspective on his more famous relatives, including uncle Mario and cousin Michael. The author died in January 2020 and this book, with forewords by godfather AJ Foyt and family friend Richard Petty, is a worthy testament to a racing life cut short. JD
John Andretti & Jade Gurss, Octane Press, $35. ISBN: 978-1642340211
Click below to view the latest price at Amazon
If you click a link to buy a product from a different website, Motor Sport may receive a commission on your purchase. This does not influence our editorial coverage.