Lunch with... Jonathan Palmer
When a career in medical science beckoned, he had other ideas. Simon Arron hears how a young doctor became first a racing driver, and then a formidable businessman
Was that really so long ago?" Jonathan Palmer shakes his head in disbelief at the rapidity of time's passage. It was in 2006 that Motor Sport commenced its monthly 'lunch' series and he was the sixth such subject. The interviews tended to be shorter in those formative days and much of his conversation with Simon Taylor focused on the second phase of his professional career, the successful racing driver who had morphed into an arguably even more effective businessman. The moment, then, was ripe to reconvene and flesh out some of the finer details of Palmer's competitive past, with a glance at how life has evolved for his entrepreneurial alter ago.
Now as then, the location is Brands Hatch – home of MotorSport Vision, the UK's largest circuit operator. Palmer is its chief executive and has been at the helm since the company took the reins here in 2004. We meet in his office, which looks over Clark Curve but offers a decent view across the whole venue, and chat around a fine meat, prawn, cheese and salad platter from MSV's catering team, with fresh fruit to follow and coffee on tap.
It is 40 years since Palmer began working life as a junior doctor, so his is a journey with more twists than most.
"I was fanatical about road cars as a child," he says, "and avidly used to read Motor and Autocar. They quoted 0-50mph acceleration figures in those days and some of those are still stored in my head. My main motor sport interest was rallying and my hero was Roger Clark. I remember an
interview in which he was asked why he hadn't gone down the single-seater route and he replied that he didn't want to drive around with a 45-gallon fuel tank strapped to his arse, which at the time seemed quite pertinent.
"My father was a GP. He didn't do any racing, but had quick road cars – mostly fast Fords, usually encouraged by me. In Mid-Sussex, he had a bit of a reputation as 'the flying doctor'. On one occasion, the police turned up at the scene of an accident, with a car upside down and debris everywhere. One of them saw my dad and said, 'Hello Doc, it's good that you got here before we did', but of course it had been his accident…
"Our house had a paddock – I rode motorbikes around it and also mucked around with a Morris Minor van. At school I built a Villiers-powered kart using bits from a Bond three-wheeler, though I never raced it – it was just something with which to have fun at home. I enjoyed fiddling around with stuff and tuning things, but had no contact with racing."
That introduction came about, oddly, as a direct result of educational reforms. Palmer had been a pupil at the Lewes County Grammar for Boys, but in 1969 it merged with two other schools to become a comprehensive.
"Suddenly there were 1500 pupils rather than 500," he says. "I didn't enjoy that and educationally I was no longer doing as well. My parents decided instead to send me to Brighton College, which with four children they couldn't really afford. The solution was to convert the family house into a specialised nursing home to raise funds. They then put a caravan in the paddock and for about three years that served as a bedroom for my brother and I, which was quite fun.
"One of my mother's patients was a Mrs Davies, who sadly was dying of cancer. Her husband [ Jack] and sons [ John, Tony and Michael] were club racers and would sometimes arrive with their Mini on a trailer when they visited – I thought it was incredible, so they invited me to go with them to Brands Hatch…"
Predictably, that triggered a spiralling interest. Henceforth resigned to accompanying his son to racetracks, Palmer Sr "thought he might as well make himself useful" and became a circuit doctor before later accepting a role as the British Automobile Racing Club's chief medical officer – and Jonathan appeared set on a similar career path.
"By the end of the year I wanted something with more power – and found an ad for a 3.0 Marcos"
"I secured a place at Guy's Hospital Medical School," he says, "and rented a house in Honor Oak Park, south-east London, with a chap called David Mercer, who had just qualified as a dentist and was a big motor sport fan. He owned a Jensen-Healey, so seemed like an ideal person with whom to start racing – especially as I had no money. I suggested that we went halves on a racing car, which he hadn't previously considered, and the cheapest thing I could find in Cars & Car Conversions was a modsports Frogeye Sprite, for £325. I sold my possessions – my home-built kart, which I wish I'd kept, my pushbike and anything else I owned to raise my £162. My first event was in 1975, a Blackbushe sprint, when obviously it blew up, but I managed to fix it myself – I did all the preparation work. Dave thanked me for the introduction, but said he wanted a proper racing car and bought a 1275 MG Midget.
"I raised funds by doing holiday work – driving delivery vans and all sorts of evening jobs – and used the family's Transit minibus as my first tow car. I used a trailer I'd created from scaffold pipes. It was all very Heath Robinson and any bits I bought were second-hand, but I started to get some decent results.
"By the end of the year I wanted something with more power – and found an ad for a 3.0 Marcos owned by a couple of chaps named John Dudley and Andy Fraser. I went to see the car and it looked great – as Marcoses tend to. The idea of stepping up from an 1100cc Sprite was all very exciting, but the problem was that they wanted £1500… I managed to sell the Sprite for £500 and Dave kindly let me hang on to what should have been his share. As I couldn't afford the full £1500, I asked whether I could buy one of them out and John agreed to retain his stake, the idea being that we'd share the car. But I then also had to ask him to lend me £250 to buy out Andy – I could see him wondering what the hell he was getting himself in to, but he agreed.
"My first race in it was at Thruxton and my main rival in the big class was Tony Wingrove in a Porsche 911. I think I qualified second and I harried Tony hard in the race before taking the lead around the outside at the chicane. It probably looked quite spectacular, but from where I was sitting it was sheer terror – the brakes had more or less failed, the pedal was on the floor and there was no way I was stopping. I managed to hang on to win, though, and afterwards John decided he didn't want to race any more – he was having fun just watching. I managed to find a bit of sponsorship for 1977 and won my class in the championship, after which we sold the car for £3000. I know I gave John half of that, but can't recall whether I ever repaid his £250 loan…
"At that stage, I still presumed I was going to become a doctor, though I seemed to spend about two thirds of my time fixing the car. I was also getting more serious about racing and acutely aware that nobody was likely to offer me an F1 seat on the basis of results in a modsports Marcos, so I needed to get into single-seaters. I had no idea how to do that, but arranged to test a Scorpion Racing Royale RP21 at Thruxton, through which I met [Formula Ford front-runner] James Weaver.
"After the cumbersome Marcos, a Formula Ford was a revelation and I knew I had to do it. James had been Hawke's works driver, he introduced me to the firm's designer David Lazenby and I managed to persuade them to loan me a chassis while Alan Wardropper at Scholar agreed a similar deal for an engine – fantastic, on both counts. It transpired that the Hawke DL20 wasn't terribly competitive, though I did OK, and the following year I convinced Ralph Firman to loan me a Van Diemen, with which I got some good results. On the back of that, Ralph wanted me to carry on while Royale offered me a seat in its works team, which naturally I accepted. There wasn't really a budget in place, though, and the plug was soon pulled, so I had to go back cap in hand to Ralph. To his great credit, he lent me a new RF80 and off I went again – Ralph has been brilliant helping young drivers over the years. I ended up doing three seasons in FFord without ever actually owning a car.
"I was also having to revise incredibly hard, because I was determined to qualify as a doctor after studying for five years. In 1979 I'd be driving an old Ford D-series truck to races and had revision sheets taped to the steering wheel.
"I promised him the earth, but when he arrived he found we had a mechanic, a gofer and a decrepit Ford A-series truck"
"When I lost the Royale drive, Allen Timpany – my best mate from school, also racing in FFord – kindly introduced me to his sponsor, Mike Cox from West Surrey Engineering, and Mike agreed to back me, too. By now I'd started working as a junior doctor – so very long hours. I'd look at my rota to see when I was on duty at weekends and desperately try to dovetail it with my racing, which meant bartering to get help. In those days there were lots of one-day meetings, so I'd get somebody to cover me from 6am on Sunday – when I'd set off from my hospital accommodation with racing car in tow, flog off to wherever and then get back to resume duty at about 9pm. It was an incredible time.
"I was doing OK – not as well as Roberto Moreno or Tommy Byrne, but then I probably didn't realise the advantage they had through being about 25 kilos lighter! Towards the end of the year Mike and I chatted about the idea of moving up to F3 and had a look at the Ralt RT3 Stefan Johansson had used late in 1980, to clinch the British F3 title for Ron Dennis's Project Four team. I went to test it at Goodwood, lapped within about a tenth of Stefan and we ended up buying it.
"Dick Bennetts had been running the car for Ron, but had since returned to his native New Zealand. It took about two months to persuade him to run the car for us. He was used to doing things Ron Dennis-style and wanted to be sure we had a proper budget, when of course we had nothing like it. I promised him the earth, but when he arrived he found we had a mechanic, a gofer and a decrepit Ford A-series truck, running out of the side of Mike Cox's engineering workshop."
Despite which, Palmer won the first four races of the 1981 campaign – springboard for a successful title assault and the dawn of West Surrey Racing, one of the most successful teams in British F3 history.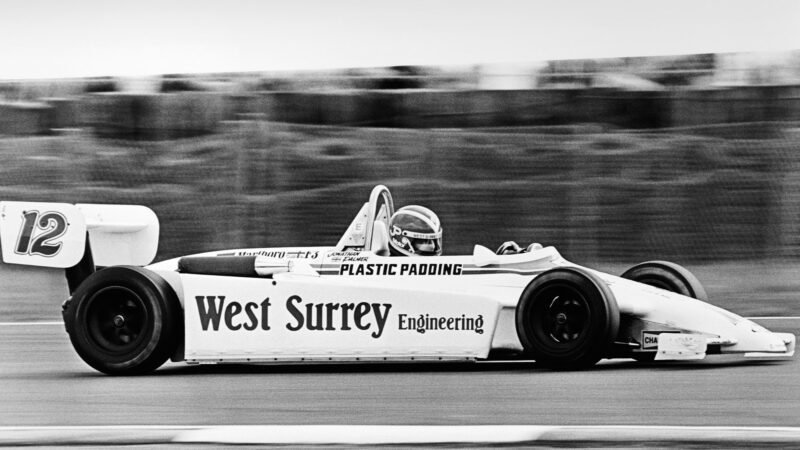 "Prior to the start of that season," Palmer says, "I had a place lined up on a GP training scheme, but when the F3 opportunity arose I asked whether my place could be deferred for a year to allow me to focus on racing for one season. Having won the title, though, I was given F1 test opportunities by Williams, McLaren and Lotus, so that was the end of medicine. By then, I had also been offered the chance to drive a RAM March in the British GP [as team-mate to Derek Daly, in the car raced earlier in the campaign by Eliseo Salazar]. I thought hard about it, but after chatting with Dick we felt it would destabilise the F3 effort so I declined."
During the season's course, he also shared Richard Lloyd's Audi 80 in the Silverstone Tourist Trophy – the pair finishing a class- winning seventh overall and forging a relationship that would blossom in sports car racing during the decade. Next, though, came the offer of a seat with Ron Tauranac's factory Ralt-Honda team in European F2.
"That was my first paid drive," he says, "and I think Ron offered me £10,000. I really enjoyed working with him, though it wasn't always easy. He used to get very heated when things weren't going well, which was quite often during that first season.
He'd won the title with Geoff Lees in 1981, the new car was pretty good and our Honda engine was more powerful than the rival BMWs, but our Bridgestones – always great in qualifying – would degrade quite badly in some races and we'd start going backwards.
"Everyone told me to be sensible, to make sure I didn't crash – and in retrospect I took that too literally."
"By the second year we'd learned a lot more about car and engine, but the big thing was switching to Michelin, who gave us more consistent race tyres. I was very involved in the technical side and more or less engineered the car myself. Ron and I went from having a number of run-ins during the first year to having much greater mutual trust."
He failed to finish the 1983 season-opener at Silverstone, but after that he was off the podium only once – at the Nürburgring, where he finished fourth. He scored his maiden F2 victory at Hockenheim early in the season and then signed off with five straight victories that secured the title. In parallel, he was also working as F1 test driver for Williams.
"Ron Dennis and Frank Williams both offered me test contracts after I won F3," he says, "but McLaren couldn't guarantee me any mileage whereas Williams did, and I wanted time in the car. They were two great years."
As a reward for his work, and that F2 success, he received the offer from Williams of a drive in the 1983 Grand Prix of Europe at Brands Hatch.
"That was a bolt from the blue," he says, "and a wonderful opportunity for which I'll always be grateful. Everyone told me to be sensible, to make sure I didn't crash – and in retrospect I took that too literally. I didn't have any kind of manager – if I had, they'd probably have told me to ignore the advice, drive balls-out and try to create an impression."
He qualified 25th, nine positions behind team-mate Keke Rosberg [ Jacques Laffite failed to make the cut in the other car], and was the only Williams driver to reach the finish, in 13th. "It was tricky," he says, "because we had a mix of turbos and naturally aspirated cars on the grid and the period Goodyears had been designed around the heavier turbos. It was quite hard to put heat into them with a nimbler DFV chassis, unless you had an exuberant driving style like Keke and chucked the thing around like a kart, but I was more precise. It was a fantastic experience, but I should really have thrown caution to the wind."
He'd already received an offer from Ralt to continue in F2, on an improved salary, but sought a more positive career step.
"I was pushing hard to get into Tyrrell and went to see Ken," he says, "but I was aware that he was looking at Martin Brundle on the back of his strong F3 season against Senna. At the same time, though, I was talking to RAM, which had a back-end car but offered a way into Formula 1. [RAM co-owner] John Macdonald was looking for half a million quid for the drive, which is what Philippe Alliot was paying for the other seat, but agreed to run me for £250,000. I secured a few bits of sponsorship – £25,000 from Pirelli, £25,000 from Peter de Savary and other similar deals – and had raised £175,000 with a week to go before my deadline. At the time, I was learning to fly helicopters and one of the partners in that business was a chap named Peter Millward, a racing enthusiast.
"I thought the early 956s, were absolutely glorious – a Le Mans racer with a comfortable seat, like a road car, and an ignition key."
"I went to see him and asked if he could loan me £75,000 if I promised to double his money. My eyes nearly popped out of my head when he wrote the cheque, 'Pay Jonathan Palmer 75 grand'. That secured me the drive. I said I'd take £30,000 as a salary, but any money I earned or found beyond that would go to him until I'd doubled his investment.
"I was just thrilled to be in F1. Philippe had paid a lot more, so he got the newer chassis – with carbon-topped tub, while mine was completely aluminium. It was the era of primitive turbos, we had only two cars and the engines kept blowing up. Several times we'd end up qualifying the same chassis because the other car had failed. The turbo boost was controlled by a knob and we'd been told we could use 2.2 bar, but no more. Whenever I got in the car after Philippe had qualified it, he'd usually forgotten to wind back the boost knob and you'd see he'd had it set to 2.4…"
Palmer completed five of the 16 races, with a best finish of eighth in Brazil, Alliot just three. There was no room at RAM in 1985, with German Markus Winkelhock coming on board, but Palmer received a phone call from [former Motor Sport deputy editor] Andrew Marriott, with news that touring car specialist Zakspeed was starting its own F1 team and needed an experienced driver. And instead of having to bring money, he would be paid £50,000.
A deal was swiftly concluded.
"They were doing absolutely everything themselves, building the engine, the tub, the gearbox – the Ferrari approach," he says, "but unfortunately the engines kept burning out their valves. Team owner Erich Zakowski could be quite autocratic and there were a few rows. He wanted to start some of the races on half tanks, so that we'd be lighter than everyone else and could look good for the sponsors, while I was more interested in trying to finish. My drives for Zakspeed at Monaco were probably two of my strongest F1 performances – only 20 cars started in those days and both years I qualified 19th, while several drivers failed to make the cut."
He missed the latter part of the 1985 season after suffering serious leg injuries at Spa, while driving Richard Lloyd Racing's Porsche 956. A blown front-right tyre pitched him head-on into the wall at Pouhon – and briefly led to him dipping back into his medical training. "That was a huge shunt," he says, "and I was really wedged in. I knew I'd broken my legs and, when that happens, you lose circulating blood volume. They were simultaneously trying to cut me out and attach me to a drip line. I encouraged them to be quick with the latter because it wouldn't be long before I passed out and they wouldn't be able to find any veins, but they did a good job and got me out."
Palmer had dovetailed his single-seater activities with endurance racing since that first encounter with Lloyd, racing the latter's 924 at selected events in 1982 (and Daytona in 1983), winning the 1984 Brands Hatch 1000Kms with Jan Lammers in a Porsche 956 and finishing second at Le Mans with James Weaver in 1985.
"It was a way to supplement my income," he says, "but it was also a fantastic era – with probably about half the F1 field still competing in top-line sports car racing. I thought the early 956s, with shorter wheelbase and long tail, were absolutely glorious – a Le Mans racer with a comfortable seat that slid to and fro, like a road car, and an ignition key. I loved it, but after my Spa accident Zakspeed barred me from sports car racing in '86."
That changed, though, when he began the final phase of his F1 career with Tyrrell the following year. "Ken wasn't paying me all that much," he says, "and was happy to let me drive other things to earn a bit more."
It was to be his most productive season. With turbos in the majority but about to be phased out, Tyrrell switched to a naturally aspirated Cosworth and pursued the one-off Jim Clark and Colin Chapman Trophies, for the top non-turbo driver and team. Palmer scored seven class wins, finished fifth overall in Monaco and Germany and a career-best fourth in Australia to take the title during a year in which he also shared the winning Porsche 962C in the Norisring round of the World Sports Car Championship, won a rallysprint event at Brands Hatch and qualified for the British Rallycross Grand Prix final at the same venue.
Two years later, however, his grand prix career was over. There had been three top-six finishes in the early part of 1988, racing alongside Julian Bailey, and the following year he partnered the hugely experienced Michele Alboreto. "I'd started to get the better of him in the early part of the year," he says, "and things seemed quite positive. I was having conversations with McLaren about 1990, while Arrows was also talking to me about a drive, but then Michele left…"
From the French GP, the Italian was replaced by FIA F3000 front-runner Jean Alesi. "He seemed like a nice guy," Palmer says, "and was really effusive, congratulating me for having beaten him in qualifying that weekend. I wondered why, because I was in my sixth season and he'd just walked in – so of course I was going to be quicker, or so I thought. I should perhaps have seen what was coming…"
The following afternoon, Palmer's car was compromised by damage sustained in an accident at the first start while Alesi tore through from 16th to finish fourth.
"As the year went on," he says, "it became clear that he was simply quicker than I was. At Spa [where Alesi was busy wrapping up the F3000 title, so Johnny Herbert replaced him], there was a torrential downpour and visibility was non-existent. Nowadays they'd have started behind the safety car, but back then it was just a case of 'off you go'. I was pretty cautious on the opening lap and Ken had a quiet word with me afterwards, asking whether I thought it was time to stop.
"You have to be realistic. Once Jean started beating me, I knew it was probably the end of my F1 career. Ron Dennis wanted me to test for McLaren and for 1990 I combined that with a year in a Joest Porsche 962. I was also McLaren's reserve and there was half a chance I might have replaced an unwell Gerhard Berger in Monaco, where I had a decent track record, but it wasn't to be…"
For 1991 he accepted an offer to race a Prodrive BMW in the British Touring Car Championship – "I didn't really enjoy that, I was doing it partly to earn a wage while working on a fresh career direction" – and made his final Le Mans start as part of the Sauber- Mercedes team. "We led at one point," he says, "and I think we were running second when I got out at 2am to hand over. I went back to the team's Portakabin for a nap and awoke a few hours later to find [co-drivers] Kurt Thiim and Stanley Dickens in the other bunks. My first thought was, 'Hang on, who the hell is driving?' but it turned out the alternator had failed."
He drew a line under his racing career at the campaign's end. "I spoke to Martin Brundle about the viability of owning a car dealership," he says, "but fortunately he talked me out of that. Because I'd always had to find sponsors, I'd learned that one of the things they most enjoyed was driving events, so I thought I'd try to set up a corporate motor sport business. None of the major circuits would rent me track time, because they wanted to do things themselves, but I found Bruntingthorpe for £600 a day, bought three Formula Forward cars and three rally cars, then rented karts, quad bikes and Honda Pilots. I'd be down at my office in Sussex, flogging the events over the phone, then drive up to Bruntingthorpe, do the morning briefing, conduct hot passenger laps, give a chat about F1 over lunch, organise more driving in the afternoon and then head back to Sussex to sell
the next event. I knew I'd need somewhere smarter if I wanted to expand the business. I found Bedford [a former RAF airfield] in 1993, but with all the planning permission it didn't open until the end of the decade."
His corporate business was by then booming and his venture into further circuit ownership was, like many things in his life, an unexpected development. As he told Simon Taylor in that first Motor Sport lunch, "I didn't really expect to end up buying them, but knew I had the credentials to take over what was pretty much a basket-case business."
The subsequent transformation at all venues has been astonishing – particularly for those, like me, who were there in the 1970s and 1980s and had become accustomed to uninhabitable loos, inedible food and jungle- grade undergrowth. "I wasn't shocked by what I found," Palmer says, "because I'd raced at all the tracks and knew what they were like. I knew we could make massive improvements without huge cost – fresh paint, better catering and so on. If you want people to come to your venues, you must make sure it's a nice place to be."
The MSV empire has grown, with the addition in 2017 of Donington Park, while development continues on a new facility at the old Laon-Couvron Aerodrome, in France.
He has also had to find time to fulfil his responsibilities as a racing dad. Eldest son Jolyon won the 2014 GP2 title before spending two seasons in F1 with Renault and then moving into a media role, while his brother Will was BRDC F4 champion in 2015 and two years later finished second in the Formula Renault Eurocup, "Will was realistic enough to know the chances of getting to F1 were slim," Palmer says. "If he'd carried on with racing and university studies, he'd have compromised both." He has since graduated with a first-class economics degree from Bath University and taken a position with McKinsey Consulting.
"Looking back," he says, "I'm content with my racing career. I didn't win the world championship, nor even a grand prix, but frankly I probably wasn't good enough. One of the things I found frustrating about racing is that you'd complete an event, head off to the gym, keep yourself fit and relax. That's particularly true in F1, when you are less involved with developing the car. In business, you can always come up with ideas and take action to exploit them. Every day is exciting in that way."
Jonathan Palmer CV
Born: 7/11/1956, Lewisham, England
1975-77 Modsports
1978-80 Formula Ford
1981 British F3 champion
1982 European F2 Championship, Ralt-Honda; Williams F1 test driver
1983 European F2 champion; first F1 race with Williams in GP of Europe, Brands Hatch; Le Mans debut
1984 F1, RAM-Hart; wins Brands Hatch 1000Kms with Jan Lammers
1985 F1, Zakspeed; 2nd at Le Mans with James Weaver
1986 F1, Zakspeed
1987 F1, Tyrrell; winner of one-off Jim Clark Cup for drivers of naturally aspirated cars; winner of Norisring 200 Miles with Mauro Baldi; reaches final of British Rallycross GP at Brands Hatch
1988-89 F1, Tyrrell
1990 McLaren F1 test driver
1991 British Touring Car Championship, Prodrive BMW, 7th; retires from racing
1992 Starts PalmerSport running corporate driving days
1998 Creates Formula Palmer Audi as alternative junior single-seater series
1999 Opens Bedford Autodrome, his first circuit, for corporate activities
2004 Co-founds MSV, which acquires Brands Hatch and affiliated circuits Oulton Park, Snetterton and Cadwell Park
2017 Donington Park added to MSV portfolio