Having read for the nth time the contention that Formula 1 could not continue without Ferrari, perhaps being an American I can ask – who says so? What proof is there, or has there ever been, that this is true? While it is a nice touch to have one of the early participants in Formula 1 still in the game, I wonder if it, in fact, has any determining effect on modern-day fans? The great majority of their grandparents were not born when Nello Pagani's Maserati won the Pau Grand Prix in 1947. No Ferraris there, please note. I think Ferrari's role in modern Formula 1 is a plus, but the idea that they are an irreplaceable keystone rings a bit hollow. It should be easier to present to new, young, modern F1 fans that there's more likelihood that they will be able to one day own a Mercedes (winner of the 1914 French Grand Prix, please note) than that Ferrari, which is unlikely to show up in Millennial garages.
Norman Gaines, Hartsdale, New York, USA
---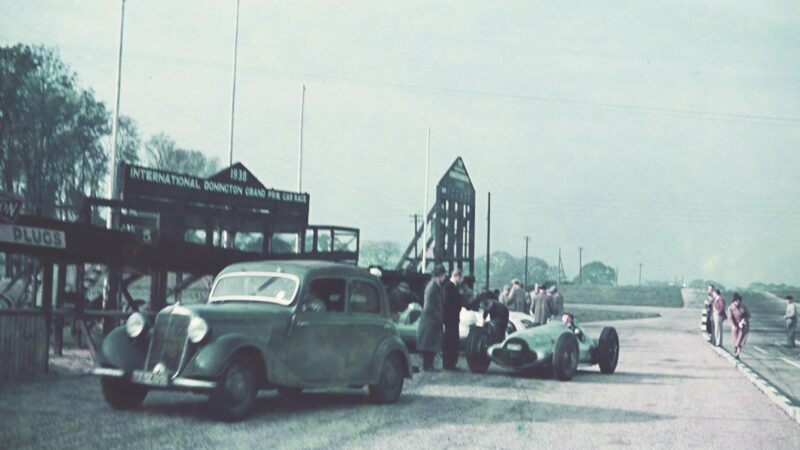 I did enjoy the article and evocative archive photos of Donington [Frozen in Time, Aug 2020]. Life should never be about regrets, but how I wish that I had been able to witness that era of Auto Unions and Mercedes (I wasn't even born!). The Donington circuit has always been a fascination to me. In my early career in the late '60s I worked for Rolls-Royce Aero Engines in Derby, and part of the Donington site was used by RR to store raw materials and forged jet engine parts. The RR staff minibus used to divert via the circuit, and I recall being driven down the straight with my eyes half-closed, imagining the great Silver Arrows coming towards me! Thank you so much for the chance to see those old photos.  And thank you for the continuing excellent content of the magazine – the variety of the articles is a credit to you.
David Craigen, Four Marks, Hampshire
---
Günther Steiner may often find something to moan about but I have to agree with his assessment that a 5sec penalty for Albon at Silverstone for ending Magnussen's race is at odds with a 10sec penalty for instructing their drivers to pit for dry tyres in Hungary. Never mind the fact that the latter was because allegedly you aren't allowed to coach a driver over the radio. Which begs the question what were the engineers of Norris ("Stay in scenario 7 until Turn 3. Turn 2 single press overtake here and out of T3")and Hamilton ("Diff Mid 12, Verstappen 25 secs so Strat 5, 10 secs to Verstappen") doing in the closing stages of the Austrian and British GP, respectively? The current F1 administration seem very keen to improve the show through new aero rules. I hope they can finally also address the inconsistencies in stewarding and penalties that remain rife.
James Magness, Wootton Bassett, Wiltshire
---
Your review on the new Jochen Rindt biography [Summer Escapes, Sept 2020] was interesting in pointing out that the book suggests Rindt was, by birth, Germany's first world champion. By this reckoning I would suggest that Mario Andretti was the first Yugoslavian world champion as his town of birth was Montona on the Istrian peninsula, then part of Italy, but which was annexed by Yugoslavia after World War II through the Treaty of Paris. Since the Treaty of Osimo in 1975 Montona has been in Croatia.
Peter O'Donnell, Epsom, Surrey
---
Yes, it's good to have Formula 1 back in action, as it is to have Mark Hughes' insightful reporting and analysis of it. A little dispiriting though to read in Mark's review of the Austrian and Styrian GPs [Welcome to the New Normal, Sept 2020] of the information radioed to Lando Norris for the last two laps at the Red Bull Ring. In reporting the very specific instructions I was left with the impression that Lando was a mere car control machine, the pit voice being in analogy that of someone enjoying themselves on a game. Dispiriting for people of my age who tend to eulogise about the days before radios when the driver managed everything. But on reflection I'm inclined to take a less gloomy view. After all, Lando is a Brit doing well, and without an apparent surfeit of ego. And although the instructions served to pre-empt any planning of his own, Norris still had to convert them into actions defined by his own physical car control skills, feel for its dynamics on the limit and concentrate. Though I accept that we can't wind back time, a more driver-centric approach would be welcome. It may be remembered that there was quite a fuss a few seasons ago about the FIA banning coaching of the drivers in-race. That FIA objective doesn't appear in 2020 to be bothering anyone much on the pit wall!
David Buckden, Walmer, Kent
---
The Self Preservation Society article [Summer Escapes, Sept 2020] reminded me of the following. In 1968 I had been visiting a girlfriend in London and had to return to work in Wales on a Sunday afternoon. Unfortunately my car had sustained a puncture and it didn't seem wise to undertake the long journey without a spare. There was a Mobil petrol station with a basement garage in ParkLane, and more in hope than expectation I called in to see if they would repair the tyre. A charming mechanic agreed to do so and whilst he was working I spotted a pair of 'Italian Police' Alfa Romeos. It turned out he had been involved in an engineering capacity on the Italian Job set, and after filming surplus props were sold off. He bought the cars for£250 each! He started them for me and they made a glorious noise, either straight-through exhausts or no silencers. I offered to buy one of the cars for the price he had paid for two, but my offer was politely declined. I wonder what they're worth now?
John Hindle, Penshurst, Kent