Motor Sport memorabilia and gifts: October 2021 selection
Whether hunting for gifts or buying for yourself, you'll find a miscellany of track-friendly ideas at the Motor Sport shop
Luxury European trackdays
If you grew sick of sitting at home a long time ago, there's good news on the horizon as things are finally opening up. The government rules (for at least the next five minutes, or so…) suggest that travel to many European countries is now back on the table, and if you're double-jabbed then things are likely to become a whole lot easier.
It's a good time to dust off your trackday toy, then, chuck a bag in the boot and head off to some of Europe's finest driving destinations. Our friends at RSR – the leading trackday operator at both Spa-Francorchamps and the Nürburgring – have kindly offered us a few spaces on some of their super-popular day events across the year. So take your pick from the stunning natural roller-coaster that is Spa, the tight and flowing ex-French Grand Prix venue Dijon-Prenois, or sun yourself by the sea during the lunchbreak at the beautiful Portimão track in Portugal's Algarve.
Prices vary, but we suggest you book quickly as trackday places don't tend to hang around for long, especially with all that pent-up demand.
From £649
---
BMW M book
Elsewhere in this issue you'll find a feature on the BMW M1 and why it is the ultimate M Sport car, even if it wasn't the most commercially successful. So what was the most commercially successful? The M3, of course. Since it was unveiled in 1986 the M3 has set new standards in the sporting saloon category. Its sister coupé variant, the M4, came in 2014, but has done a similar thing, carving itself a fine reputation up against the best from Mercedes, Audi et all.
This book charts the history of both, including racing cars. It's a fine addition to any fan's bookshelf and features heaps of technical data and lashings of photos… We may not stare at the bucktoothed newer models too much.
£40
---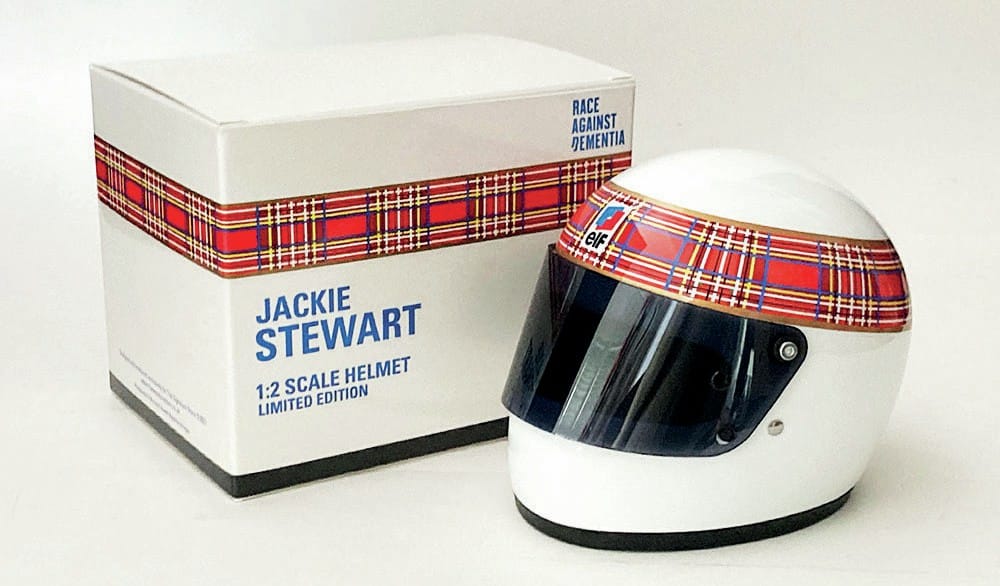 Jackie Stewart 1:2-scale helmet
Of all the historic Formula 1 world champions, Sir Jackie Stewart is perhaps the most understated when it comes to collectibles. A replica anything of Stewart is a rarer sight than Clark, Moss and Senna-themed reproductions. That's part of the appeal of this intricately detailed 1:2-scale Stewart crash helmet. Manufactured by Bell and featuring the Scot's trademark tartan banner and Elf logo, it's one of the all-time elegant helmet designs, and it's important, too. Let's not forget that three-time champion Stewart campaigned for safety improvements and was the first to adopt the full-face helmet. Even better, all proceeds go directly to Race Against Dementia, the charity Stewart founded to conduct vital research into the debilitating condition.
£250
Buy now
---
Cunningham E-types print
This should be titled The Birth of a Legend, as that's what it depicts. Set on taking the fight to Ferrari at Le Mans, Jaguar created its E-type Lightweight, easily the fastest and finest of the E-breed. This fine art print depicts the three entries run by Briggs Cunningham and overseen by Lofty England at Le Mans in 1963. Sadly, the Lightweights never enjoyed the success they deserved, with Cunningham/Bob Grossman's (15) being the sole car to finish. This limited-edition A2 giclée print comes numbered and signed by the artist.
£135
---
Tyrrell T-shirt
Retro racing T-shirts are cool. Fact! Following hot on the heels of heritage sponsor threads and a revived Hesketh collection comes this fine, officially licensed offering from Tyrrell, celebrating its twin 1971 Formula 1 World Championship success in both the drivers' and constructors' standings. It's 100% cotton and guaranteed to go down a storm at the summer barbecues.
£18.50
---
Fittipaldi-signed models
When you look back to Emerson Fittipaldi's days behind the wheel, which car first springs to mind?
There were the heroics aboard the beautiful JPS Lotus 72E, left, the glorious red and gold of the Lotus 72D, and the wonderful roar of the Cosworth DFV-powered McLaren M23. Regardless of which is your favourite, our friends at The Signature Store have managed to get a limited run of all three signed by the man himself. Each 1:32-scale model is intricately recreated and mounted on a display base. One is great, but all three would make a fine collection. £69.95 each
---
About the Motor Sport shop
With hundreds of special and unique racing-themed products, and many new items regularly added, the Motor Sport shop is aimed at both serious and casual collectors with a number of price points to suit your budget.