Porsche 964 Carrera Cup: race car buying guide
In 1990 single-make championships were thin on the ground; then along came Porsche's 964. Robert Ladbrook tells its story.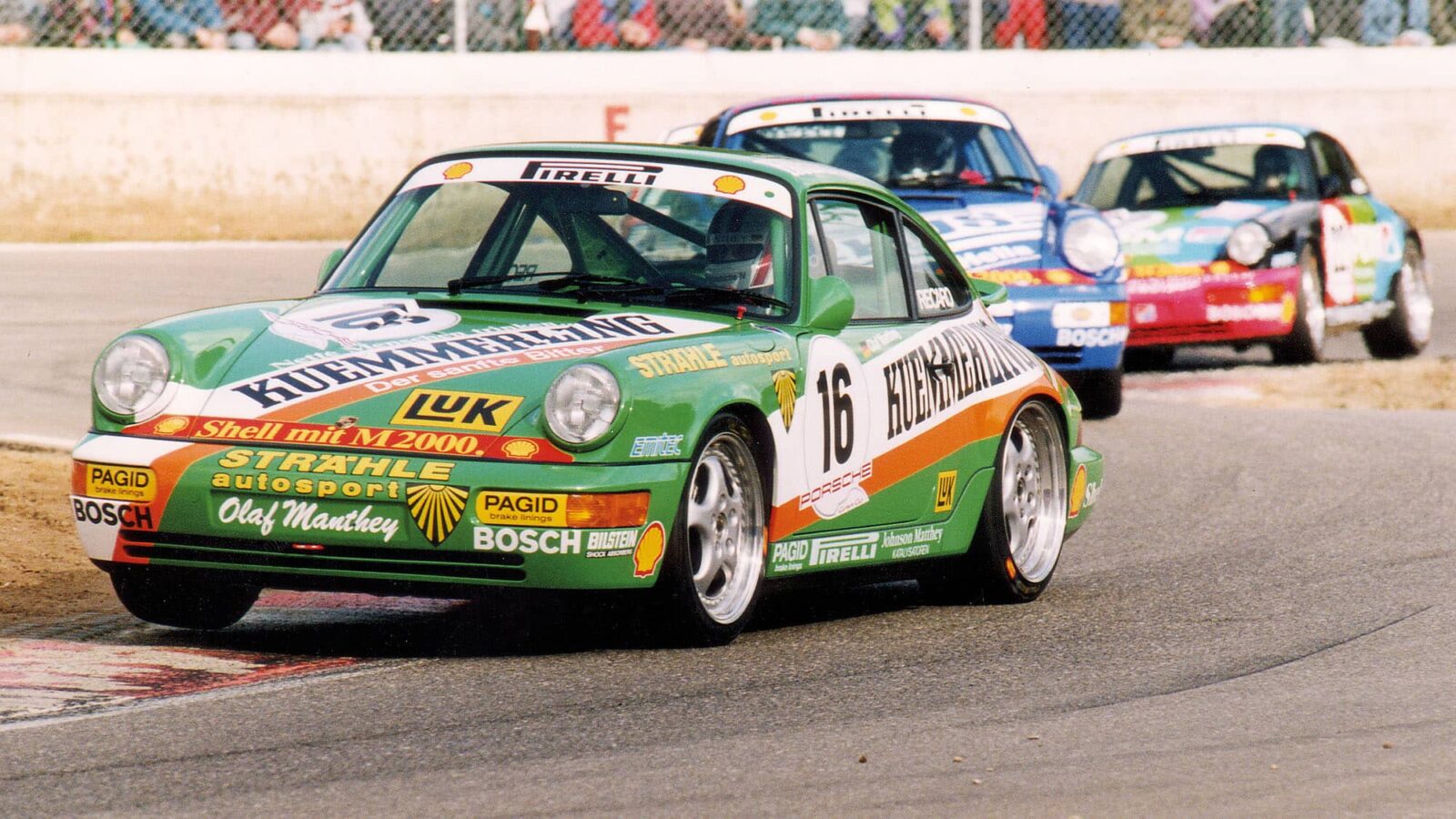 There's something beautifully  simplistic about older-model 911s. Sure, they're technically advanced, with their convention-defying rear-mounted engines and trick electrics, but that rather basic, no-frills silhouette has been known and loved for more than six decades now.
Porsche has always marketed the 911 as a turnkey performance car, as comfortable on the track as the daily commute, and perhaps no model proved that better than the 964, which turned Porsche from just another racing manufacturer into the place to hone your craft if you were an aspiring sports car racer with healthy pockets.
Single-make homogenised championships are very much the order of today, but in the 1980s they were far rarer. Everything from Formula Ford to F1 was multi-chassis and topline sports car racing was largely the preserve of big brands duking it out, with Porsche being the biggest of them all.
The 956/962 simply carried on what the 917 had started, and Porsche was sweeping the board at the top level. But beneath that band there was a chasm for the brand to capitalise on the interest its big hitters were generating.
The Carrera Cup as we know it now started life as the 944 Turbo Cup in Germany in 1986, featuring lightly modified cars running within the same performance window. A French version was launched in 1987 and Porsche realised it was on to something with global appeal. It just needed an upgrade from the 944.
The 964 generation 911 was the answer. Porsche took 50 production 964s, stripped them down to save weight, fitted the necessary safety equipment, a limited-slip differential and lightly breathed on the 3.6-litre naturally aspirated flat-six to produce 265bhp, and the Carrera Cup was born. The concept spread, with Porsche updating the French series the next year, and then launching a global Supercup contest to run alongside Formula 1 shortly after. The groundwork was being laid fast for what would become a global phenomenon.
Porsche even attempted to crack America when it shipped 45 RS-spec cars in road trim to its US importer Andial to convert to race spec in 1992. That concept didn't get off the ground due to a lack of sponsorship and support, but those cars still exist with super-rare 'Carrera Cup US Edition' limited-edition badging.
In total, Porsche created 297 of the 964 Carrera Cup cars between 1990-1993 before it was succeeded by the 993.
Now, you'll find Carrera Cup series in 13 countries worldwide, plus the top-tier of the Supercup. Star names like René Metge, Olaf Manthey, Jörg Bergmeister,Patrick Pilet, Richard Westbrook, Nick Tandy and Kévin Estre all came through Porsche's motor sport pyramid, which was built around this humble 911. Today, if you can find one, they're real collectors' items.
One for sale
1992 Porsche 964 Carrera Cup
A prime example in stunning Summer Yellow, with just over 16,000 miles on the clock.
£209,995
theoctanecollection.com
---
Porsche 964 Carrera Cup statistics
Price new N/A
Price now £100,000-£300,000
Engine 3.6-litre naturally aspirated, air-cooled flat six
Rivals TVR Tuscan Challenge, Ferrari 348 Challenge
Verdict A simple car that was arguably the godfather of single-make racing.