The best car and racing books, summer 2021: Divine Inspiration
The world has been a funny old place for the last year or so, and if you're in need of the distraction of a good book, Gordon Cruickshank runs down some of the finest around
How about calling it the Lamborghini Lidia?
We're glad they didn't. The story of the Lamborghini Miura is now explored and celebrated like never before in this new work
If your first thought about Lamborghini Miuras is that film, you're in good company. It was the same for Simon Kidston, collector, car broker and father of this book, and now an owner. If your first thought on seeing the book is 'this is beautiful' then you're in company with me, too – it is stylish and fabulously presented. The square format allows for large photos and drawings you can see properly –a lovely Vic Berris cutaway gets a double-page spread, much bigger than it would have been in Autocar originally. And there's another surprise – an internal foldout bearing a vast black-andwhite profile shot of chassis designer Giampaolo Dallara's own Miura. Several more equally beautiful pop out through the book. But if there's a negative to the design, it's that the text is small, the captions are smaller, and the footnotes (yes, there are footnotes!) too much for my aged eyes. If you're over 40 have your readers ready.
Presnell enjoys a mystery, spending two pages on whether Gandini or Giugiario deserves the visual credit (it's Gandini) and a page on the name – it's not a type of bull after all but the surname of a bull breeder in Spain. Strictly speaking, says Presnell, if named for the bull then the car should have been a Lamborghini Lidia.
There are boxes on designers, engineers and testers, a plethora of interviews with Lamborghini hands, memories from owners, and space for the princes and playboys, rogues and rascals who bought the cars. It is extraordinary given the impact the design made at its launch (a discussion by Gandini on colour reminds us that nothing on the road was bright orange at the time – this was a real shocker) to think the company feared they might sell just 50; thus chassis were at first handbuilt which meant quality varied and costs were high. It's clear that production was a beautiful struggle with little profit. Orders poured in, cars crawled out, not helped by squabbles in the sales office, delays and faultfixing on the hoof such as the flexible chassis (only fixed from car 126) and those infamous reach-for-the-sky aerodynamics. Some fixes were done secretly when cars were serviced later, and in his foreword Sir Michael Kadoorie recalls collecting his car, then taking it straight back to be fixed. By the final SV the Miura was right – but Countach loomed and Miura was strangled. "A real mistake," says a factory insider, "because for the first time we had a correct and reliable product."
I was surprised by how much motor sport the Miura actually tackled; there were even several one-off open sports racers I have never seen before. Jon also mentions the two Lambo V12-powered Bizzarrini P538 sports-racers, which I did know about as I once had the thrill of firing up one of them.
Naturally there's huge detail on the Jota, legendary engineer Bob Wallace's one-off super-special and its fiery fate – pictures of this and other accidents remind you that safety wasn't a prime concern. And this was a tricky car: later there's a mention of "that select club of celebrity Miura-crashers…"
Pages of road tests, brochures, film appearances (stacks of them, apart from The Italian Job), and production modifications close a book with a 'price no object' feel – mainly because price was practically no object: the layout is dramatic, the quality excellent, the research forensic. Rather fine, in other words, but unattainably costly for most. Rather like the Miura.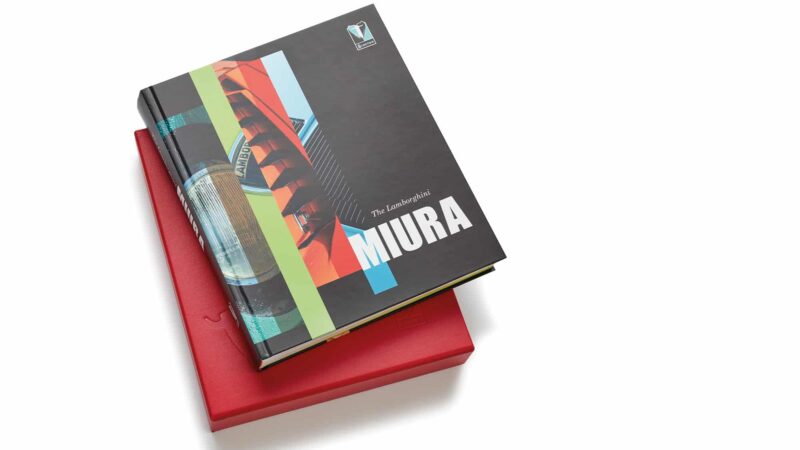 Lamborghini Miura
Jon Presnell
Kidston
£450
---
Available at the Motor Sport shop
Find these timeless titles and more at our online space
McLaren F1 GTR – The Definitive History
Mark Cole
Porter Press International
£450
Lamborghini Countach
Thillainathan Pathmanathan & Anne Christina Reck
Evro Publishing, £60
Formula Helmet: The Glorious Years of F1 Helmets 1969-1999
Bruno Bayol
RedRunner
£115
Ferrari 250 GT Short Wheelbase
Doug Nye
Porter Press International
£60
---