1990 Hungarian Grand Prix report: Good Vibrations
We have had our moments of criticism for Thierry Boutsen, but in Hungary last weekend the Belgian drove a beautifully judged race to withstand fearsome pressure for the entire 77 laps.
The Hungaroring is a circuit that doesn't help those wishing to overtake, and after taking full advantage of his first ever pole position, the Williams-Renault driver took the lead at the start and withstood onslaughts from Gerhard Berger, teammate Riccardo Patrese, Sandro Nannini and, finally, Ayrton Senna to notch up his third GP triumph and his first on a dry road.
What made the performance all the more impressive was that Senna had stopped for fresh Goodyear Cs after a stone had once again machined away part of the wheel rim on lap 22. With newer tyres he blitzed through the field and was within striking distance after disposing of Nannini in a controversial passing attempt in the fast chicane at the top of the circuit on lap 64. By the end Boutsen's tyres were shot, but he just managed to cling on for a deserved success that went some way to making up for the team's 1989 disappointment.
Berger was menacing Nigel Mansell for third place in the closing stages when he removed him in the same manner as Senna had disposed of Nannini, the Briton retiring with an injured right arm and left wrist from the whiplash of the steering wheel.
The McLaren was also a retirement, promoting Nelson Piquet to a fortunate third with a recovering Riccardo Patrese leading home Derek Warwick and Eric Bernard for the final points.
Alain Prost had produced something of a surprise for Ferrari in the morning warm-up when he lapped a second faster than Berger and Senna, but it transpired he had used Goodyear's soft race compound Ds, whose long-term durability was suspect even with the low grip of the Hungaroring's surface. When the grid finally lined up, only Gugelmin and Donnelly opted for them, all the other Goodyear runners going for the regular Cs and planning to run non-stop.
There was drama on the grid for Senna when a leaking water radiator was detected on his race car, and it was wheeled away as the spare MP4/5B was hastily dragged out. He was installed in it in time to take the green flag lap.
Boutsen sat proudly on his first ever F1 pole position, won with an electrifying 1m 17.919s lap on Saturday, and the first moment of pressure that he successfully coped with was the run down to the first comer, as his Williams sprinted away from pole. Patrese, second on the grid after a lap almost as strong as Thierry's once both had dialled out understeer and then benefited from remapped Renault engines and a new Elf fuel mix, was alongside him for much of the way, on the inside. However, Berger tried the outside line and was able to pincer the McLaren into second place. Alesi, disappointed to be only sixth on the grid after exploiting his Pirellis to the full, elbowed ahead of Mansell for fifth, with Senna voluntarily backing off to avoid contact with the Ferrari. Like Prost's, down in an unimpressive 10th place adrift of fast-starting de Cesaris, Nannini and Piquet, Mansell's was racing for the first time with the new 037 engine. Both he and Alain had, of course, used them in qualifying, when the Briton had been more successful at using Goodyear's new compound and construction qualifiers.
At the end of the lap it was still Boutsen from Berger, with no breathing space between the McLaren and Patrese, Mansell, Alesi and Senna. Nannini was still behind de Cesaris but would soon dispose of the Dallara, while Nelson was ninth from Prost, Warwick and Bernard. Martini was 13th, and would head a mammoth queue of no fewer than 11 cars as the early stages unfolded.
By lap nine de Cesaris had been elbowed down to 11th by the leaders, and was running just ahead of a closing Bernard, but Martini was holding off Pirro, Nakajima, Capelli, Donnelly, Gugelmin, Suzuki, Modena, Caffi, Alboreto and Larini who were snapping and snarling at each other's heels in a battle that seemed certain to end in tears. Modena had spun trying to pass Donnelly. Tarquini in the only AGS to qualify wasn't quite in touch with them and Barilla was already dropping back, while Alliot was 26th after calling at the pits at the end of the first lap to have his right front nose fin replaced.
It was telling that even a McLaren-Honda was having trouble outdragging a Tyrrell-Cosworth down the short front straight
At the front it was evident that we were in for another confrontation such as that headed by Patrese this time last year, as Boutsen continued to hold sway seemingly only inches ahead of Berger, Patrese and Mansell. This quartet had detached itself from the battle for fifth which Alesi showed every initial sign of winning with Senna and Nannini. Neither McLaren had been able to match the Williams in Saturday qualifying, after Berger had been fastest on the Friday, and both had had some lurid slides and an off apiece at the fast chicane. Though Ayrton was being held up by the Tyrrell, the McLaren was in much better shape for the race.
Throughout, gaps closed and elongated depending on individual cars' abilities in the fast or slow corners, but there was precious little overtaking. We knew, from last year, however, that patience can be a virtue at the Hungaroring.
Senna knew that, too, and was alternately pushing Alesi and then easing back, in the hope of rattling him and to keep his engine temperature down. On lap six, for example, he'd fallen right back, yet was soon nailed to the Tyrrell's gearbox again. Nannini was also having to go along with this, while Nelson had tried to conserve his tyres in the opening laps, and then found when later he started to speed up that he had a problem with the Benetton's throttle and electronics.
"It was on-off, on-off. There was no way I could drive smoothly, and it just got worse and worse. It was very difficult."
Prost, meanwhile, disposed of de Cesaris on lap eight, but seemed unable (or unwilling at this stage) to push hard for the Benetton, and was content to sit in ninth place monitoring events.
The real action in the first quarter was thus to be found in everyone's antics to dispose of Martini. After 10 laps the contestants in the group got a little room for manoeuvre when Nakajima got it all wrong at the top of the hill and went skating off. "I'd been having a little problem with the brakes, which weren't biting enough, and I just pushed a bit too hard." He didn't hit the tyre wall as a result of his original mistake, but his attempt to spin-turn ended with the rear of Tyrrell against the tyres. He was the first retirement.
The first successful move against Martini came when Capelli passed Pirro going into turn one on lap 17, and then a lap later he was able to pull the same move on the Minardi and instantly pulled away. Two laps later Gugelmin passed Pirro, getting by the M190 on lap 20. As the two Leyton Houses moved clear, Donnelly began to hassle Pirro, but Senna's increasingly strong pressure on Alesi was beginning to attract the attention of the vocal Hungarians by that point. On lap 21 Ayrton finally did it going into turn one (where else?), but it was telling that even a McLaren-Honda was having trouble outdragging a Tyrrell-Cosworth down the short front straight.
"Alesi had come down inside me into the second corner after the start, after I'd had to lift off to avoid Mansell in the first," said Ayrton. "If I'd tried to turn in I would have hit him. There was no way that I could overtake him at first, and running close put the engine temperature up, so I would drop back. Then he got in traffic, and that was my opportunity."
Nannini immediately started his own push after the Frenchman, and would duplicate Senna's move on lap 24. By then, however, Senna had dropped back to 10th after a rapid tyre stop on lap 22.
"I could feel I had a puncture as the bottom of the car was touching the ground too much," he revealed.
"It looks as though we picked up another stone. The wheel shows signs of being machined by something, and that's why the tyre lost its air," said Ron Dennis.
De Cesaris was the next to go, when his strong showing ended with engine failure on lap 23, but Pirro was still upholding Scuderia Italia honours in 14th place as Donnelly struggled in his wake and still had Suzuki, Caffi, Alboreto and Larini snapping after him, and Modena now speeding up to close on them.
Nannini moved away from Alesi, Piquet closed in and overtook on lap 25, but Jean would then keep a menacing Prost at bay until lap 34, when the elder Frenchman squeezed past coming down from the highest part of the circuit.
Martini had declined to 21st place after a tyre stop on lap 21, and though the midfield battlers still comprised Donnelly, Pirro, Suzuki, Caffi, Alboreto, Larini and Modena, the Minardi's run was about to draw to a close. On his 37th lap Jean came across Pierluigi in the last hairpin before the pits and dived for the inside. Pirro either didn't see him or moved over anyway: eyewitnesses thought the move a trifle optimistic. Whatever, the Tyrrell and the Minardi locked wheels, lost their steering, and slid in unison on to the gravel and out of the race, leaving the two drivers to engage in a heated debate about culpability for some time afterwards.
"I couldn't find a way by but eventually I had to go for it because rubber from his tyres was sticking to mine and affecting the handling," said Jean.
On his 36th lap Modena's Judd EV expired as he crossed the finish line, and he coasted to a halt just past the pit lane exit. However, it was Prosts demise that really concerned the Hungarian Tifosi, whose 'Ferrari Prost the future is here' banners had decorated the start/finish line. As he came round to complete his 37th lap, the Frenchman's Ferrari suddenly lost all drive and pitched him into the barriers at the last corner. He was unharmed, had felt quietly confident that he had nursed his tyres well and was perfectly poised for a late charge, but his race was over. It was his first retirement since Monaco.
With Prost out some of the heat came off Senna, although you wouldn't have known it from his driving. As the race approached its halfway point the Brazilian was lapping two seconds a lap faster than Boutsen, who was still leading confidently from his ever present shadows, Berger, Patrese and Mansell. We were still waiting.
Nannini had fifth place well tucked up at one stage, but as he closed on the leaders, so Senna was charging back after him once he'd caught seventh placed Piquet and eighth placed Warwick. Eric Bernard was a lonely ninth, but team-mate Suzuki had quit on lap 38 when his engine died. "It had been making strange noises for some time, and was down on power exiting the corners," he revealed.
Capelli and Gugelmin were established in 10th and 11th, the Brazilian's CG901 apparently none the worse for a quick spin onto the grass and gravel on the outside of turn one on lap 30.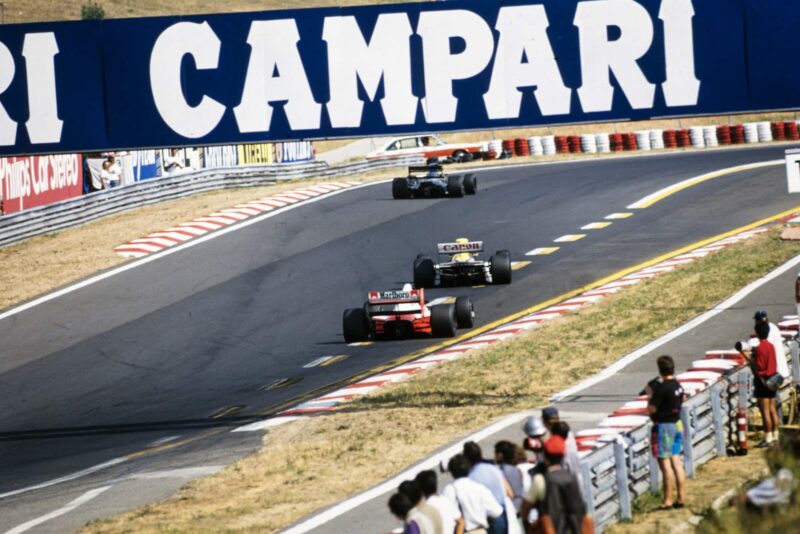 "The way the brake pedal is positioned in our car makes it difficult to use properly, and that's what caused the spin."
Having dispensed with Pirro (who then lost time with a tyre stop), Donnelly came charging after Mauricio, however, and was right with him when he brought the Lotus in for fresh Ds on lap 52. "I lost an incredible amount of time behind Pirro, but I just couldn't find a way by him. I was shaking my fist, but that didn't really help! The real problem after that was that I moved off line to let the leaders by, and got my tyres dirty. They wouldn't clean up, so I had to come in for a new set."
After that he charged back after the Leyton House, setting fourth fastest lap in a successful pursuit that would bring him his best F1 result, albeit one frustratingly shy of a first championship point.
Capelli had been experiencing a problem with third gear jumping out, and on lap 57 his transmission broke completely.
By now, things were heating up nicely up front, as Senna had come slicing up on his newer tyres. Berger had finally been obliged to stop for replacements on lap 48, dropping to fifth ahead of Ayrton but soon being passed before his rubber had fully warmed up. That left Patrese to shield Boutsen, who had a 2.18s lead by lap 50. By Hungarian standards, it was quite a cushion.
Then Riccardo came in for new tyres on lap 56. "The fronts were completely gone, so I had no choice. I could have come in as soon as they lost their edge, but I decided to stay out for three or four more laps to give him a chance to get away." The likeable Italian is nothing if not a team player, but Warwick and Donnelly didn't thank him for the manner in which he rejoined right in the paths of their Lotuses.
Riccardo's delay should have given Mansell his chance for success, but the Briton got caught up with one wheel inside one of Patrese's in the hairpin behind the pits on lap 52, and as they sped down to turn one he had lost vital momentum. They were in traffic anyway, and as he nearly tapped the Williams' rear end, Nannini came steaming down the inside to grab second. Senna squeezed ahead as they went into turn two, and thus in one lap Mansell had lost two places. Worse, Berger was thirsting after him after his tyre stop.
From 3.91s on lap 57, Nannini whittled Boutsen's lead down to less than two seconds by lap 60, and on lap 61 the Williams, the Benetton and Senna's McLaren were literally nose to tail, with Mansell and Berger right there as well. It was, at this stage, anyone's race, with the odds favouring the McLarens and their fresher Goodyears.
Unbeknown to anyone but the Williams pit, Boutsen was in trouble, complaining over his radio of severe vibrations similar to those which had dogged him during the morning warm-up. They may have had something to do with the fact that Thierry had missed a gear at about one third distance, over-revving the engine to 16,000rpm rather than its normal 13,000 limit. If nothing else, it testified to the bottom end strength of Bernard Dudot's RS2 unit. Strength or not, there were more than a few crossed digits in the Didcot team's pit.
On lap 63 Berger only just managed to avoid running into the back of Mansell's Ferrari going into turn one, and then going down the pit straight next time round the two cars were side by side as Mansell edged the McLaren over the broken yellow line indicating the pit lane exit. Gerhard kept his foot in it and just scraped ahead, only for Nigel immediately to repass.
Meanwhile, Senna was right with Nannini, and pushing hard. "I think he knew how easy it would be for me to pass Boutsen, and didn't want me to get away," said Sandro. "Really, it was going to be no problem to overtake the Williams. It was just a matter of choosing where."
He wasn't to get the chance. As he and Senna entered the chicane at the top of the hill, the McLaren came from way back, two wheels over the inside kerb, and flicked the Benetton high into the air and out of its way. It was an aggressive manoeuvre that very nearly rolled Nannini, whose car landed with damaged suspension on the opposite side of the track.
"There was no way I could overtake under normal circumstances," admitted Ayrton. "It was only where there were backmarkers. It was like this with Mansell, and then with Nannini. I don't think he saw me, and he closed the door too much."
Observers are in general agreement that there is only one line through that chicane, and that Nannini was on it. "Everything was perfect, and I was really confident,' said the aggrieved Italian. "I took my normal line and he arrived in the middle of it. That was it. I'm very, very disappointed."
Disappointed he may have been, but Mr Nannini is beginning to mature into a very good GP driver.
Incredibly, the leading quartet had closed up again by lap 68, when Boutsen, Senna, Mansell and Berger were nose to tail, weaving and feinting. Then, going into the chicane on lap 72, Berger tried a similar move to Senna's on Mansell, with the result that the Ferrari was pitched into a spin. The Briton sat in his car, nursing wrenched wrists where the steering wheel had whipped round, but fortunately the middle finger on his right hand was not broken, as initially feared. "There's only one line there, and I had it," he affirmed.
"Mansell kept moving over on me, pushing me towards the wall," said Gerhard of the earlier incident. "Then at the chicane he just moved over on me."
The McLaren was also a retirement, with a damaged steering link.
"What should he say?" asked Ron Dennis. "They're racers and they're supposed to race. It's the sort of accident that happens a hundred times." Afterwards both Benetton and Ferrari considered protests, but ultimately settled for simply registering their verbal disapproval of the McLaren drivers' tactics. That final incident promoted the struggling Piquet to third and Patrese fourth. Riccardo was catching the troubled Benetton in the closing stages, but the Williams had developed a long brake pedal and that was sufficient to keep Riccardo four seconds adrift of his former Brabham team-mate by the finish. The FW13B stopped before it even completed the slow-down lap.
Over the last laps the Hungarian GP finally developed into a cliffhanger, with Boutsen struggling with his worn tyres and Senna pushing, pushing, pushing. Going into lap 75 the McLaren dived for the inside, but Boutsen had that one covered and slammed the door. It was Ayrton's last chance, for throughout the following tour Tarquini incredibly baulked both men. Whilst his intervention could so easily have undone Boutsen's afternoon's work, Gabriele was finally disposed of only into turn one for the final time and that effectively robbed Senna of his last realistic opportunity to pass.
"Right from the start I realised I still had some understeer," said Thierry, "and though we'd changed a lot it hadn't fully cured it. I just had to drive the car like that. I drove at the same speed as Gerhard in the early stages, trying to save my tyres, and at one stage I built quite a nice little cushion. Then Nannini came up behind me, then Ayrton. In the end everything worked out just right, because I would not have got another lap in front of him out of those tyres."
He crossed the line for the best win of his career only 0.288s ahead. To have fended off Senna, particularly a Senna with superior tyres, was no mean feat, and Ayrton himself was the first to acknowledge it just after they received the flag. The Brazilian drew the McLaren alongside the Williams and gave his friend a signal of appreciation.
Fifth place was an excellent reward for Warwick's dogged determination, especially as he'd had to adjust to an inconsistent brake pedal. "Sometimes after half distance it was very hard, the next corner it would go right down to the floor. That meant I really had to nurse the car in the final laps."
With Donnelly bringing his car home a strong seventh it was a fillip for the team at the event at which Camel had announced its intended defection to Benetton.
Sandwiched between the two yellow cars, Bernard was delighted with another point for Larrousse. "I did my best to get through without a tyre stop, and was trying all the way to keep them in good condition. Unfortunately I lost my brakes around half distance and had to nurse the car home. I was worried all along that I might not make the finish, so I'm really pleased with sixth."
By the end Gugelmin's tyres were blistered very badly and his Leyton House hobbled home, but his non-stop gamble had at least paid off and he welcomed a finish after his recent run of ill fortune.
Caffi was happy with the balance of his Arrows but not with the manner in which sixth gear hit the rev limiter all the time, but was very relieved with such a reasonable finish after a tough race. Alboreto, too, was happy to have made it home, but had to stop for tyres on lap 44 and thereafter cope with oversteer on his way to 12th behind the tyre-stopping duo of Pirro and Larini.
Tarquini muscled his AGS to 13th, the little French car a handful in the slow corners and the Italian tired after his first full race for a long time. "I'm just not used to cars that finish!" he laughed.
After his first lap stop, and then another for tyres, Alliot salvaged a finish in 14th, ahead of Barilla's slow Minardi, while Berger and Mansell were the final classified finishers, Nigel hitching a lift home on the Ligier.
With more modifications in the pipeline McLaren left Hungary with its corporate tail up, having moved away from the mid-season problem that affected it so badly at Le Castellet and Silverstone, and both Senna and Dennis regarded a 10 point Drivers' Championship lead as a real boost at this stage of the year. Yet the previous night a Marlboro representative, in his cups, had mournfully disclosed his feeling that Senna had been lost for 1991. One couldn't help wondering just what thoughts were running through the Brazilian's head as the Williams reached the finish line first. DJT