It will be a long time before Damon Hill forgets about the German Grand Prix. Just as Parnelli Jones left Indianapolis in 1967, "thinking I'd left something behind," after his STP Paxton turbocar quit with only seven laps to run when holding a huge lead over Al Foyt, so Hill will forever rue the events of lap 43 of the 45-lap race.
"This disappointment is about a million times worse than Silverstone," he admitted, "because here the job was done. There, there had still been racing to do, with Alain. Here, it was my race. I had it won . . ."
And so he had, although he had come by first place through an unusual set of circumstances. In Germany the Williams-Renaults wrapped up their now customary front-row positions, but it was interesting to see that, far from extending their Silverstone advantage over Michael Schumacher in the Benetton-Ford and Ayrton Senna in the McLaren-Ford, the gap had actually closed on a circuit where the power advantage of the Renault VI should have taken them clear. Hockenheim, as we all know, is a power track which also places a premium on braking efficiency. Step forward Williams on both counts, with the Renault RS5 and Patrick Head's ABS system. But what Hockenheim also has is bumps. There are little ripples all round the surface, and they are bigger and less forgiving in those awful chicanes. To watch any of the F1 cars going through there on slow motion television replay was to watch a beast in the throes of torture. The Tyrrell 021s, for example, pitched and bucked. Like many others, they picked up both front wheels in the short spurt betwixt the hard right entry to the second chicane and the left flick in the middle of it. Nobody seemed to be immune to the symptoms, but Benetton appeared to cope with them best.
The other thing Hockenheim requires is minimal downforce because of those long straights, and therein lay the seeds of Williams' apparent 'struggle,' for the FW15C has already shown this year that it is not partial to the blend of low downforce and bumps. Neither Hill nor Prost was particularly happy with his car during qualifying, although neither would seem particularly challenged in the race once things had settled down after hectic opening laps. They, however, provided all of the excitement until Hill's unfortunate demise. Damon, as is his wont, won the start. Again, Prost lagged alarmingly. The Frenchman felt that his car had been creeping as it did initially at Monaco, and in light of what was to follow could not help a feeling of irony when it went unpunished. As Schumacher fanned back and forth across the road to take second place, Senna pulled alongside Prost to grab third down the inside, and Brundle just lost out as he had to brake from a side-by-side run with Ayrton because the Williams was then in his way. Somehow, against the expectations of those who had witnessed the carambolage in the previous day's F3000 round, all 26 cars managed to funnel through the first corner without lasting injury, although Erik Comas would retire almost immediately with transmission failure. As In Britain, his race was short.
On the run to the first chicane Prost had recovered sufficiently quickly that he and Senna were alongside one another. The Frenchman took the inside line into the right-hand flick, but both of them were well past their normal braking point. "Alain and I both braked very late," confessed Ayrton. "I don't know if we touched, but we were both beyond our limit."
They didn't quite make contact as they went into the corner, but in the middle of it they were very, very close. You might have eased a cigarette paper between them, but you'd have got your fingers squashed doing it.
Usually, Prost would have conceded, but not this time. "It doesn't normally happen to me," he was honest enough to admit, "but I had decided not to back off." Senna, predictably, wasn't going to either, but their pace had taken both beyond the normal limit. As Senna tried to snatch back the initiative by hanging on for the inside line on the left-hand flick in the middle of the corner, he got on to the gravel and spun, just as Prost was also dealing with the inevitable snap oversteer. Behind them Brundle got his tyres covered in Senna's stones as the angry Brazilian sat facing the oncoming traffic. He was forced to wait for everyone to go by, before performing an irate spin-turn to face in the right direction. As ever, it was beautifully judged as the MP4/8 lined up exactly where he needed it.
That was not the end of the first lap incidents, though. As Hill led Schumacher through the Ostkurve chicane, Brundle inadvertently tried a novel line.
"My tyres were still covered in gravel from the first chicane," he said, "and going down to the second my car just swapped ends at 320 kilometres an hour the moment I touched the brakes. I actually went down the escape road backwards after two complete 360 spins on the inside of the track approaching the chicane, and it's a bit difficult to steer accurately in that situation! I had no option to go the way I did."
This was where things began to go wrong for both he and Prost, for the stewards initially missed seeing what was happening on their screens. Prost, cautious about just how deep he dare go under braking because of the state of his tyres, retarded his FAV15C a little earlier than usual. "I looked in the mirrors to see how late I dare brake, and because I didn't feel very comfortable. I knew that I had a small advantage over Martin, so I thought, 'Okay, brake a little early and take care'. Then I saw him behind me, coming backwards!"
Fortunately, he just caught the blur of blue and white as the rotating Ligier arrived, and he steered wide over the chicane gravel to avoid it. "I just had time to see him, and I knew that if I wanted to make the chicane, he would have hit me. So I decided to go straight on, on purpose." Amazingly. Martin gathered everything together and continued in fourth place as Alain led him back on to the track. Blundell, with his grandstand seat behind them, backed off marginally and finished the lap in fifth place ahead of Patrese, Berger and Alesi, Andretti, Wendlinger, Suzuki and Warwick (who had bravely decided to race after his horrific morning warm-up accident see page 842 but had got away poorly), Herbert, Fittipaldi, Zanardi, Lehto, Barrichello, Alliot, Boutsen, Katayama, Martini, Badoer, Alboreto, Senna and de Cesaris. It took them a few laps, but the stewards and race director Roland Bruynseraede had decided to levy I Os stop-and-go penalties on both Prost and Brundle for their alleged transgressions.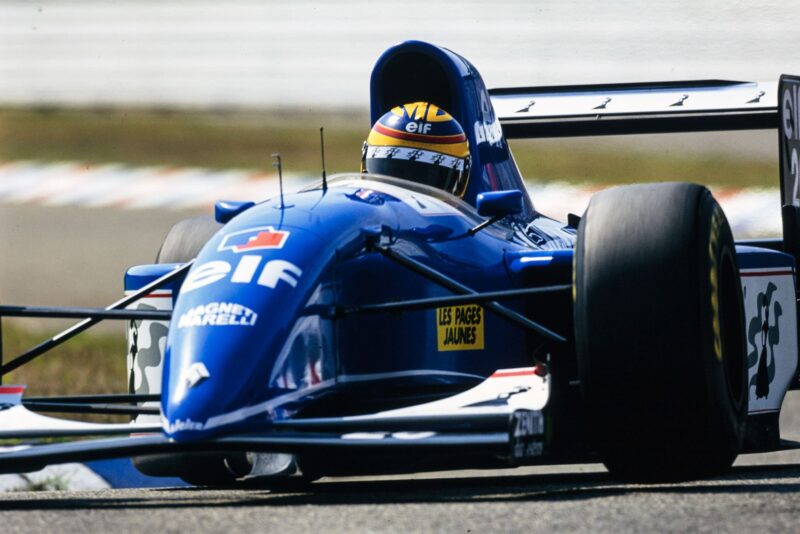 In the drivers' briefing that morning much had been made about penalties that would be levied on anyone who gained any advantage from missing chicanes, as Mansell unintentionally had during his frantic battle with Senna in the 1992 race. "It was agreed that if a driver missed a chicane maybe 10 times then for sure he would be penalised," Prost revealed. "But if you missed your braking point without taking advantage of it, we agreed that there was no reason to be penalised. We were told that we would be judged on whether the crossing of a chicane was correct or not."
Ultimately, he would survive this latest brush with questionable official decisions, unlike Monaco. But he was not happy about it. "It was a scandal and I feel it was done to make the racing more interesting.
That's wrong."
If his penalty was wrong and it certainly was then so was Brundle's. The stewards' apparent myopia would steal the unfortunate Briton's chances of more championship points, not to mention Ligier's. Basically, Bruynseraede and the ste wards Burdette Martin, L Osterlind and K Steinmetz simply didn't see Brundle's rotations, even though video evidence clearly showed the Ligier appearing on shot going backwards. All they saw was the two cars missing the chicane and regaining the track without losing places. Without thinking of rewinding the recording to double-check, they handed out the penalties. The trouble was that, although they acted precipitately in making their decision, it took them the best part of eight laps to communicate it to the drivers concerned. Hill had completed that dramatic opening lap ahead of Schumacher, Prost, and a Brundle who had recovered so quickly that even his team initially refused to believe that he had spun. Indeed, his lap was completed in 1m 56.505s to team-mate Blundell's I m 56.995s! Neither Prost nor Brundle thus knew at this point that they had been penalised, but when the news was finally imparted to the former it obliged him to change a gameplan that had called for a non-stop run in a race in which others were expected to pit for fresh Goodyears. Alain duly complied with officialdom on lap 10, by which time he had taken advantage of a brake problem that was troubling Hill, to scythe through into the lead on the eighth. Damon fiddled with his cockpit adjustments to settle down his FW15C's balance to compensate, and: "Then tried to be as easy on the car as I could, conserving it and the tyres." Fate would not reward such mechanical sympathy. Since Hill also planned a non-stop run, Prost's hopes of victory were clearly upset. From now on, until the last drama, he would simply be aiming for at least six points for second place.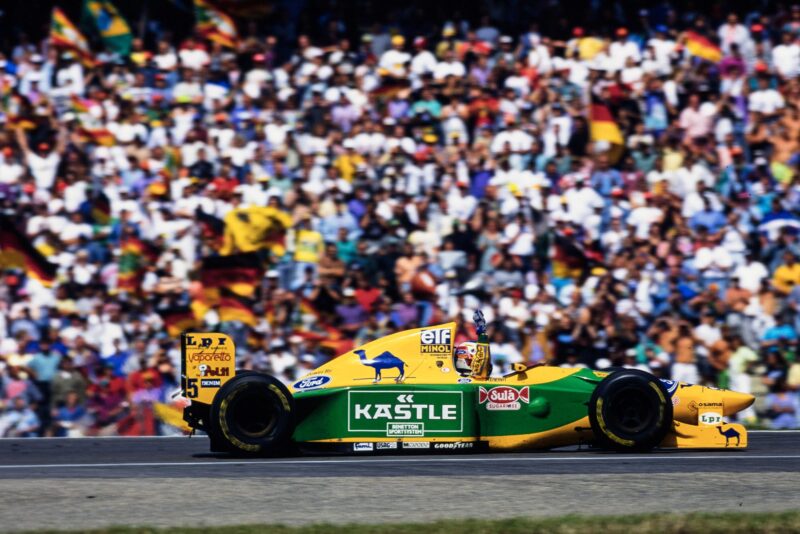 For Brundle things were less clear-cut. Prost dropped only to sixth after his penalty, quickly working back to second by lap 17 as he caught his immediate rivals (and Schumacher stopped for fresh rubber on lap 16). Martin's penalty stop on lap 11 would not be so smooth, and his subsequent tyre stop eight laps later would be a complete disaster. The first call dropped him from third to 12th; the second from 10th to an awful 18th. "You know, when you go sideways at the speed I did in that chicane, you get an awful lot of air through the cockpit, crazy as it might sound. 1 got a massive blast which tore out my radio connection. I did my stop-and-go, then when I came screaming into the pits for my tyre stop on lap 19 I saw guys waving, but they weren't mine. I missed my pit. There I was screaming at my guys to pull me back, and there they were thinking it was illegal to do that! They were signalling me to go round again. Then 1 stalled the engine. Eventually the marshals pulled me back, but after my stop-and-go, and that bad stop, I was livid. I'm not allowed to reverse in the pit lane and of course I was aware of that, but my guys thought they were being told not to pull me back, when in fact that's just what they were being told to do . . . They could pull me back, so long as I wasn't in reverse gear." His day was ruined. If Martin was unhappy afterwards, teammate Blundell also found a blot on the landscape of an otherwise good third place result. Its name was Gerhard Berger. Though Jean Alesi had outfoxed his teammate going into the stadium on lap four, the ever luckless Andretti had discovered the Austrian to be in intransigent mood, and a passing effort a lap later as he tried to capitalise on the Ferrari driver's lost momentum simply deposited him on the sidelines with damaged steering. Alesi's run in sixth place lasted until lap 13 when he lost time in the pits having a loose engine cowling taped down (later his engine broke), and by lap 20 the order thus read: Hill, Prost, Schumacher, Blundell, Berger and Patrese. Blundell stopped for tyres a lap later, and then set about recatching the Ferrari. It would prove tough to pass.
Berger was unhappy with the F93A's stability but was pushing as hard as he could go. Mark felt that was a little too hard. "At least I was able to put up a good fight," said Gerhard. "With the professionalism of drivers like Ayrton and Mark you can do this without having to worry for your safety." Blundell did not agree, citing the tactics the Ferrari pilot used to keep him behind.
"It was not fun at all," growled a man whose reputation has been founded on cheerful toughness. "I'm a little bit upset with Gerhard. If it had been four or five laps from the end, then certainly he would have made his car very wide. But it was halfway through the race. I overtook him once and he came by me again and was weaving very badly. I overtook him with two wheels on the grass at 200 miles an hour. And that is not fun." Later, they had quiet words. Mark finally found the way by on lap 27, by which time the recovering Senna had got too close for comfort. As one would expect, the latter's drive through from the back following his first lap indiscretion, was scintillating. He was as brave as ever as he cut through the backmarkers (most of whom though, it should be said, are intimidated by the very sight of a yellow helmet in their mirrors), but Berger gave him a spirited run for his money from lap lap 14 to lap 19 before Ayrton took the smart decision to pit for fresh Goodyears. Thereafter he quickly caught and passed the Ferrari, but his expected attack on Blundell never materialised, and any hope he entertained of a podium slot evaporated with another stop on lap 41 when he suspected he might have a slow puncture. Mindful of the big testing shunt he'd had at the venue back in 1991, he explained: "I came in because the car felt funny, and the last thing l wanted was to risk a blowout at 300 kilometres an hour." Hockenheim makes even the brave cautious.
By then the non-stop Berger was a long way back in sixth place, having been overtaken by the consistent Patrese (in his 250th GP) but having caught and passed Johnny Herbert's Lotus as the latter developed a suspension actuator problem just as a possible point loomed for the British team. Wendlinger also pushed by the Lotus, the Austrian having stopped for new tyres where the Briton had opted to stay out on his original set. As they came up to pass a slowing car in the third chicane on lap 43, under waved yellow flags, Wendlinger dived alongside and nearly squeezed into the third car. He backed off, and the stewards later deemed that Wendlinger had in fact exited the corner still behind the Lotus. They thus refused to take any action, but Herbert had lost his momentum as a result of the challenge and the Sauber sped by into an eventual ninth place. Johnny was not impressed with the manoeuvre. Warwick's brave drive brought an incident entering the stadium on lap six. He'd moved ahead of team-mate Suzuki on lap two to take 11th place, which became 10th with Andretti's demise. Then he got the Agipkurve wrong, spun, and obliged Suzuki to go off in avoidance! Derek lost time as a damaged nose was repaired, but his real problem was his own head which suffered a thumping ache for the final 15 laps. He finished 17th; Suzuki, who also endured a chicane-missing stop-and-go, retired with transmission trouble.
The slowing car that had featured in the Herbert/Wendlinger incident was . . Hill's. Cruelly, the left rear Goodyear had developed a slow puncture and then exploded. As he tried to cruise to the pits, only the sidewalls remained. The tread was missing, and later became a souvenir hunter's trophy.
"It must have been a sharp object or something like that," said the dejected Hill. "My first warning that something was wrong was a big oversteer coming out of the Ostkurve chicane." Two hundred metres before the tyre had failed the puncture warning light had illuminated on the dashboard, but at 200mph you cover a lot of ground very quickly. Damon barely had time to register the information before he felt the bad news. He limped as far as the little chicane in the pit lane, when the back end of the car dropped as it slowed and the FW15C spun inelegantly to a standstill facing the way it had come. Ten laps from the end the Williams team had duly shown him the PI OK sign. The race was his. And then, suddenly, it wasn't. Damon Hill is a calm character, however, and he bore his second bitter disappointment with commendable fortitude and dignity. Just under a fortnight later he revealed on the television programme Sport In Question that besides being a quick racing driver he is also an eloquent, educated speaker for motor racing. His reaction to the latest disappointments doubtless equipped him to cope better with the constant interruptions from Jimmy Greaves, whose manner I found appalling, as he attempted to answer questions; such interference probably further bolstered his determination to overcome irritations as he headed for Hungary in search of revenge. D J T