Louis Stanley today is not the man one might expect to meet if one had merely relied on the written word of yore. Doubtless, however, he has mellowed with the passing of the years, although his appearance has barely changed and the blazer and smart flannels are still an everyday part of his life. The Stanleys continue to reside at the Old Mill Cottage in Trumpington, Cambridge, an elegant, exciting house bristling with individualistic decor and the accoutrements of a lifetime's exposure to interesting people and situations across the globe. Its gardens are a testament to Jean Stanley's green-hued fingers, and despite the normal climate she succeeds in growing her own oranges and lemons. The Mulberry tree in the copious grounds is a little older than the house and won't see the low side of 300 again. As he guides you hospitably around, Stanley concedes: "It's propped up now, of course, but then at that age I think it's entitled to be, don't you?"
We sit on the veranda, the hum of traffic on the main road into Cambridge muted by the 18-foot wall which surrounds the garden. Water plays gently into an ornate pond as the sun starts to set, and as Stanley politely excuses himself momentarily to finish a television interview I watch a wasp behead its afternoon tea and wonder what stories the house could tell of the various motor racing personalities who have passed through its portals over the years.
When Stanley returns, I ask him whether he agrees with the assessment of his role as safety prime mover.
"Well, it would be nice to think I had played a part. Over the years, if the Medical Unit had saved a life, I would have been satisfied, it would have done its job. As it was, I think it saved more than a dozen.
"With the GPDA I was always reluctant to hold press conferences, which may have been wrong. But these were private meetings, so we did not tell the press what had happened during them. We carried on the jobs we had to do without telling them. One or two of them got upset; to them Bonnier was cowardly, Denny Hulme was yellow. That sort of remark was so silly. Of course, none of them made them to Denny's face, otherwise they would have had their own changed. . .
"But there were certain irritations which one ignored. The main thing was to try and make progress. I was put in charge of circuit safety and also had the authority to say no if a circuit didn't come up to scratch. That only happened twice, once with the AvD at Hockenheim, and the same at Le Mans.
"Have you ever tried to tell a doctor that you'd be better off being treated by a vet?
"In those days one didn't do things for publicity. I was just so appalled at the safety standards, especially at the medical centres at tracks or at the hospitals. There was no one particular incident that got me started. It was a cumulation, really. And this country was no better. Brands Hatch was poor at the time, and Silverstone too. The attitude was that drivers could take their chance in a shunt.
"At one time I inspected the medical centre and found the outline where bodies had lain on beds that were supposed to be in a sterilised area where somebody might be treated for burns. At Monza, the medical centre was full of beer cans and smoke. "The standards were appalling. I remember the case of Richard Burton, the Formula Two driver. I had a call early one morning from Lucas to say Burton had had a bad accident in France, there were burns, and they didn't know what to do. So I got through to Geneva, I got an air jet over and we got him to a proper hospital.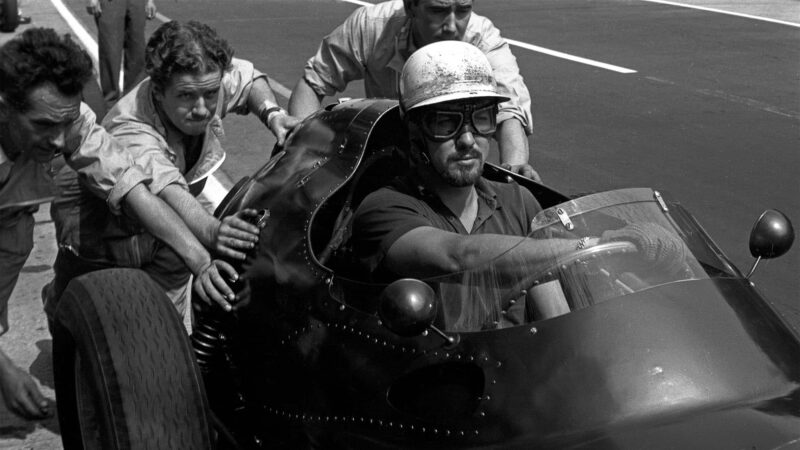 "But some of the first aid standards in those days. . ." In particular, Stanley recalls Bob Anderson's fatal accident while testing at Silverstone in August 1967, just prior to the Canadian GP. "There was no proper ambulance. There was no doctor. After half an hour they got someone to release him. The vehicle they put him in was full of mud, there was no bell, no suspension. Both of his lungs had been perforated and he was in agony. Halfway to Northampton he was met by a proper ambulance, but he was too ill to be transferred. Sadly, he died shortly afterwards."
Gradually, despite such accidents and the obvious value of the International Grand Prix Medical Service, the impact of the unit was eroded. There was the need for different medical staffs at each circuit, which affected the smoothness and continuity with which it functioned. Race organisers did not react well, either. They were defensive, and, it must be remembered, the unit arrived at a time when very few really took safety seriously. In those days the usual technique after an accident was to bundle the injured or deceased driver out of view of the spectators, and to continue a race as if nothing had happened. At Rouen in 1968 when Jo Schlesser perished during the French GP, it was a callous two hours before his widow Annie was informed that he had actually succumbed.
Stanley pondered the past, and smiled. "You see, have you ever tried to tell a doctor that you'd be better off being treated by a vet? Because that is tantamount to what you had to tell circuit doctors. One, who shall remain nameless, came to the circuit hospital on one occasion so smelling of drink that I had to ask him to leave. Another man came smoking, and I asked him to get out. This is into a sterile atmosphere for operating. In Monza one time when Jackie Stewart had a burn, the doctor came down, opened up his dispenser, and dropped his forceps and so on in the dust and never bothered to wipe them. I could go on. . . One time in Sicily I asked the doctor about anaesthetising a driver and he said, 'No, we'll wait for the pain to put him out.' Well that's rather primitive."
Co-operation was vital to the Medical Units success, and vested interests ensured that this cooperation was not always forthcoming. Also, it must be said, Stanley's resolute blend of ruthless determination, disdain for red tape and sheer bombast sometimes militated against its acceptance.
0