Ferrari Challenge track test
Say what you like about what Brexit or the lack it is doing to our economy, for one lucky constituency of well-heeled voters it doesn't appear to be having any effect at all. These are people who buy Ferraris. The UK is now Ferrari's second-largest market after the US, accounting for almost 2200 sales last year. So Ferrari has decided to launch a UK-only branch of its now 26-year-old Ferrari Challenge one-make race series.
And that makes it unique: the addition of the UK means there are now four such series around the world, but while the European, Asia Pacific and North America ones are regional, we alone as a country have a series to ourselves. So far this year it's already been to Brands Hatch, Snetterton and Croft, with Silverstone still to come.
I caught up with it at the season prelude, which was also at Brands, where no fewer than 20 drivers, old and young, rich and poor – OK, probably not poor – took delivery of their new 488 Challenge race cars. And jolly excited they looked about it too, so excited indeed that one took the opportunity to turn left at the exit of Paddock Hill Bend early in the first session with a seriously deleterious effect on his bank balance.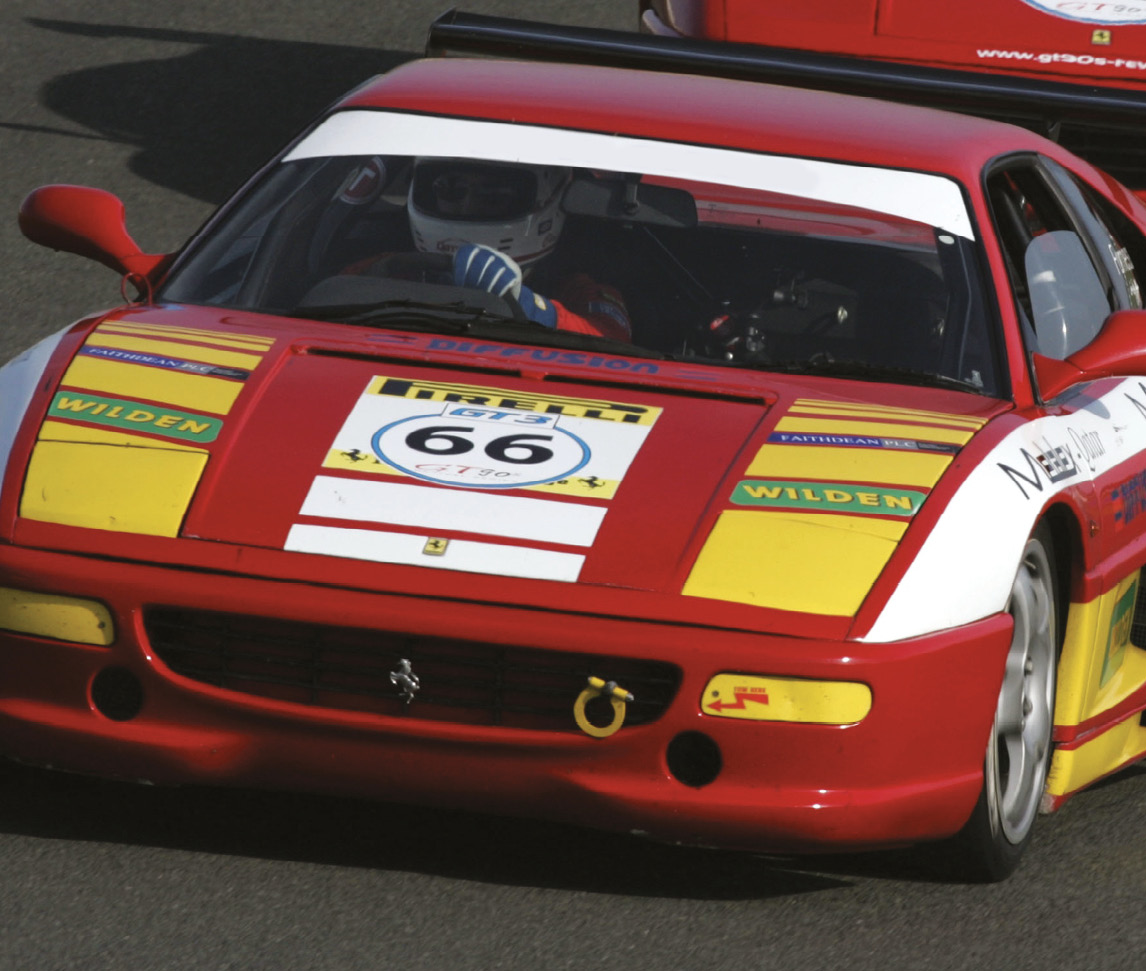 Being old enough, my mind spooled back to another time and another track when a rather younger, fatter Frankel drove the F355 Challenge at Fiorano. The difference in how Ferrari chose to go one-make racing then and now is illuminating to say the least.
Back then it was enough to be able to say you raced a Ferrari. This was 1996, the series was only three-years old and the F355 was only the second Ferrari after the 348 to be turned into a one-make racer. To do this, Ferrari stiffened its suspension, fitted some slicks and the necessary safety equipment, and that was pretty much it.
Modifications to the bodywork extended to the rather haphazard application of some stickers, while if you sat behind the wheel the only way you'd know you weren't in the road car was by the fire extinguisher in the passenger footwell and the little cut-off switch ahead of the gear lever. It even kept its electric windows, for goodness sake.
Now compare that to what we have here today, which is not so much a modified version of a 488 road car as its evil alter ego. The engine has bespoke race mapping and is 20kg lighter than the road car's, and that doesn't include the 8.5kg shaved from the exhaust system. The gearbox has shorter ratios, too. I don't think the F355 even had traction control, but the 488 racer has a stability system that's so sophisticated it provides two separate controls to allow the driver to select not just at what point the system intervenes, but the level of actual intervention. So, a scared gentleman driver in the wet could programme the car to limit yaw to nothing at the first sign of slip, while a pro could let it all hang out to a point where the car might otherwise be beyond retrieval.
It of course has full race suspension and monstrous Pirelli slicks, but it's probably in the area of aerodynamics – an area ignored entirely by the F355 – that the car is most changed. You'll notice most the barn-door rear wing that's developed from the GT Pro Le Mans-spec 488, but it's balanced out by a hell of a front spoiler and some convincing dive planes. They've even raked back the front radiators to improve air flow and reduce drag. There are new vents at the front and back to help cool the engine and brakes.
Inside, the road car cabin is noticeable now only for its absence. You could be in a GT3 car. A single-screen digital dash doesn't describe infotainment options but perhaps more relevantly, the settings you've chosen for both traction control strategies and the ABS, too. On the wheel you'll no longer find switches for your indicators but instead buttons for the car-to-pits radio, drinks bottle, pit-lane speed limiter and scrolling through pages on the information screen. To your right there's a bank of less important switches, one of which controls the air-conditioning, not as a luxury item they forgot to remove, but a safety item designed to keep drivers cool and focused.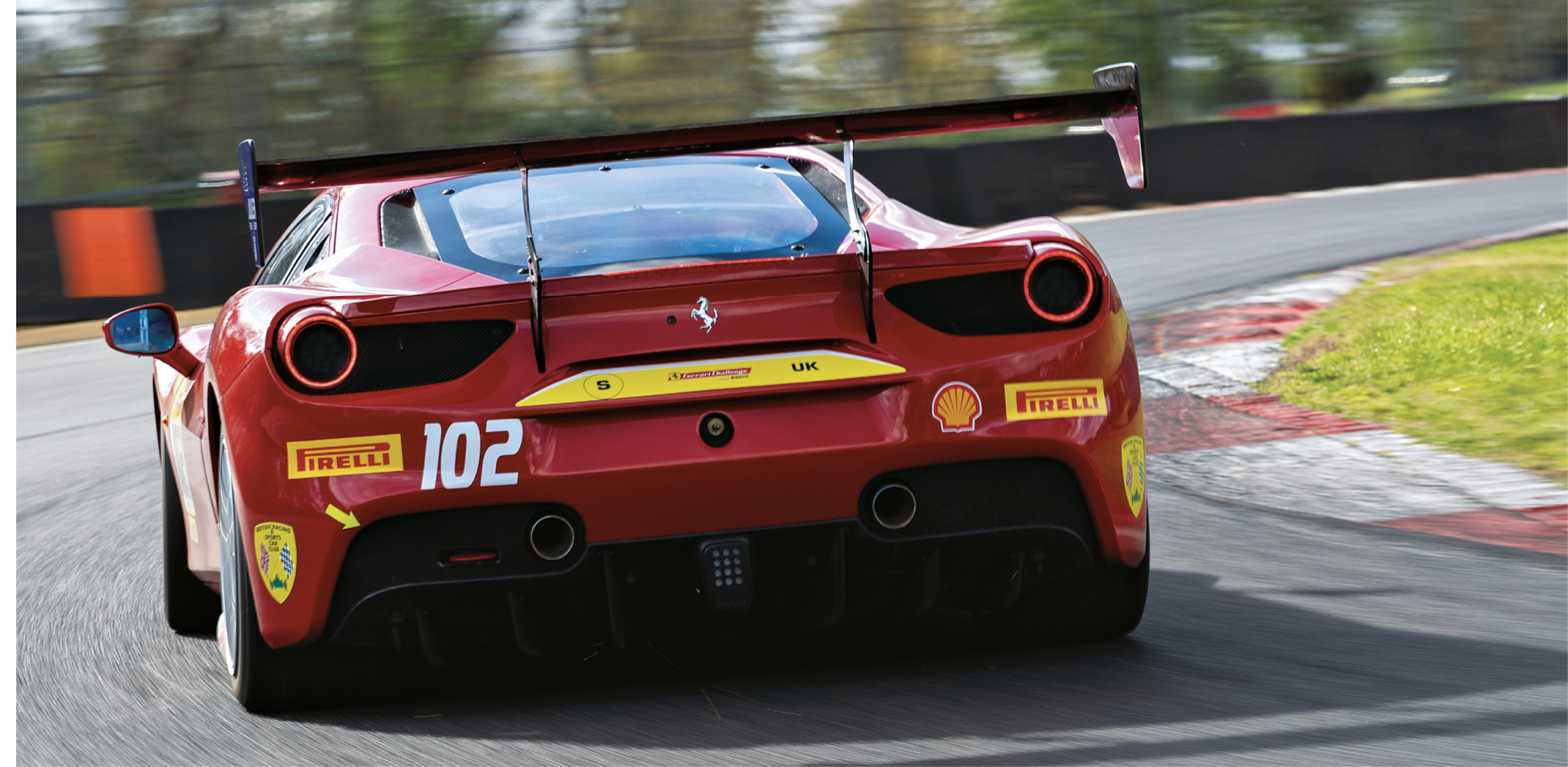 But perhaps the single most significant thing about this race car is the one thing that hasn't changed: unlike GT4, GT3 and even WEC GT racers, the output of the engine has not been touched, so the 488 Challenge retains the full 670bhp of the road car. Ferrari claims it to be the most powerful one-make racer in the world.
Which means it's properly rapid. The only comparable circuit times we have are from Fiorano where the 950bhp LaFerrari hypercar recorded a lap time a fraction under 1min 20sec. The Challenge car goes round in 1min 15.5sec which, put another way, is 7.5sec around a short lap quicker than the 488 road car from which it is derived. Put a third way, it is only 1.5sec slower than the £2 million, 1036bhp FXX K purpose-built track car. Which makes the Challenge car's €249,000 list price before taxes seem a bit more reasonable. That said, if you're going to race it there's a £24,000 entry fee for the season plus a £90,000 service fee for all technical assistance, tyres and fuel for all qualifying and race sessions, although if you want to go testing – and you will because at least some of your rivals will be booking entire tracks to themselves for the day just to get their eye in – that's all down to you and your own pocket.
James Calado, who won this year's LMGTE Pro category at Le Mans and the 2017 WEC title, shows me around. "It's really good fun because it's not being held back by restrictors," he says. "It's properly quick in a straight line, but obviously you're losing a lot to the GTE car through the corners." Unlike the Challenge, the Le Mans machine develops vast amounts of downforce, mainly from underneath the car. "Be really positive with it, don't worry if it starts to move around and just enjoy it." As pre-match briefings go, it's one of the less proscriptive.
It's going to be interesting, not least because while its 1340kg dry weight might sound quite impressive by road car standards (and it's about 130kg lighter than the standard 488GTB), it's still a reasonably heavy racer. But with a great deal of power.
If I have a reference point, it's the McLaren 570S GT4 car I raced at Spa last year, because both are mid-engined twin-turbo V8 single-make racers without GT3 levels of downforce. But the big difference is that while McLaren decided to run its series to precise GT4 regs, which means restricting the engine back to as little as 430bhp and fitting iron brakes, Ferrari felt no such obligation. And, as I left the blend line behind me and put my foot down for the first time, I was somewhat startled by how the car leapt down the track.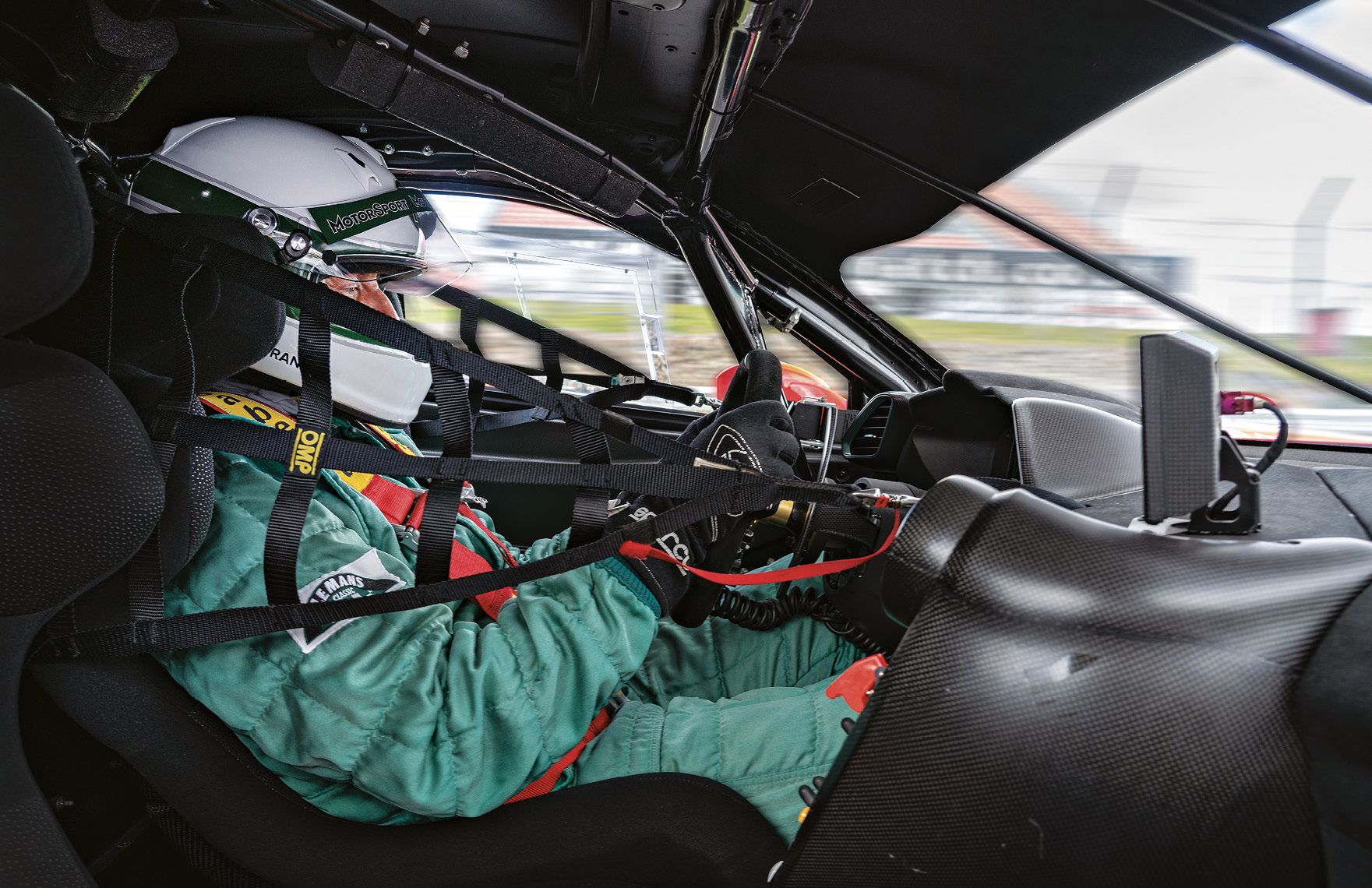 At first the experience is dominated by the engine, which is perhaps how life should be in any Ferrari. With less weight and shorter gears the racer feels not only significantly faster than the road car, which is already exceptionally quick, but faster in a straight line than any GT4 or GT3 race machine. Ferrari says it will accelerate from rest to the red line in fourth gear in six seconds flat, and I believe it.
Thus, the temptation is to drive it like some old American street machine, thundering down the straights and crawling through the corners. But the Brands Hatch Indy Circuit doesn't have any straights of note, certainly not in a car as capable of devouring them as this, and this is a mid-engined Ferrari with carbon-ceramic brakes (road car Brembo discs with race-spec pads), slicks and race suspension. So I start to work it a little harder, prodding and probing here and there to see what it will do and how it will do it. And here's the thing: the Challenge reveals itself to be a very different kind of racing car, one that for a modern machine takes a rather novel approach to the deceptively difficult business of getting itself around a race track.
"Notice the barn-door rear wing, taken from the Le Mans racer"
For because it is a one-make racer and all the cars are the same, the lap time doesn't matter. That Fiorano time might seem pretty rapid, but it's far slower than this car could go if Ferrari wanted it to. The truth is that while the driving experience of a GT4 car like the McLaren is dominated by cornering speed, in the 488 Challenge it is not. On the contrary and relative to the power at your disposal, it has very little downforce and not even that much mechanical grip.
And were this another car, this could be problematic: frustrating at best, somewhat hazardous at worst. But it's not. In fact, it is entirely to the benefit of the driving experience. I will not be the first to observe that the standard road-going 488GTB is probably the best balanced mid-engined car on the market, and it's a trait that has been handed down to its race-prepped sibling.
As Calado said, there is nothing to fear from letting it move around a little – or, indeed, a lot. With enormous amounts of torque, what I expect are quite hard Pirellis and, lest we forget, those magic dials allowing you to tailor-make your own safety nets, you can keep it neutral, slide it a little or skid it a lot. The only problem with taking the more extrovert approach is that in a race scenario you're going to come nowhere. But perhaps you don't care about that?
Even if you do care, the car's inherent friendliness means you can set it up for the minimum intervention level, which will allow you to extract the maximum from the car in terms of lap time, while knowing that if you do overdose the tyres, or they start to get distressed in the latter stages of the race, the car's not going bury you in the barriers.
I really liked this car. Despite all its technology and state of the art appearance, there is something delightfully old-school about it. It is a real drivers' car, by which I mean it is a car for people who love the simple business of driving far more than they do the more complex business of winning. Come first or last in one of these and you're going to have a hoot, which, surely, in a series where all the cars are the same, is the only thing that matters.
---
DIGITAL EXTRA