F1 report: Welcome to the new normal
Formula 1 roars back into life with two races at one circuit, two stunning single-lap displays and two Mercedes wins to set the tone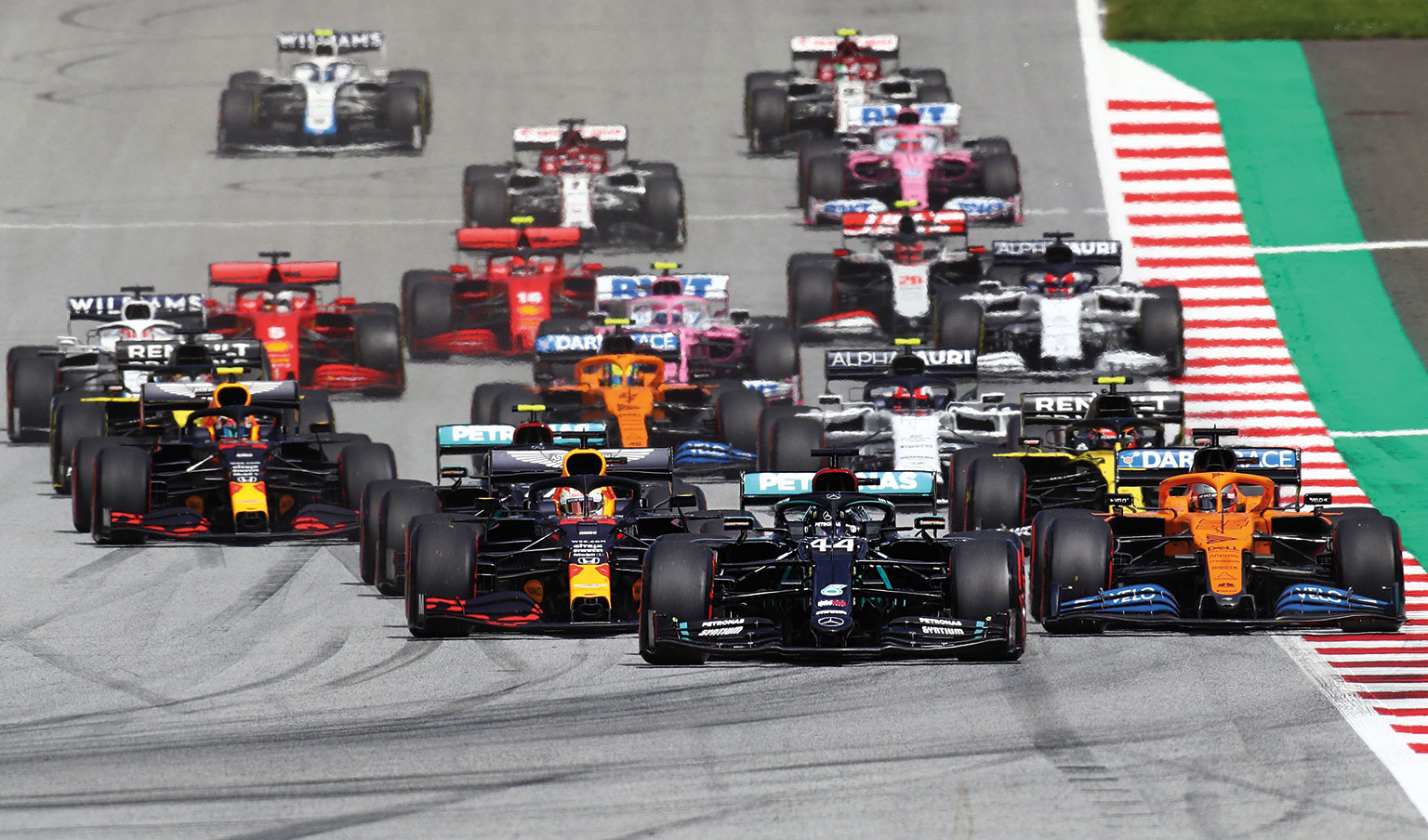 For the first time in F1's history, it hosted two consecutive grands prix at the same circuit. The Austrian and Styrian grands prix were the opening salvos of F1's dramatically virus-compacted season. The fact that they were hosted at all was fantastic testament to the effort and ingenuity of F1. That each race should have produced not only great action, but two of the most amazing laps ever seen – one each from Lando Norris and Lewis Hamilton – was more than F1 could have dared hope.
Austrian GP: Norris's lap of the gods
The radio information was coming at Norris thick and fast in the last two laps of the Austrian Grand Prix – and he was processing it while simultaneously driving out of his skin. "Hamilton has a 5sec penalty. Two laps to go. Stay in Scenario 7 until Turn 3. Last lap. Turn 2 single press overtake here and out of T3. Out of Turn 8 hold overtake for 5ecs. Give it everything. Out of the last corner as well."
He was in fourth place on the road, but desperately trying to get within 5sec of Lewis Hamilton's second-place Mercedes, which had incurred a time penalty that made it just about possible – at the very thin end of feasible – on corrected time, for Norris to achieve his first podium. He began the last lap 5.53sec behind. He was going to have to lap his McLaren over half a second quicker than Hamilton's Mercedes on that final blast.
It was easy to forget in the late dog-fight drama of this race that there were no cheering crowds, no spectators standing and craning their necks to see the action. For this was the first grand prix to be held behind closed doors, a historical moment; testament to F1's tenacity and effort, but a little sad all the same. At the end Valtteri Bottas, Charles Leclerc and Norris, masked and socially-distanced, stood on separate makeshift platform podiums on the pit straight in front of a desolately empty grandstand. An image that defined a particular moment. Sport in the time of the virus.
It was timely that the race was an exciting one – though without the safety cars, Mercedes would probably have disappeared into the distance, certainly once Max Verstappen's Red Bull retired from second early on with an electrical sensor failure on the flywheel. Max was attempting to take on the Mercs by tyre strategy as his Red Bull couldn't do so on pace, the black-liveried W11s having qualified a chunky half-second clear of the field. But only one of them would start from the front row, courtesy of a late three-place grid penalty for Lewis Hamilton for a yellow flag infringement as he went by the scene of team-mate Bottas' Turn 4 off in the dying moments of qualifying. Bottas' first Q3 lap stood as pole, though the route from there to victory involved a few challenges: a sensor issue that threatened to put the gearbox in failsafe mode (i e no gears), a sustained attack from the (similarly afflicted) Hamilton and three safety cars that kept bunching up the field and making him vulnerable on the restarts.
But actually the final restart got Hamilton off Bottas' back – and set in place the dramatic last few laps behind him, from which Leclerc and Norris emerged as the stars. The timing of that third safety car had left the Mercs on 26-lap-old hard tyres with Alex Albon's fresh soft-tyred Red Bull right behind. Albon had run a distant third for most of the race, in a no-man's land between the Mercs and the fighting pack of McLarens, Ferraris and Sergio Pérez's Racing Point. But now here he was, stalking the Mercs as the safety car came in with 20 laps to go, on tyres sure to make him around 1s per lap faster than them.
"The clash rendered Albon's first grand prix win a dusty dream"
He needed to pounce while his grip advantage was at its greatest, as they struggled to bring the older rubber up to temperature. Albon is not a driver who shies away from the big moves and he was immediately attacking Hamilton up to turn three, then positioning himself for the tow as they whistled down the chute to the 150-deg right of turn 4 (on the site of the old Österreichring's Boschcurve). Hamilton took the defensive inside, Albon the aggressive outside and side by side they went through there, the Red Bull grinding ahead. It was a ballsy move – but it required Hamilton's co-operation to make it work. And he didn't give it. Albon's right-rear and Hamilton's left-front connected, pirouetting the Red Bull off the track and rendering Albon's possible first grand prix victory just a dusty dream.
Hamilton received a 5sec penalty for the incident – placing his second place in serious jeopardy, given how closely bunched the new-tyred pack behind him was. Thought was given at Mercedes to asking Bottas to allow Hamilton past on the road – but the internal hazard of that was obvious: if Hamilton was able to pull out more than 5sec on Bottas, as he'd surely try to do, then they'd effectively be punishing Bottas for Hamilton's indiscretion, depriving him of a deserved victory.
So potentially there were two podium places on offer to the head of that 'midfield' battle that had raged all race, so long as they could get within less than 5sec of Hamilton. Post-safety car, Leclerc put himself to the head of that pack, with incisive moves on Pérez and the McLarens of Carlos Sainz and Norris – and on his fresh tyres proceeded to keep himself comfortably inside that 5sec barrier to the old-tyred Hamilton for the last six laps.
The incidents had flattered the under-powered Ferrari's position but Leclerc made clinical use of those circumstances with a drive he later reckoned was one of his very best. The car was 13kph slower through the speed traps than its 2019 predecessor and qualified 0.92s slower than Leclerc's pole time in that car. It was all Leclerc could do this year to squeeze it into Q3, a feat that proved beyond Sebastian Vettel, who followed up in the race with a clumsy assault on Sainz that put the four-time champion at the back, bewildered and clearly unhappy with life at the start of his final season with the team.
So, could Norris demote Hamilton a further place? The sophomore had been superb all weekend, qualifying the McLaren-Renault MCL35 fourth and dissatisfied with that, feeling he'd left something on the table and that the tenth-and-a-half deficit to Verstappen's third-fastest time may have been within reach. He'd got more confidence in the McLaren through the fast middle sector than team-mate Sainz, who still didn't feel fully dialled into it. The McLaren certainly wasn't Red Bull-quick in the race, further suggesting that Norris had over-qualified it. Leclerc came past him after the last safety car and pulled away, leading Lando to observe, "That Ferrari is very nice in race trim. It is very quick in the corners. Faster than us. It's not a great track for them because they are slow on the straights. But in race trim…"
By the time Norris had got by the old-tyred Pérez, been passed by Leclerc and physically fended off Sainz, he was running out of laps to get within that magic 5sec range of Merc number 44. His penultimate lap was 0.438sec faster than the Merc but left him needing to be over 0.53sec faster on the final lap. Hamilton was driving with the turbulence of Bottas, but could also use DRS, which Norris could not. And so those instructions came, calm but tense, imparting the vital info and not a syllable more, as Norris dug deep, perhaps deeper than he's ever done before in his short F1 career. He was 0.15sec down to the Mercedes after the first (power-dominated) sector, but all weekend he'd been super-quick through the fast sweeps of the middle sector (turns 6-8, incorporating the old Texaco chicane).
This time he was faster than ever. The speed he took into the left-hander of Turn 6 was breathtaking. He maintained that massive momentum through the interconnected sweeps, the engine note betraying the motor's strain against the cornering loads. He finished off with magnificently committed runs through the final two corners, a scant few millimetres of respect for the evil exit kerbs that could have ruined everything. Keeping that overtake mode pressed, he charged for the line, tripping the beam 4.8sec after Hamilton. It was a stunning effort and a convincing demonstration of his massive potential. He later described it as, "One and a half laps of pure focus."
Styrian GP: Hamilton's lap of the gods
The storm clouds ambushed the Red Bull Ring on the second Saturday. But the grid responded magnificently, with one of the most exciting qualifying sessions in living memory, 1000 horsepower cars dancing from puddle to puddle in track conditions changing by the lap. There were some terrific performances – George Russell putting the Williams 12th, within hundredths of Leclerc's Ferrari, Sainz a great third-fastest for McLaren. But one of the all-time great laps of any session was that of Hamilton, on pole by 1.2sec from Verstappen.
"Very rarely you see performances that are just not from this world," said Toto Wolff afterwards. "When you look at the onboard on his lap, I mean he was balancing the car on the edge, aquaplaning, the throttle control was incredible, and I can't remember when we have seen 1.2 seconds between first and second." Hamilton's 89th pole came from a lap that was, "as close to perfect as I could get it in those conditions," he said. "The importance of managing your time out there, managing your battery pack, knowing when to use the few laps that you have on the qualifying modes, creating the gap, not making a mistake when it counts… It definitely takes me back to times like Silverstone 2008, because you're really at one with a car and you're not fazed at all."
His feel for where the grip was and the improvisation he made counted just as much as his immense car control and sensitivity, as they stayed out there on the ever-changing track, the rain falling heavily but the tyre tracks of others varying where the grip was. "You have to be dynamic with your driving because wet patches arrive, puddles shift about with the cars ahead; it's a massive challenge."
That lap was the foundation for one of the most straightforward victories of his career in the dry of Sunday. Verstappen lay an early second again and although he kept going this time he could offer no challenge to Mercedes. Bottas put undercut pressure on the Red Bull, forcing it to stop early, then stayed out for another 10 laps – putting the second Mercedes on much faster tyres in the last stint, allowing him to pass a few laps before the end.
Norris again starred late on, passing three cars in the last two laps, including fifth place from Pérez's damaged Racing Point two corners from the end. There was no amazing lap this time, just opportunistic racecraft and the sort of tenacity that F1 itself has shown under extremely difficult circumstances.
---
Inside F1's bubble
Impressive virus planning was key to the sport's return
F1's return has only been possible through extremely strict COVID protocols, which extend far beyond just the staging of spectator-free races. The restrictions placed upon all attendees – be it team, circuit personnel, broadcasters and media – are extreme.
As one of 22 journalists in a media centre built for 250, it was easy to keep socially distanced. But we had to remain in that bubble, wearing masks at all times. There was no access to the paddock, nor trackside (hence the absence of the usual Trackside View section in this report), for that would be to mix with people outside your bubble.
Even away from the track, it was not permitted to socialise with those outside your group. So as a media representative I could not meet for a meal or a drink with, say, someone from the broadcaster group or a team member. If you are observed breaking that rule, you will be evicted from the event. Teams must remain within their own groups and likewise cannot socialise outside of those. Charles Leclerc fell foul of this, flying home to Monaco in between the two Austrian races and being pictured there with fans. He got away with an unofficial reprimand. Everyone entering Austria was required to be in possession of a negative COVID test result certificate from within the previous 72 hours. Once at the track, tests every five days are mandatory.
Over 20,000 tests were carried out on site over the two events, with no-one testing positive.
The return of F1 represents an incredible feat of organisation, and during the on-track action it's absolutely as it ever was. Only as the cars pull in and the drivers climb out – and the stands are empty, does the new normality return.