Books special: Summer Escapes
This year's holiday season may well be spent at home, so Gordon Cruickshank picks his top books from the last year, as good in the garden as on the beach
Meeting the champion we never knew
Jochen Rindt was quite a divisive figure before he became a leading light in Formula 1. A new biography sheds light on the man
Given that this biography makes much of Jochen Rindt's position as practically a saint in Austria – attended by thousands, his funeral looked like a state event – it's surprising that the author opens with the firm declaration that Rindt, not Michael Schumacher, was Germany's first world champion – "even if many Austrians don't wish to hear this". Though born in Germany he raced as Austrian and lived his life there: an academic point, but it hints at the undercurrents in this very personal book written by someone who knew him well, and augmented by another figure few knew about – Rindt's half-brother Uwe Eisleben, whose personal memories and photos from the family album lift this from a simple racing history to a full life of Formula 1's only posthumous champion. (Incidentally, Rindt's answer to the nationality question was "I think of myself as European".
Ignoring some nonsense about the pseudo-science of astrology, Glavitza's writing is lively, describing one of Jochen's early outfits as "a clown team drowning in alcohol". Though a friend, he frankly lists Rindt's "egotism, unpredictability, impatience and impetuousness" as well as his self-confidence and ambition. More undercurrents: references to "the backwoods man from Graz" and R's accent make it plain that he must have had to push through class divisions as well as the eternal finance challenge. That's an element it takes a compatriot to bring out, trying not to be seen as a yokel as he buys his first F2 Cooper from Kurt Bardi-Barry, then Austria's top driver. (When informed that Barry had been killed in a crash his response was "Now I am number one in Austria".)
Packed with family records and fascinating photos of Jochen's childhood, this attractively laid-out book powerfully describes his parents' tragic end in an RAF bombing raid in 1943. Grim photos of the devastation caused by the Hamburg fire-storm bring home the terrible events of that time, which left the future racing star an orphan in the care of his grandparents. Jochen was just 18 months old but Eisleben, then aged four, remembers this sad beginning to Jochen's life. Yet the author makes it clear that this was not an unhappy childhood and that with his adored brother Jochen got up to all the things any healthy child will. Later when puberty and petrol arrived things became difficult for the ageing grandparents who despaired of controlling the wild young man who had the police after him for his moped exploits. Their answer was a boarding school where he met Helmut Marko; they would dare each other to drive certain roads with foot flat. "Braking is for cowards!". Rindt's VW got trashed, but he said to a friend "I want to be world champion'. Given his impetuous attitude, lasting well into his racing career, it didn't seem likely then.
A good half of the book concerns Rindt's youth and gives a strong picture of the contradictory elements he displayed as he exploded onto the Formula 2 scene and then quickly into F1 courtesy of Rob Walker, whom Rindt met at the airport with a bunch of flowers, Glavitza says. Walker would later describe him as "this charming young man". The author, on the other hand, calls him "insolent and sometimes loutish", lining him up with Mick Jagger of the "against everything" generation. And he's very open about Rindt's many female conquests.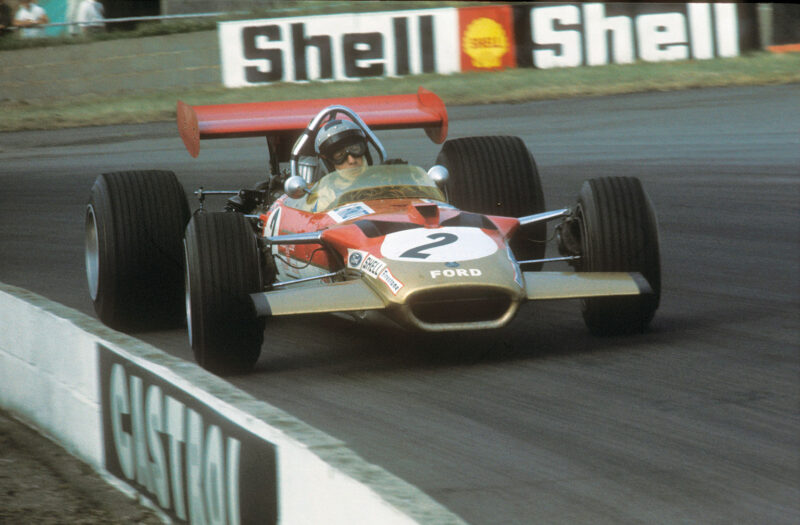 Naturally the racing is covered in depth as Rindt joins Cooper and then Lotus towards that fateful race at Monza in 1970, but there's a profound air of gloom in this part, not simply because we know of the tragedy to come but over the F1 paddock about the toll racing is exacting and Rindt's increasing unhappiness at Lotus. The death of Piers Courage affected him especially. A powerful passage describes the author's last meeting with Rindt, in a Viennese café after the Belgian GP. Over espresso and cake they discuss Glavitza's work as a stunt driver on Steve McQueen's Le Mans movie, then filming, and the generous fees in the industry. Rindt then asks if Glavitza can get him a position there.
Still unhappy with the Lotus 72, he says he doesn't know how much longer he would put up with it, adding "I can't stand the sight of Colin". Even sadder, in his foreword Uwe Eisleben quotes Jochen's last letter to him, which says that he will soon give up racing as the risk is too great. Glavitza gives a lot of space to analysing the final accident, including photos which seem to indicate how and when that brake shaft snapped and sent Rindt into the barriers, but the book ends rather abruptly here without discussing the close of the season or Rindt's posthumous crowning, or even the conventional summary of the man. But that I suppose has already gone before, a picture of a fiery, impatient, self-contained figure who achieved what he most wanted, and never knew it.
Jochen Rindt – A champion with hidden depths
Erich Glavitza
McKlein, €99
ISBN: 978-3-94715-626-9
---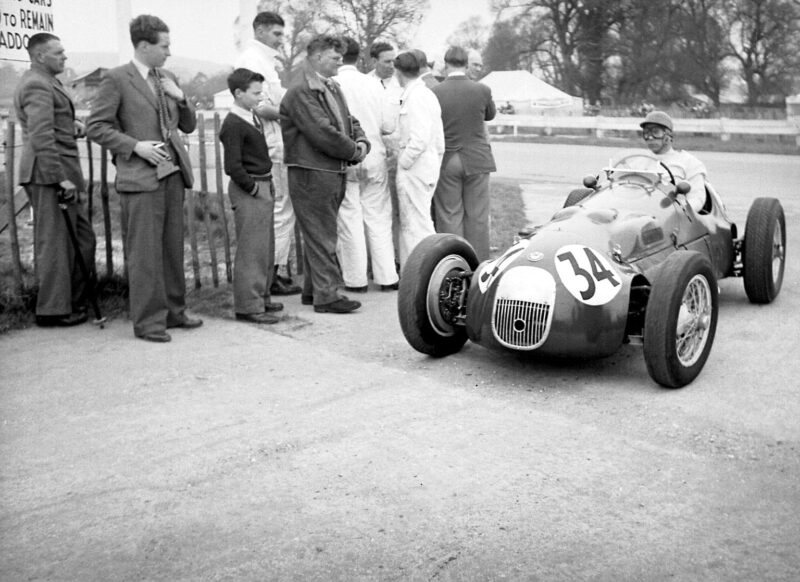 Britain's leading light
In the '50s, the small HWM team punched above its weight against
fully fledged factory teams. Simon Taylor's book tells its story
After its chunky F2 cars began snapping at the heels of the Continentals in the early 1950s, HWM blossomed into an amazingly active racing team. Simon Taylor's handsome book describes how engineer John Heath and racing driver George Abecassis formed that team and ended up building their own cars, until Heath's death on the Mille Miglia in 1956.
One volume of the pair covers that story, a second the cars, tracks and many drivers, Taylor also diverting into 'chapterettes' on subjects such as fiery mechanic Alf Francis and the HWM badge. As a schoolboy, Simon was gripped by a picture of the 'Stovebolt Special' (an HWM sports car packing a Chevy V8), and much later bought it. He's been competing with it ever since. The burgeoning HWM files he assembled from that moment were the basis for the book, and he has burrowed into every written record, using personal material to flavour it with reminiscences. Photos of the team in the workshop, loading trucks or pausing at customs posts give you a taste of what it was like to grind over mountain passes in a converted bus with feeble brakes, one person asleep in a hammock while one drove, with the constant risk of getting lost.
A tight-knit operation on a borderline budget, it nevertheless gave a young Stirling Moss his first works drive. In his Foreword, Moss points out that for a while HWM was the most successful British single-seater team. In F2 the Alta-engined cars were fast, and the later Jaguar-engined sports cars held their own, especially the two that raced as HWM 1. All that is mere results; much more interesting is hearing what it was like within a little team. How draughtsman Eugene Dunn recalls discovering the team designing chassis with chalk on the shop floor, or that they called Heath 'The Baron' while the mechanics were 'the 'Orribles'. Abecassis had a racing career outside HWM, and Taylor weaves that into his tale along with the 1950s racing scene.
After Heath's crash the racing dried up and HWM reverted to dealing in competition and road cars. A mere 19 cars emerged from the HWM works and Vol 2 lists their stories, along with HM Altas, Healeys and a one-off coupé before detailing tracks where they raced (nice maps and posters) and adding profiles of HWM drivers. But it's those insider stories, entertainingly relayed by Simon, that make this more than just a history.
John, George and the HWMs
Simon Taylor
Published by Evro, £130
ISBN 978-1-910505-32-8
---
Other great reads
FORMULA 1 ALL THE RACES – THE FIRST 1000
This is a sizeable recap of the history, statistics and details of F1's path from Silverstone in 1950 to Shanghai in 2019. Smith rates each race by incorporating an F1 journalist jury, as well as including a 2019 season recap available for download. Race reports, photos, ratings, records and trivia offer a straightforward one-stop shop for F1 history.
Roger Smith, Published by Veloce, £65 ISBN 978-1-787115-66-8
CIAO STIRLING – THE INSIDE STORY OF A MOTOR RACING LEGEND
Entertaining memoir of working for Stirling Moss at his height, told by the feisty Scots girl who became organiser, chauffeur, racing team manager, confidant and friend. Sixty years on, here is her riveting memoir of working with, socialising with and, frankly, putting up with the demanding, impatient yet loyal man who became 'Mr Motor Racing'.
Valerie Pirie, Published by Biteback, £20. ISBN 978-1-785-9063-9
TAKE RISK!
Richard Noble has been involved in so many schemes that three Land Speed Record attempt are just a fraction of it. Here he relates those and many other projects emphasising the battles against conservatism and timidity he has faced. His passionate message is that industry needs to take risks to achieve progress and to raise the new generation of technically skilled people we need. Both eye-opening and inspiring.
Richard Noble, Evro, £19.99 ISBN 978-1-910505-51-9
THE ALL-AMERICAN HERO AND JAGUAR'S RACING E-TYPES
Though claiming a Jaguar theme, this in fact depicts Briggs Cunningham's wider life, covering Le Mans, car making, business and social life and his America's Cup victory. Details of back stories – tax matters, relations with Browns Lane – depict a sportsman who gave millionaires a good name.
Phillip Bingham, Porter Press, ISBN 978-1-907085-81-9
---

Hitler's man of mystery?
While we will never know the full truth about Richard 'Dick' Seaman and his wartime Mercedes links, Richard Williams' book paints the best picture yet
It's easy to view Dick Seaman only in terms of 'did he or didn't he?' Did he fall for Nazi beguiling while driving for Mercedes, or was that half-mast wave to the Nürburgring crowds a visible refusal to kowtow to tyranny?
We can never truly know, just as we will never know whether the young Britisher might in other circumstances have gone on to one of the great grand prix careers. But in his fine new book, Richard Williams offers a rich portrait of this impatient and privileged young man, which helps to suggest how his mind coped with his conflict between patriotism and racing passion. Drawing on unpublished memoirs and much lateral truffling, Williams presents immense research about the family, and especially Dick's mother – not born grand but the daughter of a policeman, determined from a child to will herself into privileged circles.
Perhaps it was inheriting that fierce willpower that let young Dick manipulate his parents into supporting his racing against their wishes: Lilian claimed she had handed him £30,000 – £3m today – "in easy stages". Which, as Williams points out, was about the cost of becoming a lawyer or an MP, his parents' hope. Within its elegant prose, Williams' book is packed with detail, about Dick's friends and colleagues, about a gilded life of dinners, dances and parties, about finances, even down to the cost of insuring Dick's lorry.
More, he is able to straddle two worlds, knowledgeably describing the racing while also placing the whole in its social and political context, including British admiration in the mid-1930s for the stability Hitler had brought to a chaotic Germany, before the true evidence began to mount. And as both countries tried to prolong friendly relations – Britain to avoid war, Germany to neutralise a threat – Seaman's difficult decision to remain with Mercedes was also coloured by this often-forgotten factor. Dick's battles with his family over money and his German wife are vividly portrayed, alongside the thorough planning and preparation that matched his controlled skill at the wheel. Was Seaman merely the lucky, selfish child of money, turning a blind eye to evil? This excellent book suggests that careful, thorough, talented and ambitious Dick displayed the same single-minded drive we admire from someone who makes it against the odds.
A Race with Love and Death
Richard Williams
Simon & Schuster
ISBN: 978-1471179358
---
America's Le Mans love affair
This mammoth compendium of the USA's best efforts in the world's greatest race makes for a fascinating reference work
Forty-three years before Ford's 1966 victory, the very first American entry was also a Ford – a modified Model T. That's the sort of small fact that brims from this vast overview – three volumes from 1923-79.
Considine's remit embraces cars, teams or people from the States, as well as Anglo-American hybrids. Sensibly, the material is served in yearly chunks, each race story wrapped round the American element, dressed with generous photos and topped by complete results with US entries in bold type.
The author interviewed everyone he could find, and includes written material from all quarters, so that, to quote him, "The tales are told as far as possible in the words of those who were there." Even that terrible 1955 tragedy brings out new slants: John Fitch, due to take over from doomed Pierre Levegh, talks movingly of the aftermath, while Cunningham pilot Phil Walters recalls quitting racing there and then. Considine calls this "an unapologetically chauvinist personal history", yet the text is even-handed about the failures of American entries, while justly proud of the successes.
In 1928 a supercharged 5.3-litre Stutz Blackhawk came second having spent much time leading, with Chryslers placed third and fourth; given a little development there could easily have been an early American victory. At about half-a-million words this sounds a fearsome work to tackle, yet the dramatic pictures, many previously unseen, and honest, sometimes funny, recollections make it a reference work that's also good to read.
Twice around the clock – Yanks at Le Mans
Tim Considine
Published by Toll Hall Sexton, £325,
ISBN 978-0-9993953-0-1
---
It'll blow your doors off
How much new information can there be about a 50-year-old film?

 

Matthew Field's study of the Italian Job proves there's quite a lot
How much can you write on a 50-year-old film? This much, and all of it is fascinating, and an amazing bit of delving: Field has tracked down not just the main players but most of the crew, the car people, call sheets, scripts and locations, and he loads the book with first-hand memories of a film classic. Among terrific location photos of cast, cars and extras, Field drops in script pages, call sheets and personal notes that illustrate the complexity of getting a film cast, designed and under way. Scriptwriter Troy Kennedy Martin actually wrote a rather dark heist story with serious violence, but producer Michael Deeley and maverick director Peter Collinson sent it in a different direction – more comic, picking up the zeitgeist of swinging London.
What remained was a Eurosceptic slant – the cocky Brits outwitting the Mafia and the Italian police – because at the time the Common Market was a major topic… Yet it took a powerful Italian to make it happen: Fiat boss Gianni Agnelli. Martin got to see him, persuaded him it was good PR for Turin, and Agnelli said yes – which meant the authorities couldn't say no. According to Michael Caine, "the centre of Turin was handed over to us". Even then they took liberties: that monster traffic jam wasn't all faked.
They actually blocked piazza exits to trap rush-hour traffic, the cameras hidden to avoid a lynching. Another near-riot came when filming the climactic teetering coach and holiday-making locals wanted to use the road. Reading the book makes you realise how astonishing it is that the film came off – they really did slide the coach sideways, they really did make that rooftop jump, and they really didn't warn that triangular museum they were going to drive up its roof.
Though some of the key players are now dead, Field's 20 years of digging means that they too have had their say – elements they disliked, scenes that were cut, the riotous fun they had. Maps of Turin with locations marked mean devotees can go and gaze. There seems nothing that Field, described here as "the world's leading authority", hasn't discovered, yet it's not anorak-y, it's both entertaining and handsomely designed. Thumbs up.
Self-Preservation Society. 50 Years of the Italian Job
Matthew Field
Published by Porter, £45
ISBN 978-1-907-085864
---
More great reads
FORMULA 1 CAR BY CAR 1950-59
Peter Higham assembles Motor Sport's online database and for many years ran the immense LAT photo archive, so it's no surprise that as well as including every F1 car and grand prix entry of the decade, he also illustrates every single one. Rich with facts and fine photos, it's a valuable reference either as a year-by-year summary or a source of marque and team information.
Peter Higham, Evro, £50, ISBN 978-1-910505-44-1
HIGH PERFORMANCE: WHEN BRITAIN RULED THE ROAD 
This is a portrayal of Britain's recovery from war strife to top nation on wheels, before industry mismanagement and distrust of innovation meant we gave it all away. Icons like the E-type and Mini were exceptions, and Grimsdale frames these within a debt-saddled Britain before the brief glory of swinging London is displaced by the strike-torn 1970s. Thoughful and insightful.
Peter Grimsdale. Published by Simon & Schuster, £20, ISBN 978-1-4711-6845-1
THE ESSENCE – FROM DB2 TO DB6
Costly but lavish two-volume coverage of every possible variant from a great era of Aston Martins, specially photographed for the book. It took 10 years to assemble the 1400 images of 135 different cars, crisply presented along with brochures and handbooks and full technical details. A Foreword by Kingsley Riding-Felce, AM Works MD, adds authority to this limited-edition work, which comes in a slip case.
Etienne Dricot, Advantaged, £385
THE LAST OPEN ROAD, AUDIOBOOK
A full-performance audio motoring novel – a mix of narration and acting. Taking its hero Buddy deep into sports car racing in 1950s West Coast USA, it's full of period atmosphere and detail, with sound from all the right cars. Plus real racing people: the fun is trying to identify who's playing who: is that Brian Redman, or David Hobbs? Hang on, that mechanic's voice sounds like Marino Franchitti… On CD
or MP3.
Burt Levy, Thinkfast Ink, lastopenroad.com, $55
For the latest titles, visit Hortons Books